Here we are again with a collaborative storytelling! We've reached out to a group of talented LEGO photographers in our community to weave for us a visual narrative around one set.
That's what you could usually expect. This time, though, due to unforseeable circumstances, we will have a storytelling around two sets!
We invited four polish photographers @tomekskog, @retzka.photobricks, @minifiguresadventures and @legomiki to pick two sets from the LEGO store, with some constraints, and a couple (@tomekskog and @legomiki) chose the 60330: Hospital while the other (@retzka.photobricks and @minifiguresadventures) the 60350: Lunar Research Base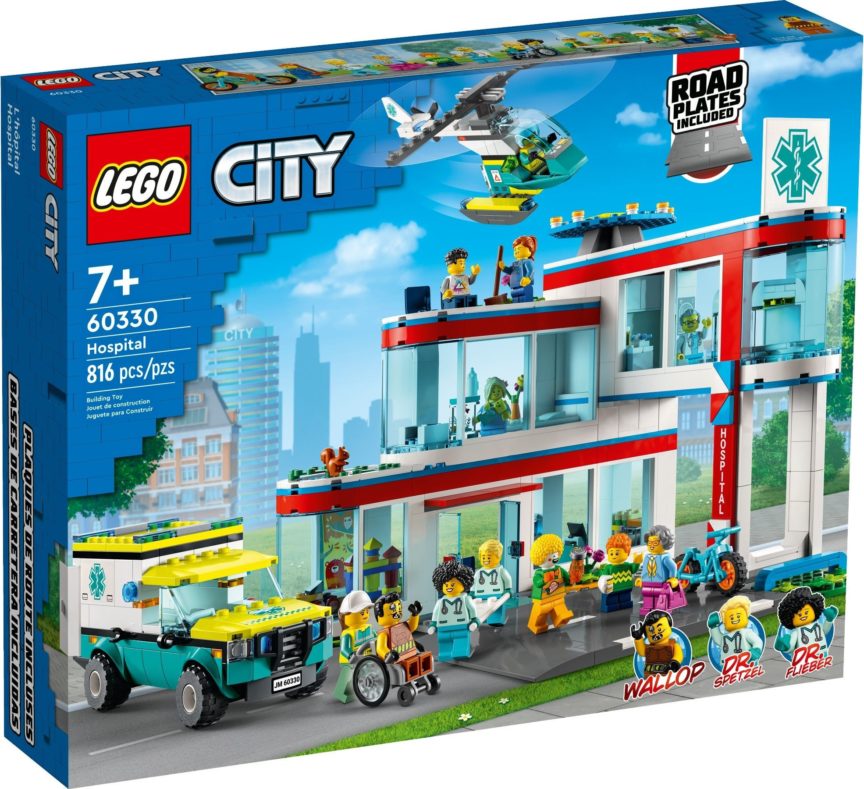 The group spent some weeks pre-planning while their sets arrived, and more weeks shooting. Here's what they came up with.
The Story
This is a big step for humanity, but even bigger for a minifigure

Neil Armstud
As is commonly known, dreams give you wings. However, it's worth taking the correction for gravity!
Youth, however, has its own laws, and the law of universal gravitation doesn't belong to them. The young astro-dreamer, the hero of our story – Rudy, found out about it in a rather unpleasant way.
But at the end, a pleasant surprise awaited him!
It was supposed to be a big day for Rudy who dreamed of becoming an astronaut. On that day he decided to launch his own space program but well…it seems that he miscalculated the risk of this operation.
Gravity had no mercy for him this time and instead of reaching the sky on a jet bike, Rudy got into the Hospital.
Sad Rudy couldn't stop thinking that with a broken arm he would never be able to explore outer space.
Rudy was afraid of the tests that awaited him. He was most afraid of a CT scan. The doctor, seeing the boy's fear, decided to describe the examination to him, comparing it to a journey in a space rocket. The boy was delighted and fearlessly submitted to the CT scan.
The boy's grandmother wanted to make her grandson's stay in hospital a little more pleasant and decided to prepare a surprise for him. One phone call was enough…
That was just an usual "MOONday" in the far far away base, coffee and looking at the endless beauty of space.
Suddenly a call from Earth with an urgent and really important message came.
Captain have to drop his favorite HLC postcard and make some serious decisions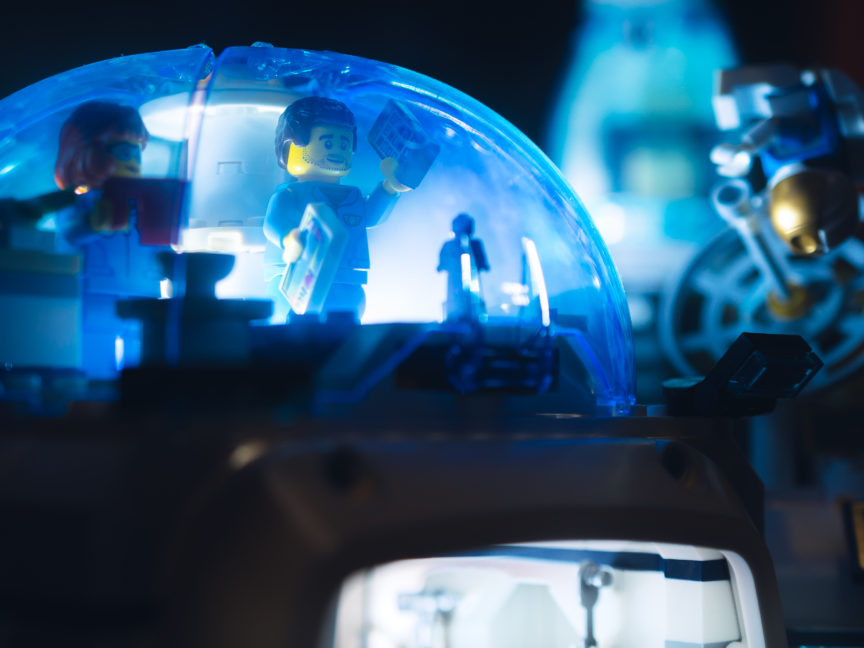 Everyone needed to stop doing whatever they were doing and gather up in the garage to start a new task. Orders were given, everyone knew what to do, there was not enough time and the job was really important.
Three standard astronauts became "The Astronauts" in a matter of minutes. Time to go… 
Rock…This huge rock is on our way to success, we need to move it or the whole mission will not succeed. Quick decision – heavy stuff. We need to bring heavy stuff. Luckily, the garage is well equipped and in a matter of seconds, everything is moving forward.
The crew encounters a stone. On the surface, it looks like one of the thousands of lunar debris that The Astronauts pass by every day. And yet they fail to break the stone, even with…very unconventional tools. Doesn't looks like another ordinary stone…
The Astronauts go to work with enthusiasm. From the lunar soil they extract what turned out to be the newcomer from the stars – a meteorite that will become the component of a cosmic surprise for Rudy.
For a brief moment, the astronauts admire the rock in cosmic silence, wondering how far it has drifted from and how old it is. Then the drone's sturdy grippers lift the space rock carefully off the surface.
Meanwhile, on Earth, when darkness came, one of the nurses put Rudy on a cart and took him away. They took the elevator to the roof of the hospital, at the far end of which the boy spotted a telescope. With great joy, he grabbed the device and began to observe the night sky.
Suddenly a moonbase appears in the lens of the telescope! The base crew has a message for Rudy, cut from a stone that came from the far and old depths of space!
Rudy is reading greetings from astronauts and he knows that one day he will pick up this message in person. And no gravity will bother him!
Extra shots
Rudy had to stay in the hospital for a few more days, but his loved ones didn't let him get bored and think about his injuries. Thanks to a visit from a friend, his hospital-cosmic adventure continued!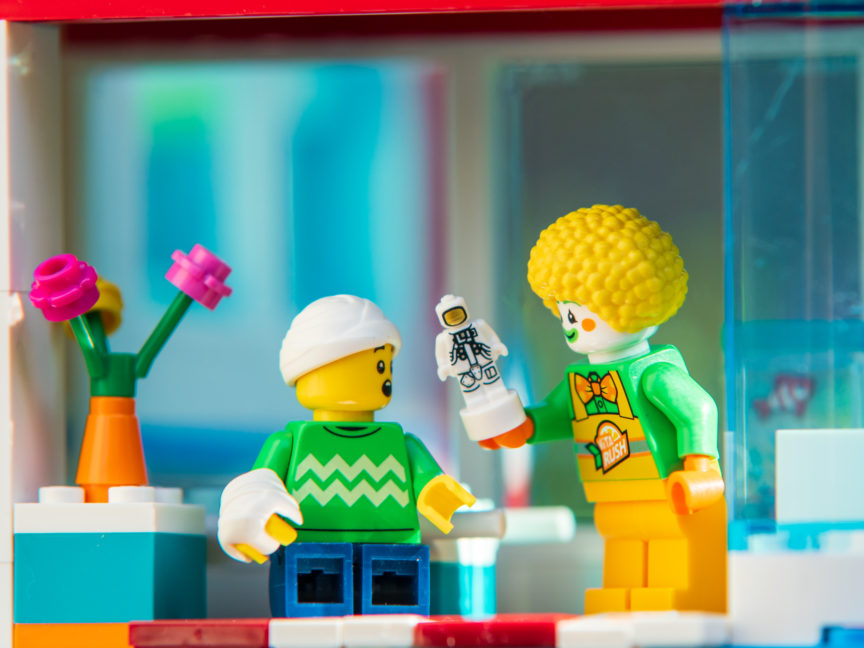 Of course, hospital life went on with its usual rhythm. On the one hand, every day there was new life, and on the other – unexpected surprises…
Behind the scenes
Legomiki
Shooting space and moon climat was new for me and pretty out of my comfort zone and took a while to figure out how to light everything.
The moon terrain was made from decoration sands and mini rocks that you put in "forest in a jar" that are pretty not messy – big plus.
Starting with the base camp, due to a lot of blue windows, I decided to light the base from inside.
I used balloon LEDs – tiny battery LED lights that you put into the balloon to have a super party. They were small and bright enough to make a base to pop and with the blue windows that was a good start.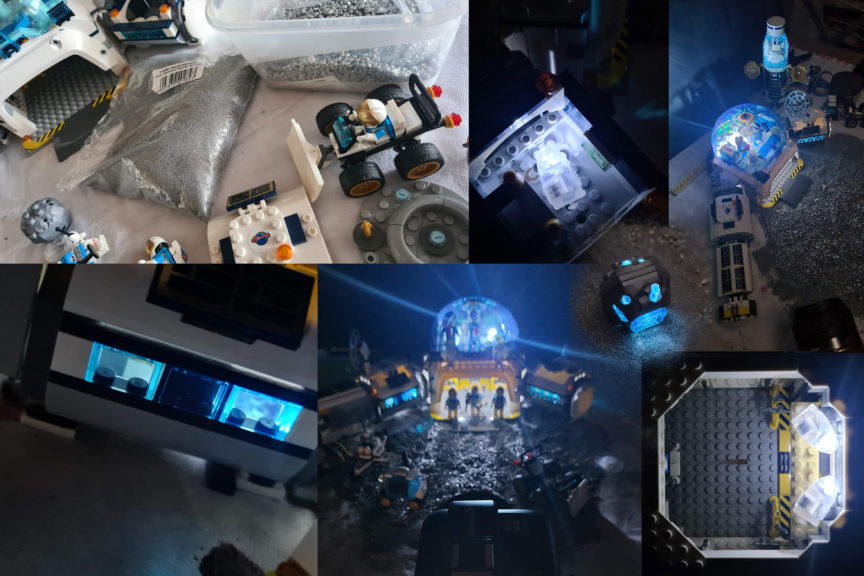 The fun part is that after numerous flash lighting from every angle, photo 5, 6 and 7 were lit only with those tiny LEDs – no other lighting.
I used long times (2, 3 or 4 seconds) and that was enough to have a good moon atmosphere without any other source of light.
Same thing with the balloon led was with a rock – it was just created by LEGO bricks to put some light inside and light through those blue holes – WOW – space rock/stone.
Photo 7 was a little bit tricky to shoot due to the long times and not the biggest table, but lucky chess-box support did not collapse.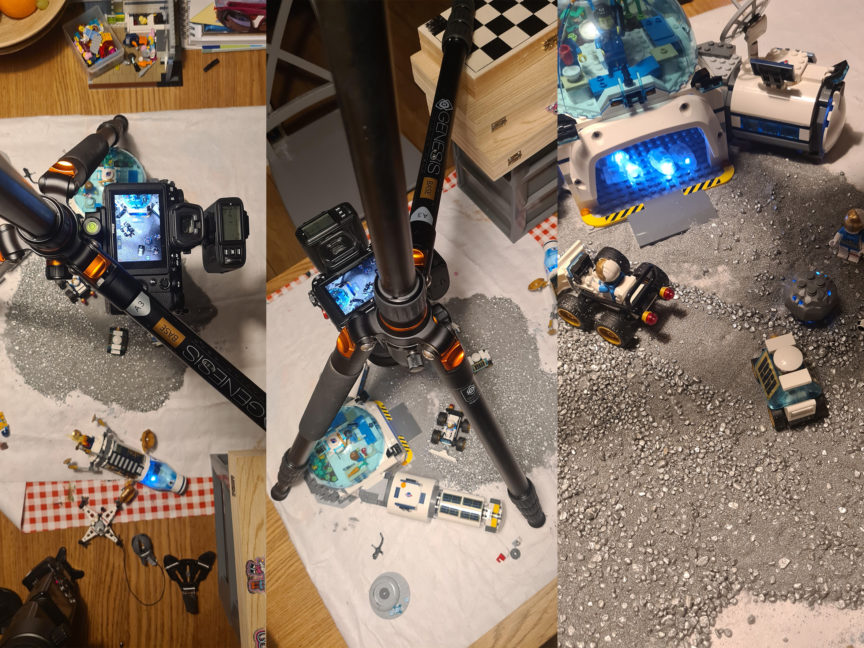 It was great fun and a learning experience.
Tomekskog
I have recreated the surface of the moon for photos several times, but I have never done it for a set as large as the 60350 Lunar Research Base.
It was a challenge for both my improvised studio [greetings to my well-worn kitchen table!] and my computer screen, which, despite its not very impressive size, had done for the whole cosmos!
Of course, I could use black cloth and paste the Earth in post-production, however, I'm a fan of practical effects, and the so-called digirama falls within my definition of practical effects.
I wanted the relative realism of my photos and to keep close to the mood of the photos from Apollo missions, so I used a single, harsh light.
I used gypsum putty to make the lunar ground. This putty is very dusty and it actually resembles Moon dust. And it's just as ubiquitous! Each fall of the minifigure in this dust [and there were a lot of falls, as on the real Moon!] meant that it became pretty dirty.
I didn't manage to clean all the minifigs thoroughly, which I noticed, of course, after disassembling the entire Moon setting! So I did a little research and it turned out that the real lunar regolith [that's the official name of Moon dust] is characterized by extremely strong adhesion and it sticks strongly to the surfaces. It's also very difficult to remove it.
Apollo missions crews mentioned difficulties with getting rid of this dust adjacent to the surface of their suits.
So it was a pure [pun not intended] coincidence that my photo session took on even more [unintentional] realism!
The photo session was only the culmination of much more enjoyable, in my opinion, concept work that we have done with Sandra, Arek, and Michał over the last several weeks. This chipping of ideas, concepts, and different versions of history during discussions is probably my favorite part of every collaboration. Therefore, throughout the process of creating this story, I felt light like an astronaut on the Moon!
Retzka.photobricks
To make my photos I used very simple techniques. However, the most time-consuming was to expand the hospital, because in the original version it is very narrow, which made it difficult to frame the scene well.
I added a floor, moved some walls and added some other elements to the interior. I lit the frames with a desk lamp and Ulanzi lamps.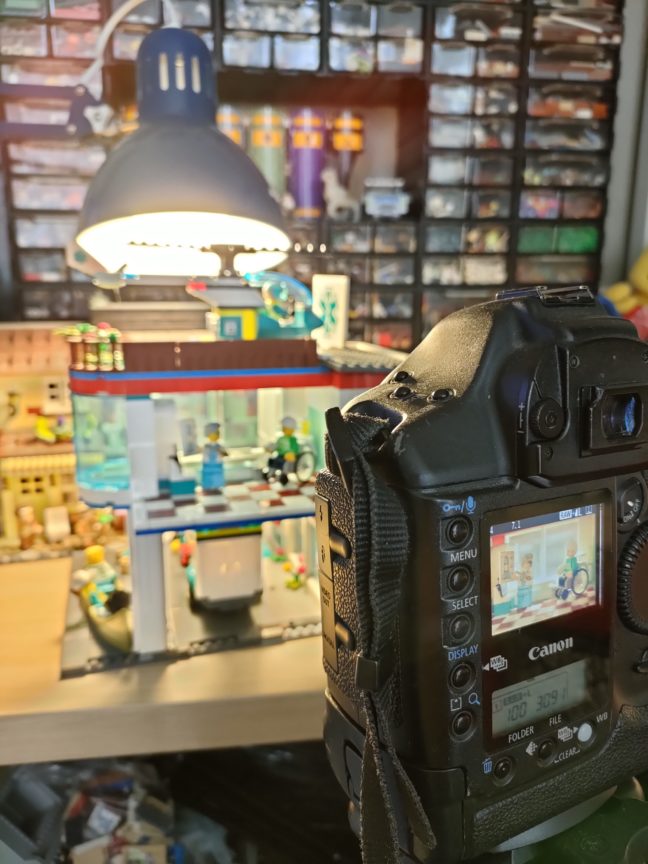 For the photo where the boy is looking through the telescope, I used a small lamp placed in a paper cone and a steam generator to create a spotlight effect like moonlight. In the background was a screen with a photo of an overcast night sky.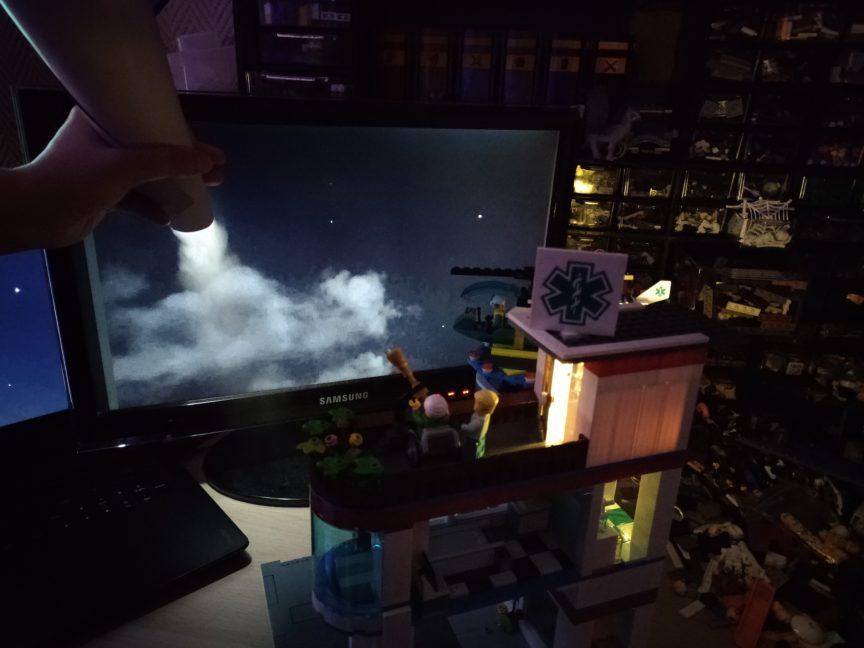 The challenge of an earth-moon connection using a hospital and a space base seemed at first like an idea not of this earth. All the more I was looking forward to such a task and was very curious about how the final result would turn out.
I am very happy that I was able to work with the guys that I have been observing even before I started my activity on Instagram, and finally we were able to see each other "live", thanks to a short meeting with ZOOM.
Minifiguresadventures
I took my photos in a quite simple and easy way.
First of all I had to expand a bit the space inside the hospital. This was achieved by adding the extra floor.
All photos were taken outside with natural light but to put more light directly on minifigures I used a reflector.
By placing some flowers behind the hospital I obtained a nice green background outside the windows.
For the photo of the accident, I used wires to hold the bike and all flying stuff, which were removed in Photoshop.
The dust around is a practical effect; I used a hand pump to blow the dust (shutter speed was set for 1/640s).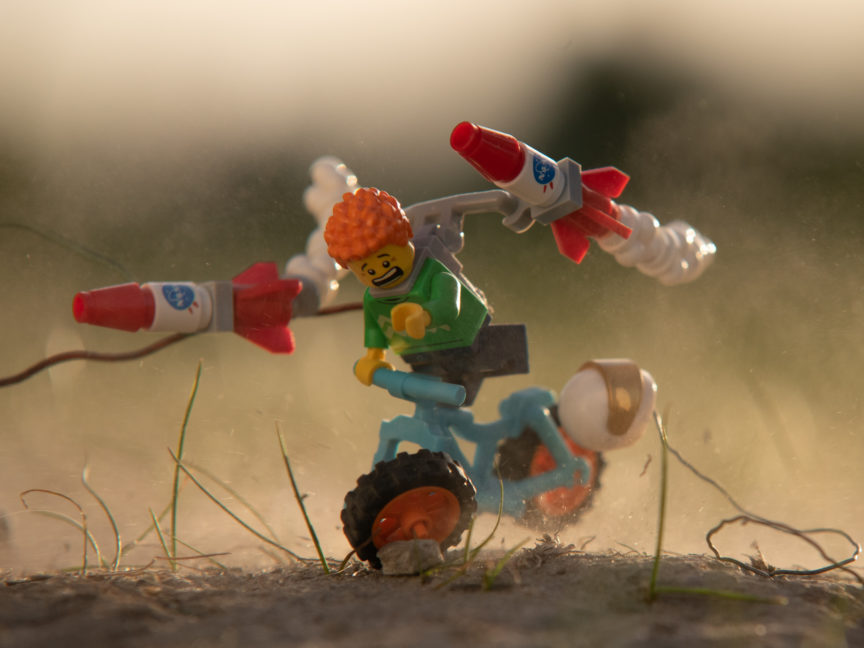 It was the first time for me when I was involved in such a project with other artists.
I'm really happy and thankful that I had the opportunity to be a part of it and that I could see who stands behind these amazing photos I've been watching on Instagram for a long time.
Thank you Sandra, Tomek and Arek!