For decades, The LEGO Group has traditionally released sets dedicated to the repair and maintenance of cars within the Town / City series: service and gas stations, tuning studios and more. 2020 was no exception, among the mandatory police and firefighters 60258 Tuning Workshop found it's place. It looks like a good offer for your LEGO town with lots of vehicles and interesting citizens. Today I invite you to see what exactly the new set includes.
The box looks really big and weighty! A colorful print shows us what is inside, and bags with parts rattle loudly and joyfully! I'm sure this box contains many LEGO City stories! Can't wait to open it!
First Love
The first car is like a first love. You may be disappointed by it after all, but you will never forget it. Today this girl is buying a tiny city car to ride it to high school or work. The used car salesman is likely to make an advantageous offer! What a wonderful sunny day to start something new!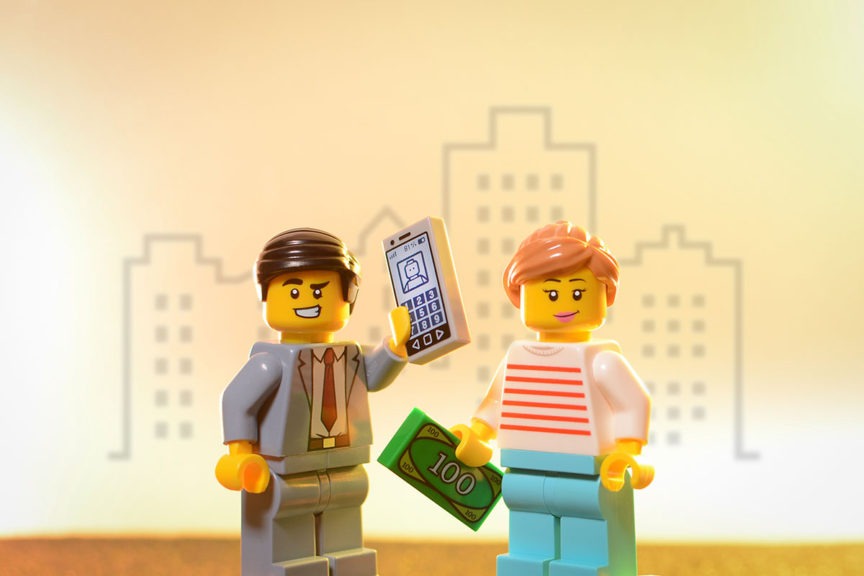 A car becomes the first step to adult life for many people and this one costs only a hundred LEGO bucks! Hey, Is this the same car that Emmet Brickowski drove in The LEGO Movie? Another color, but yes, it is! Sounds like a good deal isn't it?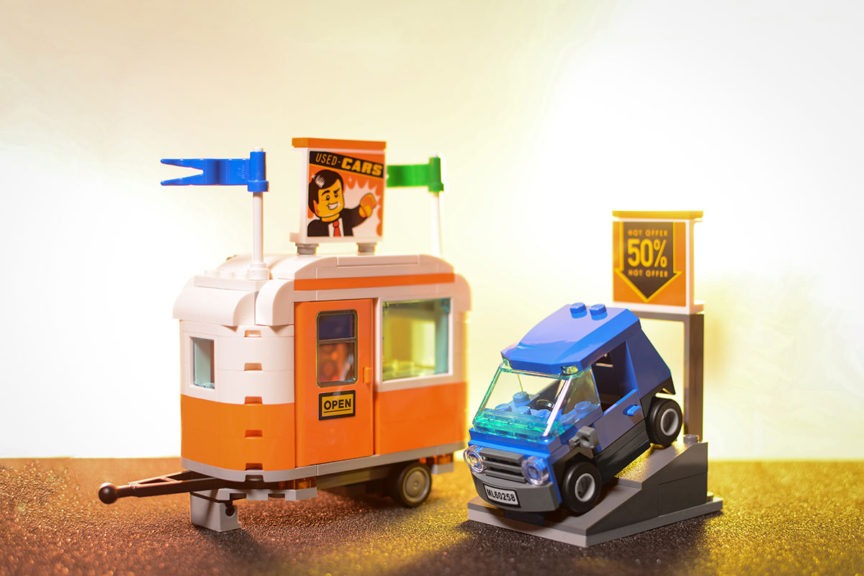 Here you can see the ascetic life of the car salesman. Just the most necessary – a cell phone, a coffee mug and a small fridge with soda. It even looks a little bit cozy.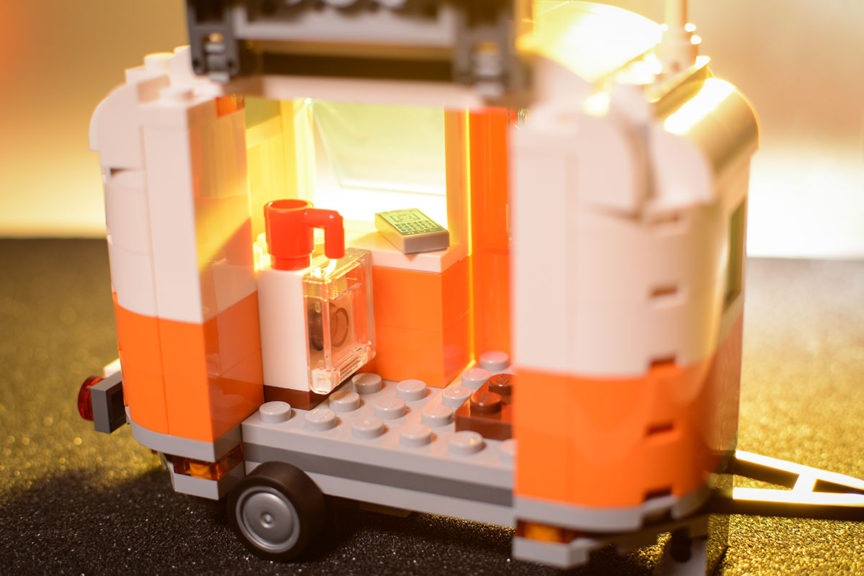 The sun is already setting, and you can hear the roar of engines. This means that we will need a lot of coffee because a long night awaits us.
Mighty Engines
However if you want not only calmly travel around the city in a small car but you are looking for thrills, this part is for you! When the city falls asleep, they appear on the streets and highways…
Which is faster, a stock sports car or custom dragster? This is exactly what they trying to find out every night. The nitrous-lime armed car and growling impetuous-red Hot Rod.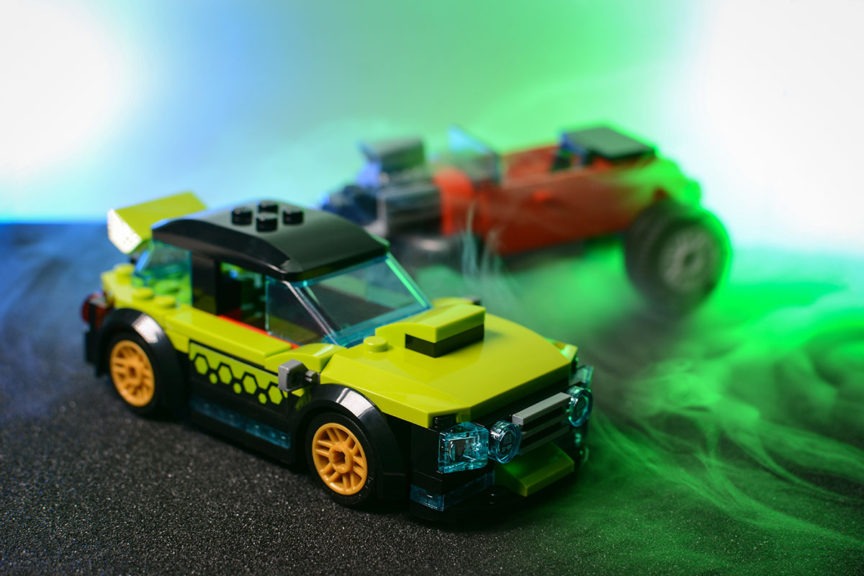 Teasing neon lights versus insanely rumbling exhaust. You don't need to choose someone's side, because both of these stunning cars are in the set. Don't forget to fasten your seat belts!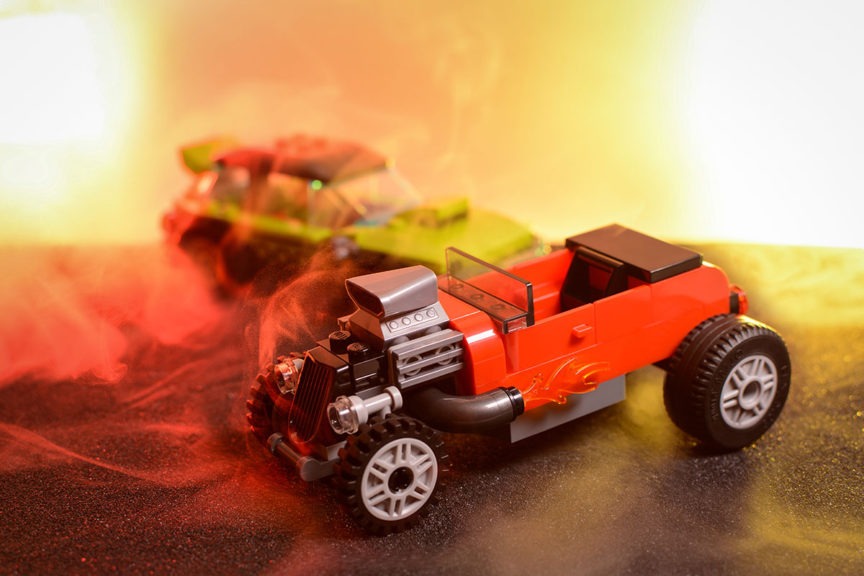 So it's time for us to go deeper into the industrial аrea because something very interesting is happening on the outskirts of the city.
Racer's Den
All these mighty engines and glorious wheels need a good service, so please welcome a team of professional car mechanics who service cars by day and night. These guys are doing really amazing things!
For example, take a look at this motorcycle with an experimental mind-blowing beasty engine and a fiery exhaust! I am sure that the customer will be satisfied! Truly a hot thing!
Also, there is a tow truck in the arsenal of mechanics! A big great pickup is always ready to help. It pulls out of the troubles everyone who needs it. When the road beneath you trembles and the light of orange flashing beacons breaks through the night fog, you know – it coming! I heard some racers call it The Yellow Savior.
A powerful tow truck always brings you and your car to the tuning workshop. All visitors are greeted by Jowls. It is said that this wiener-sausage lover always takes the entrance fee.
A one-floor building made of reddish-brown bricks with big black sliding gate located on Tubeside Ave, away from city traffic.
Everything that happens here is not magic. This is the result of the coordinated work of a whole team of specialists who love their job.
Inside there is everything for comfortable work. Large windows let in a lot of natural light.
A spacious service area allows you to work with any car. There are a wide variety of tools and equipment.
Overall
Everything new is well forgotten old: the new set definitely resembles a classic Town's 6561 Hot Rod Club from 1994 but additionally offers a tow truck, a sports car and trailer with a used car salesman. The set includes seven interesting city dwellers, each with their own story.
This is really big haul for City / Town series fans. So what did you like most about this set? Let me know in comments below. Thank you!