We got an early peek of CMF Series 20 when LEGO revealed them at the New York Toy Fair in February but now we're hands-on with them, courtesy of LEGO.
Lots of early reactions were that the medieval minifigures like the Tournament Knight and Viking were going to be the most in-demand, so there's some good news and bad news to report: there are 5 of each Tournament Knight but only 3 of each Viking per box.
The sea turtle that comes with the Sea Rescuer minifig also comes 5 to a box so there's a good chance of snagging one of the cute animals.
Minifigures Per Box
Here's the breakdown of the box contents:
5x: Tournament Knight, Sea Rescuer, and Super Warrior
4x: Pea Pod Costume Girl, Pirate Girl, Space Fan, Martial Arts Boy, Brick Costume Guy, and Drone Boy
3x: Pinata Boy, Breakdancer, Llama Costume Girl, Viking, Athlete, Pyjama Girl, and 80s Musician
Distribution
In my relatively undisturbed box, the minifigs were arranged in the following order:
Column 1:
80s Musician
Viking
Llama Costume Girl
Athlete
Pinata Boy
Breakdancer
Pyjama Girl
Tournament Knight
Super Warrior
Sea Rescuer
Space Fan
Martial Arts Boy
Space Fan
Pirate Girl
Martial Arts Boy
Pea Pod Costume Girl
Pirate Girl
Pea Pod Costume Girl
Super Warrior
Sea Rescuer
Column 2:
Viking
80s Musician
Athlete
Llama Costume Girl
Pinata Boy
Breakdancer
Pyjama Girl
Tournament Knight
Tournament Knight
Super Warrior
Sea Rescuer
Drone Boy
Brick Costume Guy
Drone Boy
Brick Costume Guy
Pirate Girl
Pea Pod Costume Girl
Pirate Girl
Pea Pod Costume Girl
Tournament Knight
Column 3:
Viking
80s Musician
Athlete
Llama Costume Girl
Breakdancer
Pinata Boy
Pyjama Girl
Tournament Knight
Super Warrior
Sea Rescuer
Drone Boy
Brick Costume Guy
Drone Boy
Brick Costume Guy
Space Fan
Martial Arts Boy
Space Fan
Martial Arts Boy
Super Warrior
Sea Rescuer
Double-sided Faces
Of the 16 in this series, 7 of the minfigures have double-sided faces (L-R): Pea Pod Costume Girl, Athlete, Pirate Girl, Martial Arts Boy, Space Fan, Llama Costume Girl, and 80s Musician.
Oddly, there is no sleepy face for the Pyjama Girl.
Let's look at each minifig, beginning with the ones that have obscured parts:
Viking
The Viking is an impressive minifig with double-molded arms and legs. It also comes with lots of accessories: a beard, helmet, shield, spear and cape.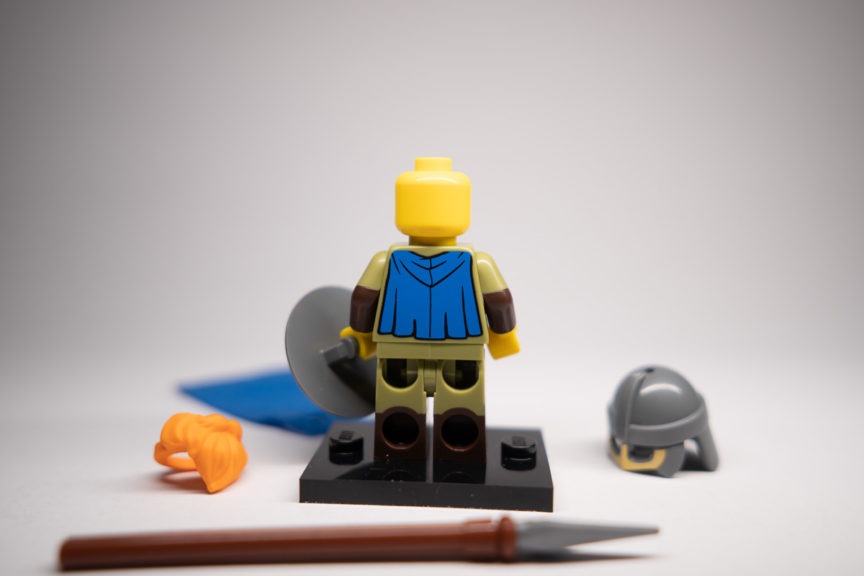 Interestingly, if you lose the cape, the Viking has one printed on the back too!
Tournament Knight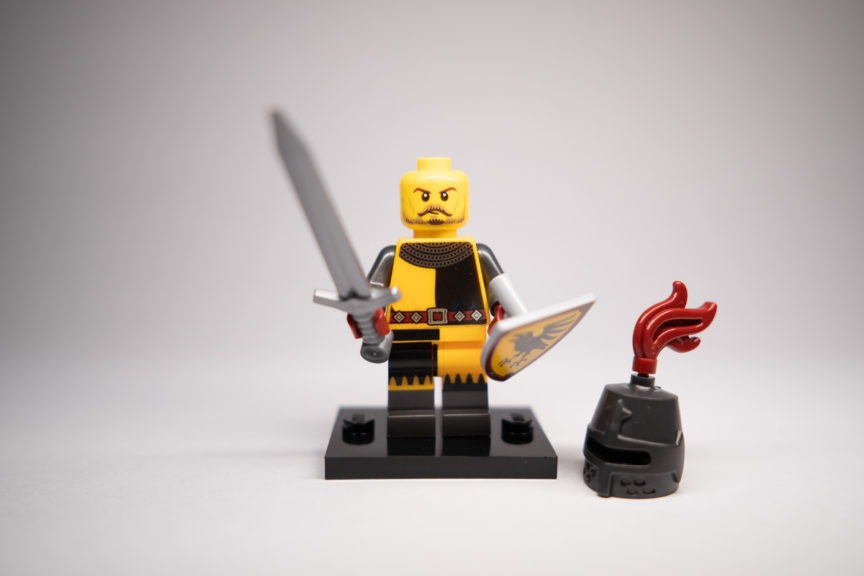 Another strong minifigure design is the Tournament Knight with a very cool color scheme, print, and a great adventurer-type face. There's a hint of a smirk somewhere in all that facial hair.
80s Musician
I'm not a keytar expert, but aren't those black keys supposed to be on the other side, away from the fingers?
Anyway, I love the mullet which we've seen in this color before on Luke Skywalker from the Ahch-To Island Training set. The facial expressions are also fun. They'll likely find their way into custom minifigs.
The colors and style of the tour logo are perfect for the 80s vibe!
Super Warrior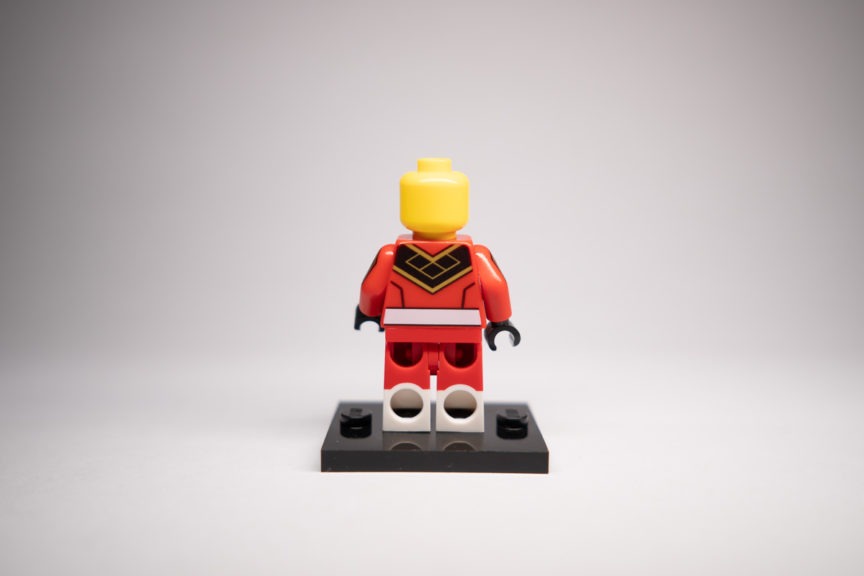 This Super Warrior is likely inspired by Super Sentai (on which the Power Rangers are based on).
Underneath the helmet is a rather uninteresting face. That, and with no hair alternative to the helmet, I find this to be one of the duds of the series.
Athlete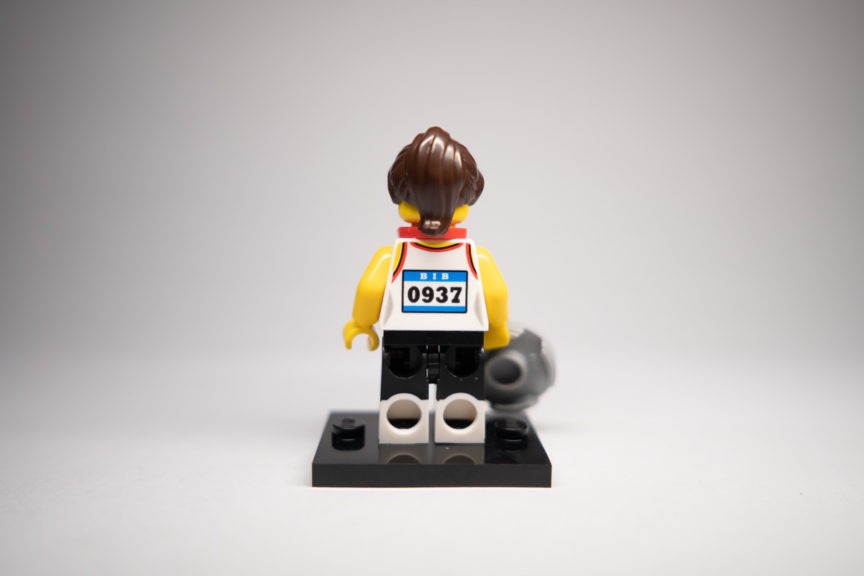 We've seen athletes in Team GB series before so it's good to see a non-national one here.
The Athlete's number is 0937, which is of course, "LEGO" represented upside down in numbers. Above that are the letters "BIB", which I have no idea what that's supposed to mean. "Built in Billund?"
She's sponsored by the LEGO City brand of athletic wear, the logos appearing on her shorts and shoes.
Space Fan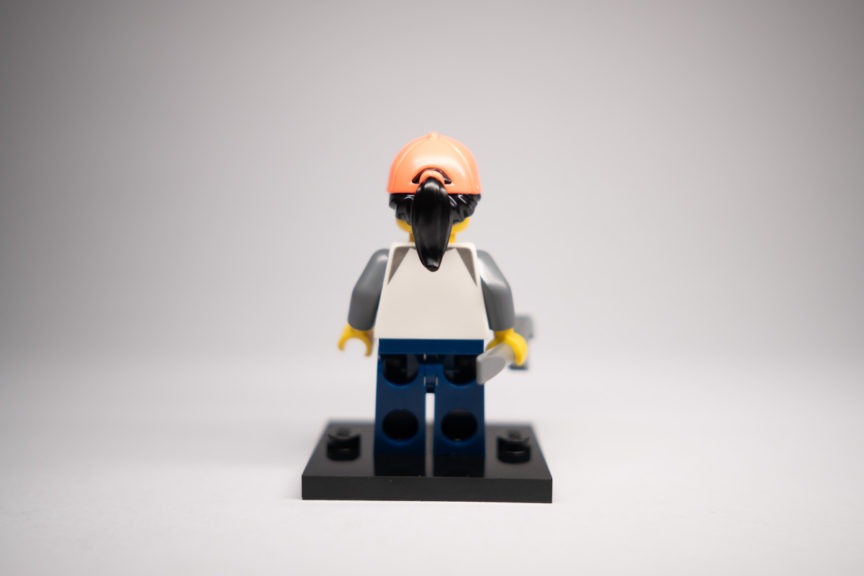 The Space Fan is one of my favorites because I think she has a pretty cool outfit. Well, I think they work better as pyjamas and frankly, I'd love to have these for myself.
The printed tile of the rocket micro-build is really cute and can make for a nice detail in any STEM-related career MOC.
Pea Pod Costume Girl
The Pea Pod Costume Girl hides a surprise: a salad print on her torso. That could be very useful for some food cart or restaurant MOCs.
I'm confused by the red apple accessory. I think a lime green head for an extra pea or a red Technic ball joint for a tomato would have made more sense.
Pirate Girl
The Pirate Girl is another exciting minifigure, especially for classic LEGO fans. She's got a new tricorn and ponytail mold, and great details on her torso and pants.
Martial Arts Boy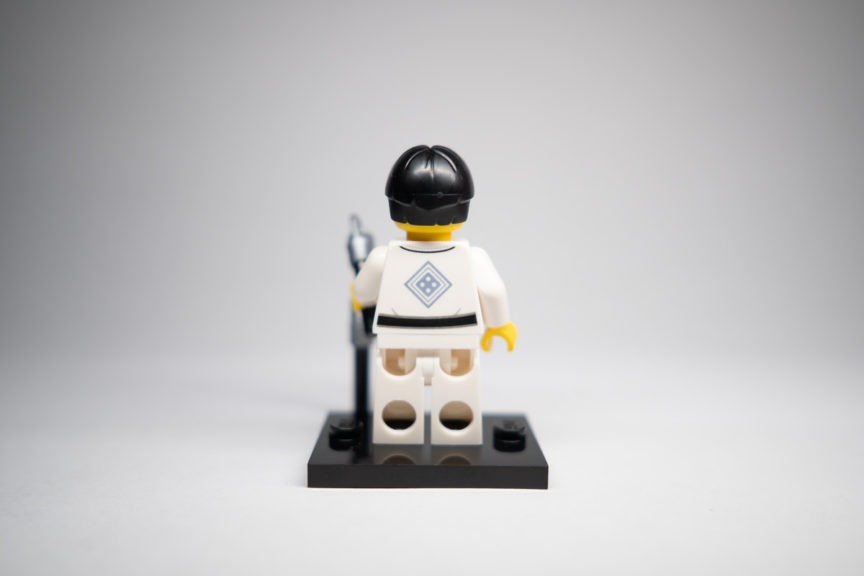 "Wax on, wax off. Wax on, wax off." Here's a Daniel-san-a-like with a black hair recolor (BAM had it in nougat and HP had it in dark brown) and a single mold nunchaku.
Of course, if this were really the Karate Kid, I'd demand chopsticks!
I love that the pattern on the back, chest, and headband is a brick.
LLama Costume Girl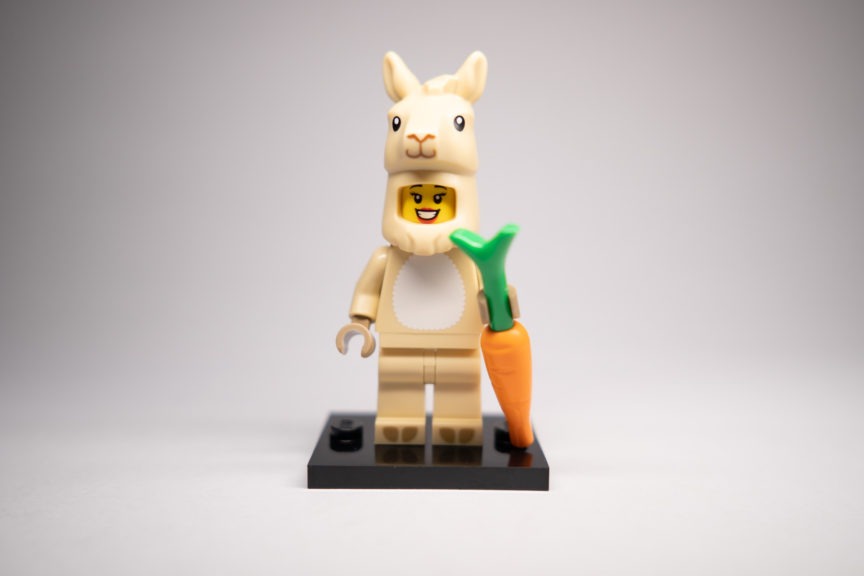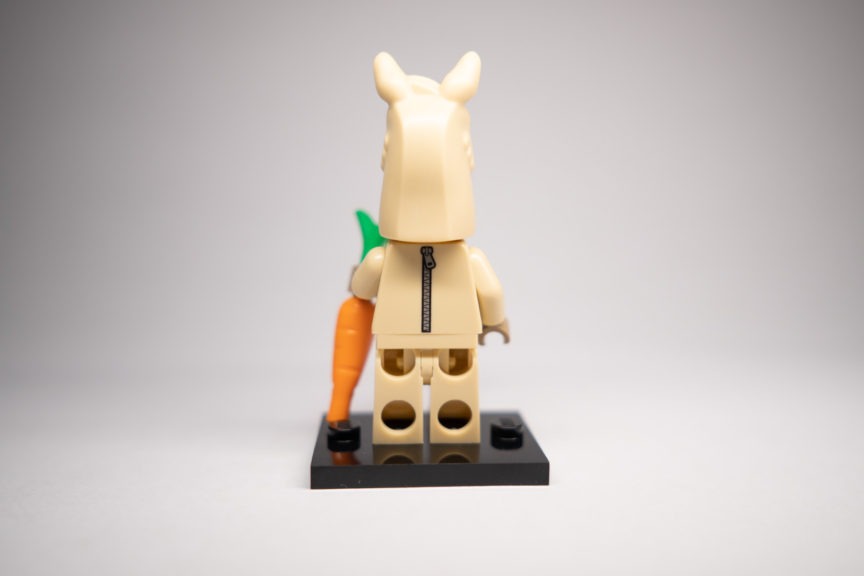 Another animal costume that is sure to be a hit with minifig collectors.
There's not much in the way of printing on the Llama Costume Girl: a zipper on the back, a furry patch on the front, and some toes on the feet. She does have a double-sided face too as I mentioned in the beginning.
Sea Rescuer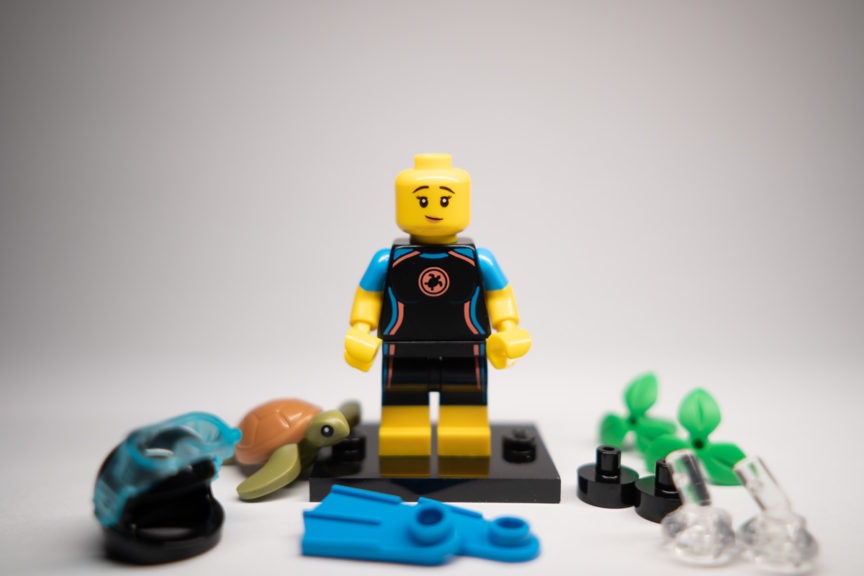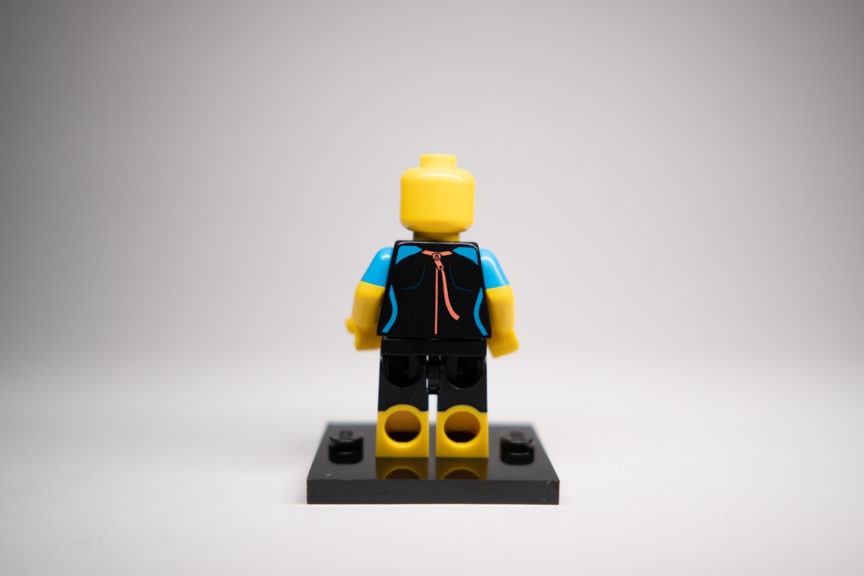 Another diver. Sigh but ok. But what sets this diver apart from the myriad divers in LEGO's catalog is that she's the first to be in a shorty wetsuit, both top and bottom.
The Scuba Diver from the Target exclusive back in 2015 had dual molded arms in blue and yellow but had printed black legs.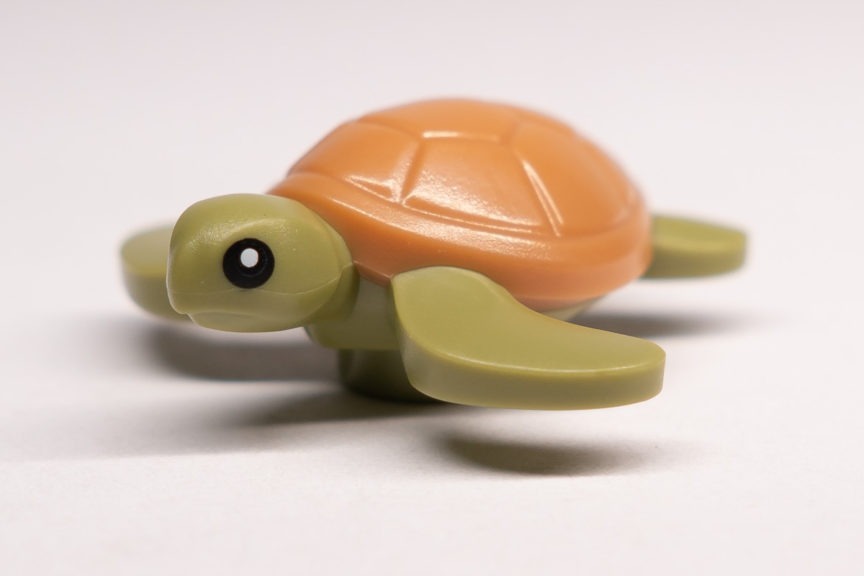 The Sea Rescuer comes packed with accessories, but undoubtedly, the coolest is the sea turtle. Aww!
I'm really glad to see a non-Friends version of the sea turtle.
I expect to see some TMNT mashups with this little guy.
Brick Costume Guy
This is the green version of the blue and red minifigs we had in CMF Series 18.
On the one hand, I find this very underwhelming for an anniversary minifigure: it's been 10 years since LEGO introduced the CMF Series, that's why he's holding a tile printed with "10".
But on the other, this could be the beginning of a color series like the classic spacemen so that might be fun to collect.
I like his face, even though it's a bit generic, and the Soldier: 76 hair recolor.
Pyjama Girl
I have three gripes with the design of Pyjama Girl: One, she's predictably pink so I'm not a fan. I have too many pink or lavender City minifigs already.
My other gripe with Pyjama Girl is that I kind of never want to see these short legs again. Gimme posable short legs from now on!
And lastly, there's no sleepy face on her head. We haven't seen a kid version of the sleepy face yet so I think this is a missed opportunity.
The new bunny doll is great though!
Breakdancer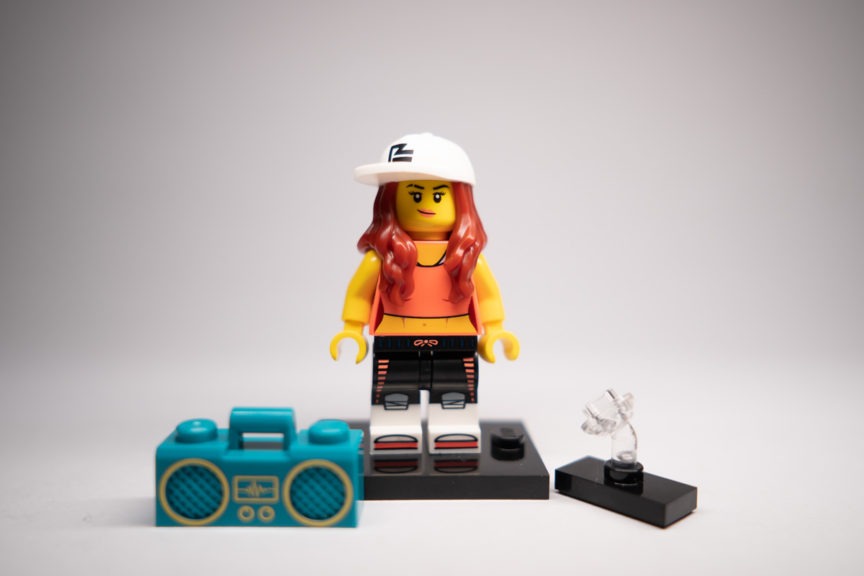 Ahem, the preferred terms in the breaking culture are "b-boy" and "b-girl" but I digress.
The Breakdancer looks like a character that can fit in well with the Hidden Side theme, which is far more urban than the City minifigs.
I like the cap and hair mold but posing-wise, it's weak because the design prevents head movement.
Thankfully, she can move with the posing pegs instead.
Piñata Boy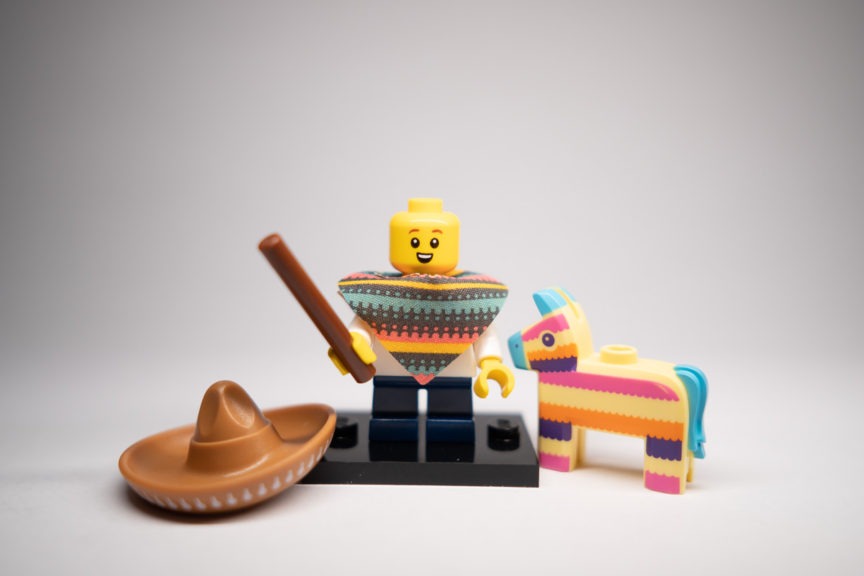 The Piñata Boy's accessories make this minifigure. Underneath the double poncho is a plain white torso and short un-poseable legs (hmph).
The piñata itself is great and the hat will be useful for creating custom minifigs.
I think that this minifig should have come blindfolded though since that's really the first rule of the game.
Drone Boy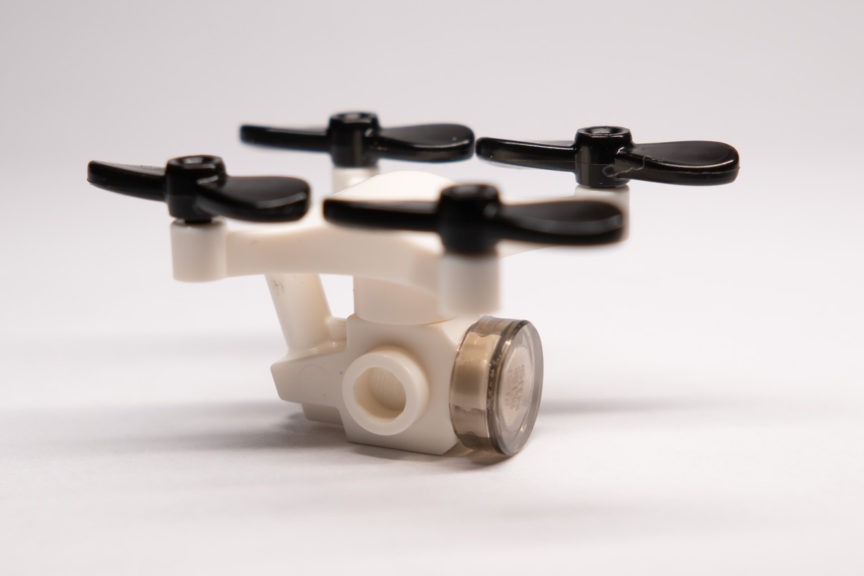 I was surprised to see an accessory of this size being held in a minifig's hand but it works!
The propellers on the drone don't really turn so you'll just have to imagine you're photographing them at a high shutter speed to freeze the action or add some motion blur in post.
I like the Drone Boy's face, and just as with the Breakdancer, I think this minifig can fit in well with an urban theme like Hidden Side. In fact, Douglas Elton/El Fuego wears a similar bandage on his face like this Drone Boy.
Impressions
Series 20 is a boon to the classic themes fans with the Pirate Girl, Tournament Knight and Viking but also to the fans of the modern Hidden Side theme with the Breakdancer and Drone Boy.
Anything animal such as a costume of the Llama Costume Girl or mold like the sea turtle will always do well too because squee.
I'm surprised at the inclusion of transparent posing pegs for the Breakdancer and Sea Rescuer but none for the Martial Arts Boy or the Athlete even though they are more action-oriented.
For me, the weakest of the series is the Power Warrior… and there are 5 of them in a box. The Brick Costume Guy is also down there because it's a rehash.
Still, there's enough in here to get excited about.
Collectible Minifigures Series 20 71027 will be out on April 19, 2020.