Although the official release of Minions The Rise Of Gru was pushed back until July of 2021, The LEGO Group has sent Brickcentral a couple new Minion sets for review! Today we'll be looking at the Brick-Built Minions And Their Lair 75551 and The Unstoppable Bike Chase 75549.
The Minions have finally arrived in minifigure form! In this set (75551) we get Stuart, Bob and Kevin. I've always been a fan of the Minions so I was absolutely delighted to see them with their dual molded parts and detailed printed torsos. The arms have a technic connection which holds them securely into place while still allowing for all the mobility of a regular minifig's arm movements.
Each one of the brick-built minions opens up from the back to reveal a personalized, detailed lair inside! First we'll have a look at Stuart with a fold out bed and a few posters hanging around.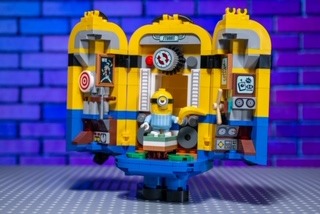 A really fun feature all of the brick-built minions share is the ability to rotate their eyes by turning the round knob with the arrows on it. Building the mechanism to make the eyes spin is an enjoyable and satisfying experience!
Kevin is the tallest minion of the three builds at 5 inches and definitely has a lot going on inside!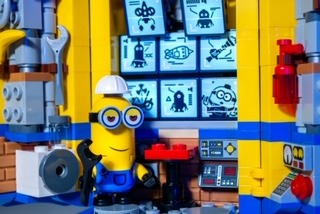 Packed with screens, tools and a few switch panels, Bob is able to monitor the situation and hopefully help keep things under control for Gru.
Now to get the full potential out of the parts in this set, LEGO has included instructions for an alternate build to transform Kevin into Bob!
The transformation form Kevin to Bob only took me about 30 minutes to take apart and rebuild. The inside of Bob's lair is a complete training studio with some storage for a few of his weapons and some plant details, which I really liked.
Overall the building experience was rather satisfying assembling the bright yellow and blue bricks into Minions! The way the rounded tops of their heads are made was one of my favorite parts of the build.
This set is rated for ages 8 plus and I really feel like this is something children and adults will enjoy building. There's a ton of details and playability in these sets and for $49.99 it's a great way to get your Minions fix until the movie is released!
Starting off with the minifigs in this set, we get two minions, Bob and Stuart, and a 12 year old Gru.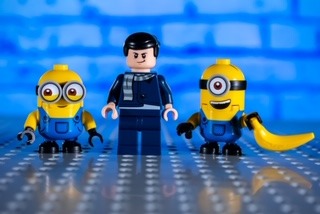 What I found interesting about this child minifigure is that he's on full size legs! I feel like this was done to give him a bit of height since he would have been about the same size as the minions if he was on any shorter legs.
The oversized bike build has three areas where the minions can be posed to ride along on the back. Both sides have hinged plates that allow for a minion to stand or they can grab onto one of the poles behind Gru.
The rocket car was a fun side build to compliment this Minions set! For ages 6 plus the building techniques are simple and easy to follow along with. At $19.99 this a great way to get a couple of new Minion minifigs and Gru, the main character for a great price!