Reimagine things you can find around your house our apartment and you could win a Monkie Kid set of your choice for our "Shot at Home" photo contest! (See prize packages below.)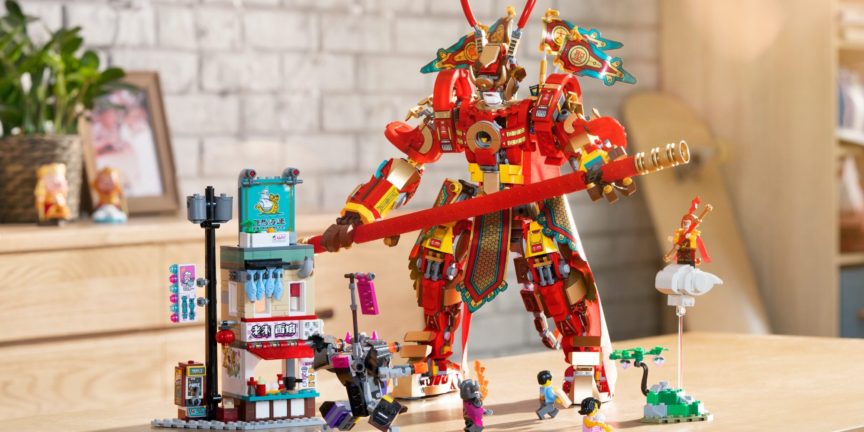 Many of us are still under lockdown but that doesn't mean you can't create some awesome LEGO photos indoors! Our third photo contest is about creating a scene for your LEGO subjects with common household items and shooting them inside your home.
With a little bit of creativity, some packing material from a delivery can become a cavern, a colander can be imagined as a UFO, or a pair of jeans can turn into a mine!
HOW TO ENTER
Take a new photo indoors with LEGO and a household item. The photo must be taken inside — not in your backyard, on your patio, or any outdoor space even if it's on your property. Not everyone in our community has access to outdoor areas so we're limiting it to shots taken inside your home.

If the household item in your photo isn't obvious, a BTS or explanation helps!

Do one of the following:

Add this line to your caption for Instagram entries: "My entry to the #bc_shotathome photo contest on @brickcentral"
Add this line on your tweet for Twitter entries: "My entry to the #bc_shotathome photo contest on @HeyBrickcentral"
Add your photo to our Flickr group, Brickcentral Contests, for Flickr entries
Make sure to follow these 2 rules when you submit your entries or they will be disqualified from winning!
You can enter as many times as you like until the contest ends on June 30, 2020 at 22:00 EST.
CRITERIA
Photos will be judged by the BC mod team based on creativity, originality and in accordance with the theme.
The mods are:
ELIGIBILITY
The contest is open worldwide to participants 18 and older, except for China and other areas where LEGO's delivery provider is unable to reach.
For photos to be eligible, they must be:
your own,
visible to the public,
contain LEGO elements as the main subject (third party accessories and non-brick-built environments are ok),
and be family-friendly in content. (No drugs, sex, politics, religion, hate, violence, etc, please. These will be removed by the forum mod.)
PRIZE
The winner can choose one of the following:
Prize A: Monkie Kid Monkey King Warrior Mech 80012
Prize B: Red Son's Inferno Truck 80011
Prize C: Demon Bull King 80010 and White Dragon Horse Bike 80006
Prize D: Pigsy's Food Truck 80009 and Iron Bull Tank 80007
The prize is generously provided by LEGO and will be shipped directly to the winner for free. If delivery is unavailable in your area, we cannot guarantee that LEGO can accommodate you.
If the set you have selected becomes unavailable in your region at the time of the awarding, we reserve the right to substitute a prize of equal value. The prize can't be exchanged for cash or other items.
WINNER
We'll announce the contest winner by July 5, 2020.
If your entry is chosen, you must respond within 72 hours of the DM or email and submit your contact information for shipping or we will have to select a new winner.
We're looking forward to seeing your entries! Good luck!