A few weeks ago, we got our first official look at VIDIYO, the music video making experience for 7-10 year-old kids from LEGO and Universal Music Group. Now I've got my review of the sets and app that I've been playing with for about a month.
My review kit was a large turquoise box that contained a random selection of two BeatBoxes, two Collectible Bandmate Mystery Boxes, and a poster-sized information sheet inside. The info sheet explained that what I received were "exclusive, prototype sets for the purpose of early testing" and that "the products are test/trial samples."
So while I show you minifigs and packaging in this review, that may not be its final form. (I hope that's true of the app.)
BeatBox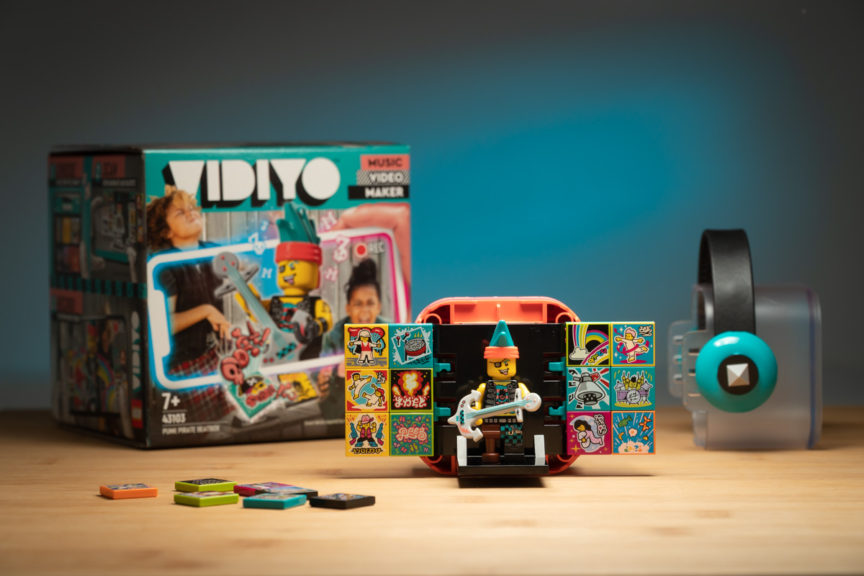 A BeatBox is the main physical product in the VIDIYO theme. Inside each is an exclusive minifig, a "stage", and 16 printed tiles called BeatBits.
Behind the stage, there's space to securely store the BeatBits and minifig accessory in a recessed area. I appreciate that there are slots for the BeatBits as I'm sure it would get very annoying to hear LEGO tiles rattling around after a while. (If you happen to like the sound of plastic parts moving around, LEGO has a playlist for you: LEGO White Noise).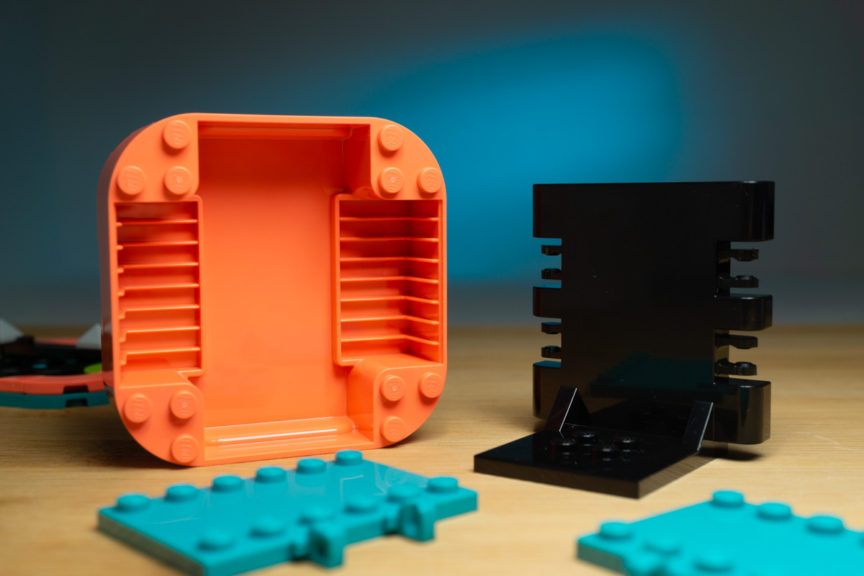 The cover can be decorated with a selection of tiles and plates. There's an instruction sheet to build the main design and then two images of alternative designs.
The BeatBox is meant to be carried around so the whole thing packs up neatly and adorably in a rounded cube with a handle.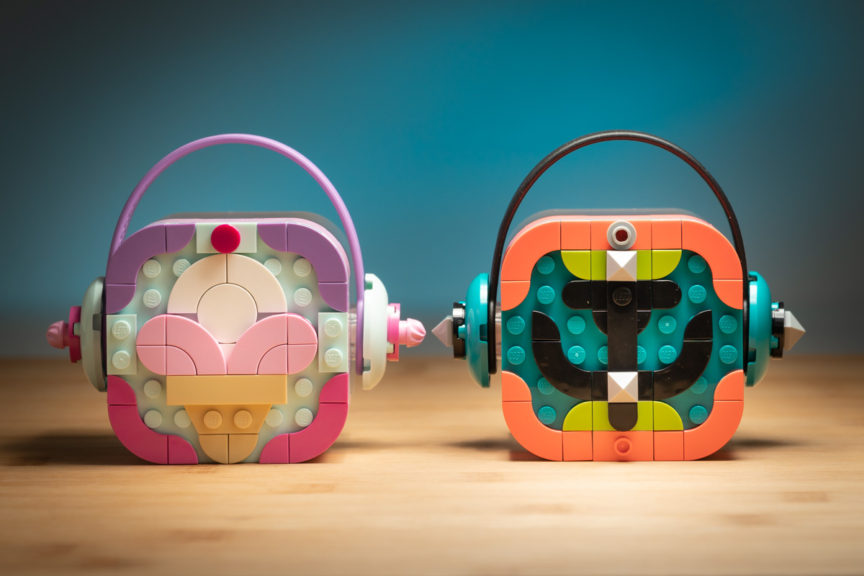 There are six BeatBoxes in this initial wave: Candy Mermaid, Punk Pirate, Alien DJ, Party Lllama, Unicorn DJ, and Hiphop Robot.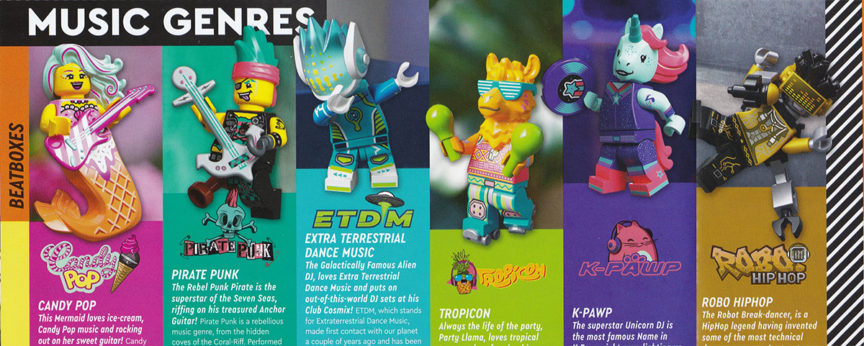 It's interesting to note that two of the characters here are animals with modified heads. They're not costumes, like we've seen in the CMF series with the giraffe, ladybug, shark, and yes, even a llama.
During the Toy Fair in New York a couple of years ago, LEGO did say they were including more animals in their sets because that's what the customers wanted, so this could be an expansion on that.
Bandmate Mystery Box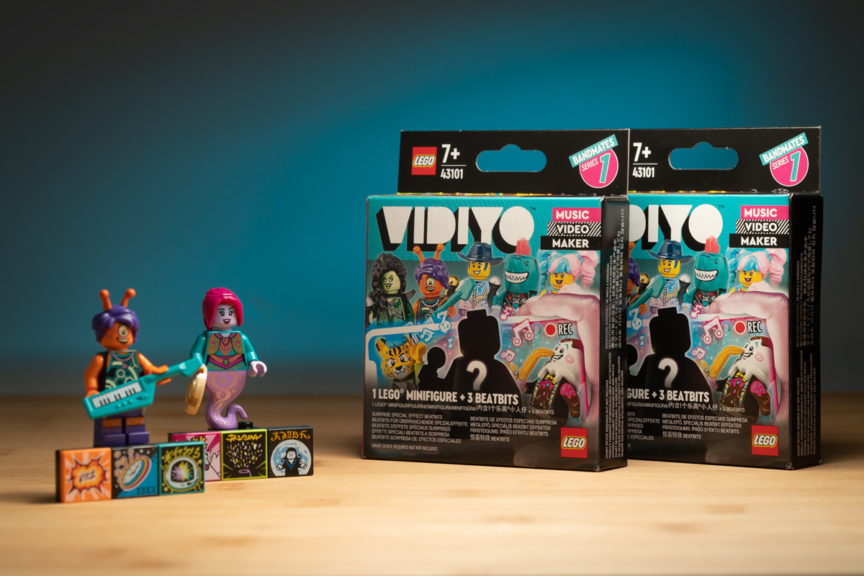 This is a bit of a departure for LEGO: instead of blind bags, the other Bandmates come in boxes.
I'm guessing that the regular blind bags may be too small and flimsy for the contents.
In addition to the minifig and its accessory, there are three LEGO parts to build a mini stage out of and three BeatBits — one exclusive and two random tiles.
The minifig and tiles need to be scanned and recognized in the VIDIYO app so perhaps preventing scratches was a factor in the packaging.
There are 12 other bandmates to collect in this wave: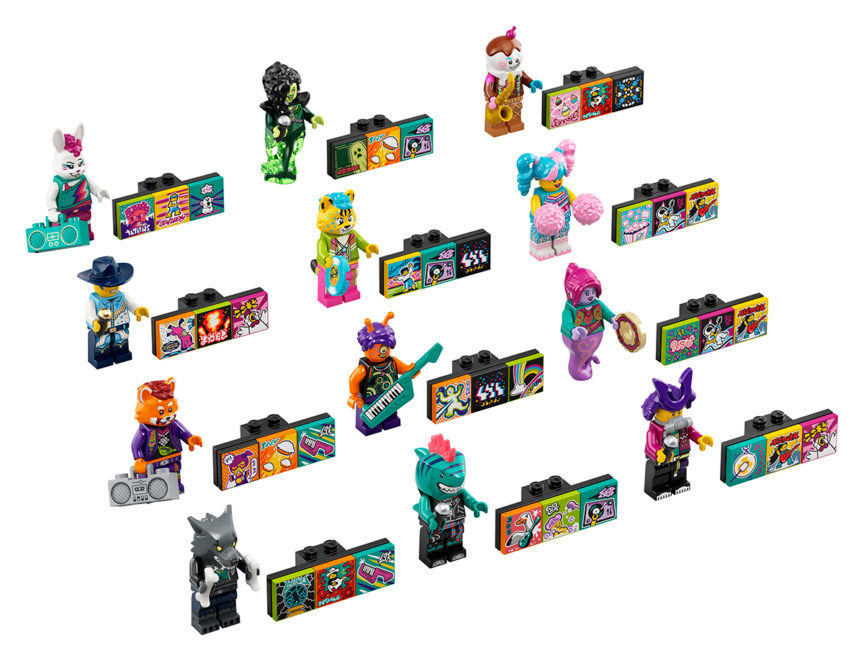 Again we see that there are a number of animal Bandmates.
VIDIYO App
The VIDIYO app is where you can bring your musical minifigs to life. For this part of the review, I got my 10-year-old son to help me since this is really made for his age range.
It takes quite a while to load — about 20-30 seconds — but again, I am reviewing an early release of the app. I hope the load times throughout the app are shortened before the official release.
Otherwise, that could spell disaster since I don't know any kids that will wait that long to start anything. They'll likely just switch to another app that wants their attention. My kid checked his iPad while we waited.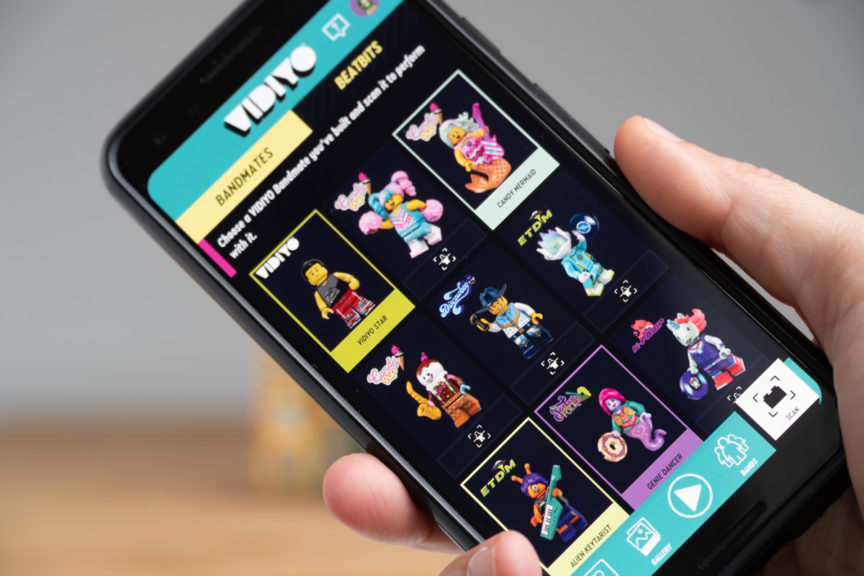 Once the app loads, the default tab is the Social one where you see a moderated feed of videos that other people have uploaded. The other icons at the bottom of the screen are the Gallery, Record, Bands and Scan.
First, you create a band with Bandmates. If you don't have a physical set, you can get started with one of the free Bandmates inside the app. If you have a BeatBox or Mystery Box, you can scan those right in.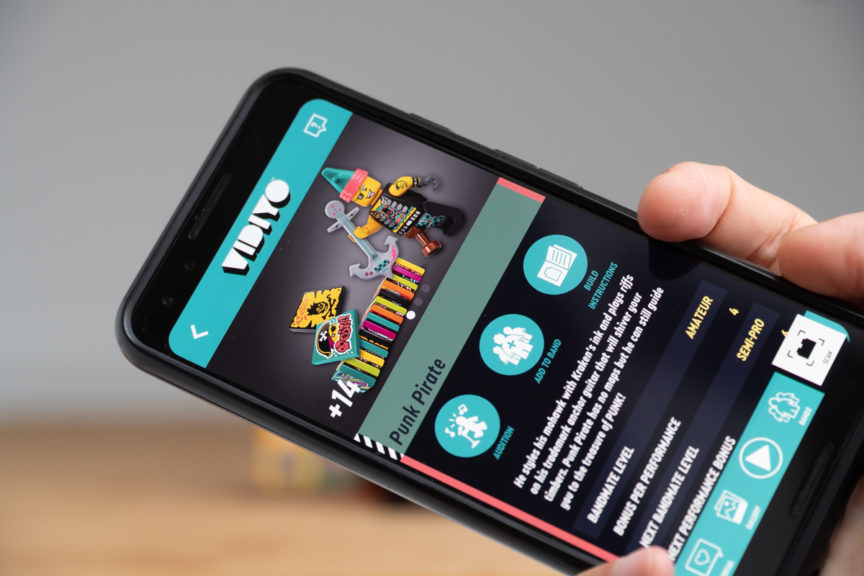 You can even preview the ones you don't have by clicking on the Audition icon on their profile.
From there, you can generate a band name. There is no typing in the app at all, so you randomize words by spinning them.
Customizing the bandmates's individual looks was one of my favorite parts of the app. I love creating custom minifigs with real LEGO parts so being able to do this on an app is whee!
There's even a photoshoot, where I spent quite a bit of time waiting for the minifigs to get into interesting poses and quickly capturing them.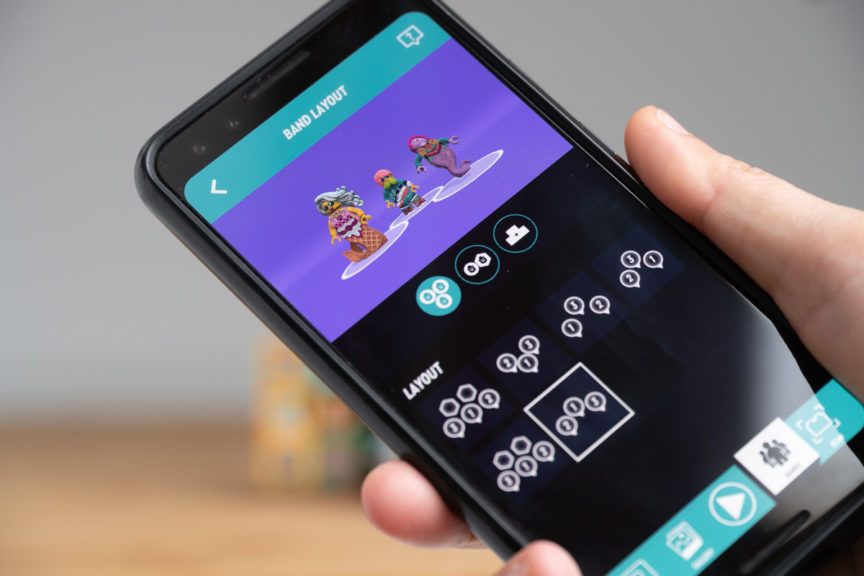 To start a performance, you hit the Record button and choose a song from the curated catalog and the band you want to perform it. Right now, there are only 30 songs in the catalog but LEGO and Universal Music Group will add a new song to it every two weeks.
Then you get ready to scan in the stage with the BeatBits you want (at least three) and one of the minifigs that are already in your band.
This can be kind of tedious because you need a BeatBox stage to scan. A mini stage from the Mystery Boxes won't work as the app is set up to look for the configuration of a BeatBox stage.
I haven't tried to trick it yet by building my own stage though so that might be a good workaround if all you have are the cheaper Mystery Box Bandmates. (I'll update here later.)
While you don't need to have everything perfectly lined up, it's easy to mess up and not have the minifig be recognized or not have all the BeatBits show up.
I got it 9 out of 10 times but I have a pretty steady hand. My kid fared far, far worse.
Considering that you need to scan the BeatBox stage before every new performance, this part of the experience can be a source of frustration for kids.
All the scanning becomes even more painful when you're outside and need to put your BeatBox away. After shooting two videos in the park, I was done with it and ditched my plans of taking the BeatBoxes to the beach. Candy Mermaid would have liked that, I think.
After you have your band scanned, you choose the scale of the bandmates and point your camera at the floor.
The app looks for textures, so shooting on anything too plain may not work. It didn't recognize the white surface of my studio nook (which isn't that smooth) so I added a bamboo butcher block.
The song starts and you're recording! You can tap on the BeatBits to create different effects, do dance moves, change outfits, add filters and other fun stuff. You can also activate the Epic Move by tapping the bandmate's icon at the bottom of the screen.
You can also hit the pause button in the top right corner, and change your camera angle or focus on a different bandmate to create a more dynamic video.
My kid absolutely loved mashing those BeatBits and directing. He knew all of the songs and sang along as he spun around the room, trying to capture his band at different angles.
From time to time, weird things would happen like all of the bandmates would start the performance with their backs to the camera. Or the floor would just disappear and turn into a black void. Or the app would crash.
I think these things are bugs that still need to be squashed though.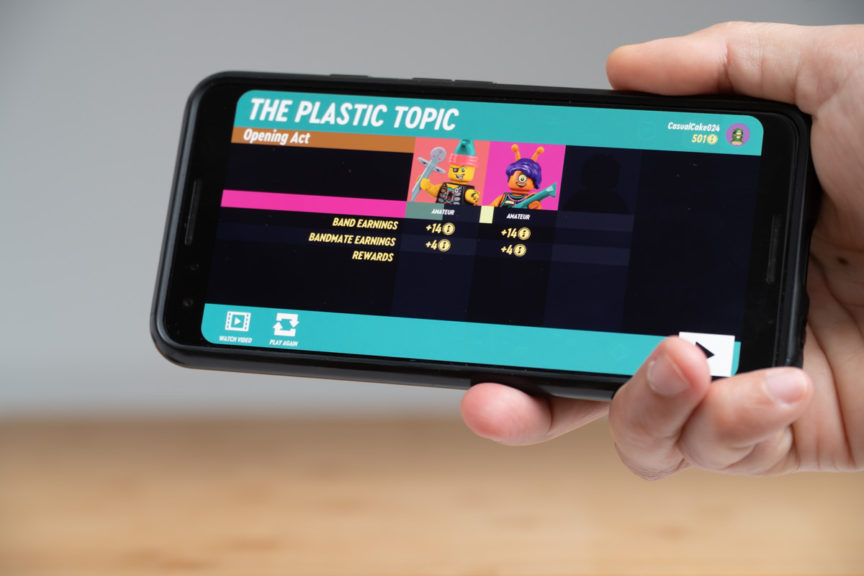 At the end of the performance, your bandmates earn points and level up. ("This is the addicting part of the app, Mom!" My kid loves stats.)
You can watch the video, re-do it, or save it to your gallery. Then you can share it with the VIDIYO community.
When you do, it gets put into a moderation queue where humans review your video for safety before it gets posted to the feed.
Videos that you create with the VIDIYO app don't show up in your phone's camera roll or gallery apps. They are meant to only be viewable and shareable within the VIDIYO app, which is one reason there's no sample video in this review.
I'm sure people will find a way to get around this for whatever reason. As for me, I'm happy my videos are tucked away from the general public.
Verdict
There's a bit of grumbling among AFOLs that LEGO seems to be pushing more and more into the digital world with products like Dimensions, Hidden Side, and now VIDIYO.
I get that. But I think it's good that LEGO acknowledges that digital is just part of how kids experience the world and explores ways of integrating physical play.
The team behind VIDIYO describes the product as a way to pull kids into LEGO and eventually more into building with physical bricks. Their journey can begin with a digital component but that this is just the beginning of what they are doing with VIDIYO.
There is a larger kind of set that was hinted at during the LEGO VIDIYO Awards that I attended a few days ago. "Watch this space!"
My AFOL experience is that the app is buggy, tedious, and takes too long to load. I loved the character customization and the photoshoot but was dour on the rest of the experience.
My KFOL son though was thoroughly engaged with the VIDIYO app. He was on it for an hour straight until the battery-hungry app shut down my phone.
I asked him what he thought of VIDIYO and he said he loved starting bands, creating music videos, activating the BeatBits, and leveling up. He was less enthused about the actual minifigs and doing anything on the social tab.
So I think this is a win for LEGO and Universal Music. My 10-year-old has already asked me to get him the rest of the wave and "When can I sign my band?"
VIDIYO will be available beginning March 1. BeatBoxes are $19.99 and Mystery Boxes are $4.99.