Times change, pandemics come and go, but LEGO remains timeless and releases a new Tree House every year.
That's what I thought when I saw the LEGO Creator 3-in-1 Safari Wildlife Tree House 31116 that I received from The LEGO Group and Brickcentral for a review.
Right away I was in love with the theme. I simply love safari pictures and wildlife. And what kid (and kid-at-heart) doesn't like tree houses?
This set will be released on March 1st and offers fans the chance to build three different models: a tree house with a giraffe, a catamaran with a crocodile, and a biplane with a lion.
I built all three and took some pictures, which I will show you in this review. I'll also share some behind-the-scenes that explains how I tried to create some convincing wildlife scenes with it.
The wildlife safari tree house
Let's go with the first model, the Wildlife Safari Tree House, which uses all the parts.
This one is nicely built, with a mixture of colors (sand green, olive green, dark orange, etc) that we do not see often in such sets. The house is mounted on a baseplate assembled with olive green plates, and has an access ladder and guardrails. On one side there's a white couch where characters (at least the ones with movable legs, too bad kiddo) can sit, and the other side is the entrance to the house with a bright orange door.
I appreciate the small details, such as the exotic flowers underneath (one bloomed, one closed), the rotating weather station on top and the picture frame with the elephants. And the giraffe (I'll come to that below).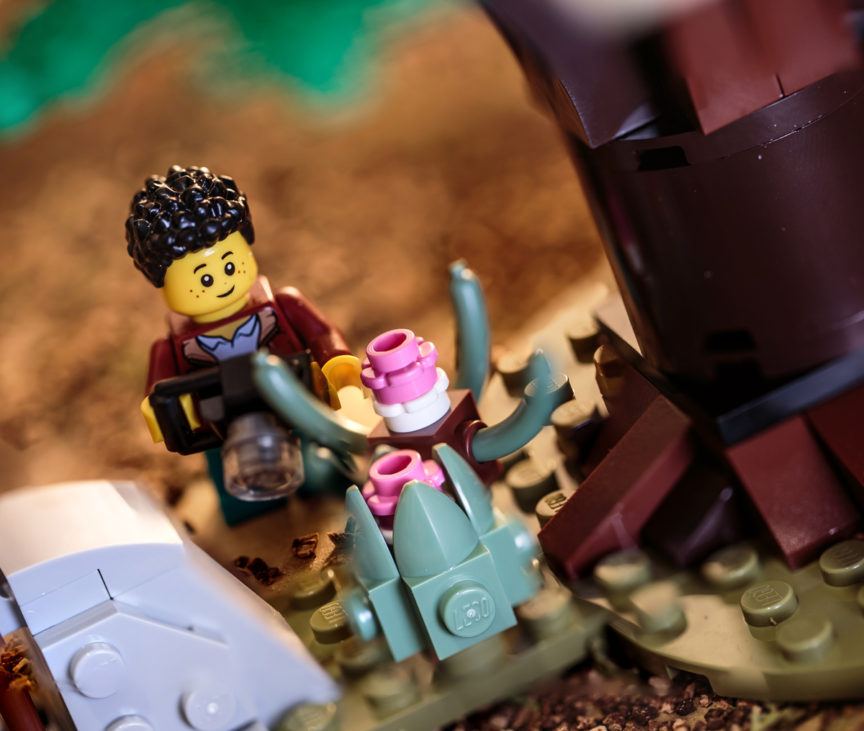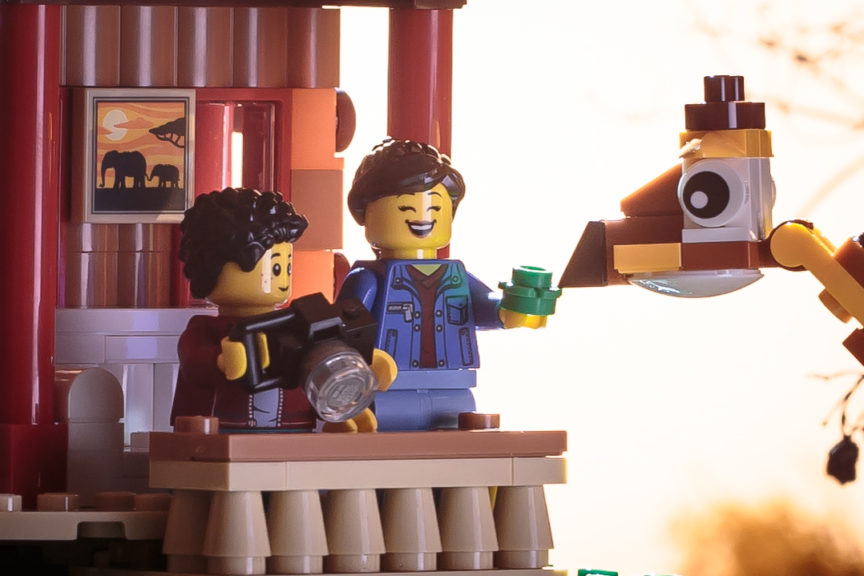 What's in the "house"? Don't get your hopes up. It is very narrow, and only has room for a sink and a toilet. I would dare say it's more a WC than a house if it wasn't for the sad fact that a minifigure can't even sit there with the door closed (helloooo, privacy?) Well, one could fit something else in there. I tried, successfully.
Speaking of which, two brick-built birds are offered in this model: a king fisher (one of my favorite birds) and a flamingo. Simpy adorable.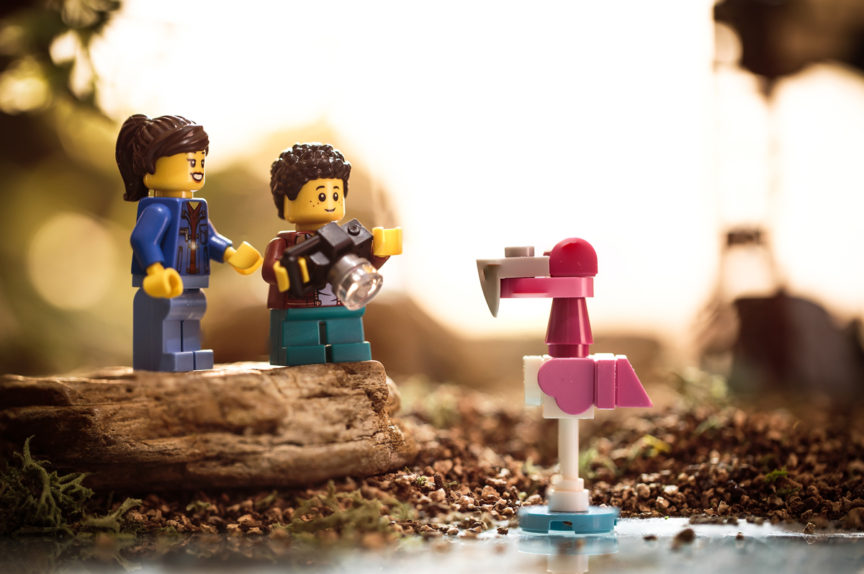 One very positive feature is the brick-built giraffe. It looks convincing and is the star of the set. Looking at it, I couldn't help but wonder if we'll ever get other wildlife brick-built animals (elephants, hippos, tigers, lions). Anyways, I did some shots in the same style as the picture frame, a silouhette against a sunset. An easy classic.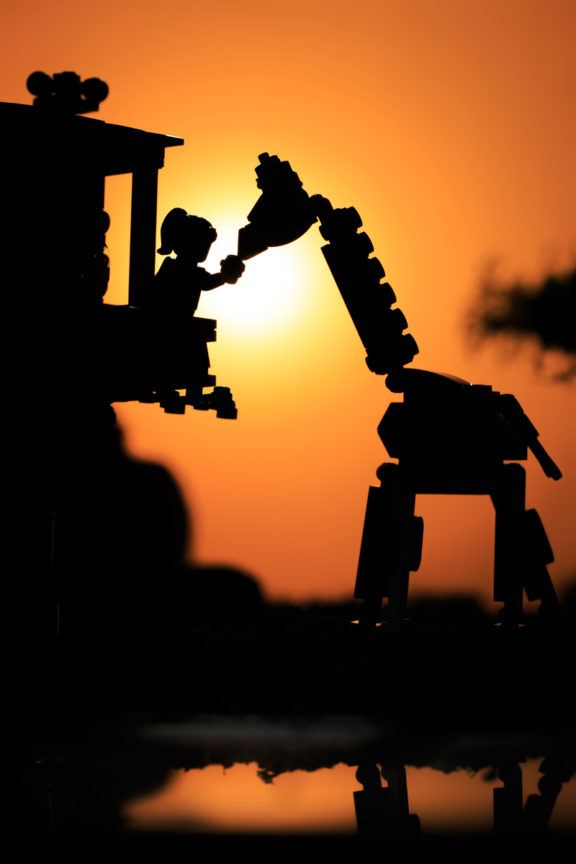 Minifigures
The minifigures surely represent a mother and her son and are meant to stay as such throughout the different models. We get to follow their adventures in the wildlife.
The mother comes with a smiling face and a laughing one with eyes closed; the son is an amateur photographer who seems the happy shy type, but also mildly annoyed by his mom. Or something else. Otherwise, why put such a sad face on a kid in a beautiful setting surrounded by giraffes and birds?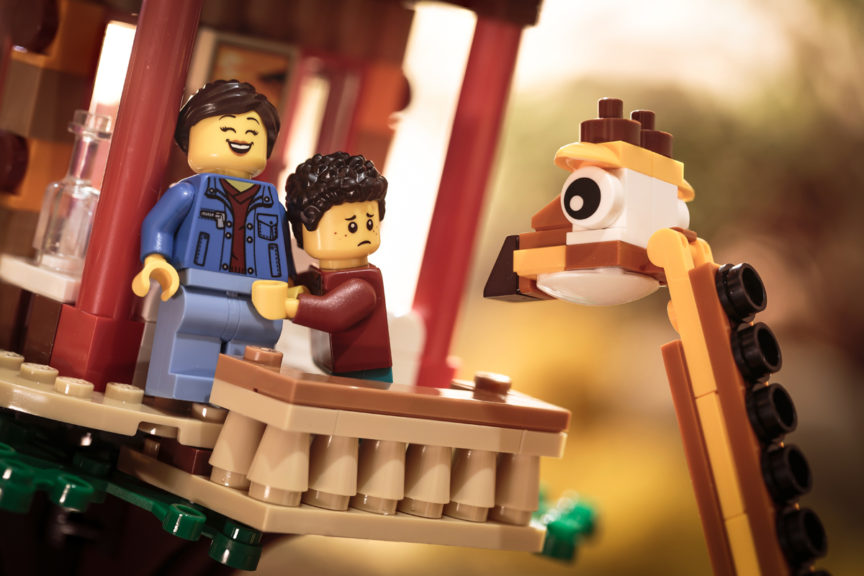 The river catamaran
To answer this, let's have a look at the second model, the small catamaran.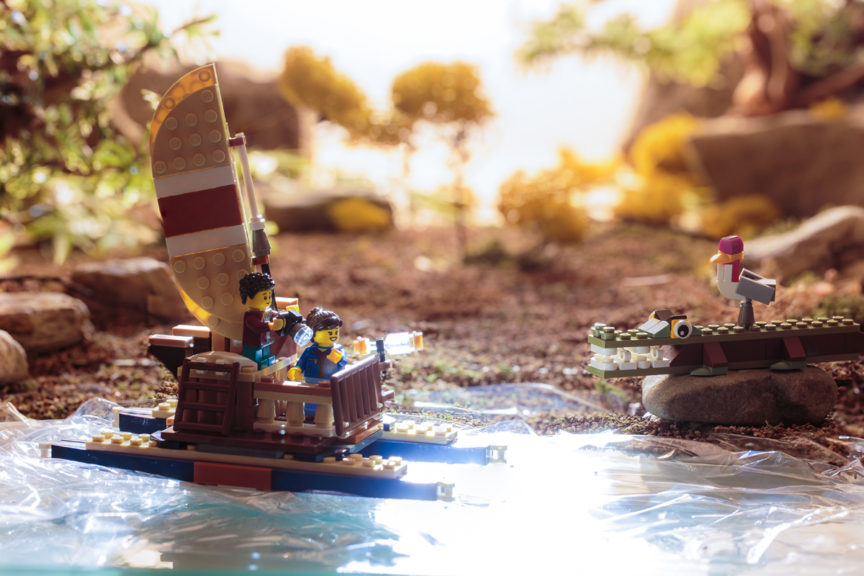 This model uses some clever SNOT techniques for the floaters. The boat is again very convincing, has room for the two minifigures and has a rotating sail. If it wasn't for the fact that we lose the giraffe when building this, it would be my favorite of the three models.
In terms of fauna (it is a wildlife theme), this model comes with a small water bird and a crocodile. The first is as nice as the previous models, but the crocodile is simply built by sandwiching some white and brown parts between two long olive green plates. The mouth does not open and the legs are stiff too. It takes some imagination to make this one jump into action.
This crocodile is probably why the designers saw fit to give the boy an annoyed second face, as you can see from my shot. Or is it really mainly because of what his mother makes him go through?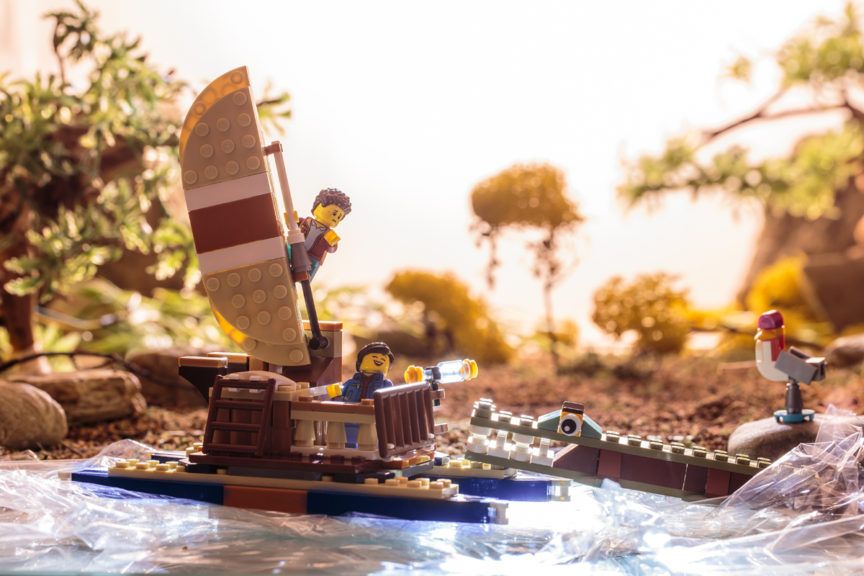 The biplane
Speaking of which, let's check the third model: the small monoplace biplane.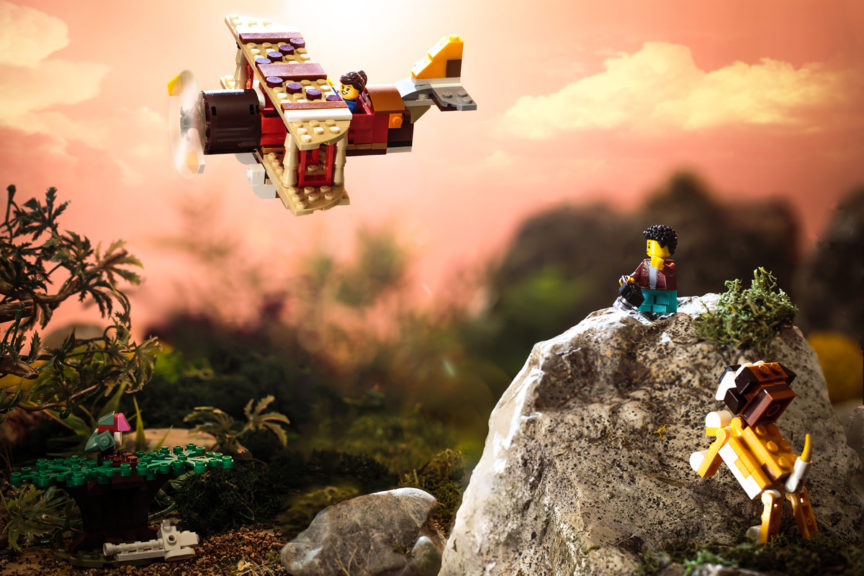 This plane comes with a cute and well crafted lion but also a very crude tree hiding the skeleton of a dead animal (a deer? Seems like antlers on top…) Honestly, this last part left me wondering who would like to play with this, but it kind of sets the tone for a wildlife decor so I take it.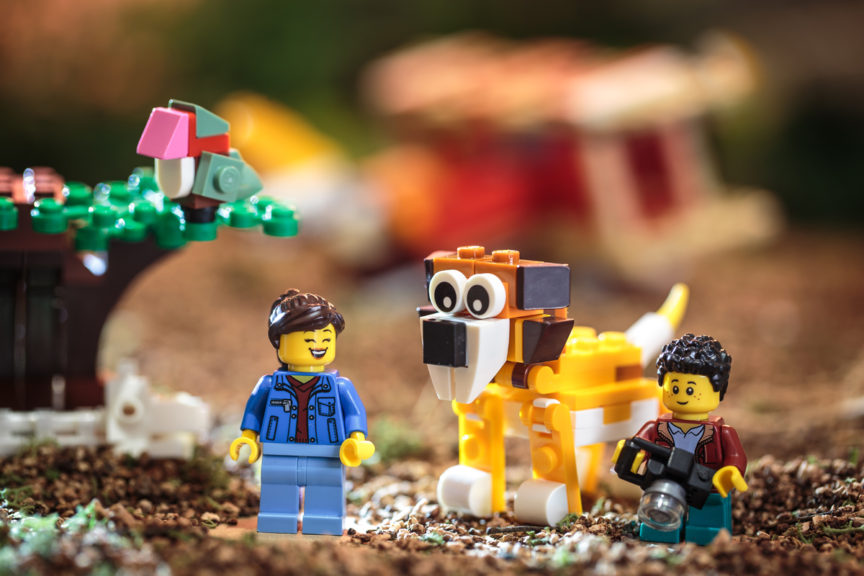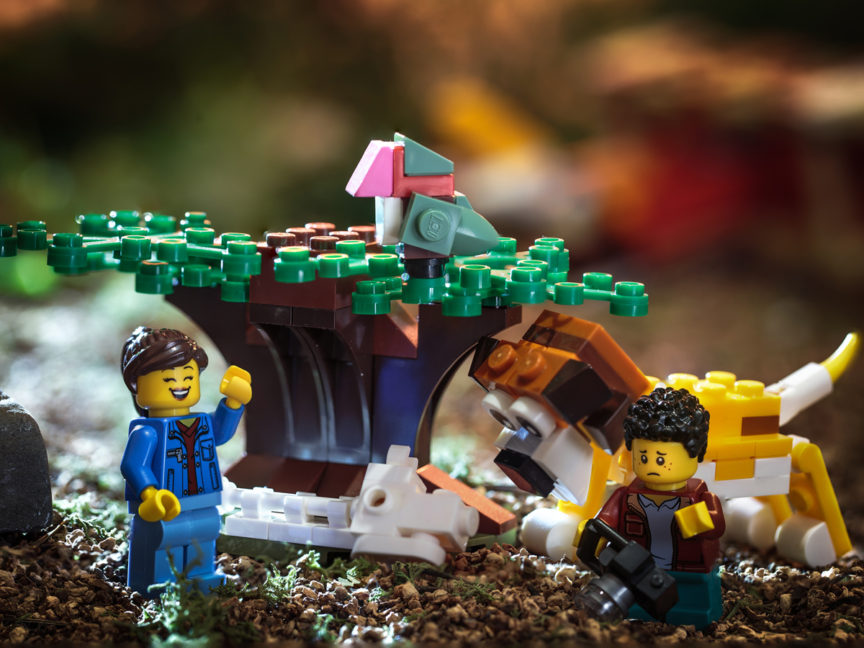 The plane, a double-wing model, is cleverly built and has a rotating propeller, which can even spin when blowing at it. The use of the red pillars and door frame in a SNOT manner was satisfactory and I am sure will give ideas to young LEGO fans.
Sadly there's only one place in the cockpit so that kid will have to hang on tight for dear life (here again a good reason for the frowny face).
As for most Creator 3-in-1 sets, the alternative builds do not use up all the parts and leave almost 200 leftover parts. This is acceptable for allowing different age and experience levels to build them. More experienced fans will surely have fun trying to beef up the official models with the spare parts, as is clearly intended for this theme.
Behind-the-scenes
I will show you here the two small scenes I crafted for the sunset house shot and the river shot. Both use slightly similar lighting setups, but differed in the color grading.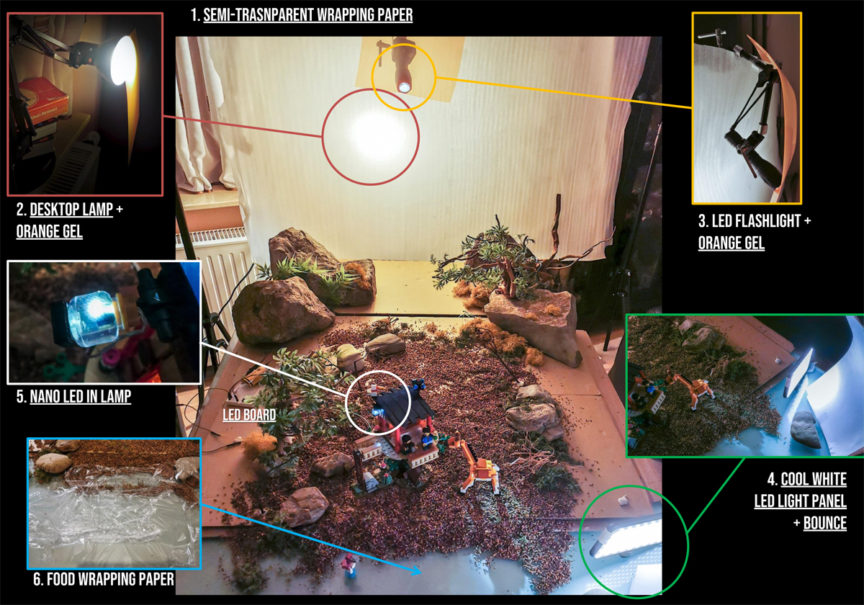 Look at the image above for some clarity. The setup was done on a glass table with cardboard paper covered using a mixture of large rocks, granutaled cork, fake moss of 4 colors, vivarium branches and plastic leaves.
For both shots I used a semi-transparent wrapping paper (1) (this came with furniture, perhaps IKEA glass cabinets), which I hung on a studio background support. I lit up a desktop lamp with a RBG LED bulb, which was set to dark orange (2). I then supplemented lighting on the hairline of some elements (house, people's heads, the giraffe) using a powerful LED flashlight (3) fixed to the background support suing a Small Rigs clamp. This was aligned to more or less the line of the desktop lamp, slightly above not to appear in the picture frame.
I then used a cool-white LED panel bounced back to the scene with a piece of paper (4).
For the safari tree house picture I used the glass table as a water pond, which offered some reflection when the point of view was set at the proper angle.
I also used a small nano led inside the lamp (5) to provide some practical lighting. It really served its full purpose for a night shot (see below).
For the river shot, I laid some plastic food wrapping paper (6) for simulating water and wrinkled it to make it look like the boat's trail. I added another one behind the crocodile to replicate water splashing out (poor kid).
For both pictures (and a lot presented here), I took several shots at different focal points throughout the scene (characters, giraffe, flamingo for the house shot; both characters and crocodile for the catamaran). I shot at f/5.6 on a 100mm lens, trying to keep ISO below 400 with a proper exposure, and merged the different frames using focus stacking in Photoshop. This allowed me to focus sharply on the main elements throughout the scene while blurring out most of the background.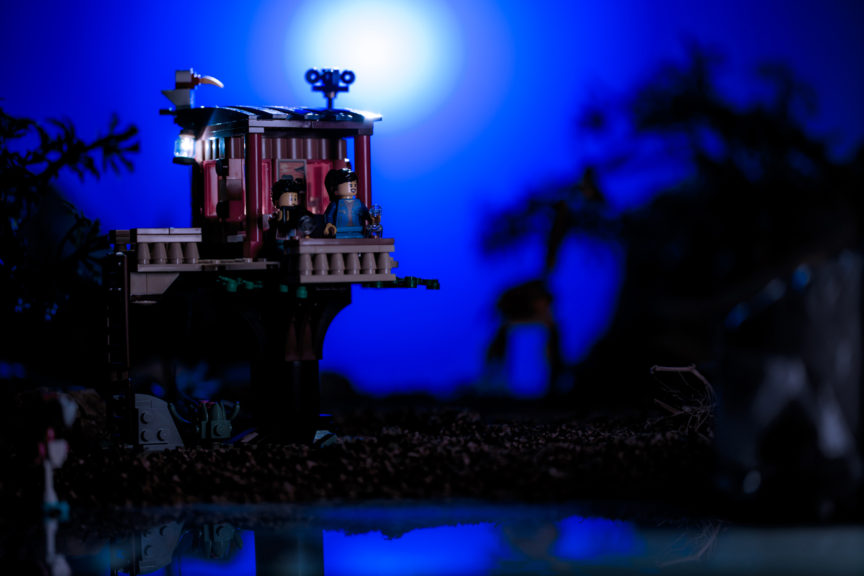 Conclusions
Overall, the 31116 Creator 3-in-1 Safari Wildlife Tree House offers three cute little models, all of which involve a few non-conventional building techniques that will please younger fans who like challenges. Color schemes are perfectly suited for the wildlife context.
The designers managed to provide several brick-built animals, some simply superb (the giraffe, the lion and the flamingo), other lack luster (the stiff crocodile). I enjoyed the house, despite the lack of real functionality (it's a toilet with a terrace!), but largely preferred the boat. I am sure people will occasionally switch between models to have the best of both worlds.
Overall Score: 8/10
31116 Creator 3-in-1 Safari Wildlife Tree House has 397 pieces. The set retails for €29.99/$29.99/£29.99 and will be available on March 1st. Thanks to LEGO and Brickcentral for providing this set.
The review represents my personal point of view.