Today, we go on an adventure in the Forest to visit a honey-loving bear and his animal friends. This silly old bear lives under the name of Sanders in the house at Pooh Corner.
Make sure to ring also, and join Winnie-the-Pooh in a little something for the rumbly in the tumbly.
The latest LEGO Ideas set to be released is the Winnie the Pooh LEGO Ideas #034. I was so happy to be sent this nostalgic set to review from LEGO through Brickcentral.
Opening the box was like welcoming home some very old friends. There are 1265 pieces to the set, which features a build of Winnie-the-Pooh's treehouse.
The Minifigures
Five minifigure animal friends are included in the set: Winnie-the-Pooh, Piglet, Eeyore, Rabbit, and Tigger.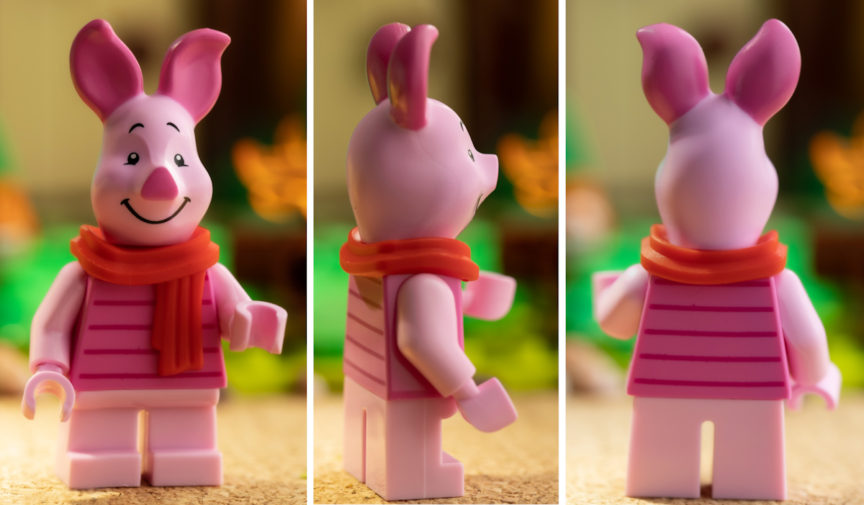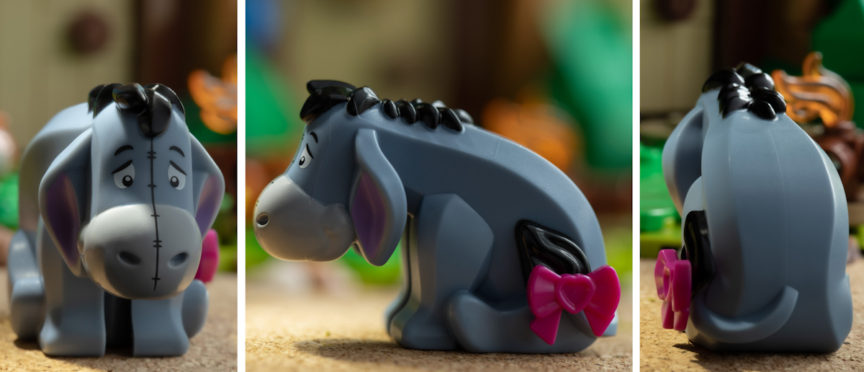 Pooh Corner, the Great Outdoors
The house at Pooh Corner is very photogenic, with the rounded organic shapes for the tree and hillside.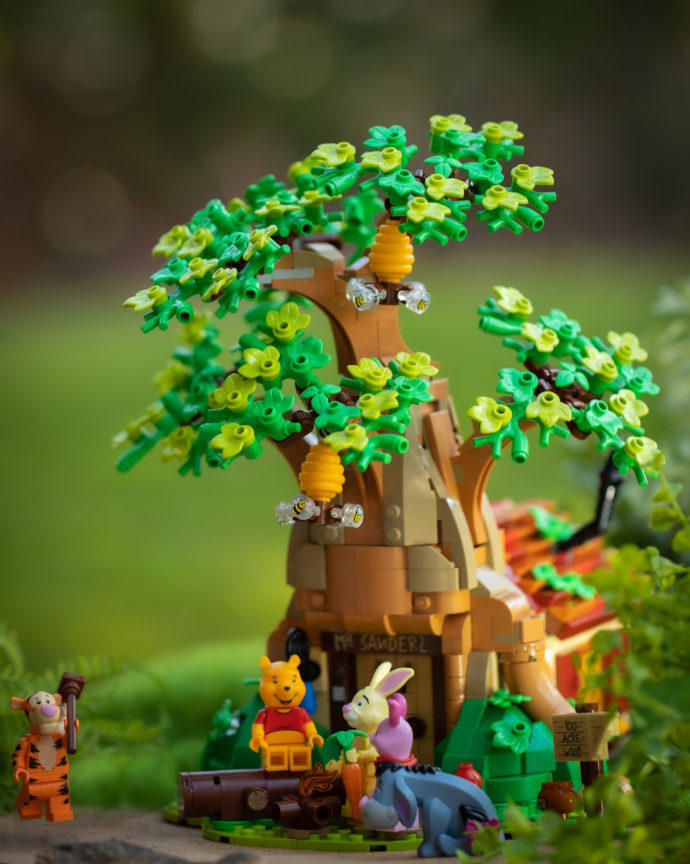 The house itself has an appealing color scheme, with various shades of red, tan and brown that are vibrant without being garish. The little campfire outside looks great, and makes it easier to recreate outdoor scenes from the books and movies.
Pooh, who claims to be a Bear of Very Little Brain, seems to be pretty wily after all, and has somehow managed to get the bees to make their hives onto the branches of his house. Fresh honey, right outside his door, mmmm…
Inside The House at Pooh Corner
Pooh's house is designed to be opened in three parts. The inside of the house is cozy with an entryway where Pooh greets you and offers you tea.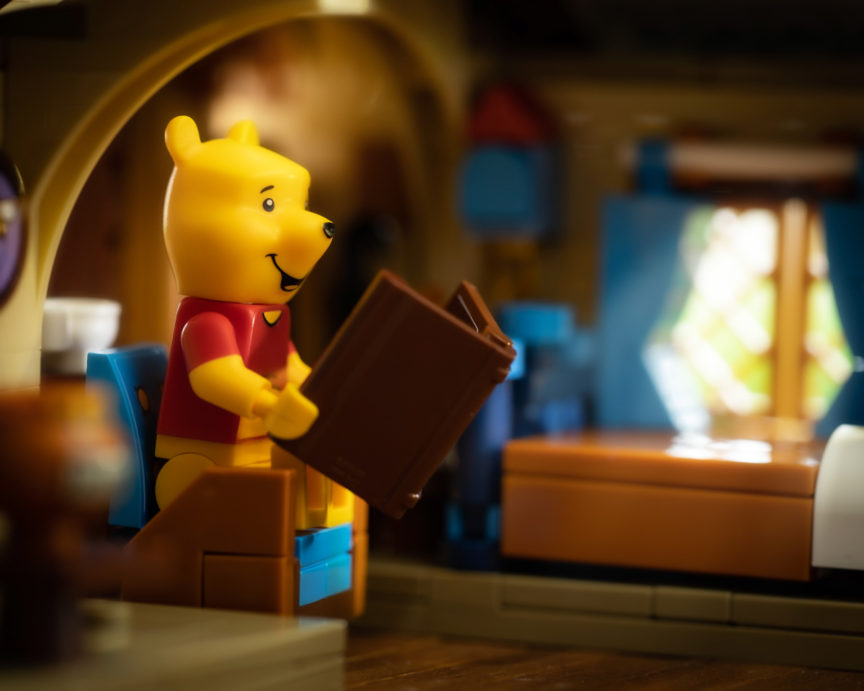 One side is a sleeping area where Pooh can dream of heffalumps and woozles. The other side is an eating area with a stove to warm up on a blustery Winds-day. Surprisingly, Pooh stores his honey in the attic along with his Pooh sticks.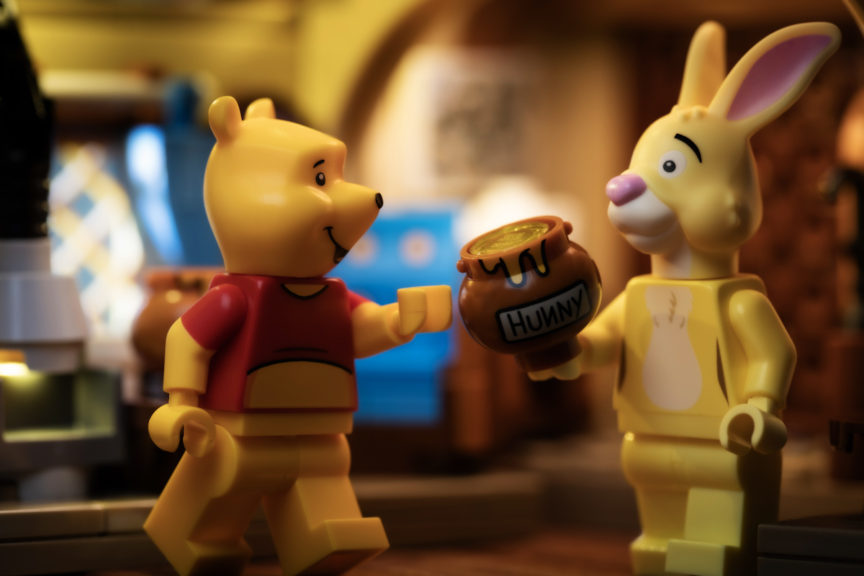 One of the nicer features of the set is that it actually opens up so that you can photograph the interior. Winnie-the-Pooh is quite thankful that his wall doesn't get knocked down just so I can take pictures.
Props and Accessories
There are an assortment of props and building elements that let you recreate your favorite scenes from the books and the movies. Included are mini-builds such as the sign directing you to the 100 Acre Wood, beehives for Pooh Bear to get honey and a mirror for Pooh to perform his daily exercises.
Each character has an accessory that relates to their story, so that you can join Pooh for a snack from his honey pots, keep Piglet warm with a scarf while looking for heffalumps, help Eeyore find his tail bow (no the tail does not come off, which is a lot less distressing for Eeyore I suppose), gather a carrot for Rabbit, and bounce Tigger along with his bag.
My Thoughtful Spot
Just the minifigures themselves are wonderful, and I'm very pleased that they are minifigures and not brick built.
The build is very clever. Some of my favorite parts are the crooked stovepipe, the two angled tree branches sandwiched between the tree trunk pieces, and the rounded hills on each side of the tree, similar to the hill that Pooh's house is burrowed inside in the cartoons.
A very minor con of this set is that Eeyore's tail is not removable. I do wish we could get Owl, Kanga, Roo and Christopher Robin at some point, but that would be a lot of characters to expect for one set.
Behind the Scenes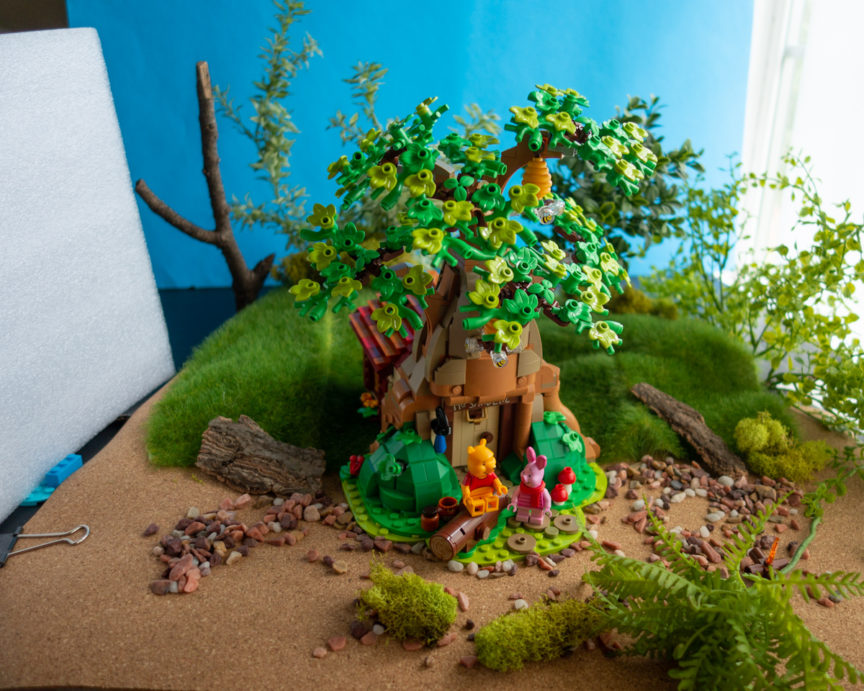 Here are some elements I use to create outdoor scenes. They can be taken outdoors or used indoors as pictured here, since it started to rain.
The base is a roll of cork paper that I like to use for a basic dirt floor. Sometimes I like to use pebbles or sand on top to add extra texture.
Dried moss, bark, branches, artificial foliage and a railroad grass mat are also elements I use often. There is a blue poster board for the sky.
On the right is a window for my light source with a translucent white plastic poster board for diffusion.
On the left is a piece of foam I'm using as a reflector. It is propped up with a few pieces of LEGO.
Conclusion
I absolutely love this set, and give it a score of 10/10. It has characters I really enjoy, and the build is attractive. Hopefully, we will see more sets from the Winnie-the-Pooh license. Pooh Bear would like to spend a nice day doing nothing with some of his other friends.
Winnie the Pooh will be available on April 1 for $99.99.