On May 21st 1932 Amelia Earhart landed her red Lockheed Vega in Northern Ireland having flown non-stop across the Atlantic – only the second person to do so alone, and becoming famous as the first woman to do so. She went on to perform dozens more aeronautical feats and flights, before going missing on a round-the-world flight in 1937.
Lego have commemorated the Atlantic crossing in this gift-with-purchase set that is going to be available from 6th to 14th March 2021 – it's free if you spend over £100/$100/€100. They were kind enough to send me the set to review for Brickcentral, though the views here are my own.
The model of the Lockheed Vega is well put together – I especially liked the landing gear design – if a little prone to coming to bits with handling. The engine detaches quite easily, as do the wings – and even the two halves of the fuselage separate with enthusiasm if you're not careful (or drop it, like I did).
There are some simple SNOT techniques involved and the overall effect is pleasing. The model looks like its real-world counterpart and is quite 'swooshable'. There is a small number of stickers to apply, on the wings, tail plane and body but none of them are too fiddly.
There is a stand where you can keep the aircraft parked on your shelf or desk, but this is where I think the designers have let us down slightly. The parts holding the model are blocky and the pose itself is too 'straight' for my liking.
I'd have preferred a more streamlined stand that held the plane at an angle – could have been difficult to achieve given the location of studs on the underside of the model, but it would have looked nicer.
The minifigure representation of Amelia features her in her printed flying jacket, plain nougat legs, a flying helmet and goggles, and holding a map showing her Atlantic route (a tile with a sticker). As much as any minifig can, it looks like her and features just one face print – a calmly satisfied expression I think.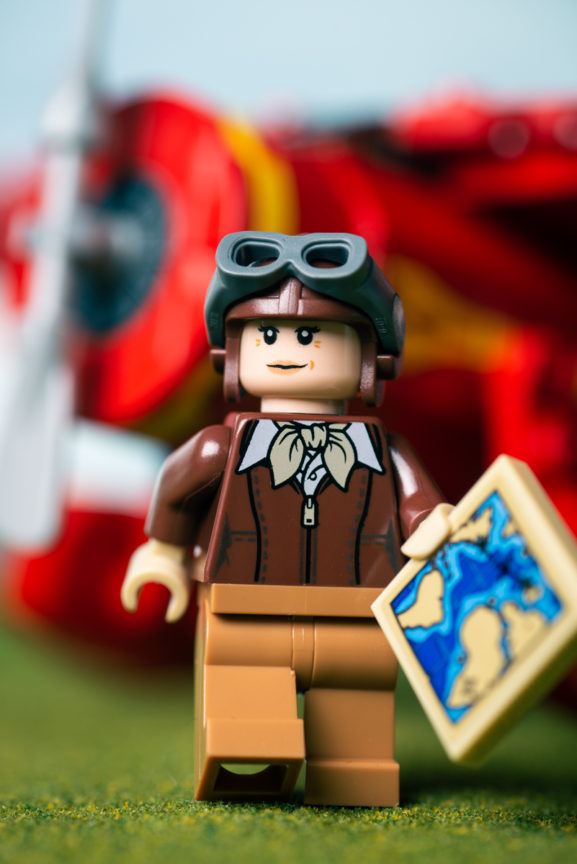 When your subject is a plane you are duty bound to photograph it in flight. I rigged up a method to hold the model using some clamps, a poseable arm and some Technic Lego beams and girders.
Light was provided via a mixture of flash and continuous lighting from a few sources as you can see in my BTS shot below: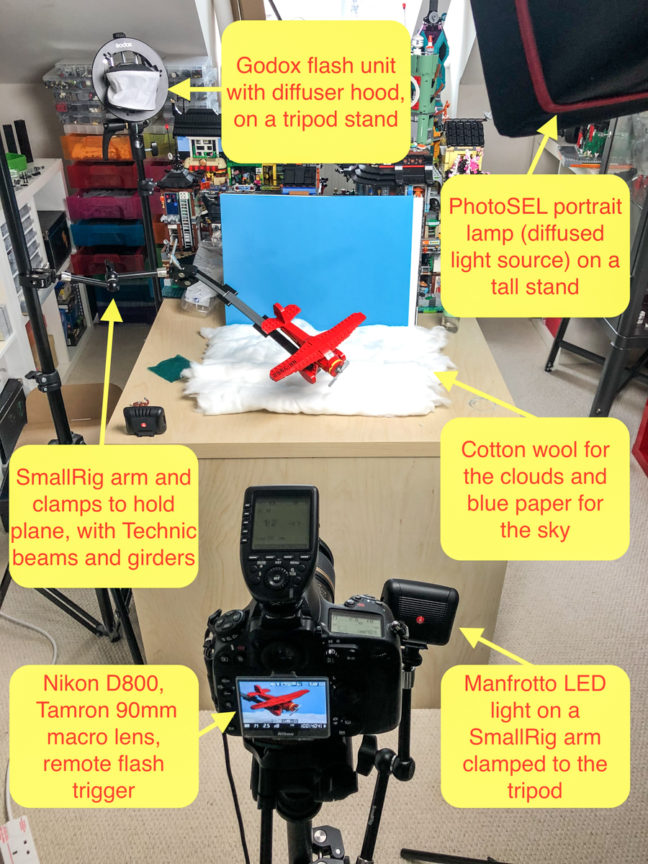 Using these elements I took a shot of the plane flying in the sunlight above the clouds:
Another of Amelia piloting it through a night-time storm: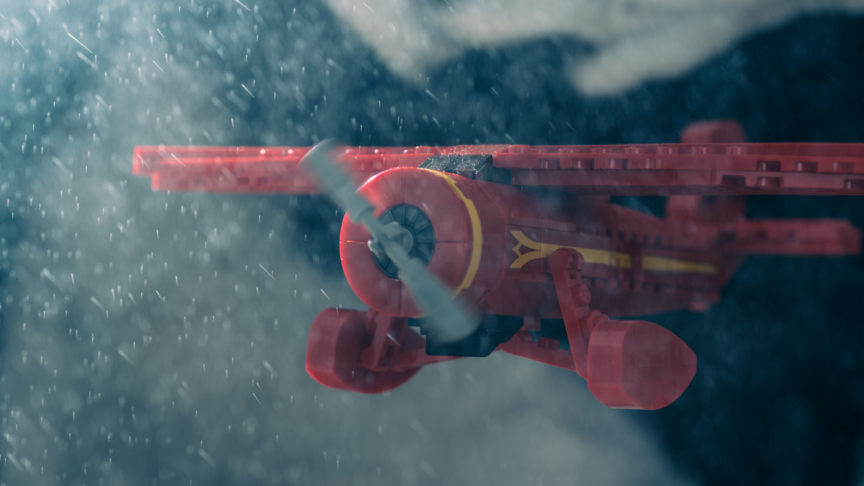 And finally one of her flying over Ninjago City. The plane, with its art-deco lines, reminded me of one seen in Metropolis so I switched one fictitious futuristic city for another:
Sharp-eyed readers will note how I stretched my PhotoShop skills to add some blur to the propellor. Even sharper-eyed readers might spot the mistake in one of the shots.
Overall I enjoyed my time with this little set. Whether it is worth spending £100/$100 in order to get it is another thing. Not everyone likes planes, and there are no rare parts or clever techniques here (though I assume Ameila's flying jacket print is unique).
If you already have your eye on £100-worth of Lego, then getting it while the offer is on is a good idea – but personally I wouldn't add more stuff to my basket purely in order to qualify for this freebie. I give the set 6/10 – the model and minifig are accurate and a fitting tribute, but the stand is clunky and the subject not to everyone's taste.