The LEGO Ideas A-Frame cabin is based on Andrea Lattanzio's design (Norton74 on Lego Ideas). This building style was popular from the 1950's to the 70's, especially in Europe and North America. These cabins were built as second homes where you could get away from the hectic life in the cities. Now in the 2020s vacation homes are becoming increasingly popular again and this A-frame cabin is the perfect building to represent that trend.
For me personally, this set brings back memories from my childhood as my family spent much of the summers at our vacation home by the sea. We don't have an A-frame building but other than that everything about this set makes me think about those days. When I look at all the details of this set I really feel at home. It's all familiar, the woodshed, the tiny kitchen, the butterflies, and the canoe. It all brings back such warm memories to me.
The Minifigures
The cabin comes with four Lego minifigures. In my mind, it's a family: the parents with two teenage kids. But that's just me, someone else might imagine them to be four friends or something else. Actually, on the back of the box, the minifigures are shown with different hairs on different pictures and this gives the minifigures completely different personalities.
Talking about hair, the blonde hairpiece is a new one. The minifigures clothing is very suiting for a weekend in the cabin. Not only do they look warm and comfortable but also very fashionable. The torsos are really detailed and two of the legs are two-colored. All four heads have double-printed face, this is something that I appreciate a lot for my Lego photography.
For me personally, these four minifigures are extra interesting because I often take my pictures in nature. These four characters will surely appear many times in the future in my pictures.
The Exterior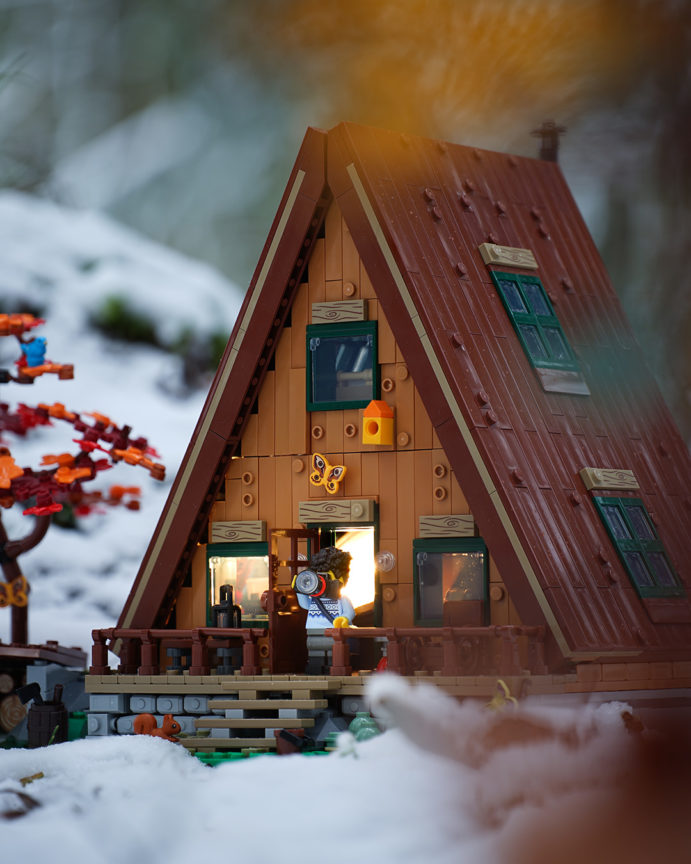 The house itself looks great, it's easy to understand why this building style became so popular back in the days. The A-shape makes the building melt into nature in a nice way. The wall panels of the cabin is built in a clever way to make the walls look a bit rugged. The colors of the building further enhance that rural feeling. The porch in the front of the house is a great place for our little minifigures to sit and relax and take in the calmness of the surroundings.
On the back of the cabin we have an outdoor shower, a water barrel, and a fuel canister. There's also a toilet paper roll and a shovel here. So the designers have really thought about every little aspect.
The cabin stands amongst three beautifully built trees. The yellow, red and light green color of the leaves tells me this is autumn There are many mushrooms growing underneath them, another great detail hinting at the season.
Overall the nature parts of this set look great. The trees stand on two separate segments that can easily be detached from the cabin. You can put them together into one unit, a grove, or perhaps an island. I found this to be very useful when taking my pictures as I could move the trees around to create more interesting pictures with perspective and depth.
The set comes with 11 animals (and insects). There are two birds, one blue and one red, one brown squirrel, two frogs, an utter, one black spider, and four butterflies. Well actually on Lego's site, it says there are two butterflies and two moths, but where I live all moths are small and grey so in my mind these are four butterflies.
Anyway, the butterflies are unique in that they have printed patterns on their wings, this is one of the details about this set that I like the most. I imagine these butterflies will be very popular amongst Lego enthusiasts.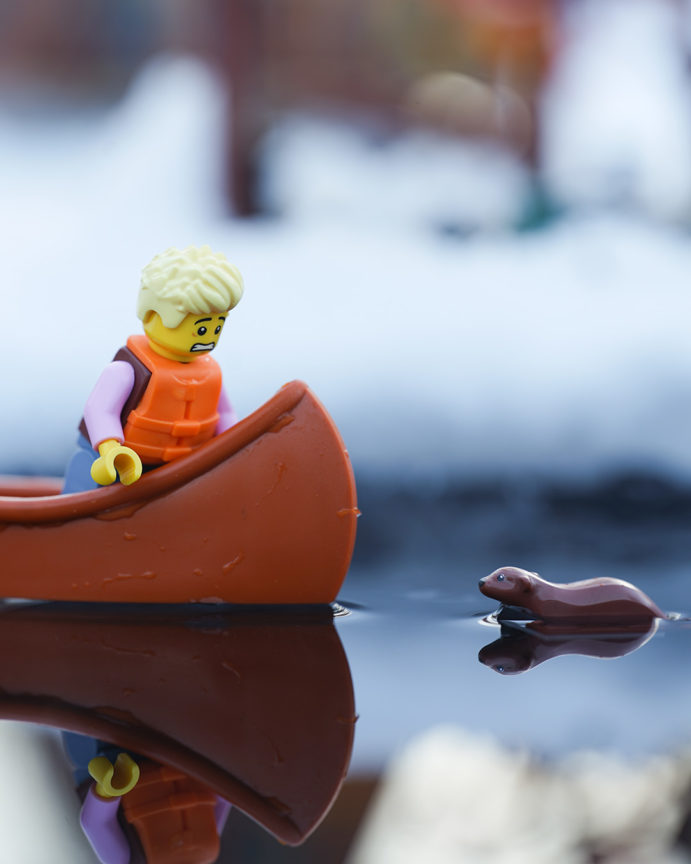 Included is also a canoe, as well as paddles and two life jackets. There's also a map, binoculars, a camera and a camping stove, to name a few accessories. So everything is ready for an adventure on the coast or the river.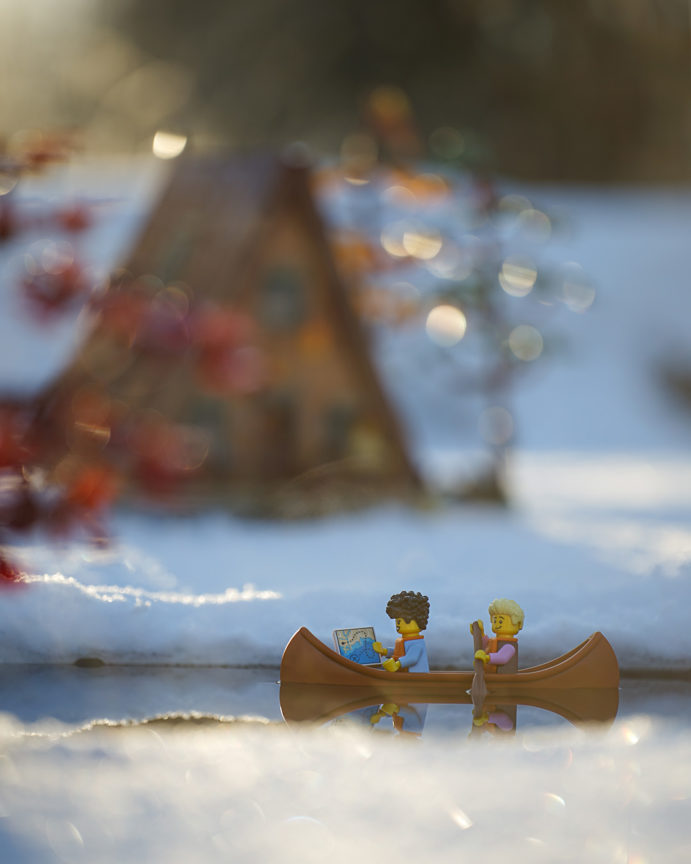 The Interior
Both sides of the roof can be easily removed so you can look inside the cabin. The roof parts are only held in place by gravity, but they are designed in such a robust way they will not easily fall off by accident. I got to test this as I was taking these photos outdoors.
I was carrying around the cabin with all the minifigures and other parts, together with various gear that I use for my photography. I had it all in a large box and everything was sliding around as I was walking from location to location in the surrounding area to try and find a spot to shoot at. And the roof parts and everything else held together just fine. That includes the trees that you would think to be more fragile. When the roof is lifted off you can also lift off the second floor, the loft, to give even more access to the first floor.
It's surprising how much you can fit inside this cabin. On the bottom floor there's the kitchen area, a wood stove for heating the cabin, a desk with a typing machine, two armchairs, a vinyl player with a record cabinet full of records.
If you take the stair up to the loft we have a bedroom with a bookshelf, here you can also find a cool hint towards another Lego Ideas set, the Tree house. On the wall above the bed, there is a picture of another one of Andrea Lattanzio's designs.
Everywhere there are lots of nice little details. It all adds up to a really cozy home. When I was done building this set I felt really strongly that I want a summer house just like this. I want to sit with a cup of coffee and listen to old records whilst a fire is burning in the wood stove.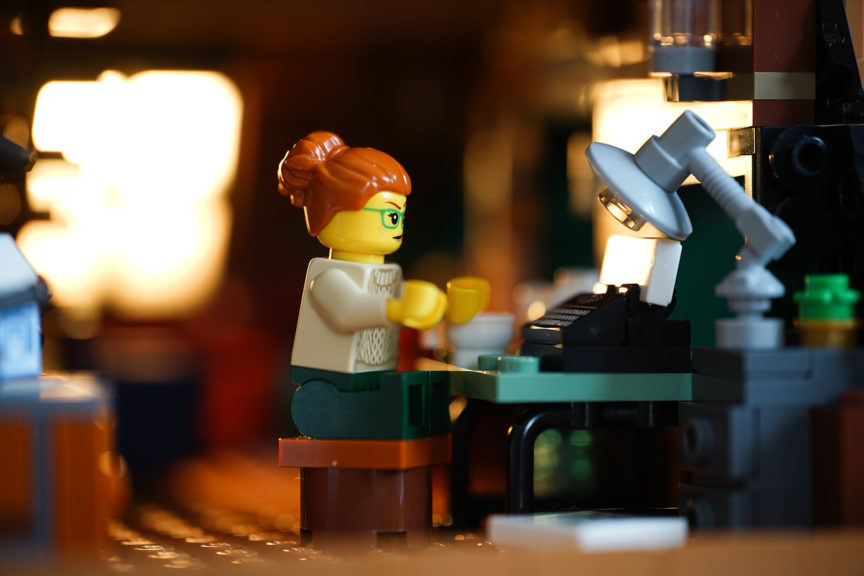 Conclusion
I'll start by saying that this set is so very detailed and interesting (yes I've used that word too much). I've could have taken many more pictures and I've could have written much more about it. I'll give it 10/10 score because I can't think of anything that could have been done better. Also, it feels like it's a set that's made not only for building and displaying but for me as a Lego photographer it's perfect.
The A-Frame cabin will be available 4th February 2023, or if you are a VIP member on LEGO.com you can get early access on 1st ofFebruary. The price is 179,95 €/179,95 $/£159.99. The set was sent to me by LEGO via BrickCentral for a photoshoot and all opinions are my own.