Every month, we pick a LEGO photographer active in our community and share some of their work and a little about themselves. This month we traveled to Portugal to meet Pedro Alexandre (Instagram:alexandre_coelho22 | Tumblr: alexandrecoelho)!
Greetings everyone!
My name is Pedro Alexandre but I'm known on the social media as alexandre_coelho22.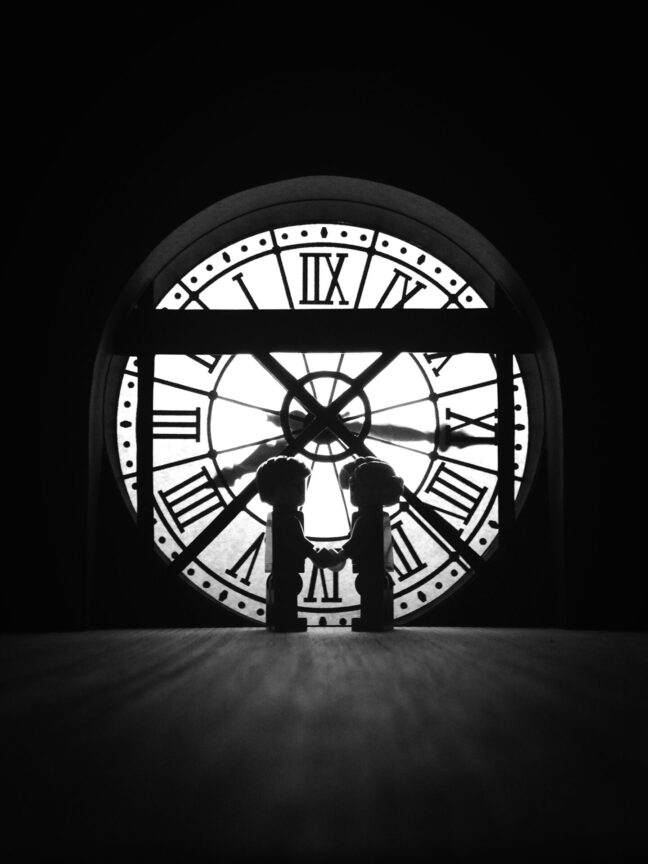 I'm a 36 years old guy that lives in Praia da Barra (Portugal) and I work in a Free Time Activities place for kids in a primary school.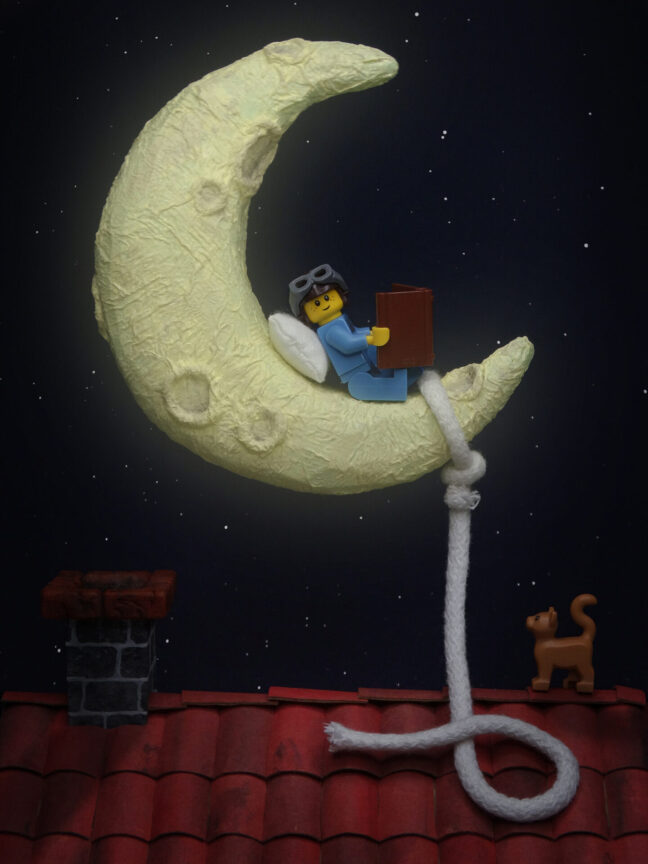 Since I was a little boy my creativity always stood out. I guess that mainly influenced by my father, which, when younger, used to draw, paint and now continues to make all kind of crafts.
Because of that, I constantly searched for activities where I could improve my capacities and then, 5 years ago, when I had to create a photo with a toy for a photo contest, I realized that this could be an amazing way to keep my mind busy and working!
So in the beginning, when I started to take this photos, I didn't actually think about the story behind and I didn't create scenarios or anything else. I just took a few moments watching my minifigures thinking: "what could I do with you?".
Nowadays, I take most of the time creating the scenarios, first in my head and then with my hands and thinking about the whole story behind the final image.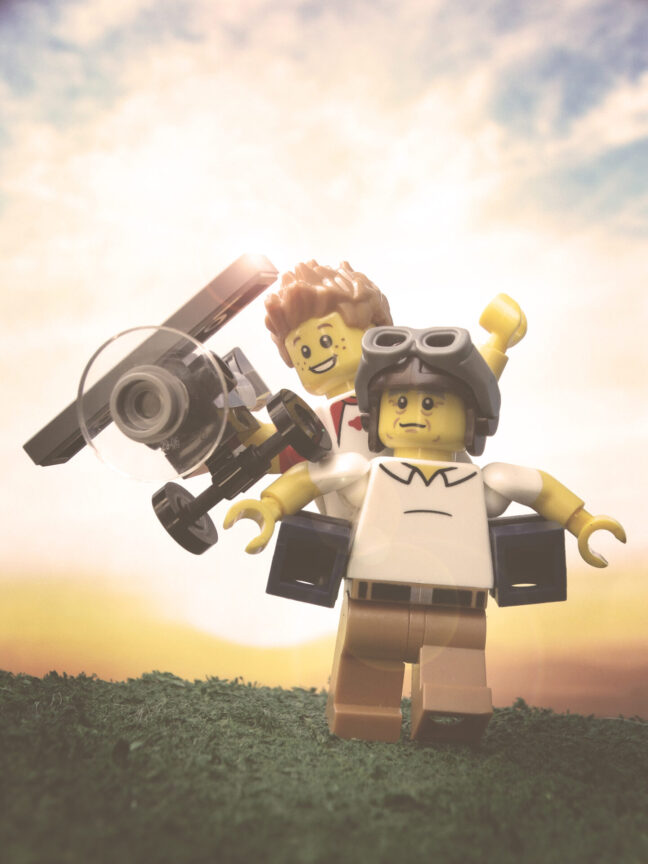 Although I use almost exclusively minifigures as a Lego element, I always try to make them the main subject of the photos.
That's why I manipulate the minifigures' limbs: I'm trying to give them a kind of a reality feeling.
To create this photos, I rely on my old friend Sony DSC-HX300, that I've bought somewhere around 2016 and his movable display allow me to explore perspectives in an easier way.
The exclusive photo
"Rebuild Time" was the name chosen. It came to me that I could grab a train and make a train station. The Central Brick Station! The problem is that I don't have any train in my collection.
Well, but has I said, I work with kids and I know that some of them have LEGO sets too, so I asked if any of them have a train set. Fortunately one of the kids have this Passenger Train – 60197. I talked to his mother and in the next day, she brought it to school to lend me for the photo.
Now, why a train station? Trains always make me think about the idea of "leaving something behind".
A teenager that leaves his parents to go to university or that goes to work far from home, a young girl saying goodbye to her lover to chase her dream in a new town, a man that leaves his friends and his home to discover the world. A travel to the unknown.
In my case I didn't jumped on a train, but some years ago, I needed to "Rebuild The My World" and so, I left behind two things that I love, but that used to take most of my free time: Scouts and Music.
I've tried to represent both of them on the photo with the backpack and the guitar.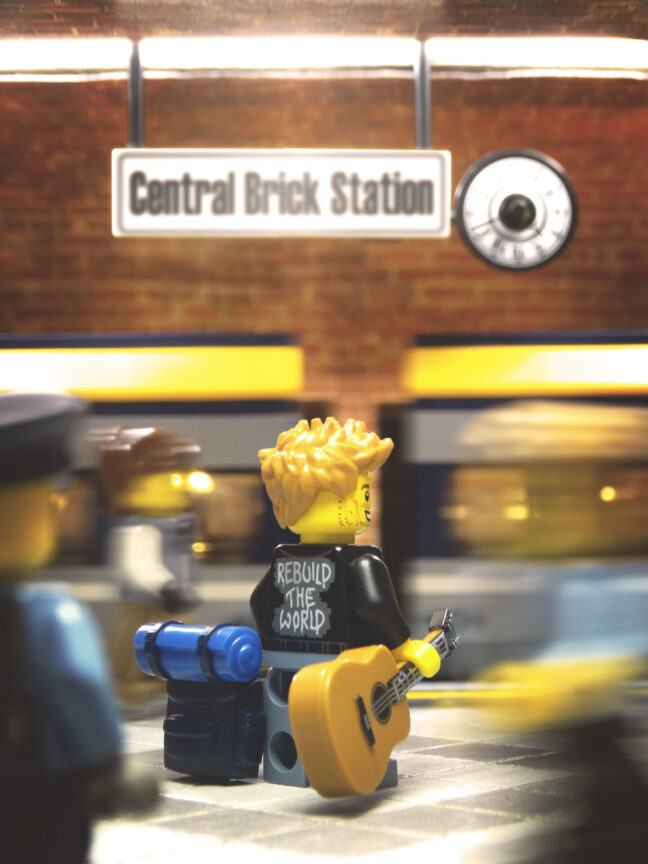 The name of the station has a purpose in this story too. After I started my "new journey", I ended up seeing me in the middle of this incredible hobby: to photograph LEGO and then I found BrickCentral.
It was like arriving to the destiny! Because, like a train station, it welcomes an endless number of people and ethnicities and lead all of us on an incredible journey into the world that is LEGO photography.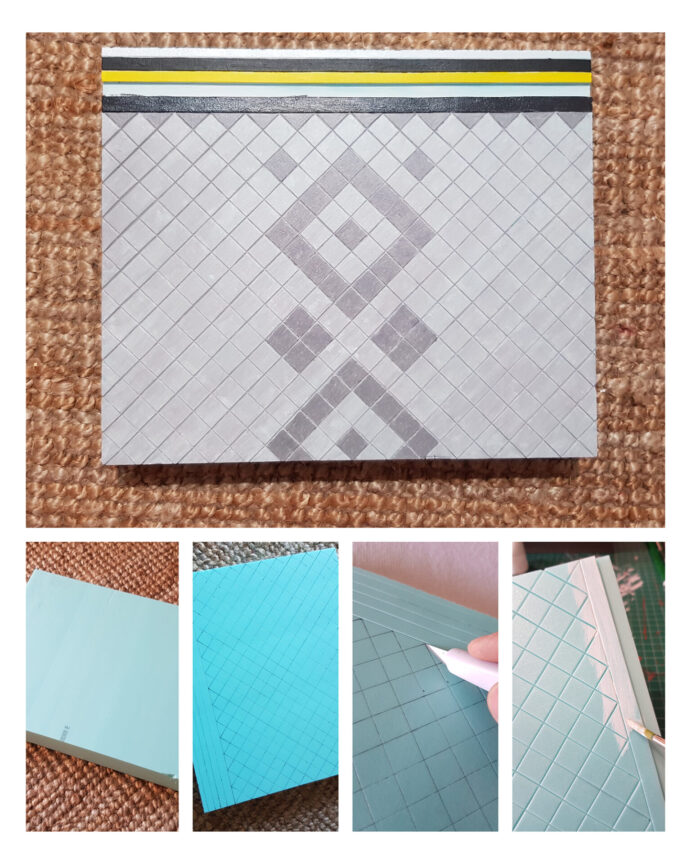 A quick explanation about the scenario. So, with some cardboard, hot glue, polystyrene foam and paint, I created this train station. That was the easy part. Taking the photo, well, it was not so easy. I took more than 100 photos until achieve this result. Rebuilding and rebuild again. First I had only the train moving and the guy with the guitar. Then I added the girl and the boy moving too. After that, I finished with the backpack. Tough work, but so funny to make.