Every month, we pick a LEGO photographer active in our community and share some of their work and a little about themselves. This month we meet and old friend and one of the original mods of the new Brickcentral: freethegeekman (Instagram | Tumblr)!
Hi Everyone!
My name is John but I go by Freethegeekman on social media.
I've been taking photographs of LEGO for about 7 years, initially just with whatever phone I had at the time but in 2020 I got my first ever mirrorless camera. That's a Fujifilm XT-100 and I typically use a TT Artisans 40mm macro lens, this is all stuff that is probably considered starter equipment and was all at the lower end price wise – but I love them!
The thing I usually start with when it comes to photos is the subject. Normally that's a character; either a minifig from a set or minifig I put together from my (messy!) parts collection. Sometimes though it could be a MOC or diorama I have built.
The next step is building a scene. If I have started with a minifig then I need to decide what environment I am shooting in; can I use something I already have or do I need to build something? I use a mix of LEGO elements and larger diorama parts in my scenes.
If I started with a build then next up is choosing characters to interact with it. 99% of the time I will be shooting indoors in my dedicated desk space that I am lucky enough to have for photography.
It's only then that I usually get to the story, I know for many this is probably the wrong way round (don't get mad at me @foolishbricks).
Once I have some characters in a scene I will have come up with a few story ideas and shoot those. But often I'll end up working backwards from here and come up with different stories that require me to change the minifgs or environment or sometimes even both. That may all seem pointless but it's just how my brain works. I need to start with something physical even if that thing does not end up in the final shot. I'll then use a ridiculous amount of LED lights to light my scene (I will learn to use a flash at some point!)
Most entertainment I enjoy has an element of escapism and that transfers through to my toy photography. The themes I like to shoot are Superheroes, Sci-Fi & Medieval/Fantasy.
The exclusive photo
For this photo, the scene started with minifigures. I was rummaging through some minifigs I have not used in photos and found these two mean looking Dragon Knights. I knew I wanted to use them right away, they were bald so I found some wigs that matched their facial hair.
Next up was building a scene. I used some rolled up turf for grass and a blue backdrop for the sky. To help place this in medieval times I threw in one of the smaller castle builds I have in my diorama drawer. I've used it a few times recently so I tried to differentiate it by making it a farm.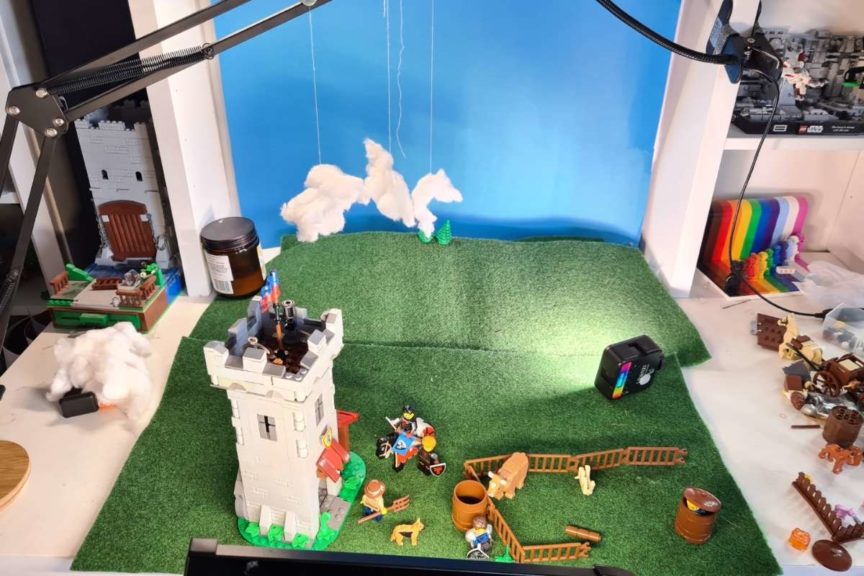 I added a cow pen and some pigs and sheep. I still didn't have a story though so I added a farmer. Perhaps these mean knights were collecting tax? Nope, that didn't work for me and my scene was also a bit cluttered. I removed all the animals but the cow and that left me with a cleaner scene.
I then saw a large barrel part that I had recently purchased from Bricklink after seeing @fourbrickstall use one in a photo (it's not stealing, it's being inspired 😉).
At this point I decided I wanted to have someone hiding from the mean knights using the barrel.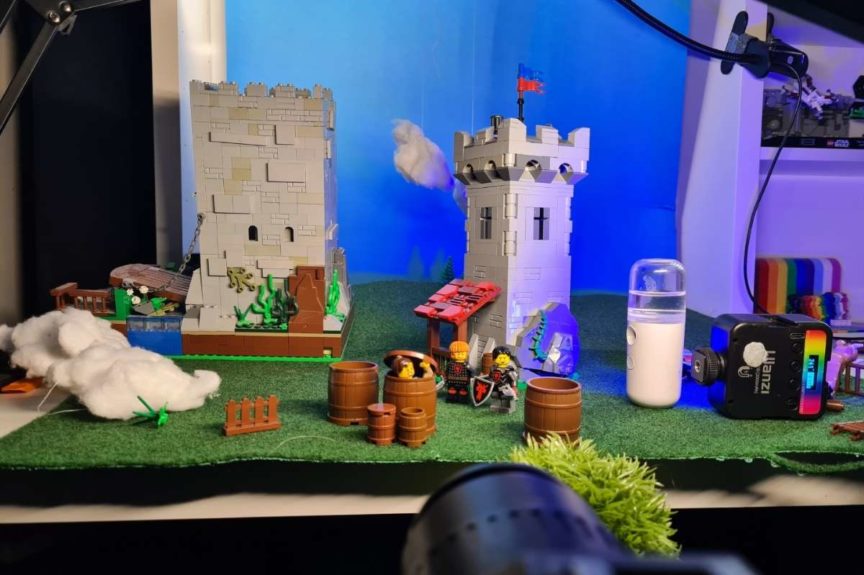 After looking through some more minifigure parts it became obvious that it should be a member of a rival castle faction since that would be an easy visual aid to the story. I then tweaked the scene until I was happy that the story was clear.
My lighting setup is fairly simple but it works for me because I can easily move and tweak things. I use two main LED lamps that are on bendy arms & clamps to light the front and back of my scene. I use smaller LED lights positioned around to fill any gaps and add colour if needed.