LEGO sent me the latest Collectible Minifigures series to review for Brickcentral and this one should be especially exciting for medieval fantasy fans like myself with characters such as a Snow Guardian, a Night Protector, an Acorn Kid (Forest Elf), and a Troubadour comprising a third of the new minifigs.
You did the math (of course!) and know that there are a total of 12 minifigures to collect in Series 22, the same number as there was in Series 21.
Box Distribution
There were 2 full sets in the box of 36 minifigs I received, but I suspect this was a mistake. Series 21 had 3 complete sets of 12.
I was short one Acorn Kid (Forest Elf) and one Robot Repair Tech, and instead got an extra Night Protector and Space Creature.
The experience of opening the bags in sequence was unfulfilling compared to past series because it didn't feel random. The pattern was pretty much Minifig 1, Minifig 2, Minifig 1, Minifig 2, Minifig 1, then Minifig 2 before it repeated with another pair.
Here's where the minifigs in my box appeared from front to back in each column:
Horse and Groom
Bird Watcher
Horse and Groom
Bird Watcher
Horse and Groom
Bird Watcher
Figure Skating Champion
Wheelchair Racer
Wheelchair Racer
Figure Skating Champion
Wheelchair Racer
Figure Skating Champion
Night Protector
Night Protector
Acorn Kid (Forest Elf)
Night Protector
Space Creature
Robot Repair Tech
Snow Guardian
Troubadour
Snow Guardian
Troubadour
Snow Guardian
Troubadour
Raccoon Costume Fan
Chili Costume Fan
Raccoon Costume Fan
Chili Costume Fan
Raccoon Costume Fan
Night Protector
Acorn Kid (Forest Elf)
Chili Costume Fan
Robot Repair Tech
Space Creature
Space Creature
Space Creature
Most LEGO fans aren't likely to be opening a sealed box as I did for this review, but it's something to note when you're in the store grabbing a couple of bags from the box. You probably will be better off picking bags from different sections.
Acorn Kid (Forest Elf)
(Ok, so the reason I have the official name Forest Elf in parenthesis is that this is no elf. Where are the pointy ears? Hidden under the acorn cap as a print on the head, maybe? Well, you would be wrong. So no, this is not an elf. This is an Acorn Kid.)
The Acorn Kid (Forest Elf) has medium dark green legs which were only previously available in IP sets like Sesame Street and Stranger Things so that's great! I need more of those!
The new acorn hat is really adorable; it beats the actual acorn caps that I've used in my photography before.
I love that his or her green cape is in the shape of an oak leaf, although it's a bit small and just peeks out a little bit from behind the torso. The torso itself carries the leaf design with the midrib going right down the center and veins extending out to the sides on the front and back.
The belt is detailed with an oak leaf print pattern and has a fun golden acorn buckle in the front and a belt pack on the back. The belt pack looks pretty cool with some acorn and leaf details on the flap. I will probably use this as the front of the torso in my own customs.
Overall, I think the Acorn Kid (Forest Elf) is… cutesy. It's a bit much for me but my kid thinks it's fine. I do think that this minifigure would have been much more impressive in autumn colors rather than greens.
As an accessory, the Acorn Kid (Forest Elf) comes with a red cap mushroom that has a smiley face. I find that added detail annoying because it could've been used in MOCs. There's a second mushroom cap included in the bag.
Horse and Groom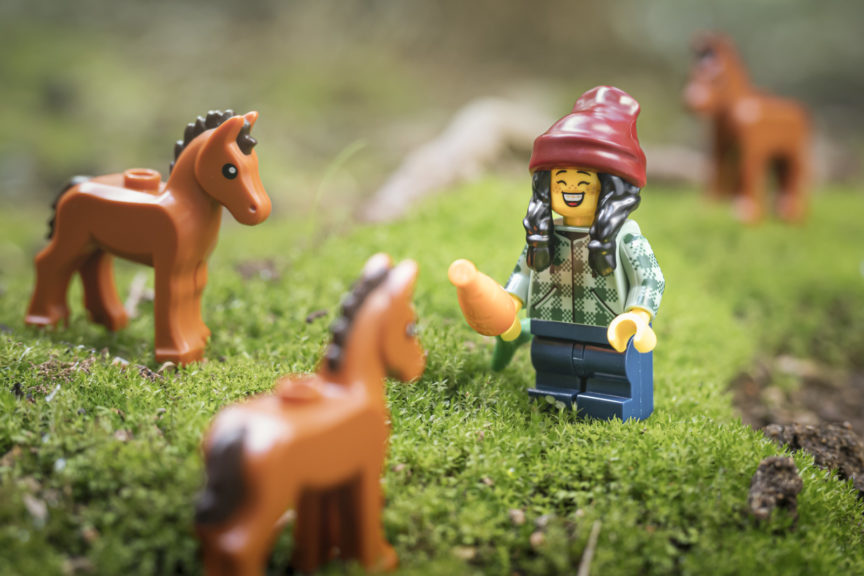 The Horse and Groom is another kid in this series and again, the medium legs in dark blue are very welcome! This part was only previously available in the Disney Train and Station 71044.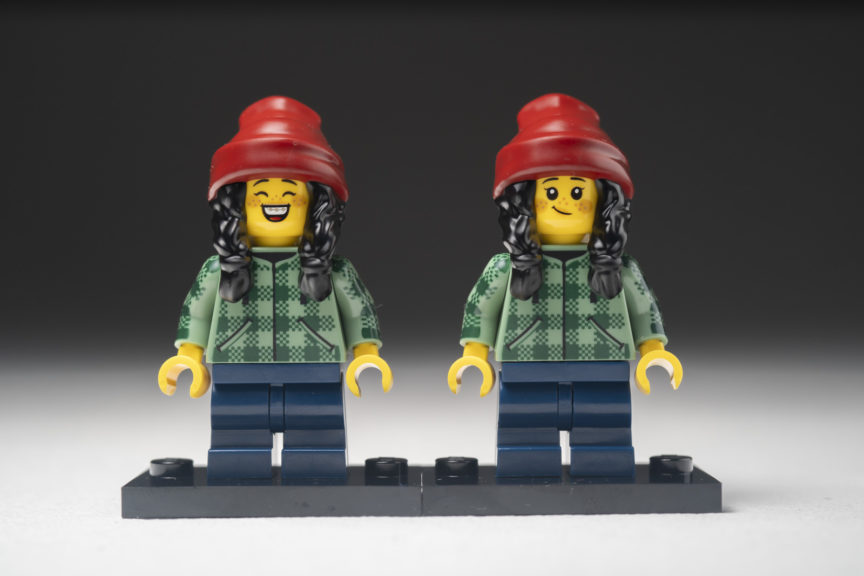 The beanie with braids was a part we first saw on the character Parker from Hidden Side and this is the first time we get it in a dark red and black combination.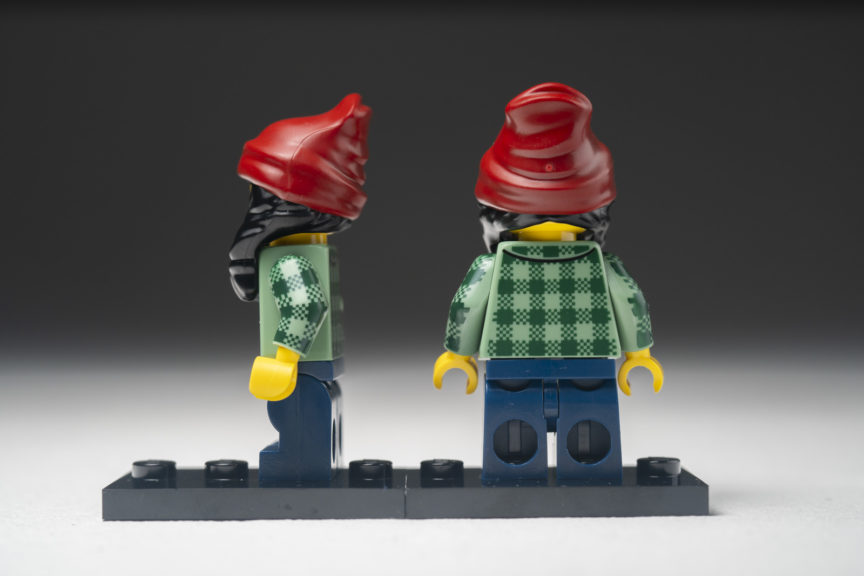 For this minifig, the standout part is the accessory: the foal. The dark orange baby horse is very cute and will likely be a must-have for the LEGO animal collectors out there. There's a dark orange horse coming in a LEGO CITY set in 2022 so that should make for some adorable photography.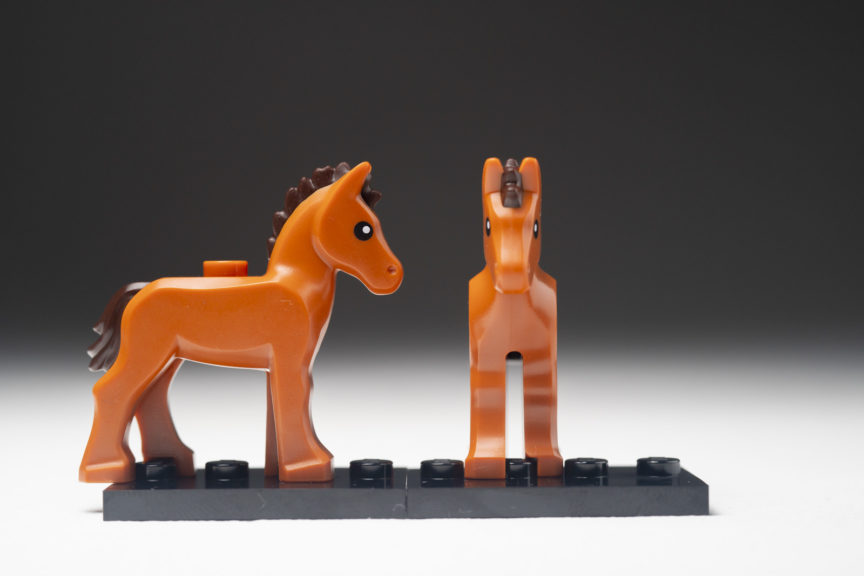 Raccoon Costume Fan
New in this series: alternative hair pieces! The Raccoon Costume Fan has a light bley wavy hair piece to put on when she doesn't have her mask on.
She comes with a green trash can and a white sack, which we previously saw in the Build-a-Minifigure in LEGO Stores.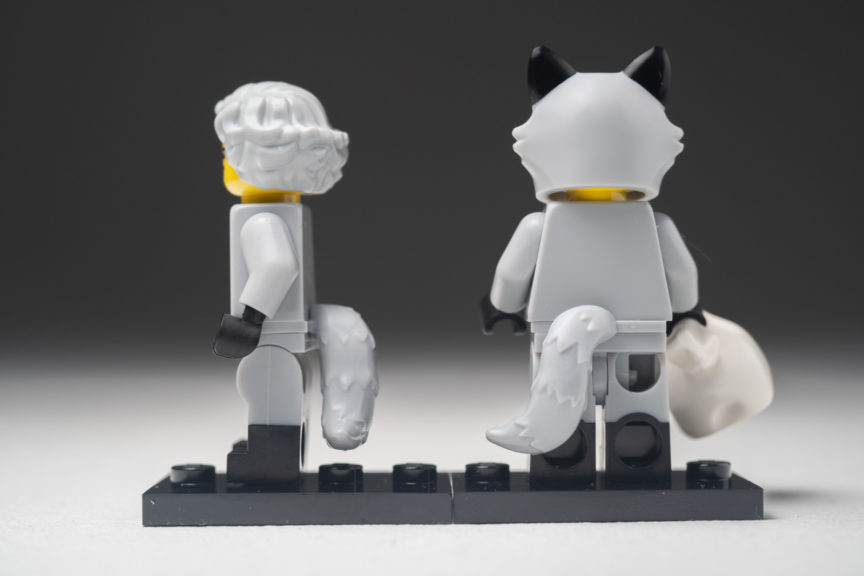 This is the first time we get light bley legs with black boots.
Chili Costume Fan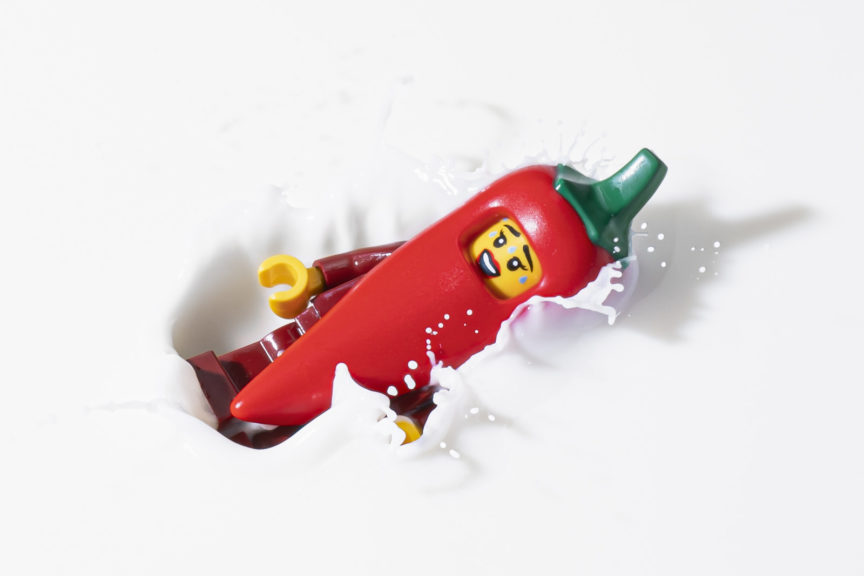 Like the Raccoon Costume Fan, the Chili Costume Fan has a hairpiece for when she's not all dressed up. This one is a recolor of the asymetrical hairstyle previously only available in black, light bley, and bright light yellow.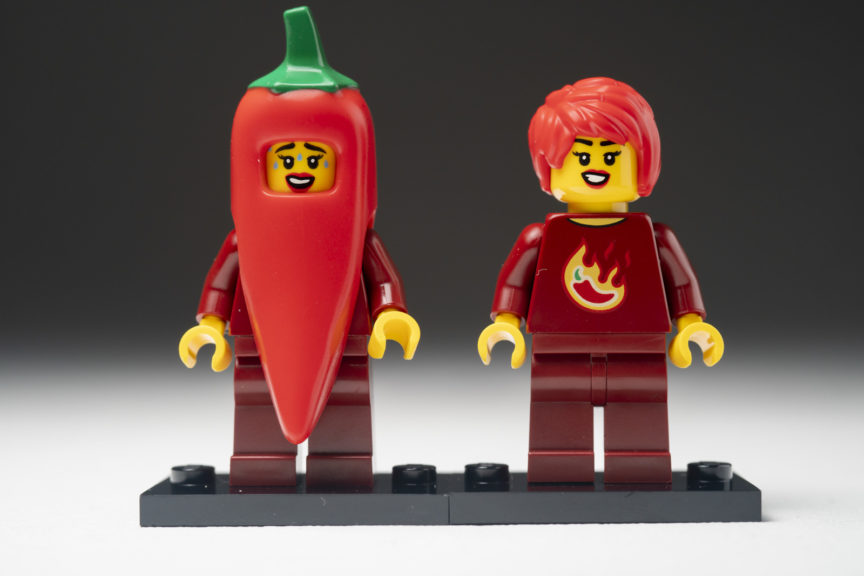 Underneath the costume is a torso printed with a flaming chili pepper. I might use this torso with my taco food trike. Spicy!
She comes with a carton of milk to temper the heat from the chili.
Troubadour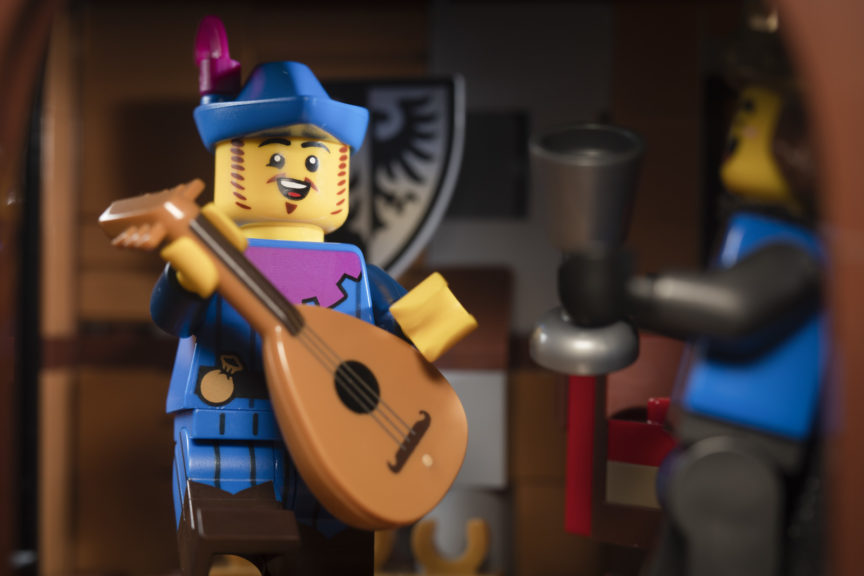 The Troubadour is going to be a hit with the #bringbacklegocastle crowd with the medieval outfit and fantastic lute. LEGO fans of The Witcher will likely want this minifigure as their Jaskier or Dandelion too.
I think this minifigure is ok. I would have liked to get more of a floppy kind of beret rather than the Robin Hood cap. I would have also liked to have eyebrow color match the rest of the hair. And speaking of hair, I'm not a huge fan of the dashed sideburns. What is that about?
The Troubadour comes with three gold coins with crowns printed on them, so that is a great little addition to the minifigure.
Snow Guardian
The Snow Guardian is one of my favorites in this series because of all that fur! We've seen the fur collar in white before but it only appeared in The Joker Manor 70922 set in 2017. The furry hat piece is new.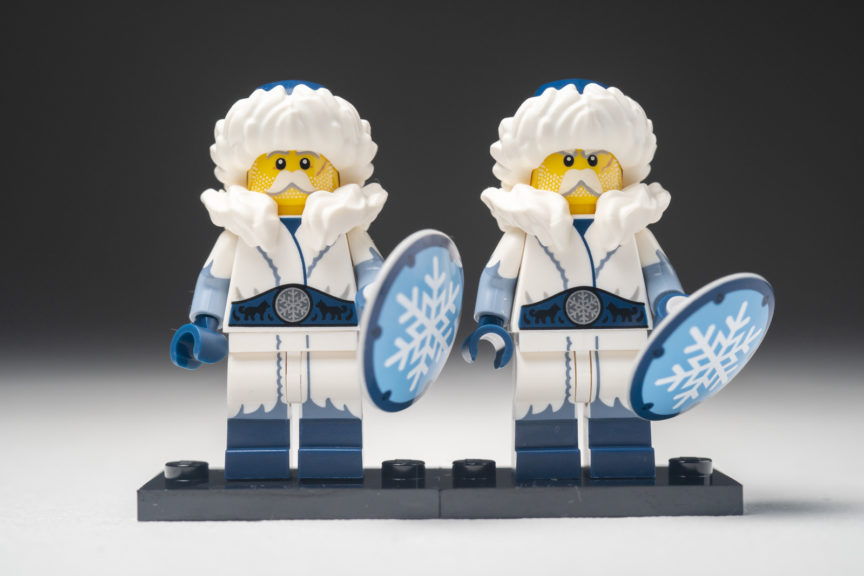 There's some more white fur printed on the arms and the legs of the minifigure. The dark blue belt is detailed with huskies and snowflakes.
A blue-eyed husky with a light bley coat is the Snow Guardian's companion. The other white husky LEGO made previously had black eyes and a dark bley coat.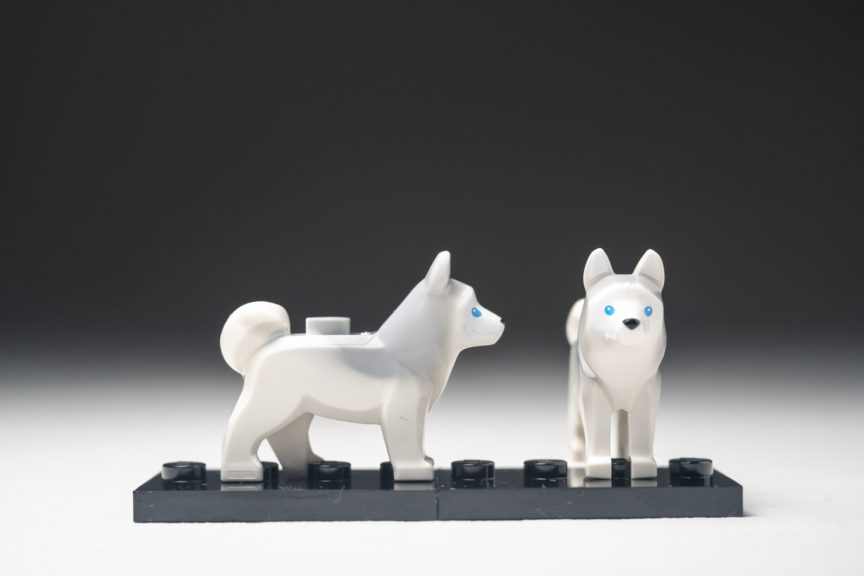 Night Protector
The Night Protector is an odd one for me. On the one hand, I like the fantasy warrior thing but I'm also turned off the colors chosen for her.
One of the minifigs I received only has one cheek line printed so I thought it was a scar. It's just a mistake though.
Bird Watcher
The Bird Watcher is a CITY-type character with a pair of dark green binoculars, a pink sling bag, and a toucan as accessories.
I like her black short-sleeved shirt with pockets and her cargo pants. These can be easily used in custom characters.
It's the first time I've seen a wristwatch-type print on a minifig which I'm guessing is a GPS watch.
The toucan is pretty cool and will go well with rainforest scenes. I like that we get a lime green plant part included with this minifig too.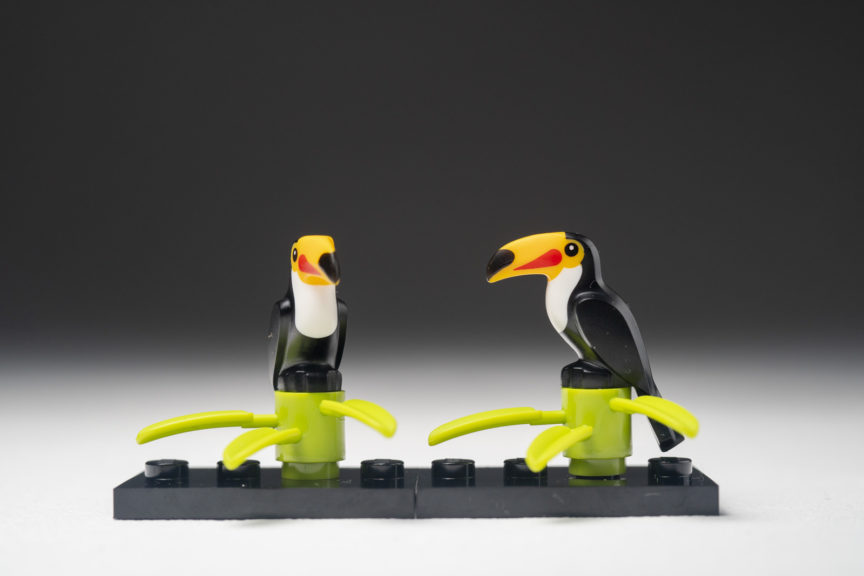 Robot Repair Tech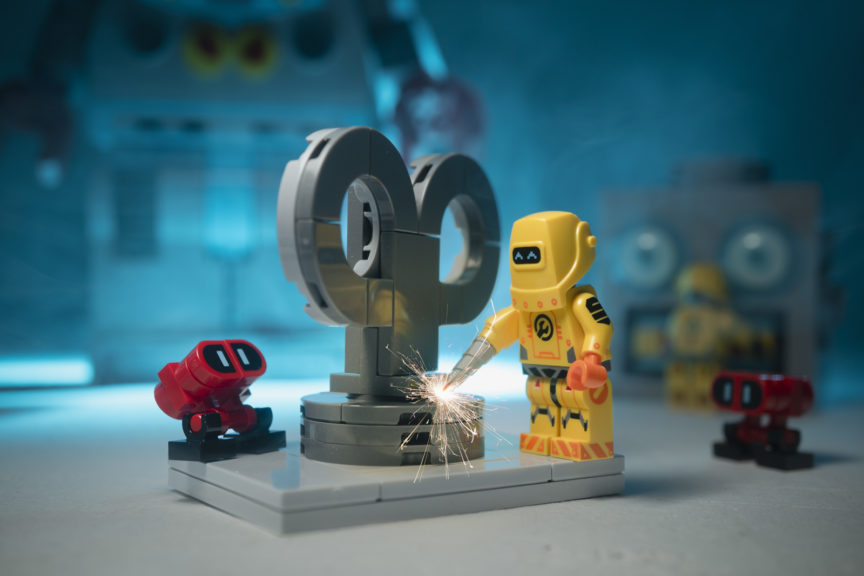 The Robot Repair Tech is another favorite of mine. My interests lie in medieval fantasy but also sci-fi so this yellow mechanical dude is right up my alley.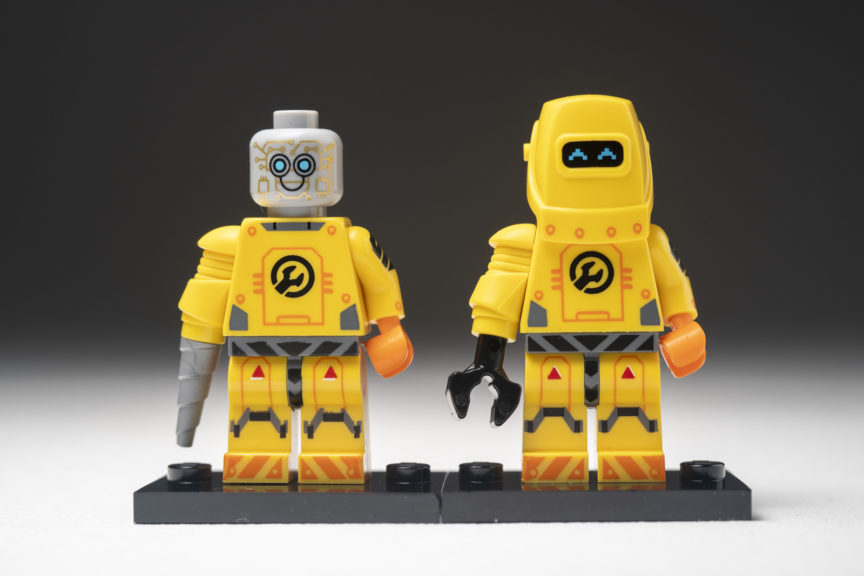 It comes with a few attachments that can be swapped in – a drill, a claw, and a hammer — to handle any repair.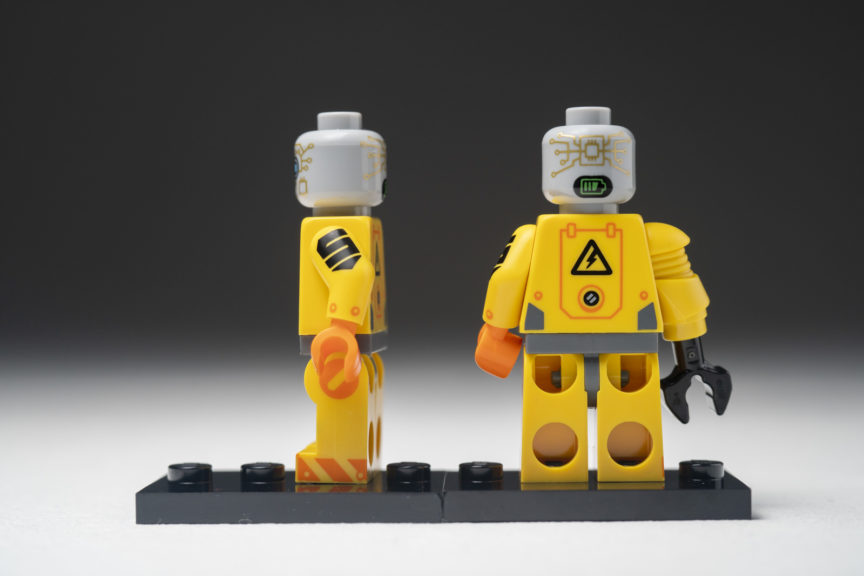 The regular arm has a design that looks like an "S" which might be an Easter egg but I have no clue what it refers to. I love the little battery indicator on the back of the robot's head.
Space Creature
Oh, this one is just a tease. Like every other AFOL, I'm going to hope LEGO releases purple air tanks and a classic helmet down the road so I can make a Classic Spaceman.
Attached to the neck bracket on the back is some kind of container. Maybe another Easter egg but I have no idea what it is.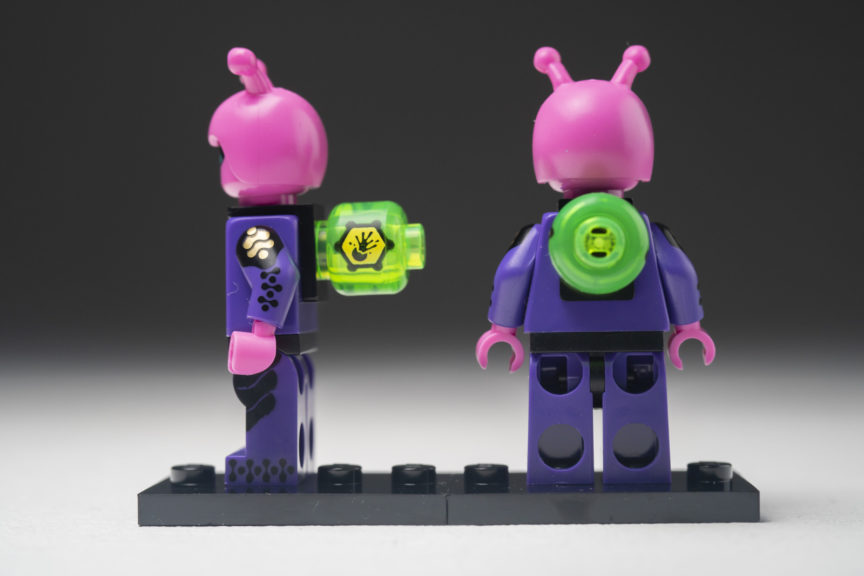 Wheelchair Racer
The Wheelchair Racer is sponsored by LEGO's sport clothes brand, um, SPORT.
What's cool about this minifig is the new wheelchair piece that has angled axles so the wheels are turned inwards. The minifig's hands can actually fit over the wheels.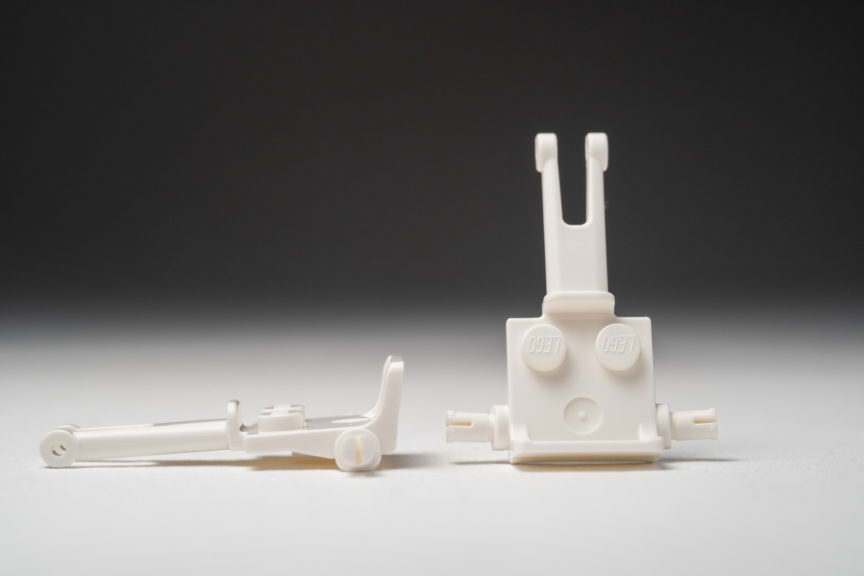 I'm looking forward to seeing some NPUs in MOCs.
Figure Skating Champion
The Most Boring Minifig Award goes to this Figure Skating Champion. Obviously, a companion to the other big, bright light yellow-haired Ice Skater from CMF Series 4 except this one is a champion!
I think fans will want it for the hair. This champ comes with a trophy and the posing bar.
Verdict
CMF Series 22 presents a nice balance of characters that LEGO fans seem to like — medieval, space, and city — to expand storytelling and play in those themes. The costumes come with hairpieces which is an unexpected upgrade!
I think CMF Series 21 was stronger than this one so I will rate this year's offering an 8/10.
CMF Series 22 will be available on Jan 1, 2022 and each blind bag will retail for $4.99 / €3.99.
Behind the Scenes
I do like my night shots since they often have practical lights involved. The practical light in this photo is a micro LED that I've tucked into the base of the well, turning it into a magical well.
These LEDs aren't very powerful and since it's serving as my key light, I had to use a shutter speed of about 30 seconds to get enough light built up on my subject.
At this point, the subject looks close to the exposure that I want but there's way too much shadow everywhere else in the photo. So to make those "legible", meaning show some detail, I added a fill light camera right.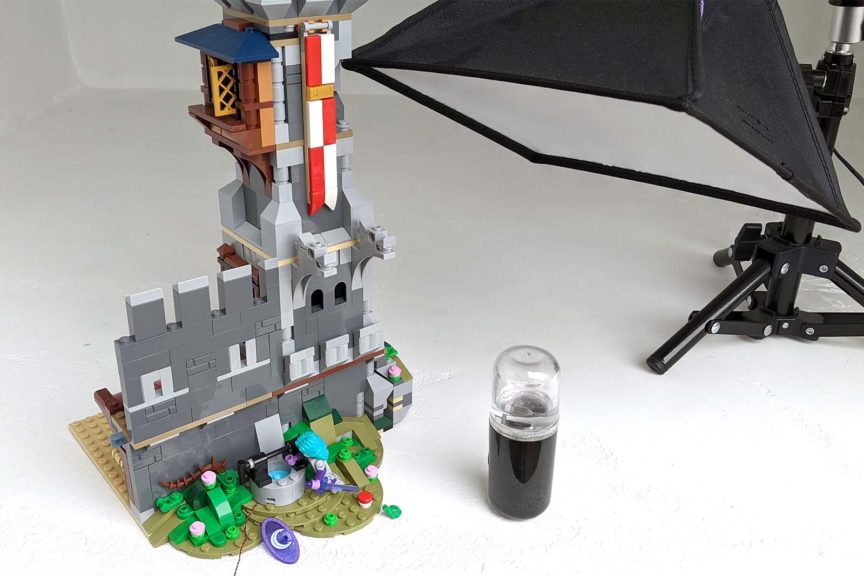 I wanted there to be kind of like a soft moonlight so I had my flash in a small softbox with a blue gel inside. I placed it behind the subject because her face is already lit and I wanted her shape to be defined.
The LED isn't just underpowered, it gives off a hard light since it's so small. To soften that up a bit and to create a haze, I used a nano facial mister during the entire exposure. That also spread the light around the scene more and brightened the photo overall.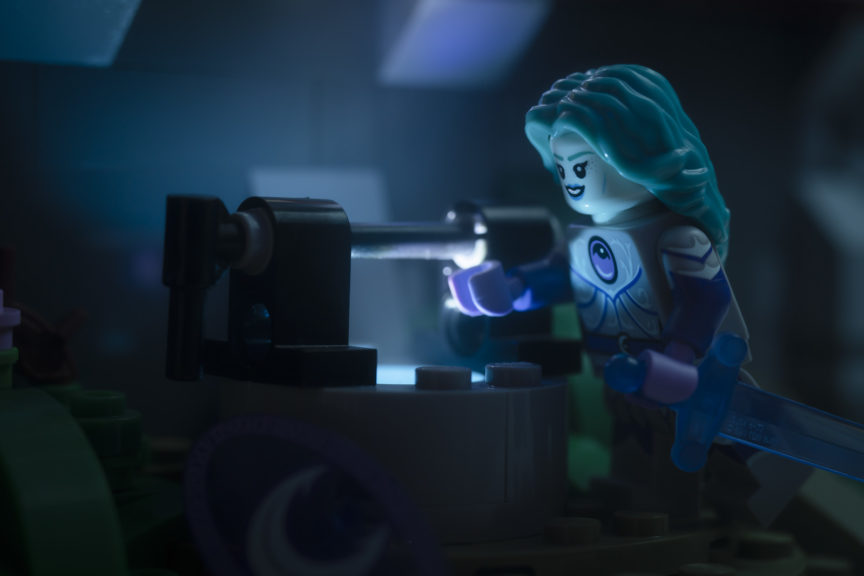 After I did what I could do in-camera, I took it into Lightroom and Photoshop to add a bit more brightness to the subject and then add some magical particles in the well. That was simply a brush for "fireflies" that I used sampling a similar color from the well.
I also restored some of the purple into the gem on the torso and the hands inside of Lightroom by adjusting the hue slider.
And that's it! From start to finish, it took about 40 mins to get this shot.