Releasing on January 1st to most of the world, Collectible Minifigure Series 24 is the second "regular" theme coming out this year and it's a nice one!
Unlike CMF Series 23, this one seems to really have something for everyone. There are two medieval fantasy minifigs, two space-related minifigs, two costumed characters, a historical minifig, and several city-type characters.
These minifigs still come in the blind bags and they'll be the last, I think, where you might have success feeling for the one you want.
It seems like there should be 3 full sets in each box, but mine was missing one bag so I was short one of the best ones: the orc. I noticed the magenta box that I received didn't have a lid at all so that could have been why there was a bag missing. It wasn't left behind in the delivery packaging– I checked a few times.
Potter
The Potter is one of the standouts in this series with this new headwrap and print design. I love color combo of teal, lavender, and tan as well as her freckled face. She comes with a few bricks to make her pottery wheel as well as two bowls and a goblet.
She's going to be a popular one for LEGO fans who have cities and I would love to see a pottery studio MOC built for her.
Orc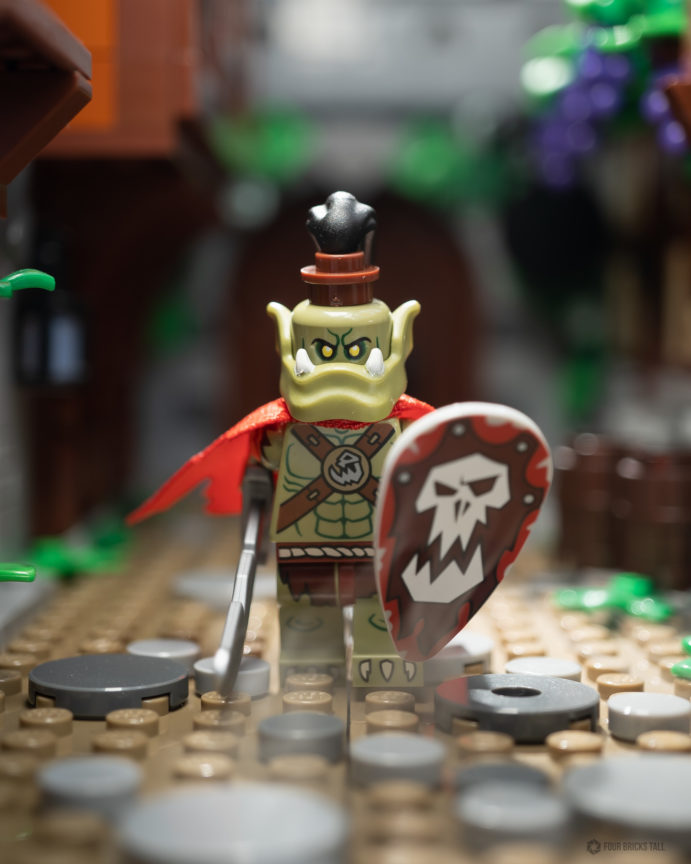 The Orc is my favorite minifigure in this series because I'm just a huge medieval fantasy fan and I need some enemies for my Black Falcons. I wasn't initially thrilled about that jaw piece (rubber type) but in hand, it's pretty great.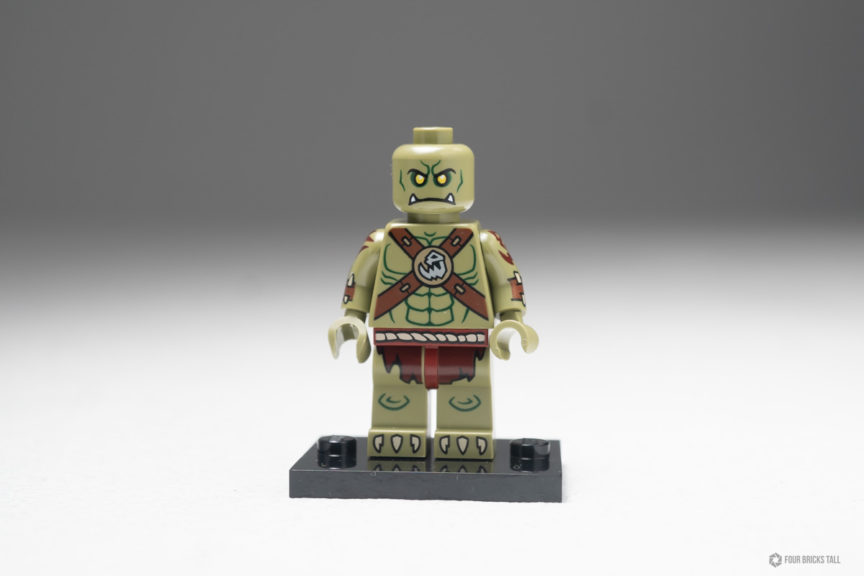 I think I like it better without the tattered red cape, but also hey, a free red cape! I'm looking forward to seeing some amazing photos of orc armies from the BrickCentral community.
Brown Astronaut and Spacebaby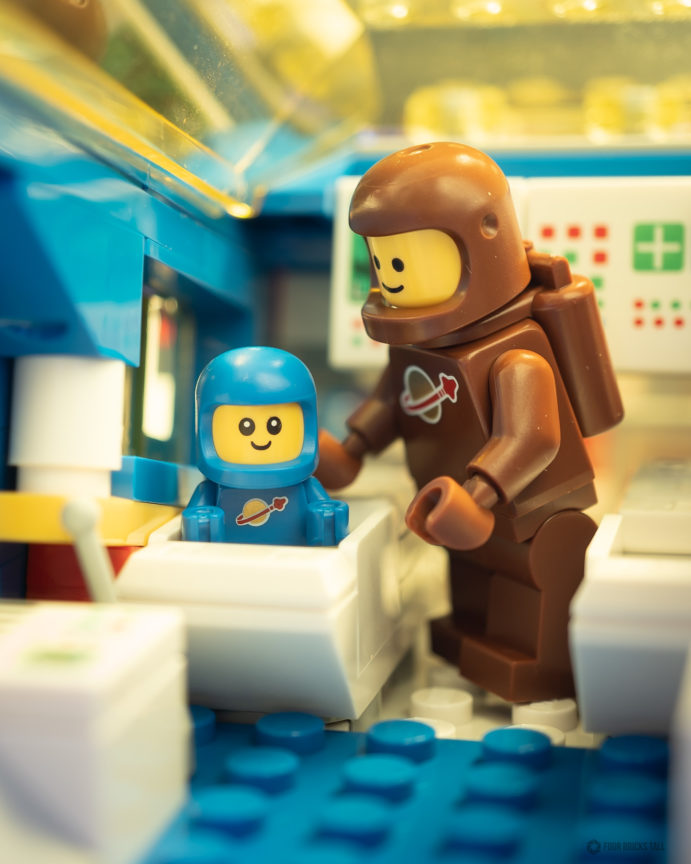 The Brown Astronaut and Spacebaby are probably going to be the most sought-after minifigs in this series because of the little one. You're probably most curious if the baby head has a separate helmet piece– the head, helmet, and airtanks are all one piece.
I'm not thrilled about the brown color of the "parent"– I'd rather have the classic spaceperson in green even though technically, it already has been released in that color in the Exosuit 21109 set from 2014. I missed out on that set for one thing, but the green helmet included was a modern one, not a classic one, so it would have been cool to get a complete green classic spaceperson here.
Football Referee
The Football Referee is a timely minifig to include for the World Cup 2022. By the time this CMF Series will be out, the World Cup will be over but just by a couple of weeks so still fresh in the minds of some.
The minifig itself is well done, but nothing exciting as a character for me personally. I'm sure it can fill some role in storytelling. The photo I took above is my kid (made in the Minifigure Factory in the Barcelona flagship store) getting a red card.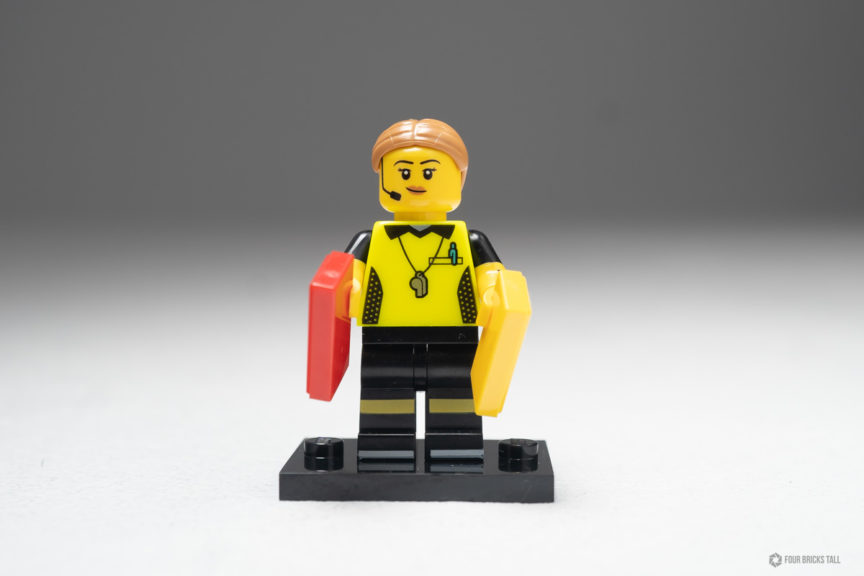 Speaking of, the yellow and red cards included with this minifig might have been better as 1×1 tiles but that's just a tiny, tiny issue that can easily be remedied from any AFOL's collection of extra parts.
T-Rex Costume Fan
T-Rex Costume Fan is one of the two costumed characters in this series. I'm not a huge fan of costume characters in general but I know I'm not the target for this stuff either.
However, I do like that they designed the dinosaur without making it super cartoony. Wouldn't that be funny though if it did get tiny arms? Anyway, I can see this placed as a mascot-type character in fairgrounds or theme park settings.
I love the head and will take that for a custom, and swap in the red head with teeth because that's always fun.
Falconer
The Falconer is another favorite of mine, no surprise as it's another medieval fantasy or castle minifigure. I have had this custom falconer minifig in my collection for a while and I tried to shoot it with an eagle but it was too big, so I am thrilled to have a proper LEGO falcon here.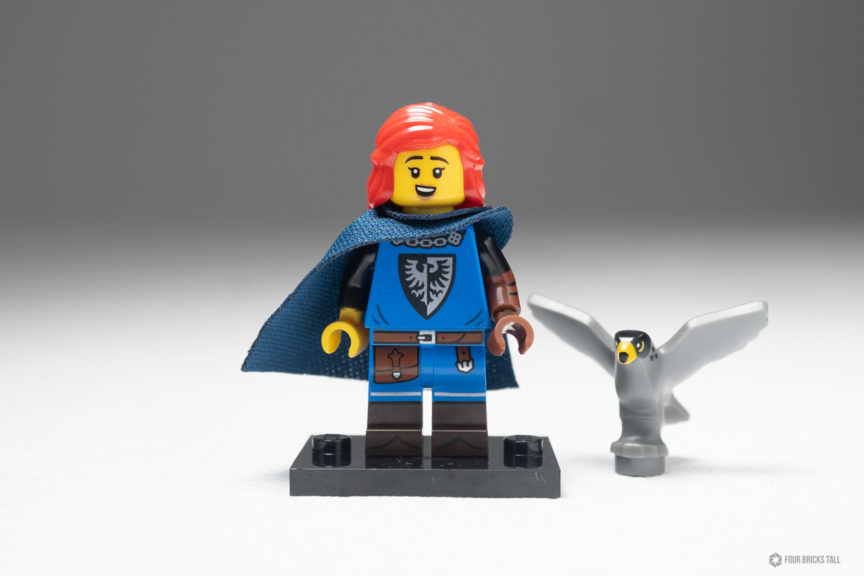 Her design is great: spot on with the rest of the Black Falcons but with some new details like boots, pouch, cloak clasp, and leather glove. Like the Viking from CMF Series 20, she has a printed cape on her back under her fabric cape.
Conservationist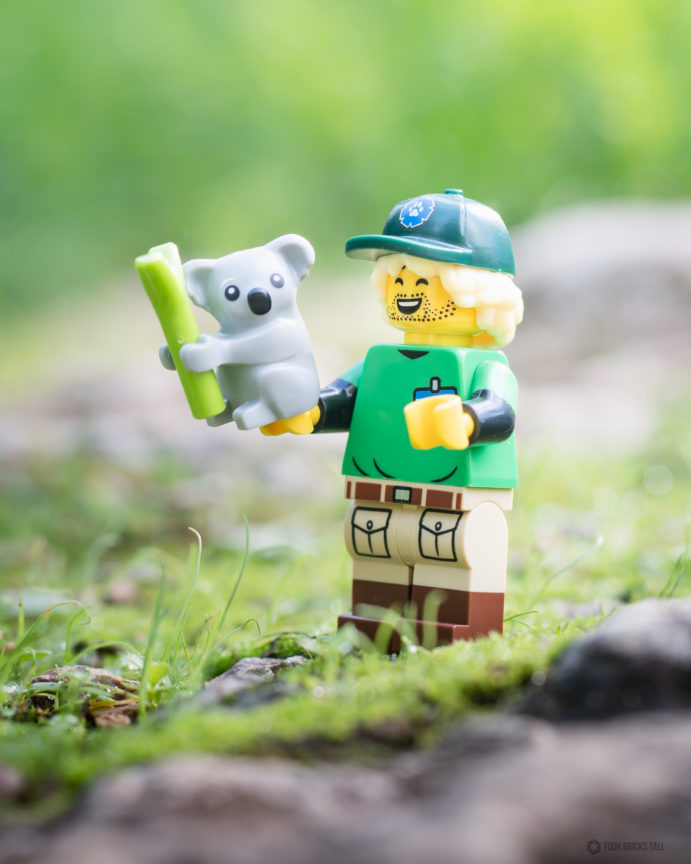 The Conservationist sports a cap recolor of Dustin from Stranger Things and has a cute new koala. I love the head because it has that good vibes expression on both sides.
It kind of reminds me of the famous Hiker minifig from CMF Series 16 with the scruffy beard and similar cargo pants.
Newspaper Kid
Another one of my top picks for this series, the Newspaper Boy is a super cute minifig with a fantastic newsie cap, rolled sleeves and suspenders, and patched medium legs. He also comes with a messenger bag, a new newspaper tile, and two dark brown slingshots. What a scoop!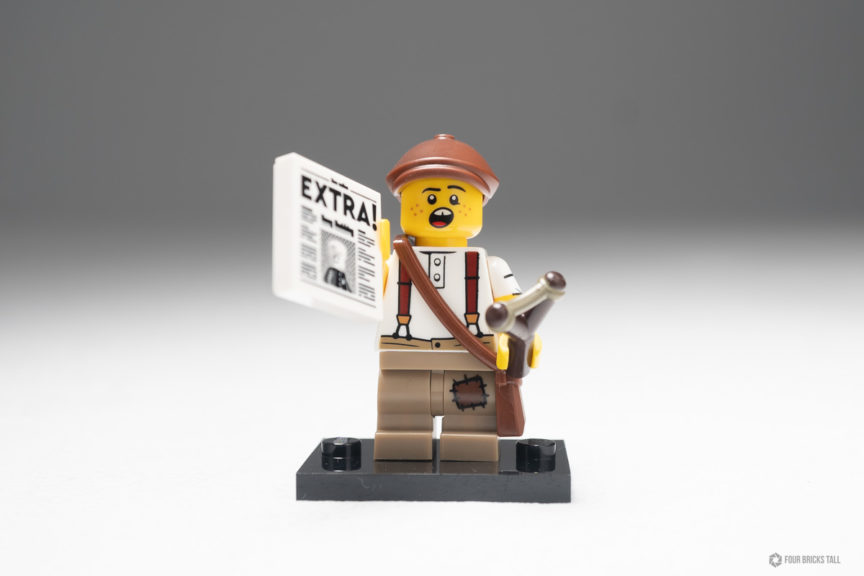 The adorable face is only one-sided due to the cap but it's a great expression.
Carrot Mascot
The Carrot Mascot is the second costumed character, and another in the line of vegetables. Without the carrot costume, it's a really decent minifig that could go with the current CITY sets like Farmers Market Van 60345. He's got the Farmers Market sign to advertise it.
It's a bit hard to see because of the two dark colors but the legs are dual-molded dark green and black.
Rococo Aristocrat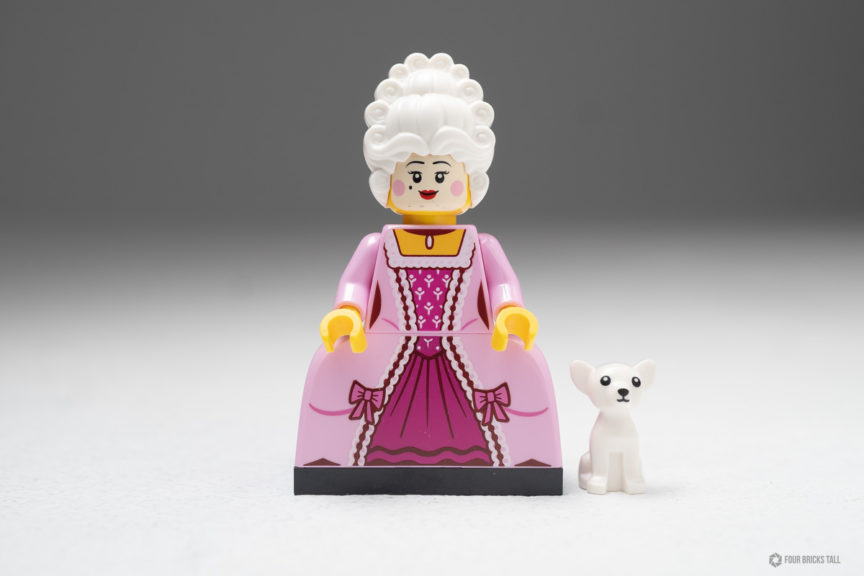 The historical minifigure in this series, the Rococo Aristocrat has a similar wide footprint to the Queen of CMF Series 15. She's elaborate, of course, with the ornamental print on pastel, a sophisticated white wig, and white painted face heavy with rouge.
I noticed there were a few scuff marks where the white paint on her face meets the edges of the cylindrical part of her head, making her look a bit dirty and unaristocratic. But that was only on one copy.
Rockin' Horse Rider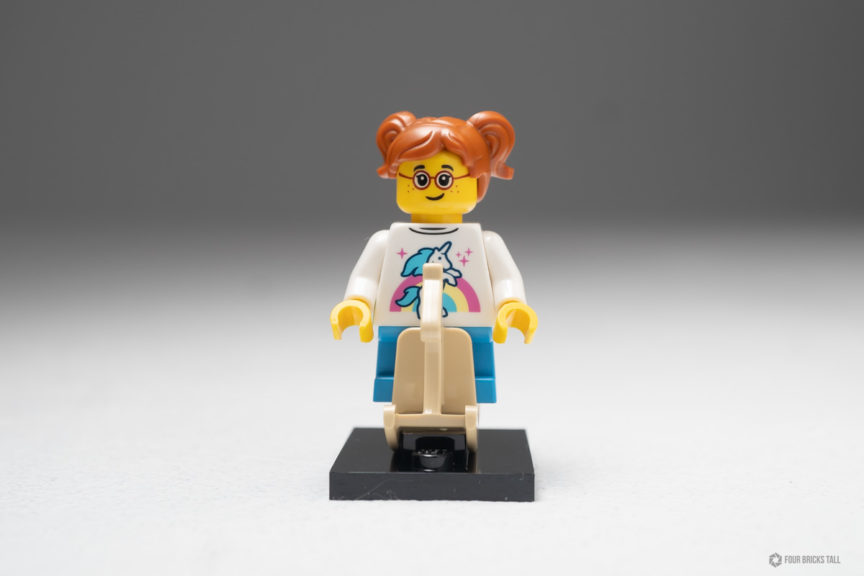 The Rockin' Horse Rider has an interesting new part, which is of course the rocking horse. But otherwise, she's quite uninteresting. If you like unicorns and rainbows, she's got that printed on her shirt.
Robot Warrior
The Robot Warrior has an interesting new helmet and a fun use of the roller skates in his weapon, but I feel like we've seen this kind of character before with the Galactic Bounty Hunter in CMF Series 19.
This color scheme is also not landing with me, especially with these hot pink details that make it less menacing (which to be fair, is probably the point). It could be a fun video game character though.
Verdict
CMF Series 24 is a much more attractive offer to me compared to Series 23 which seemed to be heavy with holiday-themed and costumed characters. I'm going to guess that most people will see a handful of minifigs they will want at least one of.
The 12 minifigs will be available in most markets starting on January 1. Each will cost the same as the previous series at $4.99/3,99€.
Disclaimer: this set was sent by LEGO via BrickCentral for a photoshoot. All opinions are my own.