Brickcentral were kind enough to offer LegoDwarves and myself (Freethegeekman) the chance to collaborate on a project together. They generously supplied us with the LEGO Ninjago Skull Sorcerers Dungeons set to use in a joint photography assignment. In this blog post we just wanted to take the opportunity to share a little of the collaborative process and how we found it.
Freethegeekman:
Once we found out what set we would be using as the main subject of the photoshoot LegoDwarves and I started discussing what we wanted to do. Early messages were quite high level: story ideas,how many photos, how would we split them. We quickly settled on a fairly straightforward "heroes adventure" story.
However LegoDwarves commented on some of the quirky items belonging to the Sorcerer suggesting a less evil side so we decided to go for a slightly silly more friendly resolution to end the story. We agreed to wait until we had the sets in hand and built before finalising any plans.
LegoDwarves:
I had planned to build the set together with my children but ended up building it myself one evening after the kids had gone to sleep. They were not too disappointed to miss out on the building of the set as they had such fun playing with it. They like the moving mechanisms a lot, especially the cage. This was also the first Ninjago set we got so they were quite fascinated with all the minifigures.
It was a really fun and interesting set to build. I would actually go so far as to call the experience epic. That's what I was thinking as I built the set. Memories of tabletop games like Hero Quest and Drakborgen (A Swedish table top game from the 1980's) came to me as I was building the dungeon.
As I was building I was also thinking about how I would take the pictures we had been planning. I really like the idea that this dungeon is on a lava lake in a large cave inside a mountain and I wanted that to show in at least a one or two pictures. However at this point I had no idea how to actually achieve such an effect.
I also got the idea to take one of the pictures outside, I was hoping that I would be able to make it look like the Ninjas were entering a cave on a mountainside.
So I drew a few small pictures and sent it to Freethegeekman.
Freethegeekman:
Having spent time focussing on getting shots for a review of the set I was a bit concerned that I was running out of ideas for the collab. However, after receiving the storyboard from LegoDwarves I really got enthused to take some more shots and to bring this little story to life.
I particularly liked the idea of the outdoor approach and the hero running from the spider. I immediately had some ideas to add to this and sent some additional panels back. Though my drawing skills are not up to the level of my Finnish collaborator!
Firstly I thought having a prelude/opening image showing the sorcerer was a good way to set the scene so you knew what the heroes were working towards. That should also make our ending more surprising. Additionally, LegoDwarves wanted to add in some action scenes so I suggested one.
LegoDwarves:
It was a good thing Freethegeekman suggested we should have a picture with the sorcerer in the beginning of the story. It really is a great character and nice looking minifigure.
I found the second picture here where the hero knocks a goblin and skeleton over the edge (and into the lava) really inspiring and I did my best to take a picture that looked something like this. I did use the orc instead of the goblin because the goblin has the short legs that cannot be moved, and it's really difficult to make a minifigure with these legs look like it's in motion.
Freethegeekman had already tried to take pictures inside the sorcerers room in the dungeon and found that it's quite small and difficult to get a good picture there. This was a bit of a problem, where would the tea party be then? I was hoping that I would come up with a good idea later as I started taking the pictures.
At this point it was still unclear who of us would take what pictures. I suggested that we would take the pictures of one hero each. The "good guys" that come with this set are Lloyd (the green ninja), Zane (the white ninja), Cole (the black ninja) and Princess Vania. I chose Cole mostly because of the large club he has that I thought was pretty cool.
Freethegeekman sent another drawing with suggestions for a meeting with one of the heroes and the sorcerer. He also sent a story outline based on our discussions.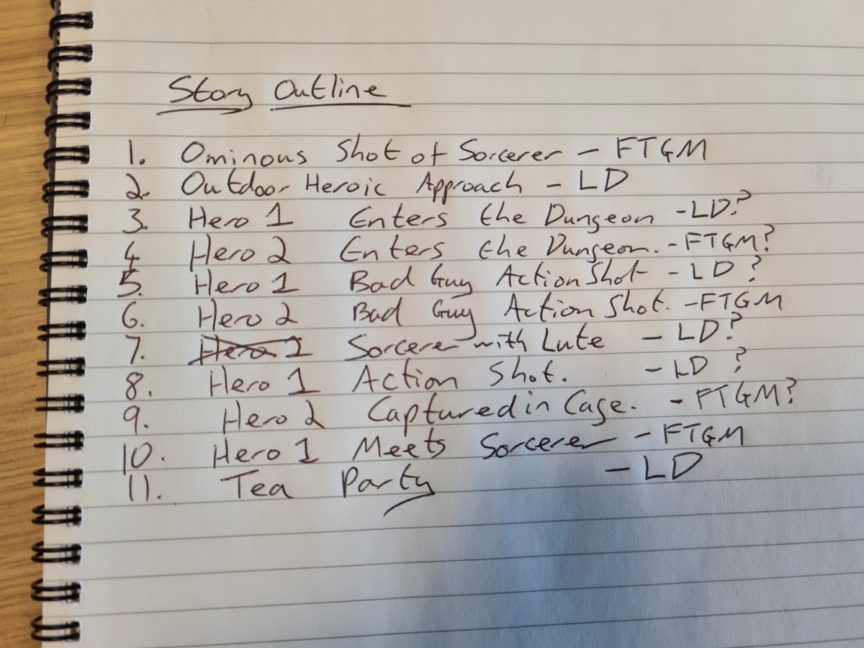 Freethegeekman:
After agreeing which scenes we would each shoot we discussed how we would achieve consistency between the shots with so much open space in the set. I mentioned I had used orange light and grey background to fill the spaces in my review shots, LegoDwarves suggested orange light but with a black background which I liked because it would help make the shots look a little distinct from my review shots but I also knew I could achieve it in the time we had available.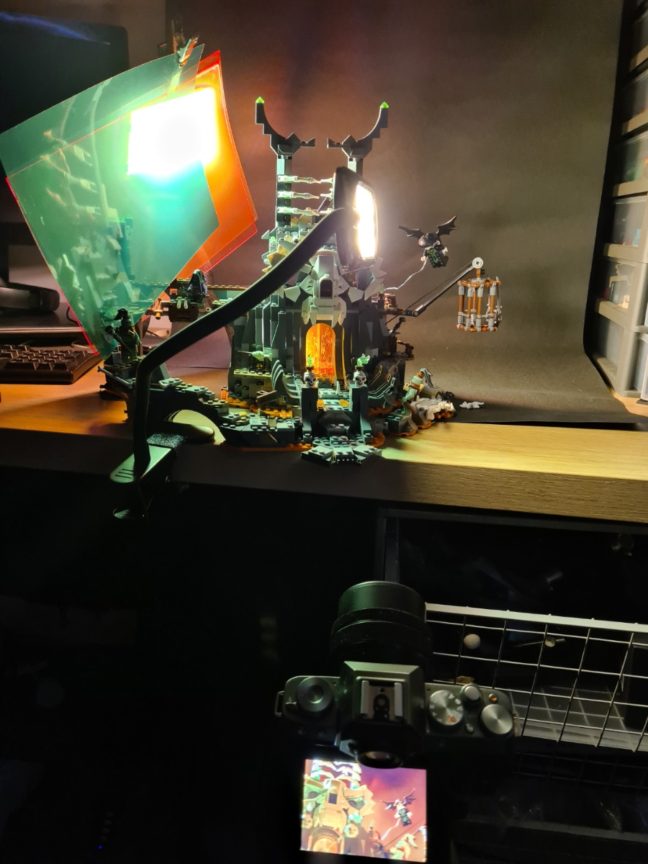 We also decided which heroes each of us would take and what entrance we would use (though I did make a slight mistake with this which I am sure LegoDwarves will mention! Due to work commitments I had to rush to get my shots taken before LegoDwarves was able to take many of his because I knew I would not have time later.
LegoDwarves:
The first picture I took was the outdoor entrance shot. I built a stairway using grey bricks and also a lot of parts from LEGO 71717 Journey to the skull dungeons, this set is part of the same series as Skull Sorcerers dungeon so the idea here was that the stairway would look like it was a part of the main set. The stairway led to a cave entrance and this was the way Cole would enter the dungeon. Sort of like a main entrance.
For Lloyd, which was the hero Freethegeekman would use in his pictures, I built a smaller entrance, something like a sewer opening. My thought behind this was that Lloyd had chosen a more sneaky plan of attack and Cole a more direct head on attack.
As I had taken the shot I sent it unedited to Freethegeekman for feedback. He sent back the pictures he had taken and we realized he had used Cole to. So nothing to do for Freethegeekman than to retake the shot.
Freethegeekman's picture of the Hero entering the dungeon did look really good in my opinion. Unfortunately the picture was composed really similar to how I had imagined my picture of Cole entering the dungeon. As I mentioned this to Freethegeekman he was probably afraid he would have to retake the picture a second time. This would have been a waste of a really good picture however. Instead I planned my picture in a different way and I'm really satisfied with how it turned out.
I did try to use some fireworks to get an effect of smoke coming out of the entrance to the dungeon. But as can be seen in the picture below it did not work out as I had imagined. It was just too much smoke. I also had to wash poor Cole and all the other LEGO parts afterwards as they smelled of black powder.
Freethegeekman:
After remembering (well – being reminded by Fourbrickstall) that an Instagram post can only have 10 pics in the carousel and thinking about how the shots were going so far, I suggested a revised story structure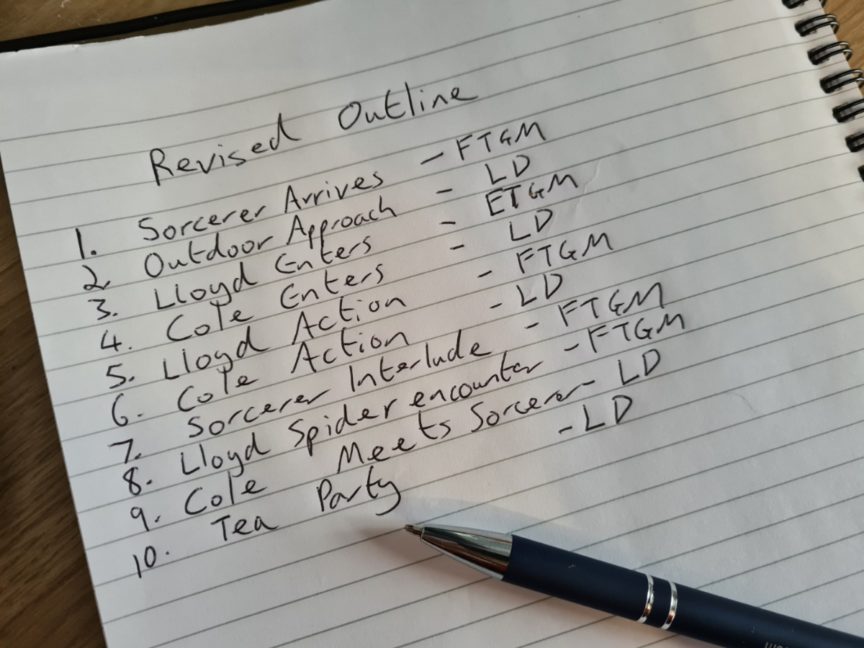 LegoDwarves:
We had planned that the sorcerer and our two heroes should have a tea party at the end of the story and so Freethegeekman suggested the tea party should be taken on the outside.
As I took the pictures I first tried to arrange a tea party just outside the dungeon, still in the cave. However I just could not make that look very good. I sent that picture to Freethegeekman and told him of my concerns. He then suggested that It could be taken outside, like the outdoor entrance picture. That solution hadn't occurred to me and it got me really inspired.
I spent an hour or two building a table and some garden lights and later I used that for taking the tea party picture.
It was quite difficult to light that picture. I waited too long so it was already dark outside when I took it. I wanted the garden lights to look like they were lit. I tried out many different ways, using a number of flashlights and mini light strings. In the end I got a picture that I was satisfied with.
Final Thoughts
Freethegeekman:
This was a really fun activity and I enjoyed the collaborative aspect. Sharing ideas and coming up with a story with someone else was interesting and made a nice change from just doing everything in my own head.
I also had a good time taking these shots despite the condensed time frame available due to work/life commitments and the fact I had already taken quite a few shots of this set for a review. I think this was at least partly motivated by not wanting my shots to look terrible alongside those of my project partner!
All in all this was really fun and it's made me want to do something like this again. I'm really looking forward to seeing what other photographers come up with in future Brickcentral collabs.
LegoDwarves:
Collaborating on a project like this was something completely new to me. Taking a picture that involves an entire LEGO set was also new to me. Previously I've almost only been taking pictures on minifigures.
I would say that it's nice to step outside your comfort zone like this and do things that I perhaps would not have done otherwise. It's inspired me in many different ways. I plan to not only take outdoor pictures in the future but also do things indoors.
It was definitely great fun, I still have things set up in my garage ready to take more pictures involving lava and dungeons.
Once Upon a Tea Time