I was pleased when TLG announced an exclusive set for the Star Wars Galaxy's Edge Theme Parks. Even more pleased when I saw it was a ship that did not exist yet as a LEGO set! I knew it would one day have a nice place in my collection.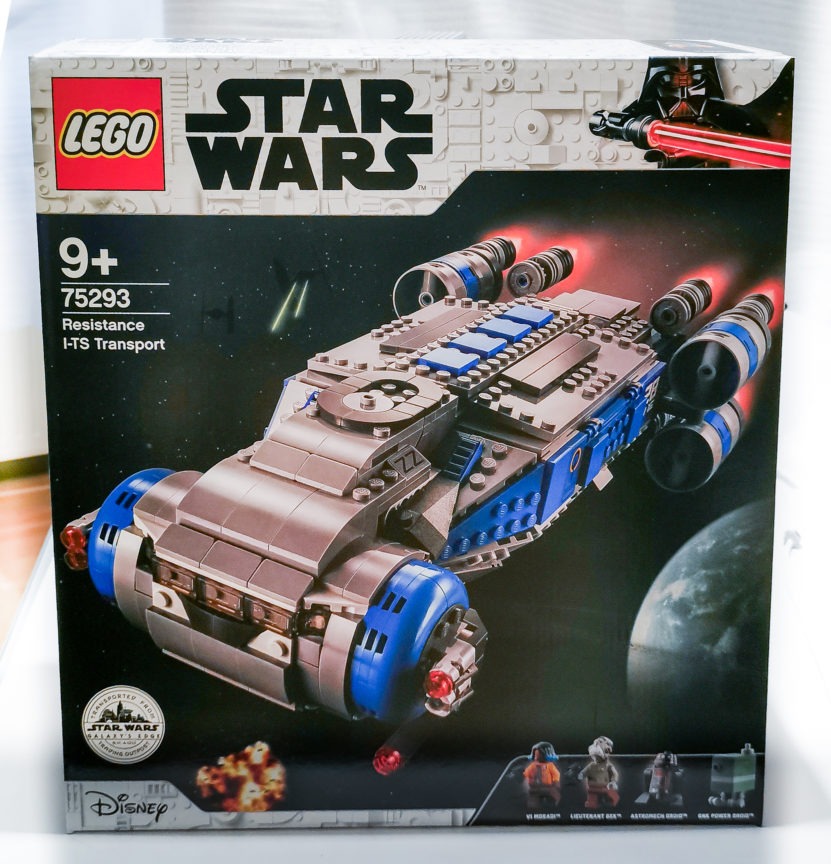 Note the black and white logo stating this as "transported from Star Wars Galaxy's Edge Trading Outpost", which basically means it's an exclusive.
Background
Why is this set so special?
Well, let's provide some Star Wars background. This ship and included characters belong to the newly created attraction called "Rise of the Resistance" at the Star Wars Theme Park, Galaxy's Edge, which can be found at Walt Disney World and Disneyland Resorts.
The park welcomes guests in a place called "Black Spire Outpost", consisting of a spaceport, a cantina, and a market, on a planet named Batuu. Well, at least it's not Tatooine or another desert planet…
The context fits between Episode 8, The Last Jedi, and Episode 9, The Rise of Skywalker, the last two movies of the Skywalker Saga. During that time, the Resistance, led by General Leia Organa (formerly known as "Princess Leia"), is pretty much decimated by the First Order and tries to rebuild itself.
The female character included in the set, Vi Moradi (who was originated by actress and stuntwoman Alex Marshall-Brown), is a Resistance spy who travels to recruit potential support. Her story is fully described in a couple of Star Wars novels (Delilah S. Dawson's 2017 Phasma & Delilah S. Dawson's 2019 Galaxy's Edge: Black Spire). Without having read this side material, I gathered that at some point she is on Batuu and calls for recruits to join the Resistance.
The theme park guests act of course as recruits who are secretly led to a ship (the one LEGO made here) commanded by Lieutenant Bek (the alien Mon Calamari officer included in the set) in order to be transported to the secret Resistance base.
This ship is the entry point to the attraction. Guests can feel the ship lift up and departing the planet, only to be intercepted and engulfed within a First Order Star Destroyer, where the recruits are made prisoners.
Resistance spies aboard the enemy cruiser blast a hole in the prison wall and push the guests into magnetic transport carts (in Star Wars terms, First Order Fleet Transports) driven by astromech units similar to the black R5 droid which is included in the set.
The fun then begins with the guests being led through the enemy ship, being shot at by the First Order troops and encountering the enemy Leader himself, Kylo Ren. Of course everyone safely gets out of the enemy ship within escape pods and lands safely on Batuu again.
You can have fun watching the video of the tour there:
The actual theme park life-size Resistance I-TS Transport ship, referred to technically as Intersystem Transport Ship (hence the initials) is a nice design which looks like a shrunk down, classic Tantive IV from the Rebel Alliance (for those not familiar with Star Wars so much: it's the ship that is attacked and caught by the huge Star Destroyer in the opening sequence of the very first Star Wars movie, A New Hope.)
Indeed, the design has the same cylindrical-shaped front cockpit, the long body, and the large thrust engines at the back; the latter clearly borrow their shapes from the classic X-Wing and the newer U-Wing fighters. For a new concept made exclusively for the Galaxy's Edge Theme park, it does create the Star Wars feeling.
Build
So now, how did the whole concept translate into bricks?
I can already say, very convincingly.
While this review does not deal with the assembling of the ship, we can look how it is structured with a few simple pictures. I also include extra shots that show how the only very brightly colored pieces are…. to be hidden within the structure! Typical for a Star Wars set.
We have a ship composed of a frame, where side panels, front dishes and thrust engines are attached, and where top and side hatches can be removed at will for easy interior access.
The cargo hold is essentially the space where passengers/troops can fit. Because play value requires some stability, we can see a lot of technical elements. As these take space, the cabin can only fit one character, and the cargo hold itself can only fit a handful of minifigures/droids/boxes. You can see in the pictures how I tried to optimize character and box placement.
Because the closed cargo side doors are slanted, no minifigure can stand there, so it feels like this is wasted volume. Strangely, two window frame elements are located on the front and rear side of the cargo hold, but barely fit anything and were probably just meant as structural supports. I managed to place half of the weapons' box there, so it does help a little, but improvements could be made to accommodate additional minifigures.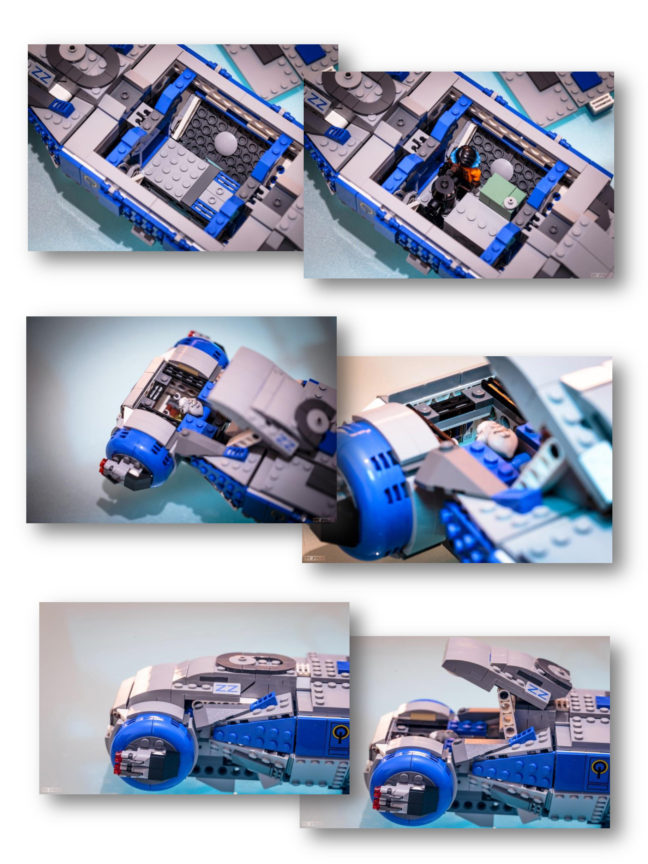 For the cockpit area, the build is well conceived with rotating side guns (inevitable but a bit ugly-looking stud shooters) and a top opening hatch, which, once closed, fits seamlessly on the ship's profile.
As mentioned, the space in there is very limited, which is fine considering the size of the set. However, one major drawback I find here is the lack of transparency for the windshield, which might have allowed lighting from within.
Another play feature is the rear stud shooters, for defense against anyone attacking from behind.
What again is a missed opportunity is the black-transparent half-globe which is meant as a window for a rear gunner (check the last "in-flight" picture for this particular detail), but which does not fit any minifigure at all — the part is simply attached to a brick wall full with studs. I would like to see someone actually MOC this part and do something with it (please!) With this done, it would make for very nice pictures.
When the whole ship is assembled, a side-by-side comparison with the life-size model of the theme park within similar settings says it all: it does look convincing. Despite some inner compartment constraints, the ship looks very nice. I particularly like how the designers managed to recreate the front narrowing neck with slanted plates, as well as the thrust engines.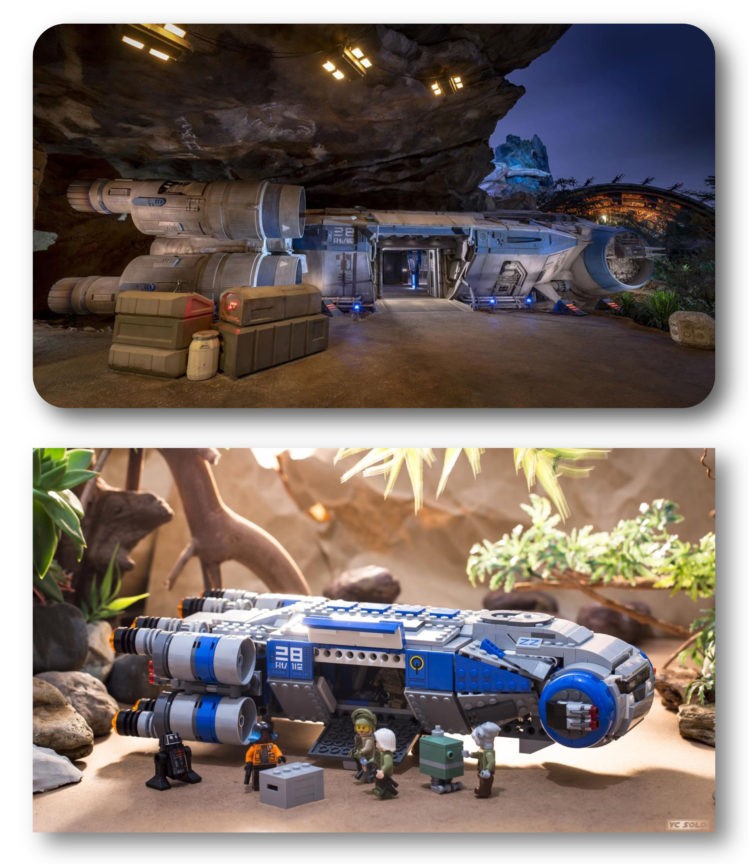 Minifigures
One cannot make a review of any Star Wars set without discussing the minifigures at large. I will not do it extensively here, just mentioning that these are exclusives (which will make some people's eyes tilt) and meant for this set alone.
Because it is an expensive set, well, people will refer to them as being "rare" (although these sets can be found at every LEGO Stores and Target USA and Toys R Us Canada…) I let you here compare the minifigures to the characters as they appear in the Theme Park.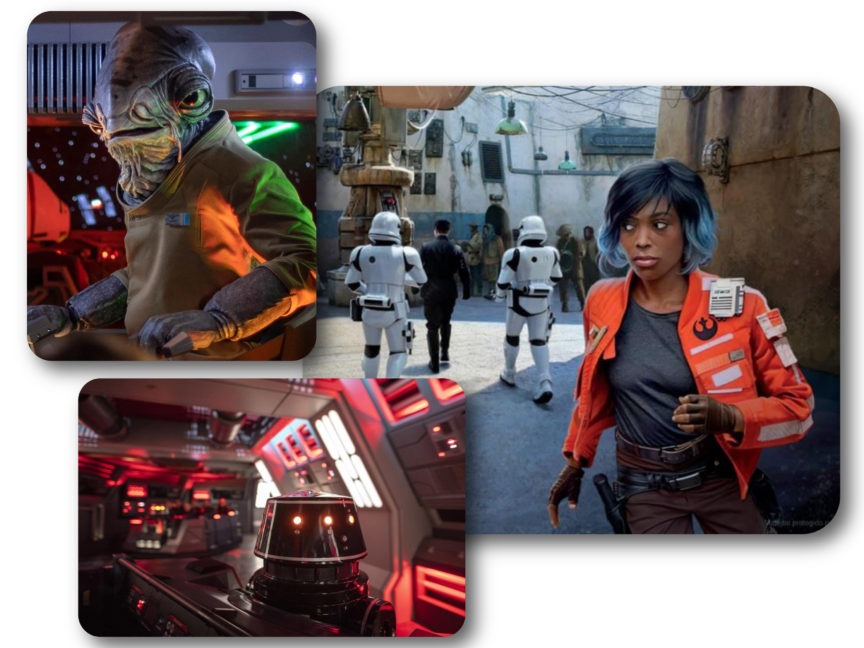 First: none of the minifigures have leg printing. Or arm printing. But Vi Moradi's torso, in bright orange, is nicely detailed with the Rebel Alliance's emblem and fits perfectly the one of the Theme Park real-life character.
The hair piece is also unique, coming in black with bluish ends. The face is not unique and was also used for Jannah in Poe's Resistance X-Wing (75273) from earlier this year.
I do not know the character too much, but she does appeal as a spy, even with a very obvious Resistance emblem on her jacket (!). It is easy to imagine her on special missions. Since her story is not cast in stone as the rest of the saga characters are, one can easily create their own scenarios and hence the photo possibilities are endless.
On his side, Lieutenant Bek comes with a new torso (sadly with an inverted emblem on his chest compared to the official theme park costume), but the rest is spot on. The alien Mon Calamari head is also rare and unique in that color/detail. We can never get enough aliens for Star Wars, so this is a nice addition.
Both are equipped with small blasters, but additional rifles are included in the set to be placed inside the weapons box.
The astromech droid, also unique to this set, as well as the buildable GNK power droid, although not a real minifigure, are nice companions to the cast. What we miss here are the names. Maybe some readers will help me find their proper names, but TLG deemed those irrelevant.
In fact, I do not even know why a GNK droid was included, as I cannot see it in the attraction itself. But perhaps we can run across such droids in the theme park. Anyway, it's a Power Droid, so I guess it can always come in handy.
Photography
Now, how did I want to take pictures of this set? In my opinion, having such a ship is a nice addition for any Star Wars fan, due to the uniqueness of the design.
Although the saga has seen its share of Imperial/First Order transport sets, there are not so many Rebel Alliance/Resistance transport ships created into minifigure scale.
We had the Tantive IV before, but it's a very large ship that remains difficult to shoot, and does not have a side hatch. This one is smaller and, thankfully, comes with a cargo hold and door panels that can be used to recreate troop boarding.
And boarding is where the fun really begins with this set. Because my photography tends to focus not only on minifigures but also ships placed into a larger context, and also shot indoors, this perfectly fitted my want list.
This is what I tried to convey in the following images. First, at an unknown base location, General Leia giving her goodbyes to her agent, with ace pilot Poe Dameron coming to them. The ship sits in the background and a lot of Resistance crews are either about to embark or busy with preparations.
I took this shot with the ship aiming forward so we could see the engines lighting up slightly, and the cargo door opened.
Of course, here is a small disclaimer: a keen eye will notice that most of these shots include additional LEGO parts/minifigures that are not contained in this set.
That's mostly because I needed to add "Resistance troopers" that are, sadly, not included within the box. For this, you will have to cash out and fill your ship/scenes with minifigures borrowed from other sets. But again, not many will fit in the cargo hold…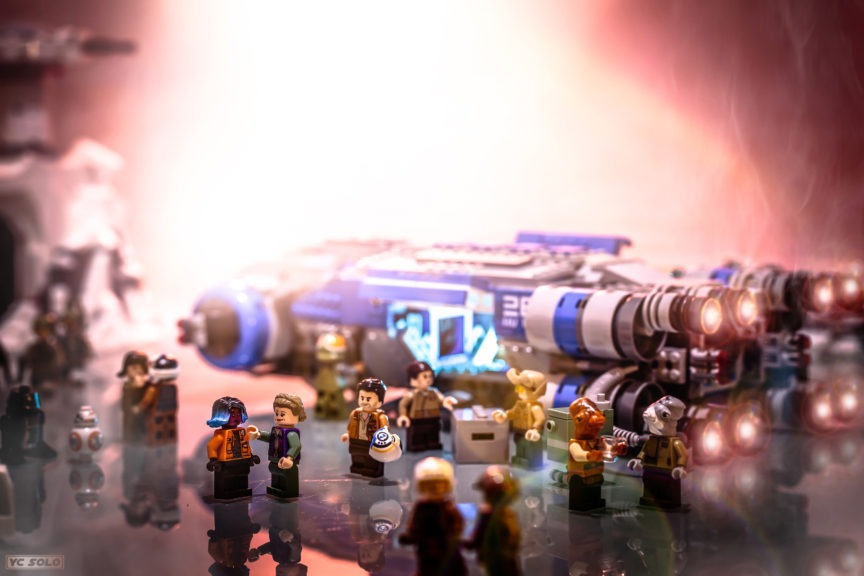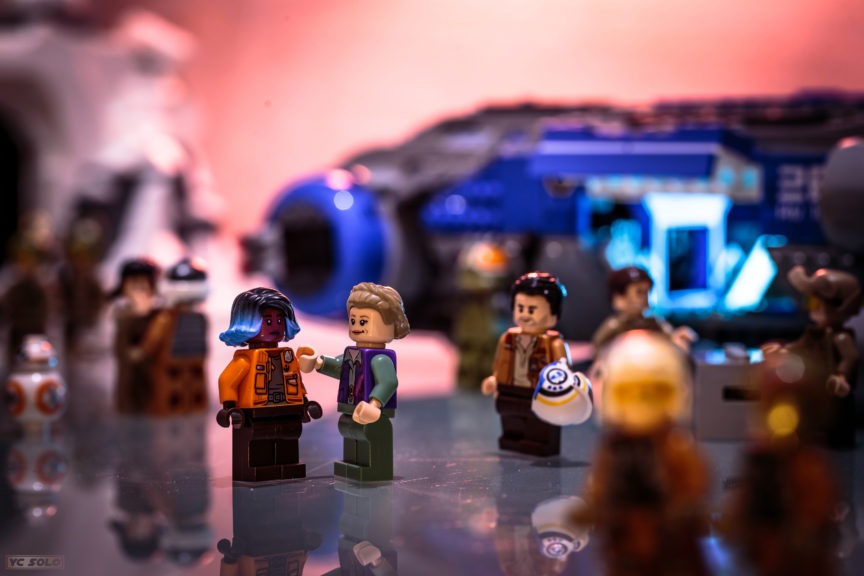 A similar shot was made with the ship this time landed on Batuu, the Theme Park planet, or a similar location, where freshly recruited troops are boarding.
For these boarding shots, the cargo hold is lit up with a simple trick: because there is one door on each side, I simply opened the opposite door, slid a smartphone with a bright bluish light. Sadly, as explained earlier, the front cockpit window is not transparent, so I created lighting emerging from within using post-editing in Photoshop.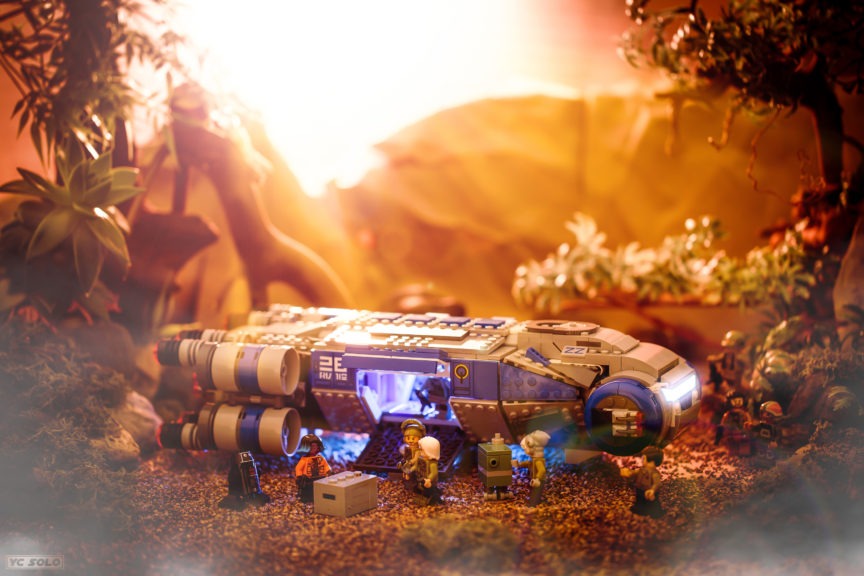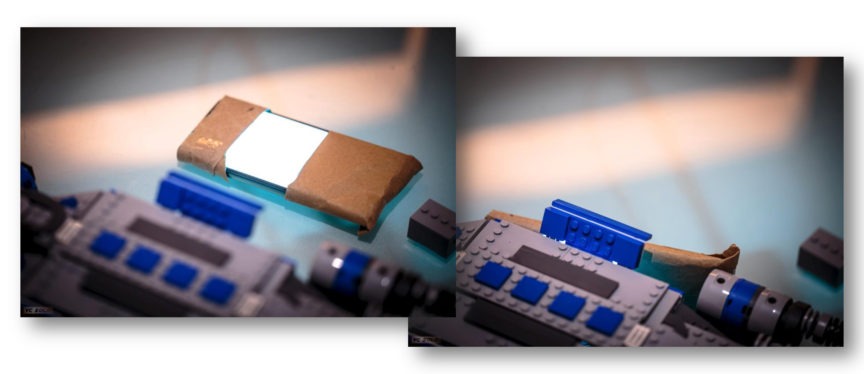 I provide here another way to light up the cargo hold from the top with the smartphone lying flat on top of the ship, after removing the top panel; this will light up the minifigures much better.
To avoid having the smartphone in your shot, take two shots, with and without it. A simple composite masking of the two shots in Photoshop will take care of it (yes, I sometimes cheat…)
One aspect I wanted to improve for these shots is the slope of the boarding ramp.
What we see from the Galaxy's Edge attraction is a ramp that is essentially flat; this is probably because this attraction welcomes attendees in any condition (in wheelchairs, to be clear). The LEGO set does replicate this nicely, but to shoot boarding scenes I like to have some element of action.
The designers (both from Disney and TLG) will hopefully forgive me for raising their ship on 2×2 round elements (kept untouched on purpose in the above pictures). I was happier with how the ramp looked then. Shooting at an angle will amplify this, of course, as shown below.
And if you do not like blue as interior lighting, yellow is also an option. 😉 Here, a shot that mimics Han Solo shooting back at stormtroopers from the hatch door of his Millennium Falcon: Vi Moradi tells her fellow crew to board in while she shoots at unseen foes.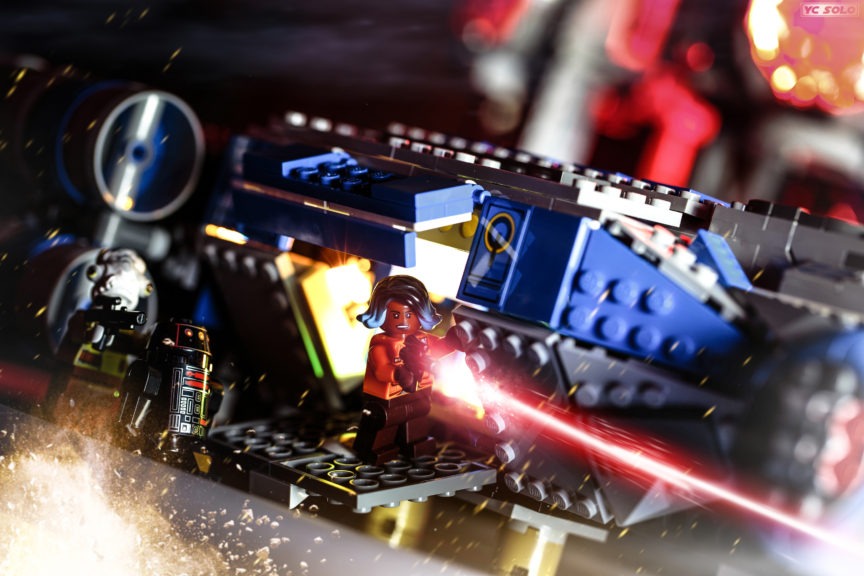 The next series of shots were meant to show the ship actually doing what a ship is meant for: flying.
To achieve this, I simply piled up bricks underneath and it stayed nicely in place without any risk of falling. In those shots, lighting comes from that bright spot behind a black matte sheet of paper, simulating a sun of some sort.
The bluish hale from the planet comes from a low spot. Of course the glow from the thrust engines, the stars and the planet (a depiction of Batuu, the planet from the theme park) were added in post-editing.
I made two versions of the shot with the ship flying forward: one flying past the planet and one mimicking the Tantive IV flying over Tatooine, just seconds before being attacked and swallowed by Darth Vader's Star Destroyer. Hint hint.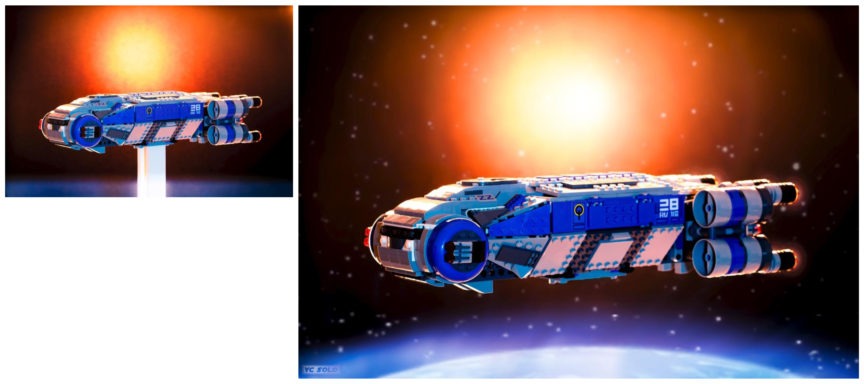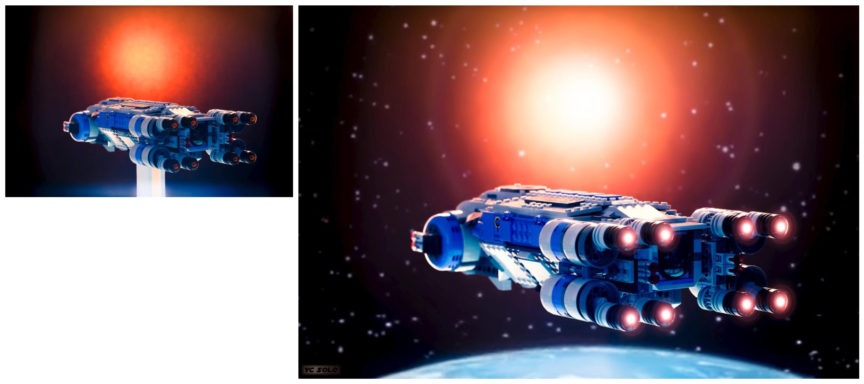 The final shot is meant to replicate what happens in the theme park attraction: Resistance agents and recruits escaping the First Order troops (and the evil, tormented poor soul, Kylo Ren) in the Star Destroyer hallways and fleeing to the nearest escape pods.
Of course, this in reality is done by park attendees sitting on magnetic carts piloted by the black R5 astromech droids, but it looked more fun to have Lieutenant Bek, a Mon Calamari officer, actually running for his life. Those Mon Calamari guys were always seen onscreen sitting, so they need some action, right? Such lazy guys…
---
Conclusion
Before we conclude, the hard facts: the Resistance I-TS Transport 75293 is US$99.99/139.99$CAD/99.99Euros and has 932 pieces and 4 minifigures.
The set comes as a Galaxy's Edge Exclusive to LEGO Stores, Target USA and Toy R Us Canada. It will probably remain so, unlike the rest of the sets that start off as D2C exclusives but are available everywhere after two months. This means, do not expect to see the price drop from the actual LEGO price tag.
If you want it, but are let down by the price, my advice is to try to benefit from Double VIP points when shopping at LEGO Direct. Or wait for a Gift-With-Purchase.
If you need a Rebel/Resistance troop transport ship in your collection, this one is a must, so do not wait until it gets pulled out from the line-up.
I really like this set a lot, and honestly it is one of my favorites from the Star Wars line-up this year. It offers a large array of photographic opportunities that are not typically present for the typical "fighter" ships: troop boarding and inside shots are indeed only possible when at least some space exists to stand minifigures.
This model does have size constraints due to its price range, it is indeed smaller than the real-life version is, but it does offer something rare in the Rebel/Resistance line-up. It is also very robust and compact enough to allow for easier support setups than the recent Tantive IV set when replicating in-flight pictures. Add to that the exclusive minifigures, for Star Wars fans it makes for a nice addition of a unique and brand-new looking ship.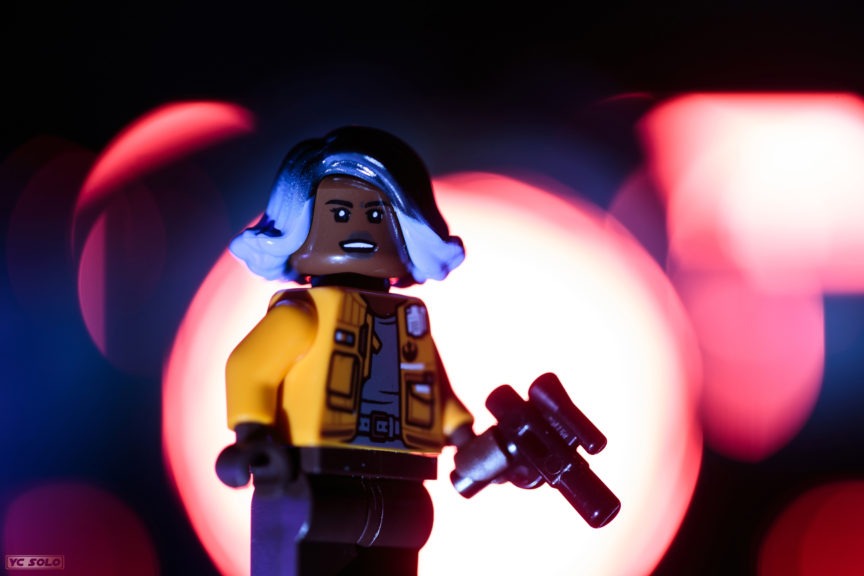 This review was of course focused on the phographic experience of the set, and how to exploit it. For the building experience, my best advice is to try it out yourselves. I believe you will not regret it, this set is more than just the exclusive minifigures!