The new Harry Potter Collectible Minifigure Series is out with its second wave and there are some very cool new parts in it!
Let's start with the standout accessories that AFOLs will probably love whether or not they are Harry Potter fans: the butterbeer mug, the martini glass, and the dope sword. I've thrown in the Weasley twins bookie briefcase because why not?
As with all my reviews, I like to focus on parts rather than looking at the minifig holistically so I won't be covering how accurate they are to the movies. Besides, I only watched until The Goblet of Fire.
Obviously these minifigs are a no-brainer for Harry Potter fans to collect, but if you're not, there are still some pretty interesting parts for you in this series apart from the accessories above.
But first, let's talk about the photoshoot…
Portrait Setup
To shoot the portraits for this review, I used two flashes: one in a small softbox camera left and the other with a blue gel and snoot on camera right pointing at the background.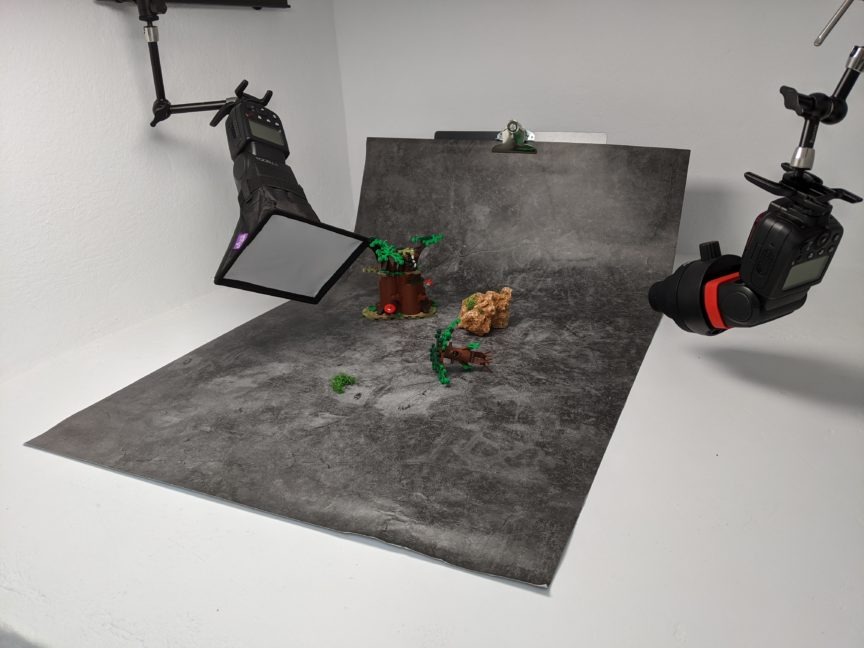 The softbox is the key light. It was feathered to avoid spilling light onto the background and raised to avoid direct reflections on the minifigs.
The flash with the blue gel and snoot is the background light, which I added to give some mood, depth, and color.
Instead of using a bounce card or third light to fill in the shadows on the right side of the minifigs which were not lit by the key light, I dragged my shutter to 1/40 and let the ambient light take care of it.
There's a roof window where I am standing to take the photo of the setup that lets in nice, indirect light.
Lastly, I added some atmosphere with a handheld smoke machine to give it a little bit of drama and to lower the contrast a touch. Since I had a background light, the effect is subtle.
Here's a how-to on creating atmosphere with flash or LED lights:
And now onto the review…
Griphook
I'm in a D&D kind of mood these days so this minifig is easily my favorite, despite it having the despised short legs. When is LEGO going to retire those?
Anyway, the hair/ear piece is fantastic as is the sword. I can see these parts used in lots of fantasy adventure MOCs.
The minifig's head reminds me of Gollum with the sharp teeth and wrinkles but in a regular cylindrical form.
Moaning Myrtle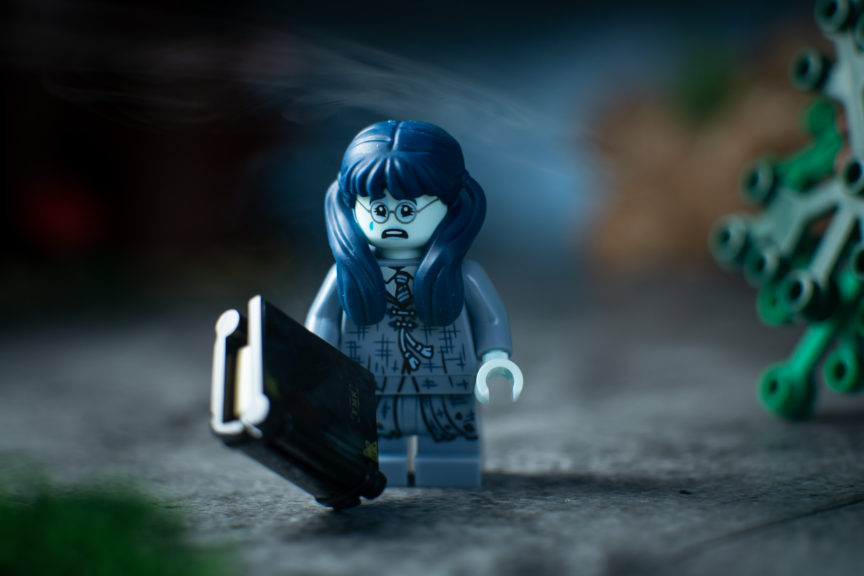 Moaning Myrtle gave me the creeps in the Goblet of Fire, and not in the spooky sense. That bathtub scene with Harry had my face contorted in the eew expression for a solid 3 minutes.
Her LEGO form looks much cooler though. She comes with one of those transparent posing pieces but I didn't include it here because I didn't want to Photoshop the photos.
I don't think there's a whole lot you can do with the parts individually except maybe use the hair for some pop star or goth character.
It's a solid "fan fig."
Dumbledore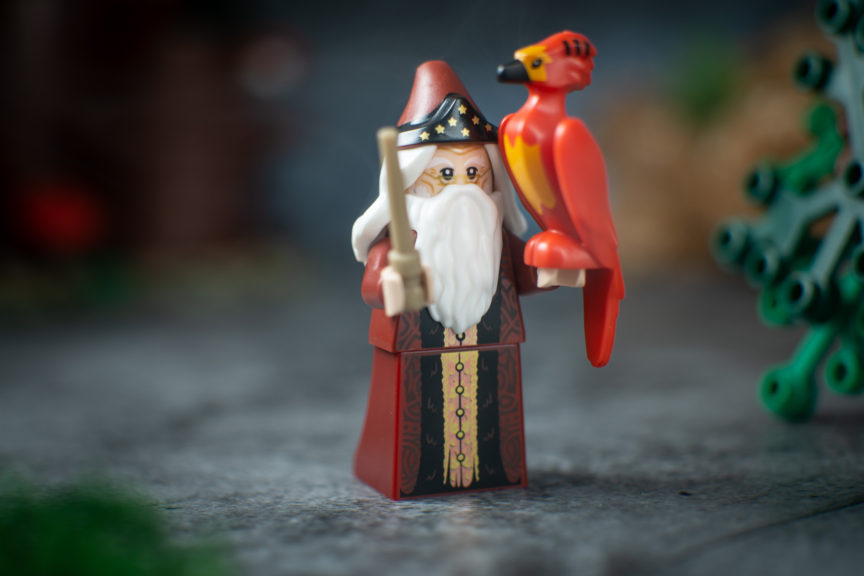 Dumbledore is my next favorite character in this series because he's got a more D&D-looking wizard-y hat and garb. Never mind that he also has a phoenix!
Ron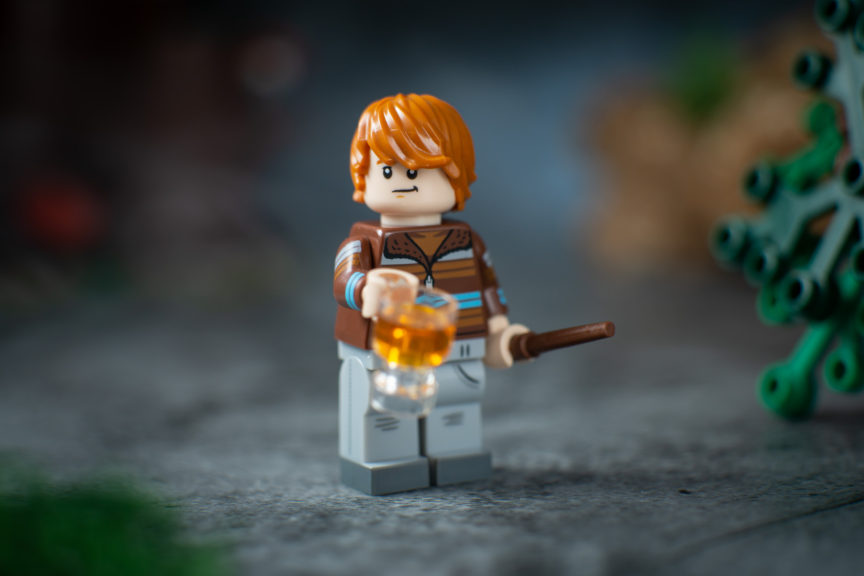 Changing gears slightly to modern urban styling, I really like Ron's outfit in this second wave. His torso is kind of retro, which I would probably use to make a hipster minifig with. He'd be drinking only the finest craft beer in Brooklyn.
Oh wait, he's already got the beer! Excellent!
I also like the new shoes and side seam on the pants. The leg assembly will be another hit among the sigfig crowd.
Hermione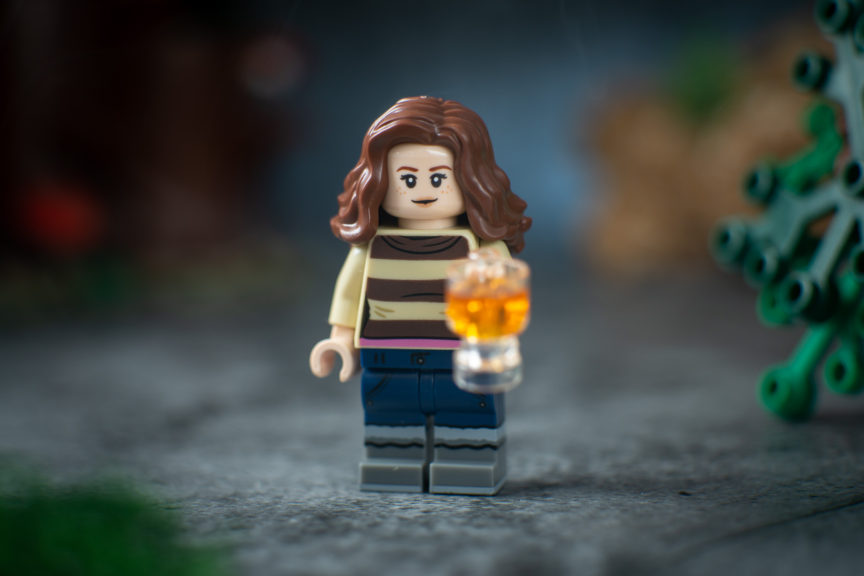 Like Ron, Hermione's also got a quite the hipster-vibe going on with her striped sweater and fur-lined boots. My sigfig could never pull off this look!
I'll just have the beer.
Harry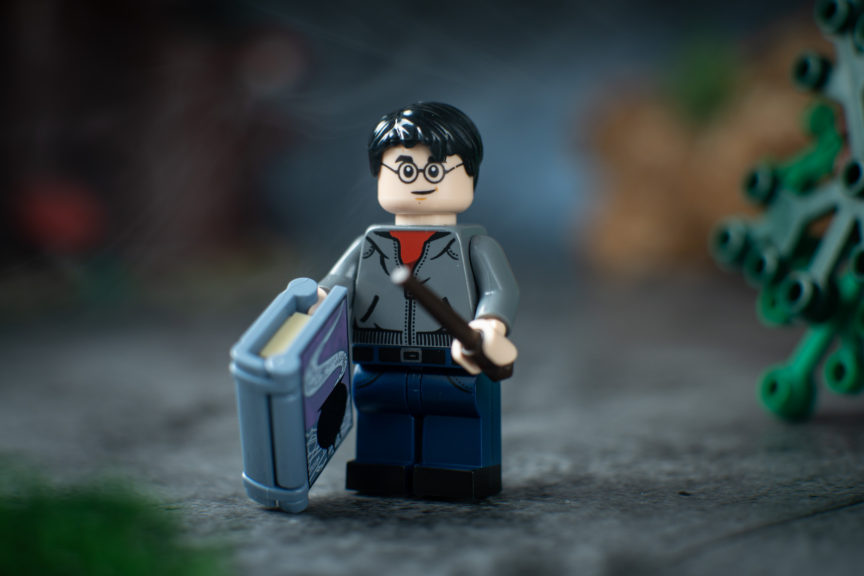 Harry's got a more detailed zipped up hoodie and a pair of jeans with black shoes. He's probably the least interesting minifig of the lot but still, I'm sure the torso and legs will find their way into Bricksvilles everywhere.
Bellatrix Lestrange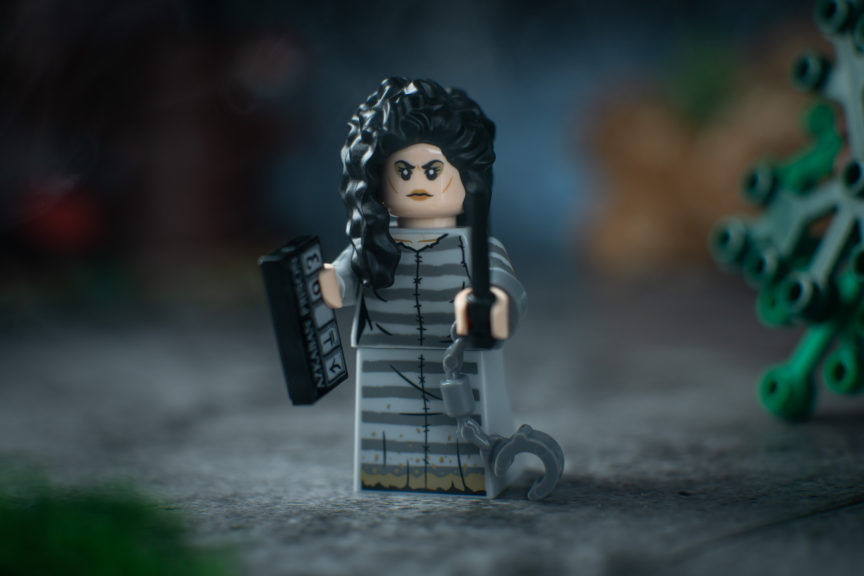 Another "fan fig" since the parts are pretty specific to the character.
The circa 19th-century striped prison uniform is welcome here — and totally unwelcome in City sets! What is the deal with all the criminals in City sets already in prison garb from last century? Ok, off-topic but you know what I mean, right?
Ginny
This minifig has the martini glass accessory I pointed out in the beginning of this review, but it's used as a dessert cup here.
Ginny also has a great new hair piece with a gold barrette pinning her hair to the side.
James Potter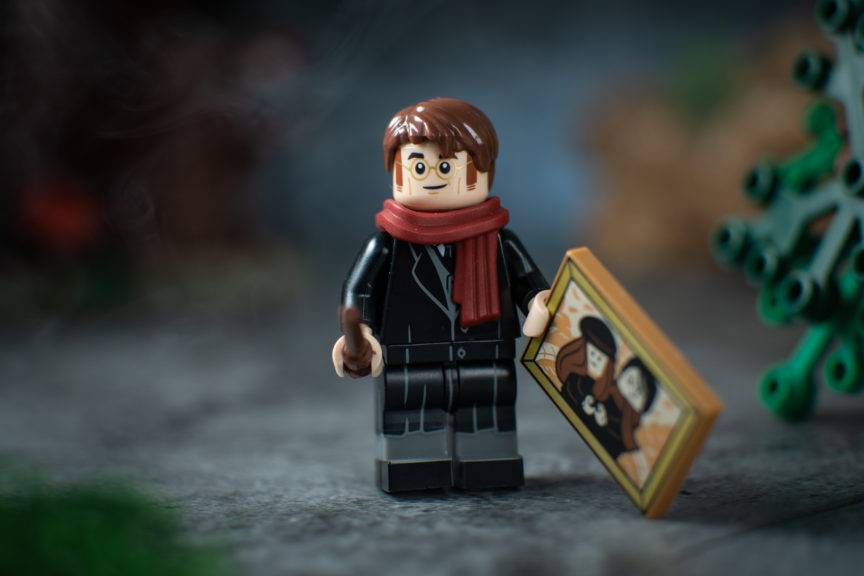 Harry Potter's dad brings a recolor to the awesome scarf piece. I love these scarves so I'm happy to see it now in a dark red.
His outfit is pretty cool, and usable in lots of different kinds of characters.
I also really like that 2×4 tile! I'm sure we'll see that in MOCs.
Lily Potter
Harry's mom, Lily, carrying a baby Harry Potter in a recolor.
I don't find Lily interesting in any way except that she hasn't appeared in any Harry Potter set before. A "fan fig".
Fred Weasley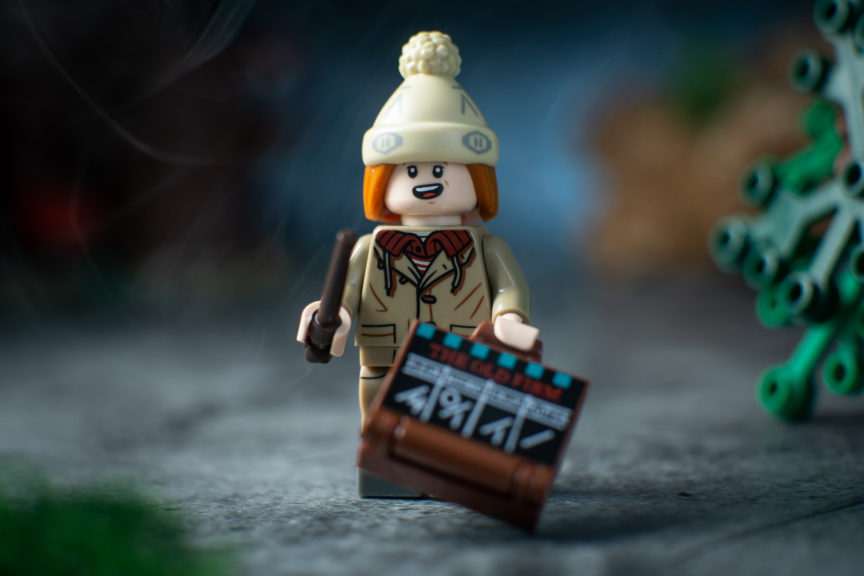 Ha! That hat is pretty sweet! I'm going to put it on a snowboarder kind of character.
I also really like the trench coat.
George Weasley
Of course, if I like Fred, I'll like George.
This one has an open trench coat and a great laughing facial expression.
Luna Lovegood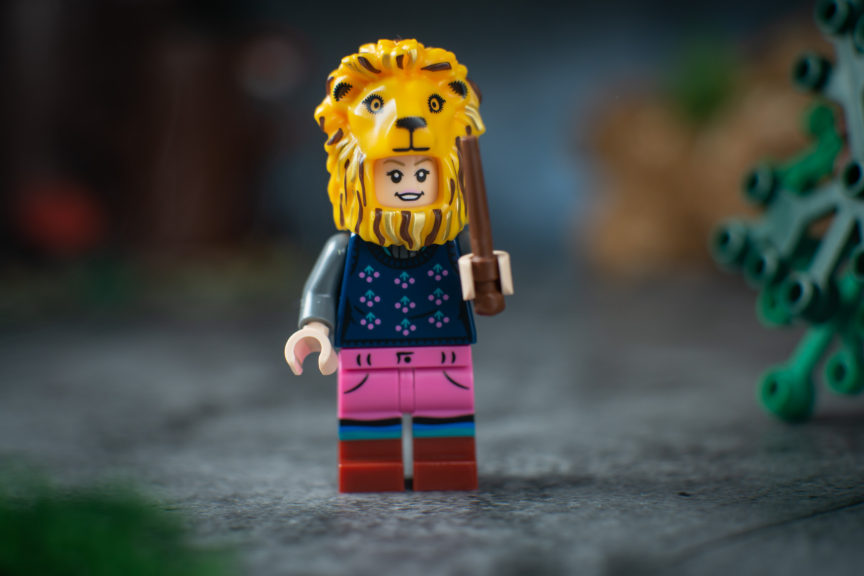 Luna Lovegood has some strange tastes but it's all good because she pulls off the look quite nicely.
Her legs have a similar style to Hermione's but in much brighter colors.
She comes with the yellow hair in a ponytail hair piece too in case the lion hat isn't appropriate for the scene.
I do wish that lion hat looked more like a hat though. Maybe it's the color?
Neville Longbottom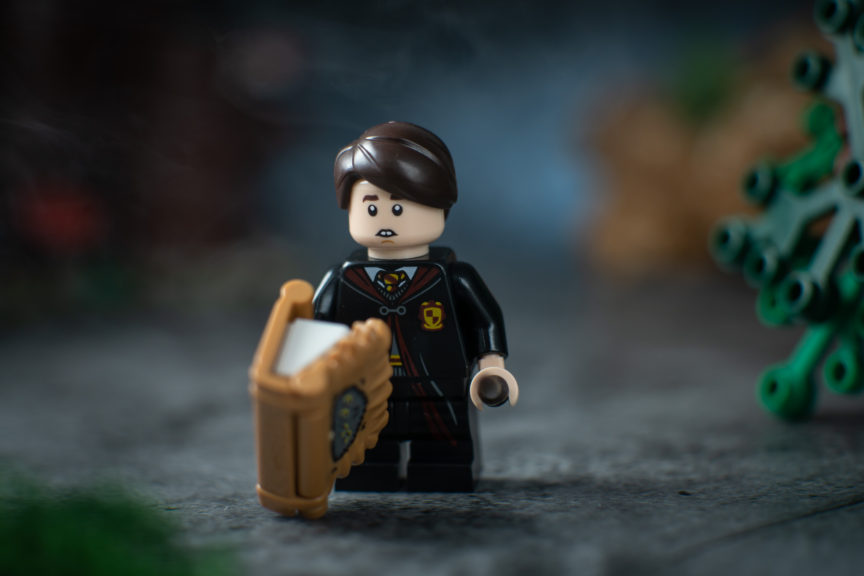 Forget Neville himself. Is this a HP CMF Series 1 holdover?
But the Monster Book of Monsters is excellent and will be a treat for any D&D fan!
Professor Sprout
She's got hair under the hat! That's always welcome because I really can't stand bald witches.
I haven't seen all the Harry Potter movies so I don't know why she's wearing earmuffs but I wish she weren't. That could've been quite useful for other characters.
Kingsley Shacklebolt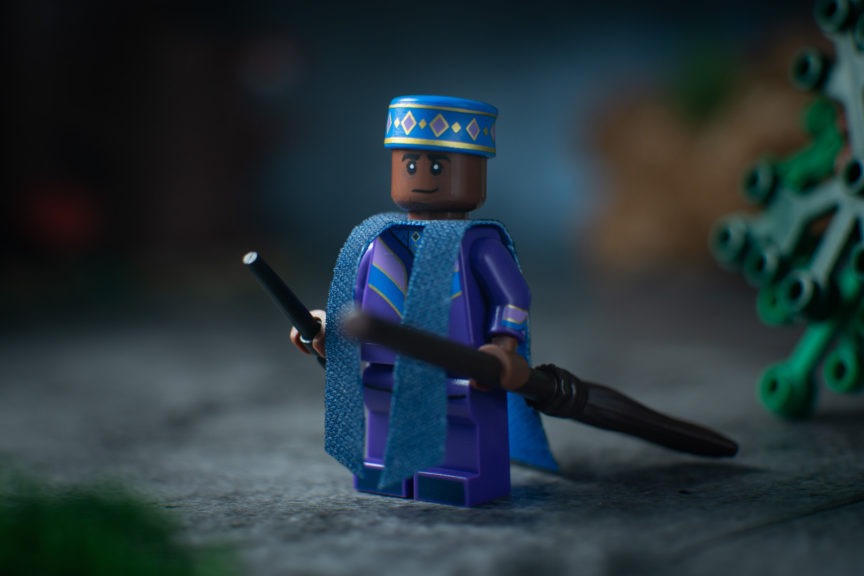 This is another strictly "fan fig" in this second wave of Harry Potter minifigs.
Like the other fan figs, it's nice as a whole but not very useful outside the Wizarding World.
Verdict
Each minifig retails for $4.99 so for fans, nabbing a Harry Potter or Neville Longbottom might be a disappointment as the minifigs themselves are unremarkable. That Monster Book of Monsters is great though!
$4.99 great? No.
On the other hand, a non-Wizarding World fan might like getting the Harry Potter minifig for the updated torso and legs to make a custom city dweller or sigfig.
The choice is yours! Well, not entirely, unless you're good at feeling bags. And that's not really recommended in the age of COVID-19.