The long running LEGO Ninjago theme is by nature a bit of a genre mashup. It loosely takes the ninja idea and merges that with various other Eastern influences while focussing on giving kids cool ninjas, vehicles, dragons and mechs to play with. In later seasons we have had even more genre clashes with spooky tinged incarnations, steampunk and video game inspired waves. This year sees the ninja take on board a more traditional fantasy theme, something that particularly interests me. So without further delay, let's take a look at the largest set from this year's range: Set 71722 NINJAGO Skull Sorcerer's Dungeons.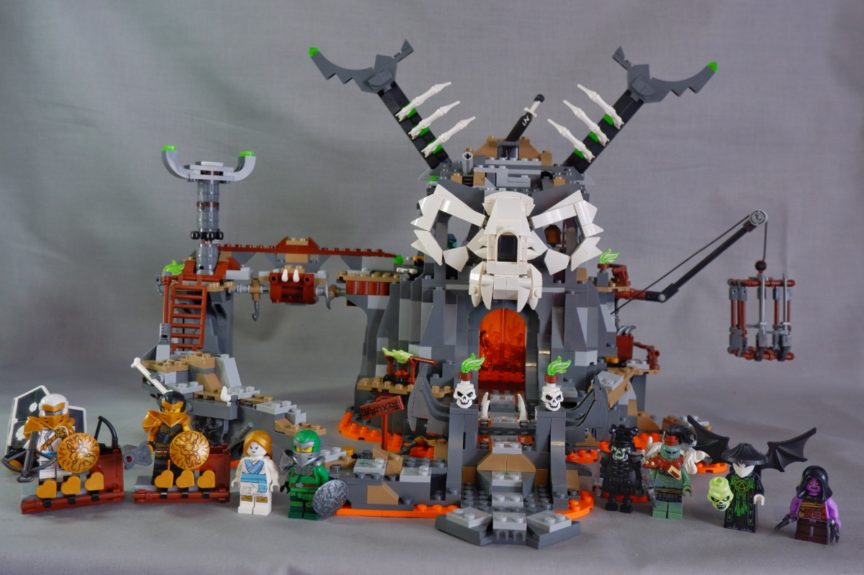 The Basics
The set comes in a big old box containing 1171 parts. It retails for around £90/€100/$110. There are 8 minifigures included, 4 bad guys, 3 ninja and Princess Vania.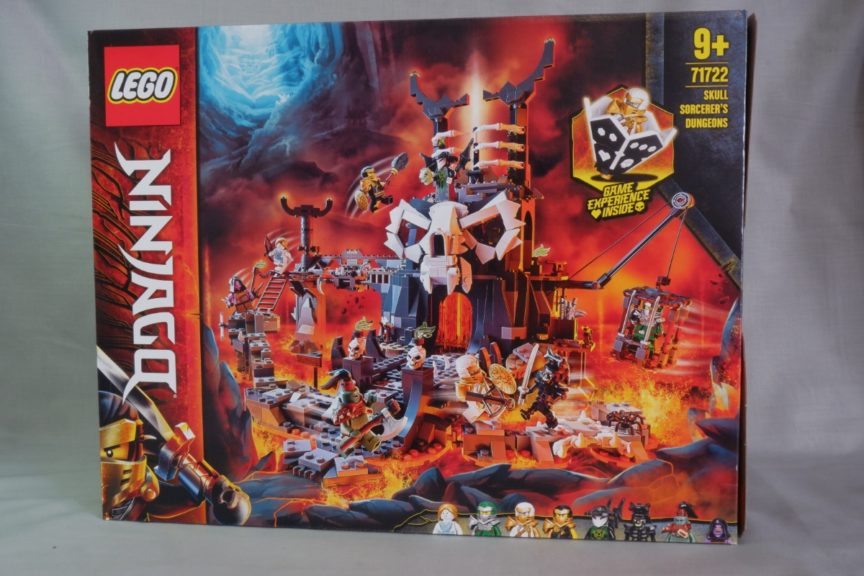 The Minifigures
A lot of AFOLs and Lego photographers buy sets for the figures, so let's check those out first.
Skull Sorcerer
The "Big Bad" for this series is the titular Sorcerer. The design of this figure is fantastic. I love the green details on the torso and legs. I normally prefer actual legs to robes since they are better for posing but the "skirt" piece works really well. I especially love the dual moulded mask and hat piece; it has a really creepy look to it that gives me Plague Doctor vibes. The wings really round his look out nicely. In several shots of the Sorcerer I used a green gel because I thought it helped set a magical and slightly sinister tone. Out of all the minifigs in the set this one was most fun to shoot.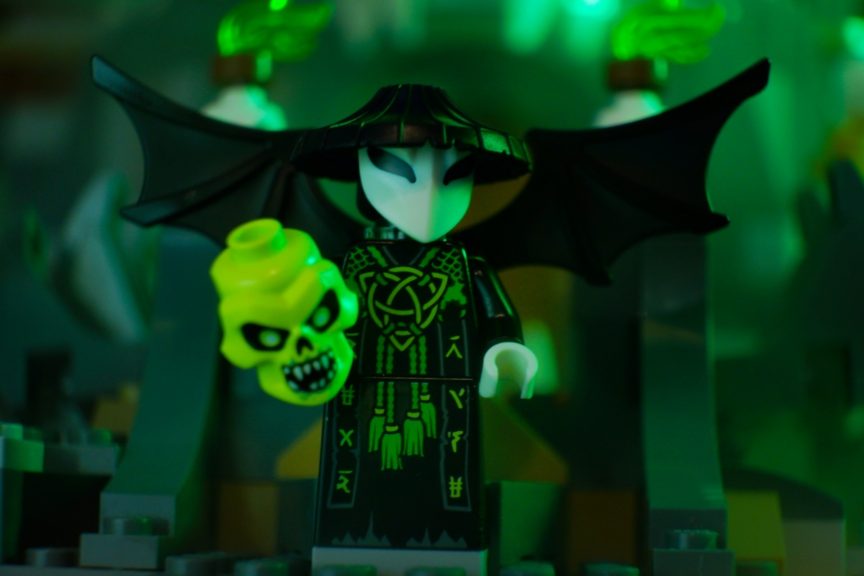 In several shots of the Sorcerer I used a green gel because I thought it helped set a magical and slightly sinister tone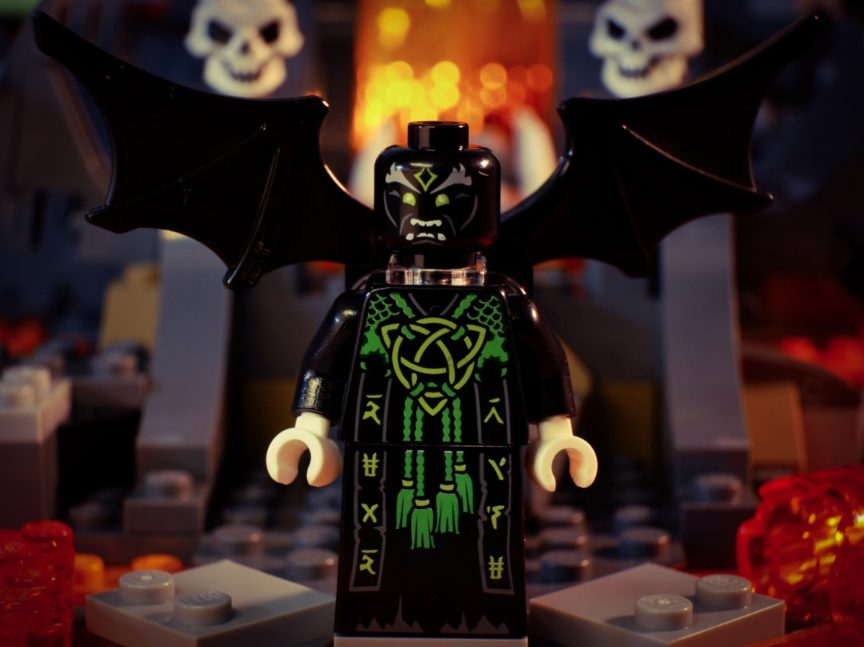 Princess Vania
This is the only set that includes this interesting looking minifigure and she is the only female character in the box. She has a long hair piece which limits her pose-ability for photos but her overall design is really well done. She also has two different expressions which is always good to see. I'm not sure where she sits in the Ninjago mythology but I like her aesthetic so I can see her being used in more photos in future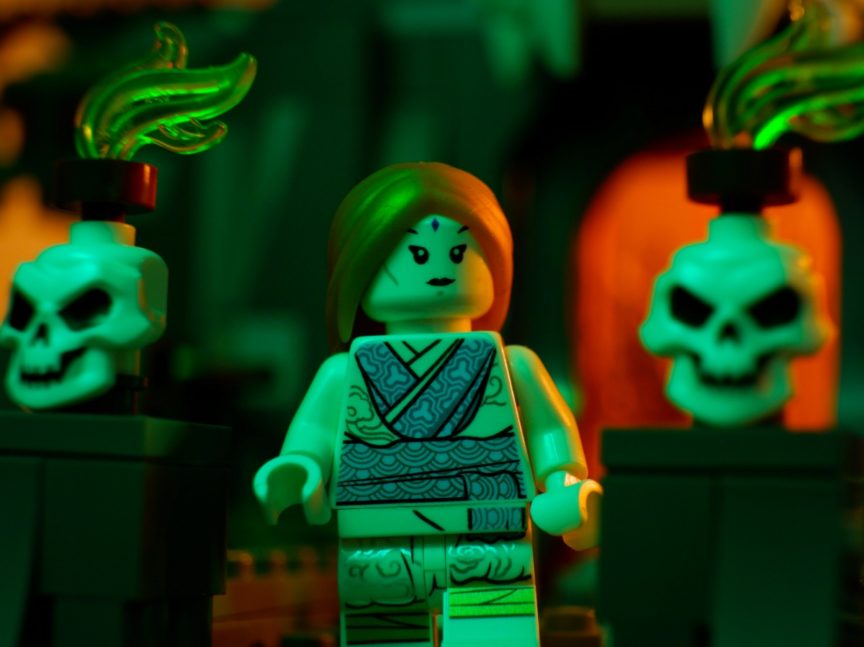 Hero Cole, Hero Zane, Hero Lloyd.
The Ninja have always been the least interesting parts of any Ninjago set for me, but these three are still good figures.
The moulded mask pieces that mashup the ninja hoods with a medieval armour style are a particularly good twist on their usual attire, though this armour does limit arm movement somewhat.
The shield print is also really nice and I will definitely use this with other custom medieval figures in future. They come with a great assortment of accessories and both Cole and LLoyd have alternative expressions.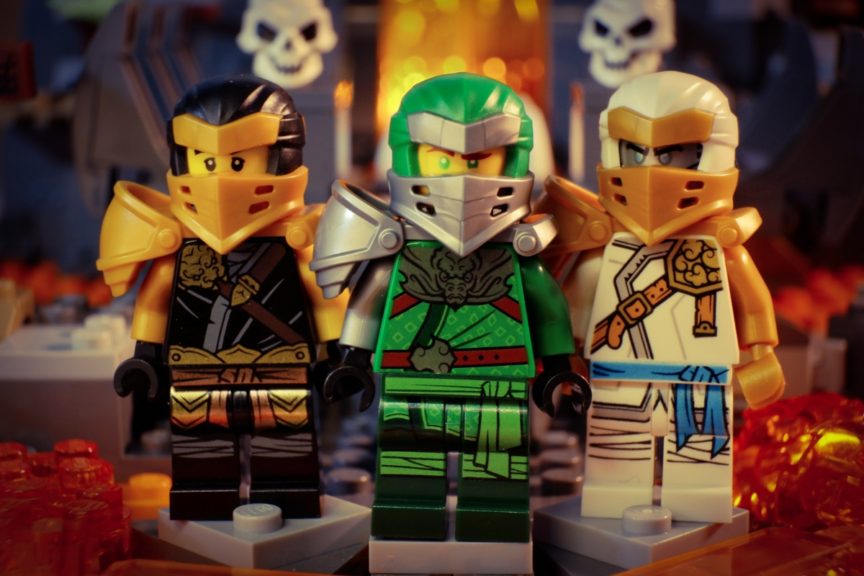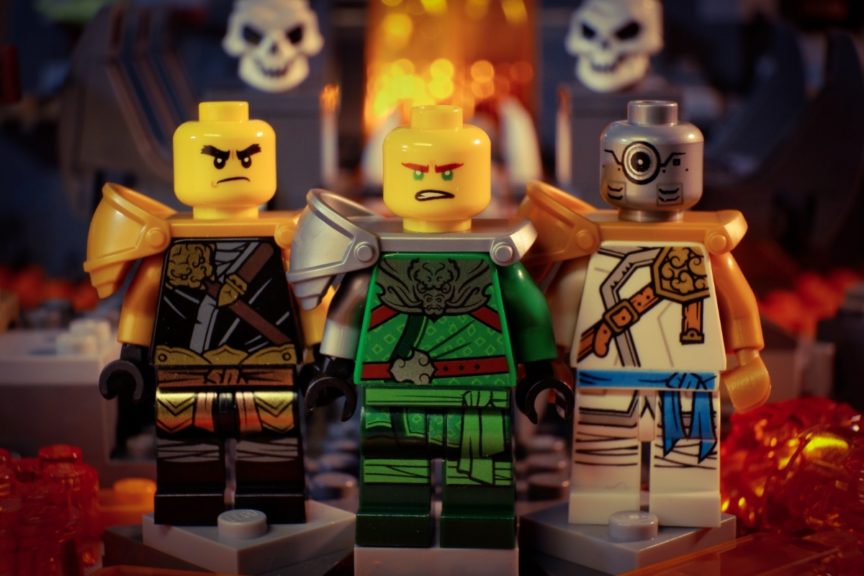 Murt, Ginkle and an Awakened Warrior
This rag tag bunch make up the Sorcerers "goons" in the set. The orc-like character named Murt is definitely a standout; he was one of the things that attracted me to this wave of sets in the first place.
It would have been nice to get a couple of these with different face prints in the set because these are the sorts of things some collectors will want to amass and I would certainly like a handful.
But the one we get is a great figure and I am grateful for it. Ginkle is a fun little goblin like character with a two sided face print but *sigh* small static legs.
I do like his expressions though and while his hood piece frames them well I personally prefer the recoloured goblin hat/ears piece that comes with the similar "Gleck" figure in other sets.
The Awakened Warrior is fairly simple but does have a nice spooky face print on the skull piece, and he rounds out the selection of bad guys nicely.
Building the Playset
The build is like a lot of big Lego playsets, lots of open space on the outside and small interior space round the back. Both of these attributes provided the main challenges when shooting pictures of the set.
But before we get on to that… the build. The Dungeon has an impressive yet simple Technic mechanism that runs right through the set.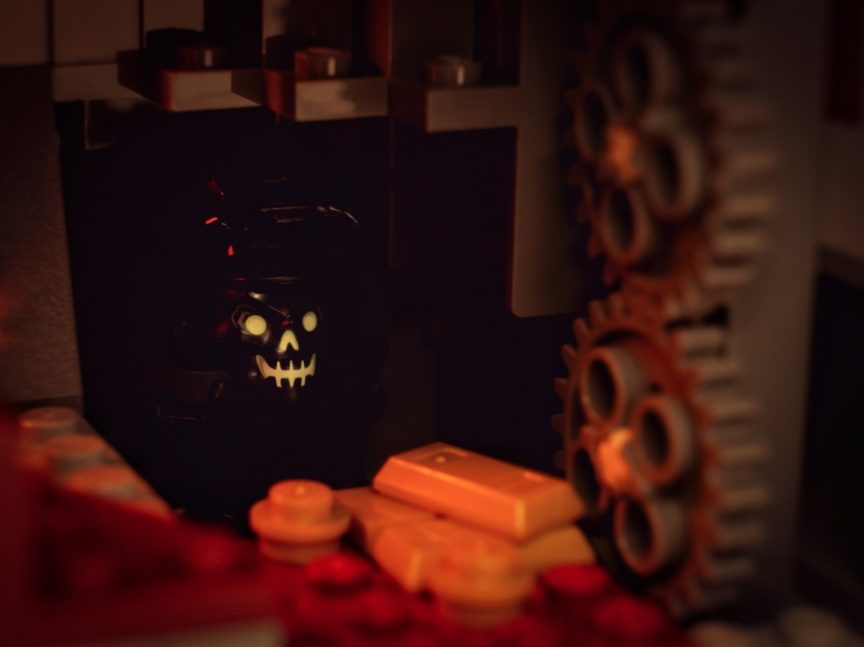 Turning the big post on the top left triggers various action features that are all well integrated including a cage being lowered, spinning blades and a moving floor.
The rest of the terrain has a nice amount of detail for a playset and integrates the "Board game" features well (see the later section for more info on that).
The skull part of the build is impressive and the whole thing looks really superb on display, though it does have a fairly big footprint.
Other than the Technic mechanism, the build is fairly straight forward. There is little repetition and I found that I flew through it quite quickly and enjoyed the progress a lot.
There are not a huge amount of new or unique parts in the set but lots of useful and reusable ones in grey (dark and light bluish) for anyone that likes building custom caves or dungeons. (Side Note: I do)
Photography
Most people reading this review will be doing so with a LEGO photography eye, and that was the main focus for me too. This is the first time I have taken an assignment like this (both writing a review or shooting pics for an article) so I would welcome feedback from the community!
The best thing about this set for photos (other than the figures) is that it has some depth built in. The central structure has outer walkways that loop round from the front of the build to the Skull at the back. These walkways provide a good staging area at the front of the model with an interesting rocky landscape in the background.
I found shooting on these front most platforms most satisfying and its definitely given me some ideas for MOCs to build and use in future photos.
The orc-like character named Murt is definitely a standout;
Shooting figures standing on that front left platform from a different angle provided a frame of sorts due to the raised platform at the rear. This was not as satisfying a look as I had hoped but it was at least interesting to try and I look forward to seeing if anyone else tries something similar.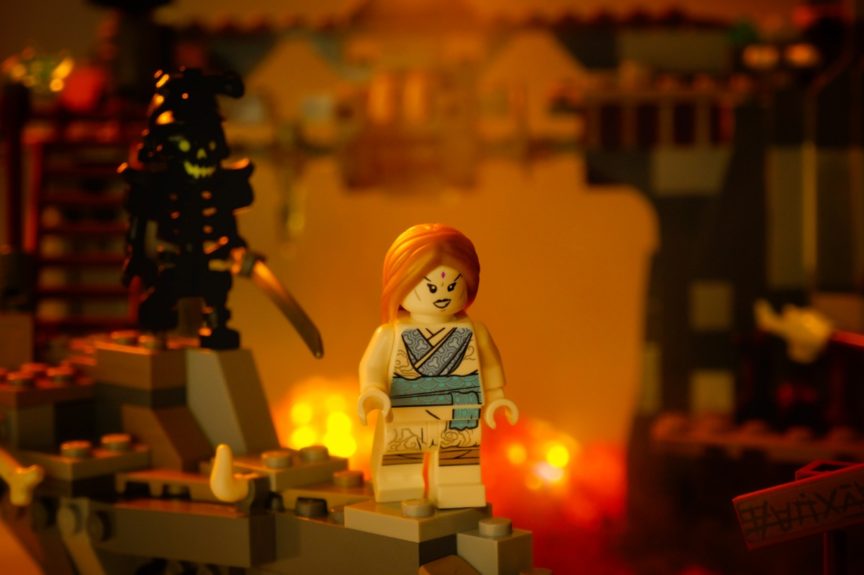 The large trans-orange doors in the centre of the build are quite striking and just screamed out to me to have light coming through them. Playing with light in this way is something I am very new to so this was fun to experiment with.
I also added some spray to these shots which I think did subtlety add some atmosphere.
The skull part of the build is impressive and the whole thing looks really superb on display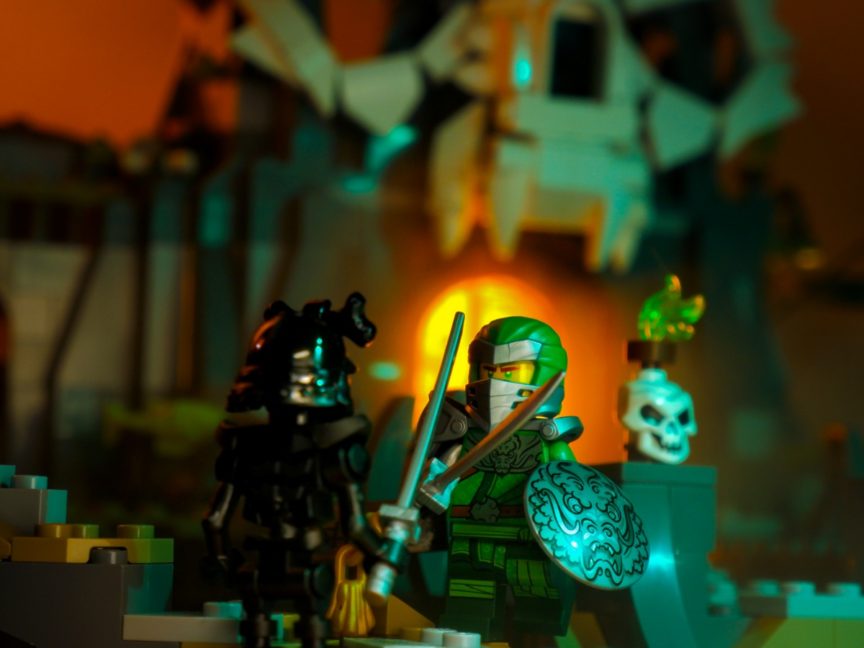 There were other aspects I found difficult when shooting this set. There's only really one detailed interior space, the Skull Sorcerer's lair, and it's quite small.
I like this space a lot but really found it difficult to make pictures in here "pop". I think because the background is so close everything just feels a bit flat to me. This was still an interesting area though with some good detail so I tried a few times to get something I was happy with in here.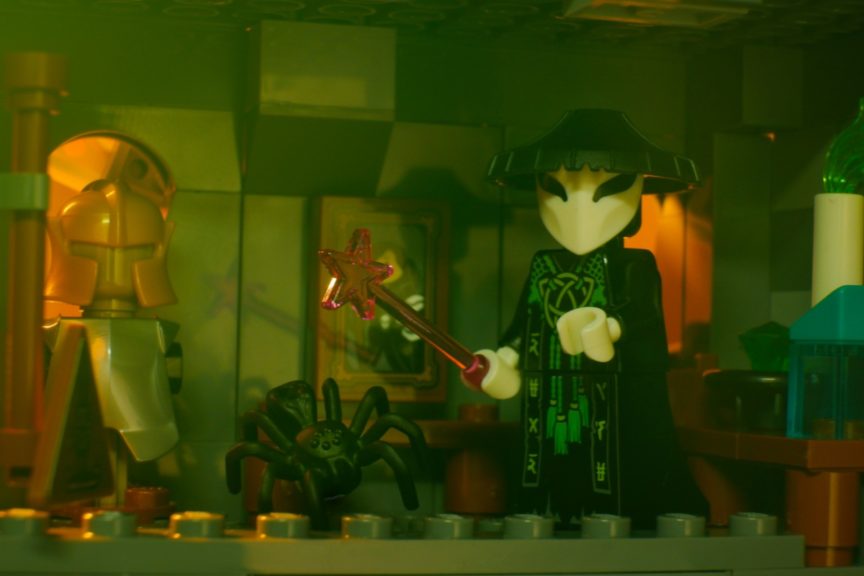 Additionally there's a lot of open space around the set – something I am not really used to – and so I had to adapt my setup to work around. I had to rework my desk to make more space and use a fabric sheet rather than the A1 card I normally use as a backdrop.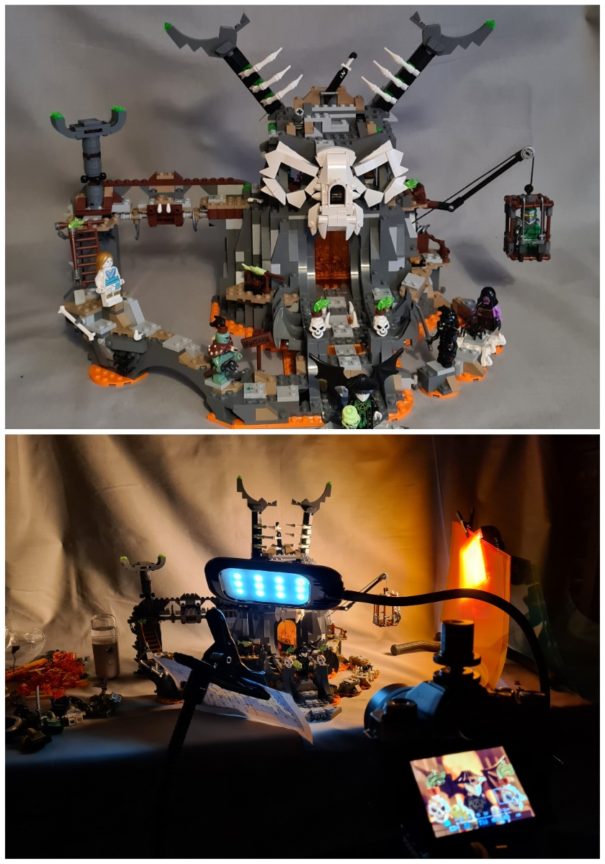 To make the background seem more interesting I decided (because the dungeon has suggestions of lava) that I would backlight everything in orange to help sell the feeling of heat.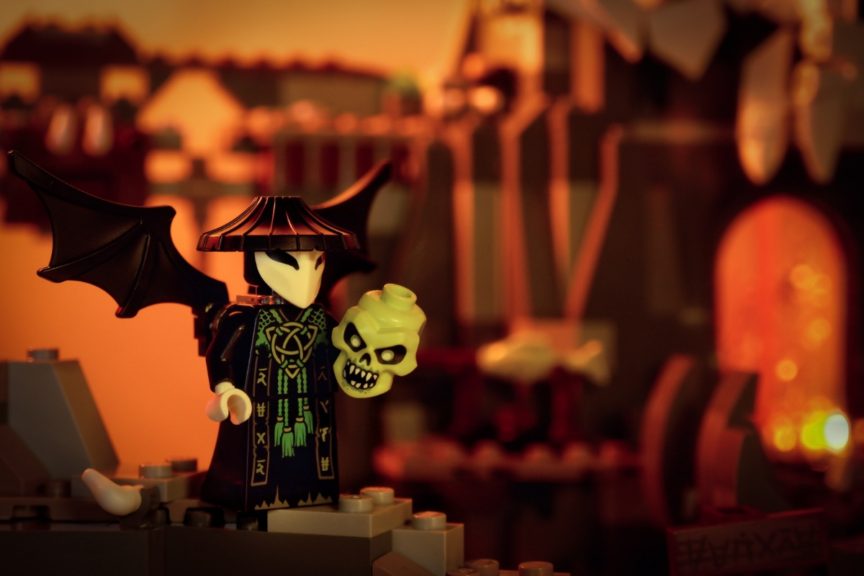 For some photos I used water spray as mist to try adding atmosphere but this had limited success due to the relatively light background. I was happier with my efforts combating the open space compared to what I managed for the interior shots.
I also occasionally filled floor space with my own trans-orange bricks to make the ground more interesting.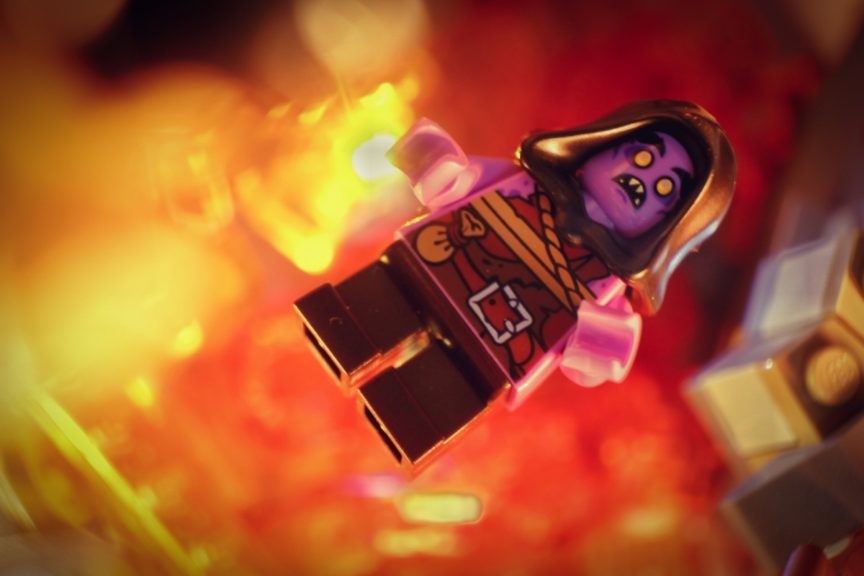 Capturing the fun of the action features is something else I was unable to do. There is an enjoyable mechanism right in the middle where the floor moves up and down but I couldn't find a way to convey that.
I tried to capture a hero jumping over the spinning blades but also had issues getting a good angle on that upper part of the set that didn't look too busy.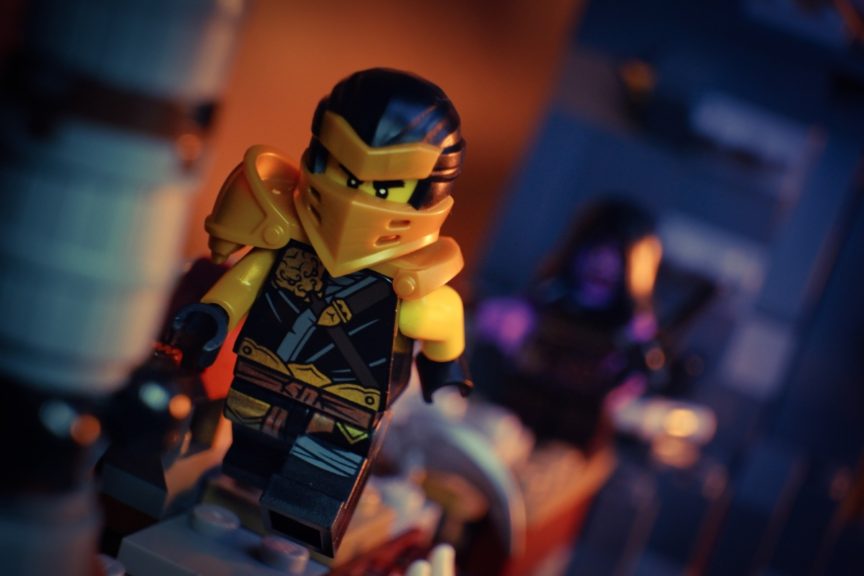 Part of the problem is that particular platform is one of the less attractive sections of the model. However I think that's something other photographers out there might find a good solution to.
Finally I also found it hard to get a quality shot of the whole set. Perhaps limited by just my kit lens, I struggled to get the wide angle and deep focus needed.
Perhaps I will go back to my roots at some point and try again with my phone. I would love to hear suggestions from you as to better ways to achieve that.
The Board Game
Earlier in the review I mentioned that there is a board game element built into the dungeon. Throughout the whole set you will find modified light bluish grey 2×2 plates with 2 studs indicating spaces that figures can move to.
The typical Ninjago spinner is now also a game die that is used to both determine how far you character moves and whether they win in combat.
If there are any D&D loving parents out there who want to introduce their kids to games of that nature this may very well be an excellent starting point
The rules included are fairly vague, which leaves it open to the players as to what rules they want to play.
If you scan the included QR code though you get taken to a more detailed game guide, a sort of "Dungeons and Dragons light" including 4 adventures for a Dungeon Master to lead his players through.
If there are any D&D loving parents out there who want to introduce their kids to games of that nature this may very well be an excellent starting point. It encourages you to define your own rules that make the game fun for you and even has stat sheets for the main characters.
There are definite holes in the rules and it's missing some detail on how to implement all the mechanics, but overall I think it's a fun effort and makes this set even better value.
Also, I have just learned that the Ninjago Spinjitsu spinners are strangely fun and satisfying!
Final Opinion
NINJAGO Skull Sorcerer's Dungeons has some nice new and unique figures, but it also has some common ones that are important to include for kids.
As a playset I think it's great. Parts are well used to create a good play space with lots of fun action features.
When you combine the standard Lego play with the fact that it's also a board game and basic Dungeons and Dragons experience it's even more impressive. It's also got a pretty great price to part ratio compared to many other recent LEGO sets.
For photography, your mileage will vary; I had a lot of fun shooting it and learned quite a bit.
I'm sure more experienced photographers could get even more from it than I did but I also think the combination of big open spaces and small confined spaces may put some people off.
Hopefully, if you are on the fence, reading this review and or looking at my photo will help make your decision. For me, I like it a lot, I love this new fantasy-based Ninjago theme and I hope we get a second wave of sets before they fuse Ninjago with some other sub-genre. Fingers crossed!