Surfer Beach House 31118 is a fantastic little set priced at $49.99. I love this compact set because it's fully closed and you can shoot it from all angles. To get more play value and shot opportunities, it opens up fully on hinges too.
I took it out to the beach to shoot this photo essay about a day in the life of a surf shop owner. He and a little kid are included in the set. I added the paddleboarder from CMF Series 21 for storytelling.
I decided on 10 photos from the outset (the max that Instagram carousel would hold) but it was pretty hard trying to keep my head focused on taking other shots when all I wanted to do was shoot the sea turtles! I have so many shots of just these two brick-built beasts.
So anyway, here's my little story (scientific inaccuracies included):
Evan is living his dream as a surf shop owner in the Mediterranean. There aren't big waves where he lives but a lot of the island's residents and tourists do standup paddleboarding, or SUP.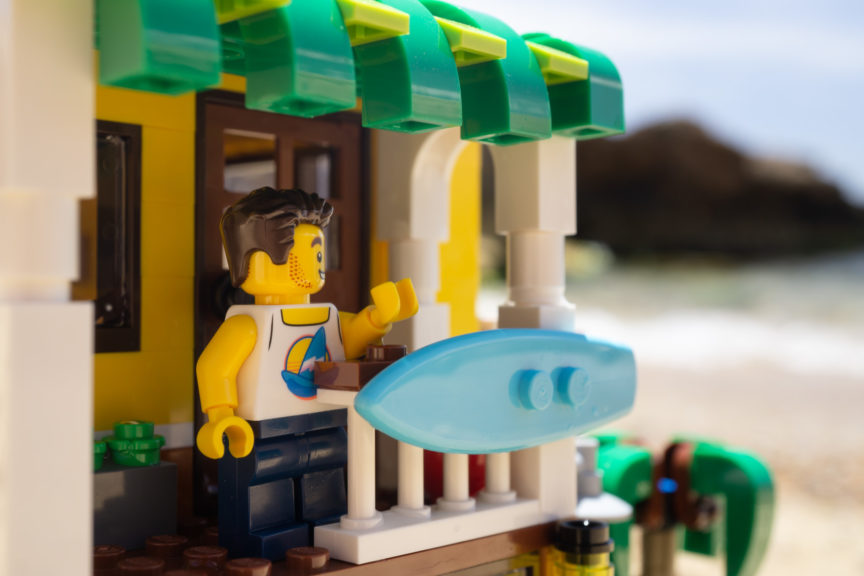 One of his regular customers is Natalia who heads out every morning to paddle with the dolphins. They're common to find in this part of the sea and are really friendly with the locals.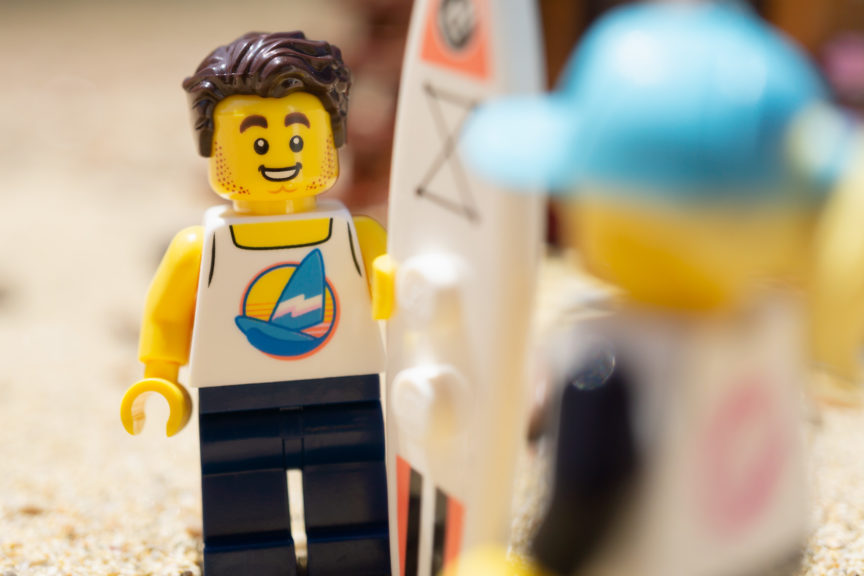 Evan's daughter Katrina can't wait to be strong enough to paddle out with Natalia one day. Whenever she hears Natalia's voice, she comes bounding down the stairs from the apartment above the shop to ask her if she can come along.
"You'll be paddling out with me soon enough! I'll have photos of dolphins to show you later! And keep an eye out for our friend," Natalia says as she heads towards the water, letting the wind carry her voice behind her.
As soon as Natalia paddles out around the cliff and out of view, two sea turtles emerge from a sheltered area near the cliff. Catrina stands still and watches in astonishment as the two make their way to the water and swim away.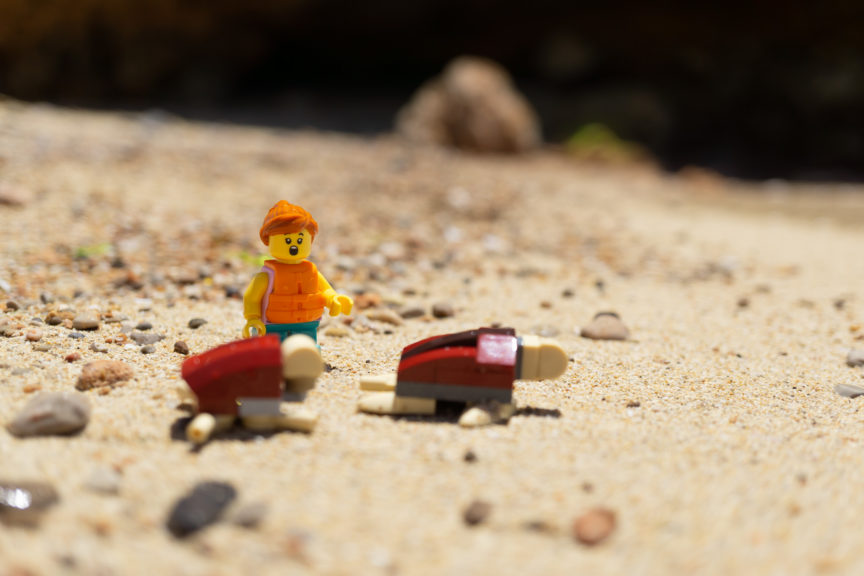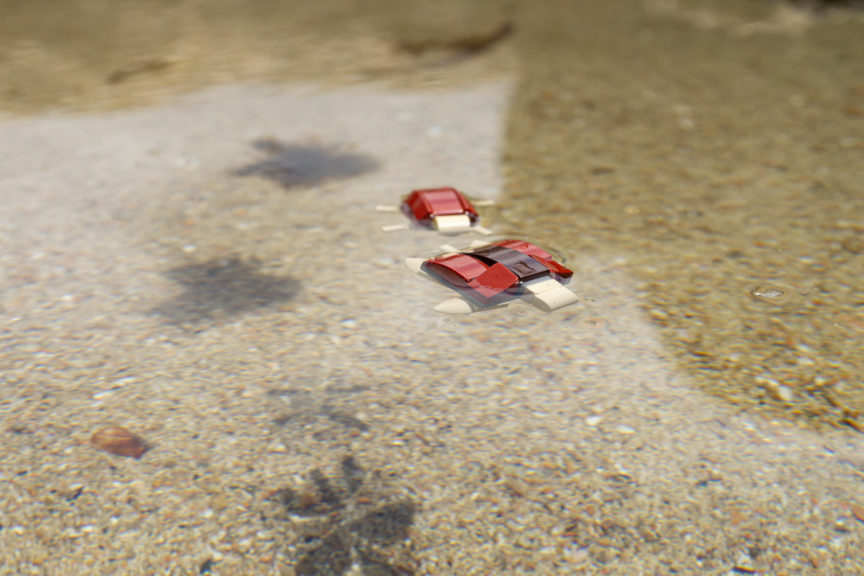 But the animal show isn't over for Catrina. Just a few minutes later, a curious dolphin rides a wave to the shore.
"He's here! He's here!," she calls out to Evan. The dolphin clicks and whistles at her before heading back out to sea.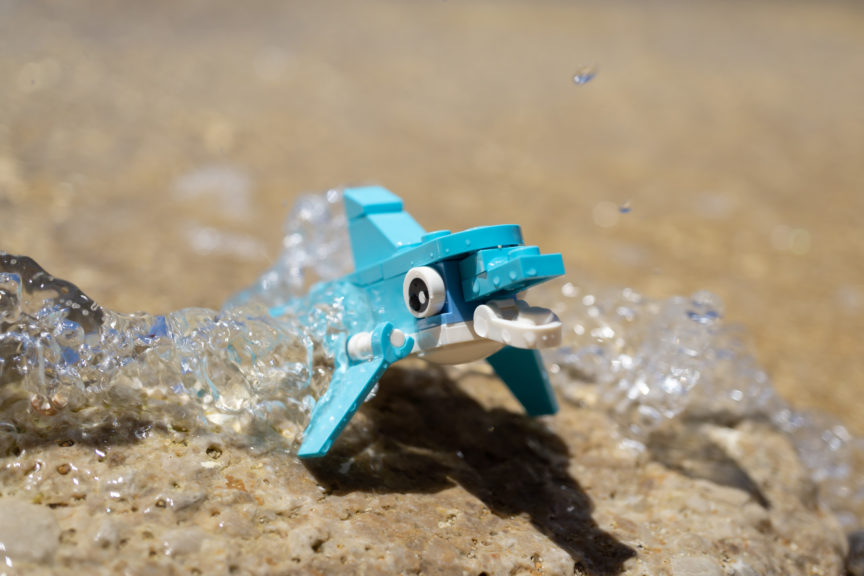 Above all the excitement of the morning, Evan reclines in his chair on the balcony and replies, "Yup, sweetie. I promise we'll swim with him again tomorrow."
Tips for Shooting at the Beach
Taking LEGO sets out on location could make for some nice shots but you have to take some precautions.
First, make sure that all of the pieces of your set are firmly attached. If there are parts with loose connections, modify the set so there is less risk of LEGO polluting the beach. I simply removed the sand green surfboard from the Surfer Beach House because it would drop off with just a light tap.
Take a few reference photos of the set on your phone in case things do go wrong and you need to know where where that fallen brick came from.
Next, find a location that where you aren't bothering anybody. Photographers can be super annoying when they are out in the world trying to get the perfect angles for their photos. So don't be that person.
I went right after lunch on a weekday and took up a spot in a tiny cove beside a man-made pier. Here I could set up and park an ugly cardboard box on the sand without ruining anyone else's view.
As far as gear goes, I took a 30mm macro lens which is wide enough to be able to get the scenery in the photo. A macro lens with a longer focal length would not have allowed me to get minifigs large enough in the frame and capture more of the environment at the same time.
I had my Manfrotto Pocket Support on the camera so I could put it down in the sand. If I brought a longer lens or wanted to set up closer to the shore, I would've taken my small tripod with a reversible column. I've covered these and a couple of other options for low angle supports in this video:
Finally, I have a circular polarizing (CPL) filter on to reduce glare and see through the surface of water more clearly. I always have this filter on anyway when shooting LEGO just for the purpose of reducing reflections. But when you know you are shooting near glistening water and it will be in your shot, a CPL is your friend.
If you find the sun is way too harsh, you could bring a mini scrim to diffuse some of the sunlight. But for daytime beach shots, I wanted the hard shadows so I left mine folded up in my camera bag.
All that's left to do is shoot and make sure you have everything with you before you leave the beach!