Instagram has always been problematic for photographers, but now it's downright hostile. Tumblr, on the other hand, not only welcomes images, they love fandoms. LEGO toy photography is a perfect fit!
Since most of our community is on Instagram, I've cooked up a quick start guide to help you get started on Tumblr using the app.
Here we go:
Claim your username
After downloading Tumblr from your app store, sign up with your email and password. It's going to ask for your age on the next screen, and then you'll choose a username.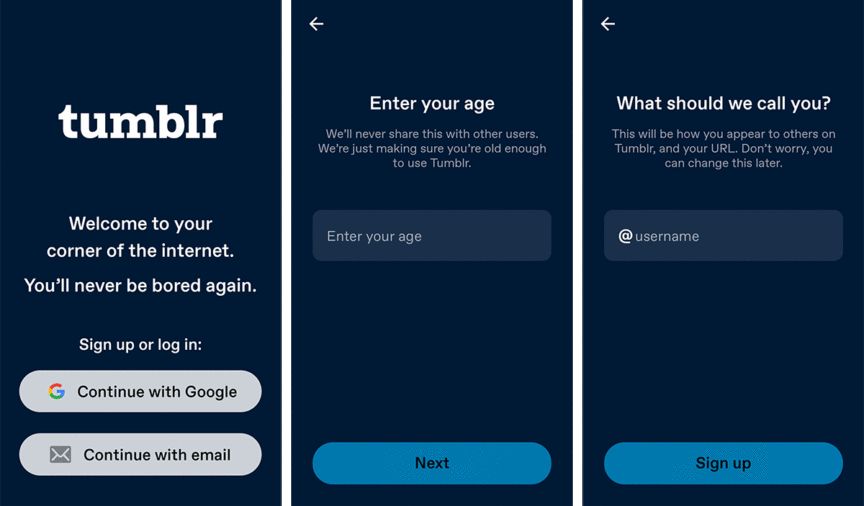 I highly recommend you choose the same username you use on Instagram, especially if you have a significant following. Don't make it hard for people to find you.
On the flip side, if you thought about changing your username on Instagram before, now's a great time to reboot with a new one.
Note: Having "LEGO" in your username isn't a good idea. That's a trademark and The LEGO Group doesn't want you using it. Lots of photographers substitute "LEGO" with "brick", "block", or "stud" instead.
You can also change your username to anything that's available later on in your account settings.
Select your interests
Tumblr will give you an option to search for tags or pick from some trending ones. You need at least 5 to start with on the app. On the web version, you can skip this step.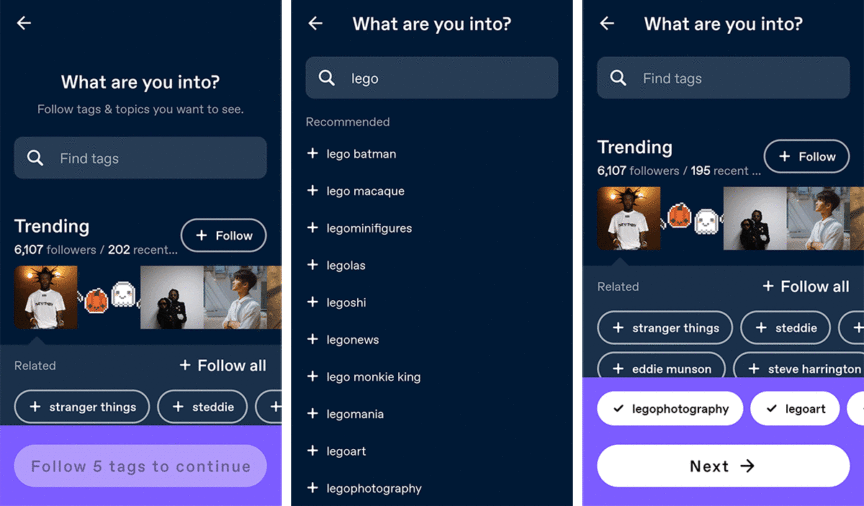 It's just easier to pick any of the trending tags and then delete them later. You can always follow more specific tags later.
I tried being specific at this point and it was such a drag. You can't just enter a tag and follow that. You have to pick from the tags that are recommended based on your search.
In the example above, I wanted to follow "lego" but I could only pick from "lego batman", "lego macaque", "legominifigures", etc. I ended up picking "legophotography", "legoart", and "legonews" among others.
UPDATE Aug 4: This was a bug that has been fixed. You can now search "lego" and it will appear as its own term.
To select the five recommended tags you want to follow, tap the + next to it. Then go back a screen to actually enter them. You'll see the third screen where you tap the Next button to continue.
Customize blog appearance
Go to your account by clicking on the user icon in the bottom row and tapping the palette icon to start personalizing your profile. You can add a blog title, a description, profile pic, and header among other things. You can even change fonts and colors. That's a lot more than what you get on Instagram.
You can also choose not to use a header or show a profile pic here at all.
Tumblr says the best header image size is a 16:9 but I found that a 3000 px x 1055 px works best for both web and app versions. For the profile pic, use something that has a 1:1 aspect ratio.
Get the chronological feed
One of the best things about Tumblr is that you can get a chronological feed as your main feed by toggling off a few settings in your dashboard preferences.
Tap the cog wheel icon in the upper right-hand corner of your blog to open the account page. Tap Account settings and then Dashboard preferences to find the toggle switches.
I have turned off Best stuff first, Include stuff in your orbit, Include "Based On Your Likes!", and Include followed tag posts in my dashboard preferences so I only get content from accounts I choose to follow in my main feed.
Filter tags and posts
The other awesome thing about Tumblr is you can hide content you don't want to see. From the Account settings screen, select Filtering (below Dashboard preferences) and start adding tags and words.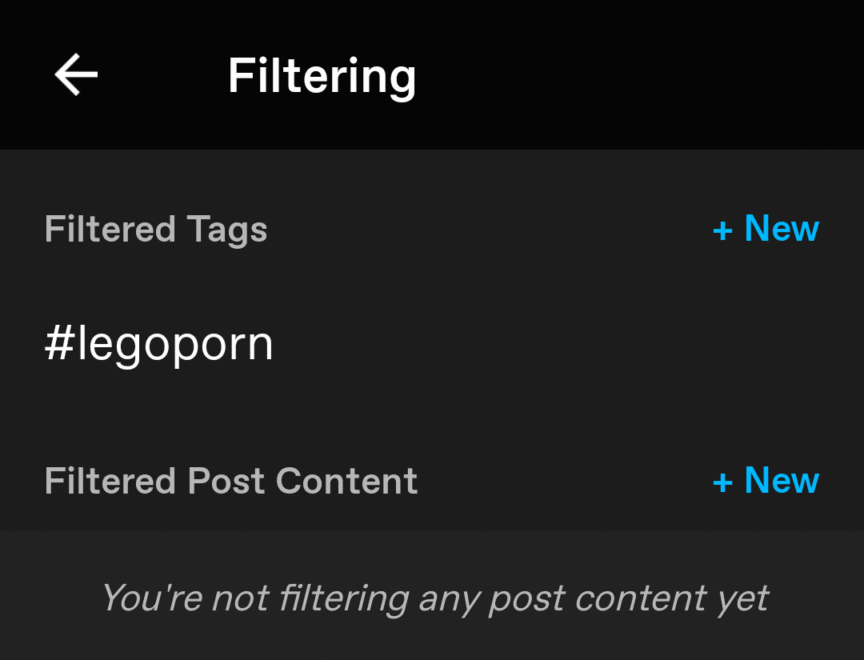 Tumblr won't hide the post completely but will obfuscate the contents instead and tell you which words appear in it so you can decide if you still want to view the post.
Search for tags and accounts to follow
Start finding stuff on Tumblr by tapping the magnifying glass icon on the bottom row. You can search for tags or usernames.
Once you find a tag you're interested in, just tap the follow button on the tag page.
LEGO photographers to follow:
Tags to follow: #lego, #lego photography, #legophotography #legoart, #afol, #moc, #lego castle, #lego space, #brickcentral
Getting your first few posts ready
Before you start sharing, prepare a few posts to seed your blog with. A good idea is to get 5 of your personal favorites and 5 of your top-performing photos. Remember that this is a new audience so don't be shy about sharing older work. They've never seen it before.
You can find the most popular posts in your Instagram Insights (if you have a Creator or Business account). Just tap the Insights button on your profile, and find your recent posts. Tap the arrow and you will be presented with a grid of your most popular posts according to reach. You can change this to likes if you want.
Creating photo posts
Now onto the fun part: posting your photos.
Tumblr is a microblogging platform so there's a lot more you can do than share photos, but since this blog is for toy photographers coming from Instagram, I'll just focus on photo sharing.
On your dashboard, just tap on the pencil icon that floats above the user icon on your dashboard or blog to start a new post.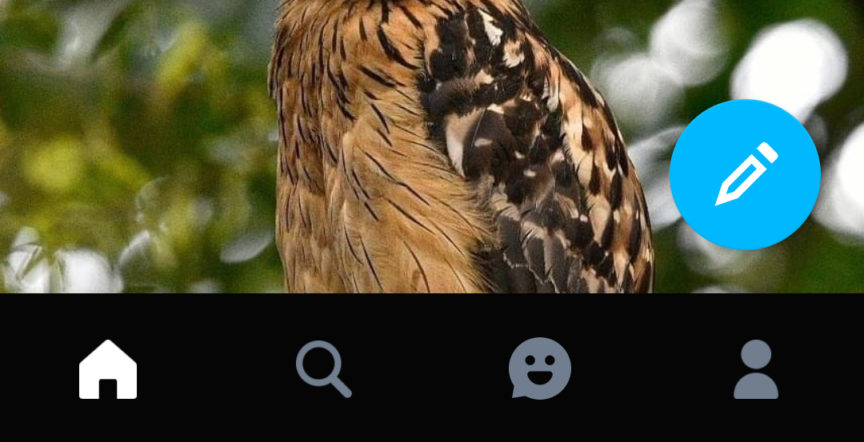 There are two ways you can share your photos within the Tumblr app: upload images directly from your phone or add links to Instagram.
At the bottom of your screen are the post types and tags options. Tap the image gallery icon to upload from your phone or tap the link icon to add an Instagram link.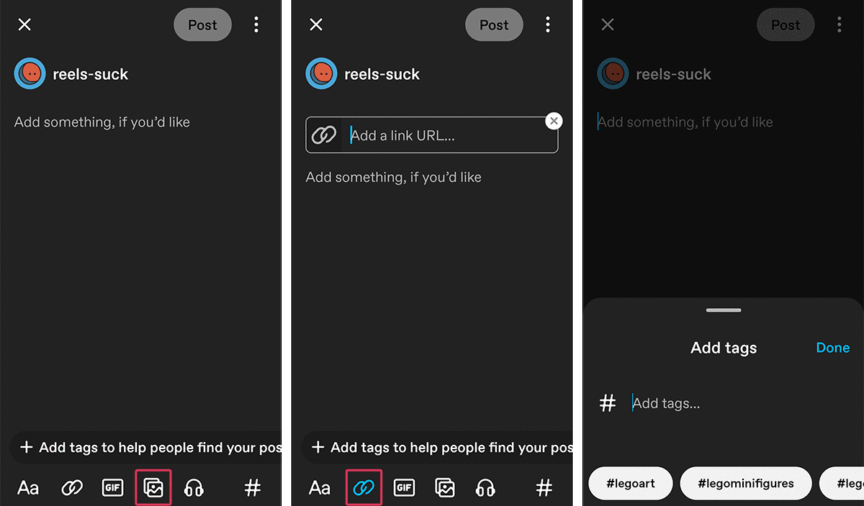 Last but definitely not least, tap on the hashtag icon to add tags to your post. It's very, very important to add relevant and descriptive tags because this is how non-followers find your photos. If you don't add any tags, only your followers will see your work.
The most useful tags are the first 20 because Tumblr searches those so take care in selecting. Anything more than that is useless.
Liking, commenting, and reblogging
Liking and commenting on a post are pretty straightforward. But unlike Instagram, you can't like a comment. You can reply to a comment though.
Another big difference on Tumblr is that resharing — called reblogging — is a huge part of the community's culture. There are blogs dedicated to just reblogging, called Reblog Blogs. The equivalent of these on Instagram are feature accounts.
However, reblogging on Tumblr is superior because it's native and gives full credit to the original and not to the reblogger. Any likes or comments on reblogged posts appear on the original post. That's pretty awesome!
Instagrammers will be tempted to comment thanks on reblogs the same way they would comment on an Instagram feature account, but you can't do that on Tumblr. That's something you'll have to unlearn in this new culture.
More to customize and set up
There are a lot more things you can do on Tumblr but for now, this stuff you just read (if you made it this far) will get you up and running quickly.
If you're ready for more advanced settings like queueing posts for your archive of photos, pinning a post, and automating posts from Instagram to Tumblr, check out my blog post for advanced Tumblr tips.
Hopefully, though, you'll find the new culture and experience at Tumblr worth dedicating some time to.
Featured image by Mr. Kek