The LEGO Group has unveiled the newest LEGO House exclusive set and it's The Brick Moulding Machine.
I know. It may not be the typical thing that we see but this kind of set fits right into what the LEGO House experience is about. The Brick Moulding Machine represents the era when LEGO moved from making wooden toys to plastic ones.
Part of the LEGO House experience is that you get a polybag of 6 freshly produced red bricks directly from a lime green injection moulding machine.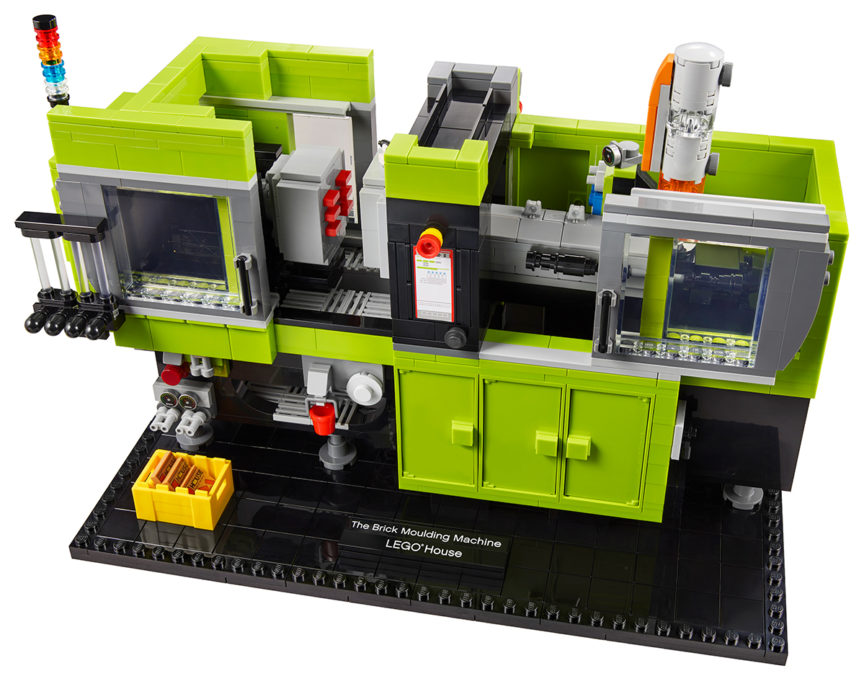 As the star of the show, that moulding block with the 6 red "bricks" defined the scale of the set. So that meant that the Brick Moulding Machine isn't minifig-scale, and that's kind of a bummer for me because I basically buy sets for the minifigs.
It isn't a bummer for my kid at all who really loves this machine. I was surprised to see him pick up bags 7 and 8 to finish the build for me.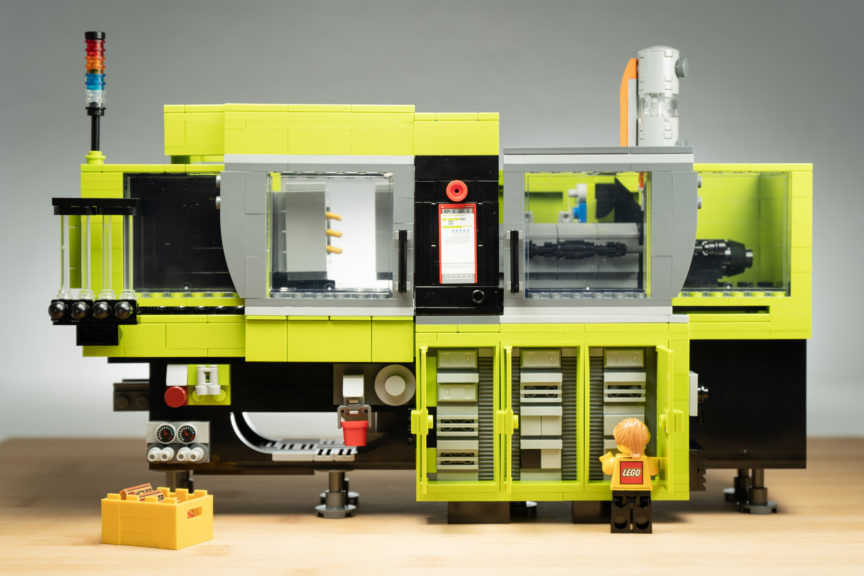 Obviously, not being minifig-scale won't stop people like me from sticking minifigs in the set anyway. I took some other creative liberties with it and made a moulding block for minifig hands too. I am always short on hands!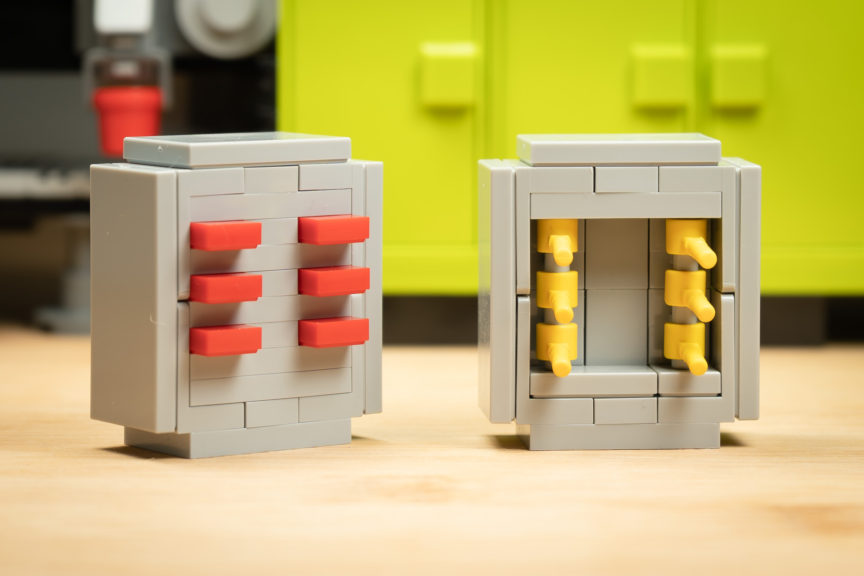 The moulding action is pretty fun–you turn a long knob at the back–and there are plenty of doors to slide or pull open or closed.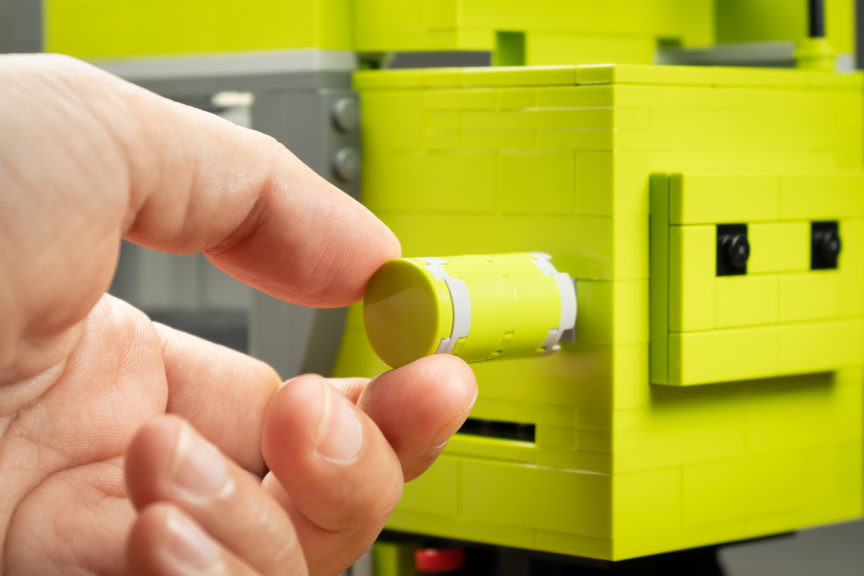 The exclusive print is this 2×2 tile with the polybag design I mentioned earlier. It's in a medium nougat tile to signify The LEGO Group's move to paper packaging. There are 3 in the box.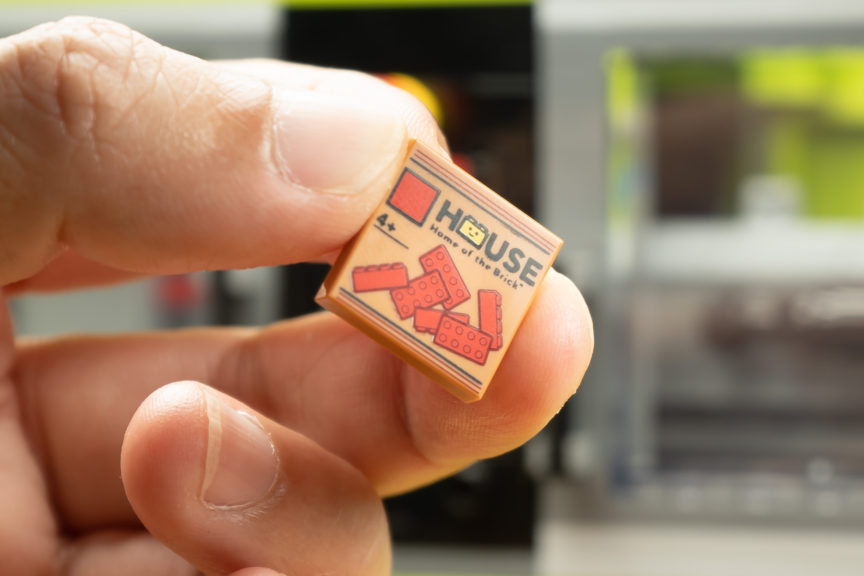 Who's this set for? Well, you can only get it at LEGO House in Billund for a limited time so I would say The Brick Moulding Machine is for the ultimate LEGO fan.
I've been to Billund before to take my kid to LEGOLand (oh, all right! I wanted to go, not him!) but the LEGO House was still under construction back then.
Would I have bought it while there? Definitely. I would be lying if I said I didn't want a LEGO version of the machine that just churned out fresh bricks right before my eyes and are in my hand.
At around $100 (599 DKK), this is one of those souvenir buys that just wouldn't seem expensive to me at the time. Besides, if you have ever been to Denmark, you know everything is expensive there anyway so really, what's the difference dropping another hundred bucks to cap off an experience?
The Brick Moulding Machine is not a set I would try to integrate into my LEGO collection of buildings and vehicles, but would rather put aside somewhere else in my office–or perhaps even my kid's room–as a memento of probably good times.
The set isn't super pretty–unless you're an engineer–and as I mentioned before, it isn't minifig-scale. But nonetheless, anything is possible with LEGO and some imagination. (FYI, I almost made a baby mould instead of a hand mould. You're welcome.)
Here's a typical day at the LEGO House, with LEGO employees always ready to give someone a hand (or two):