LEGO just released a set based on 'a show about nothing' and the longest-running comedy series of all time to celebrate Seinfeld's 30th anniversary.
The set includes the apartment of Jerry Seinfeld styled as a television production set (just like the Friends Apartment Set), 5 Minifigures and Jerry's stand-up stage, showing many beautiful details in it.
The LEGO® Ideas Seinfeld display model (21328) will be released on August 1st. VIP Members will be able to purchase the Seinfeld Set 21328 starting on July 21, 01:00 CEST / 00:00 BST.
This set will retail for €79.99 / $79.99 / £69.99.
The Minifigures
The faces, hairpieces, and printed torsos match the characters very well. Each of their outfits is great and well-chosen.
Jerry Seinfeld: He has a new hairpiece and wears his blue shirt.
George Louis Costanza: Jerry's neurotic best friend and known for his balding hair.
Cosmo Kramer: Friend and neighbor of Jerry Seinfeld. He loves pitching ideas for inventions like his Coffee Table Book.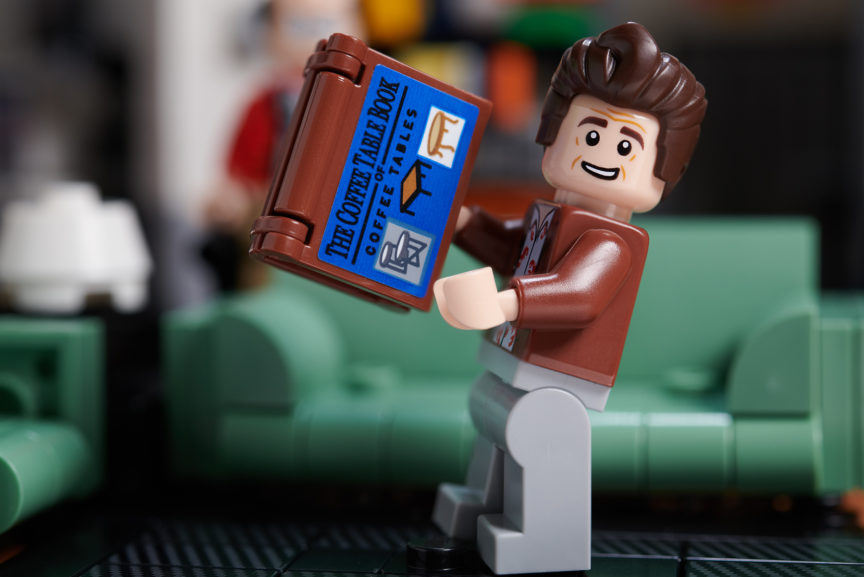 Elaine Marie Benes: Best friend and ex-girlfriend of Jerry Seinfeld.
Newman: Jerry's nemesis who lives down the hall in apartment 5E.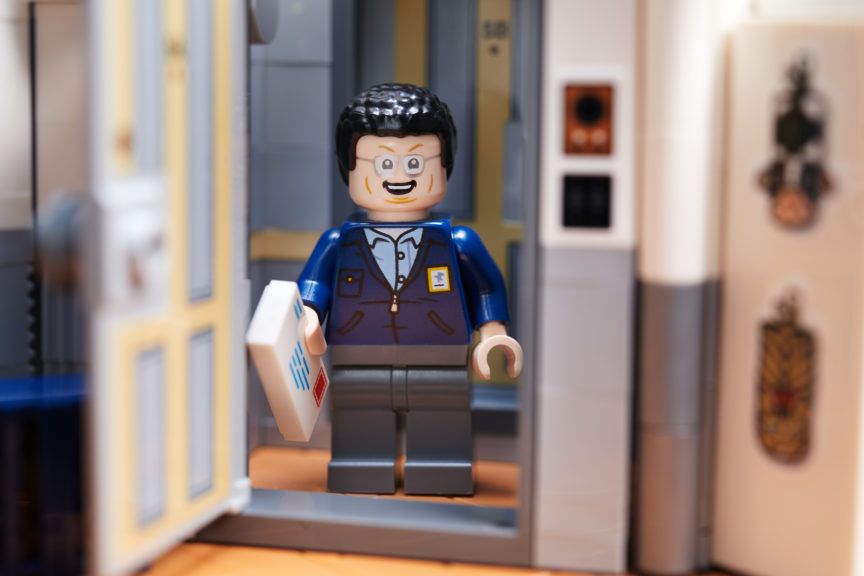 The Apartment
The apartment is packed with authentic details. It is so much fun to recreate iconic scenes. So lovely!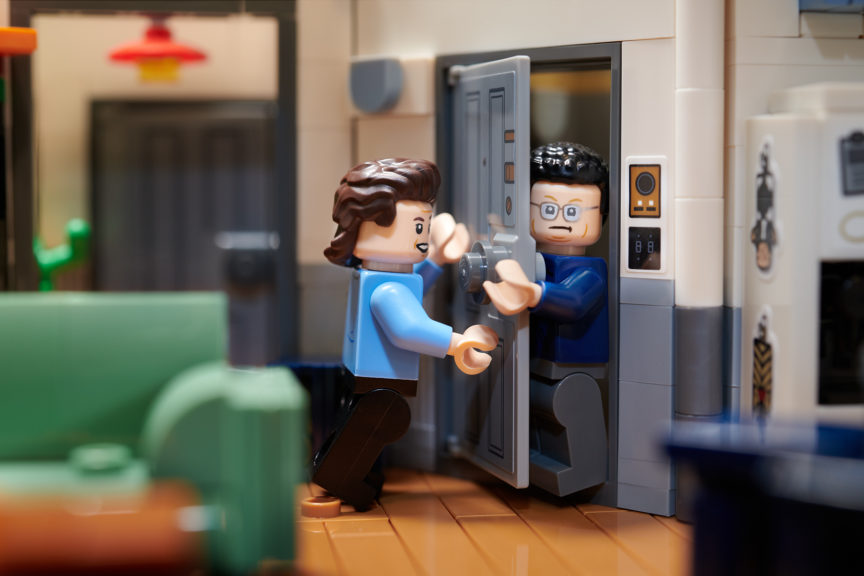 Newman is trying to muscles his way through the door.
The entrance area to the apartment is very detailed and beautifully implemented. And not to forget the fantastic entrance slides of Kramer happen in that area!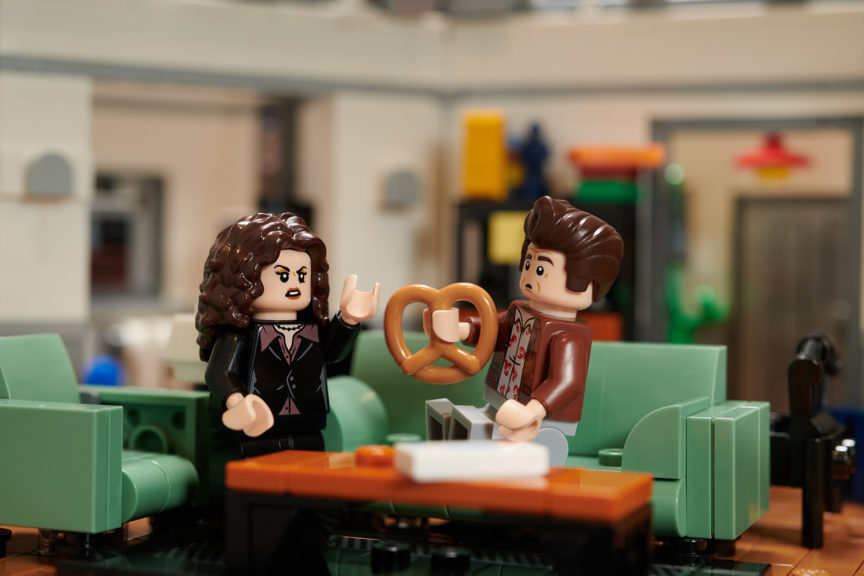 This is where it all happens: The living room area with the greenish sofa and black patterned carpet.
The kitchen is very detailed and nicely done. Instead of printed tiles, LEGO used stickers for the refrigerator.
Details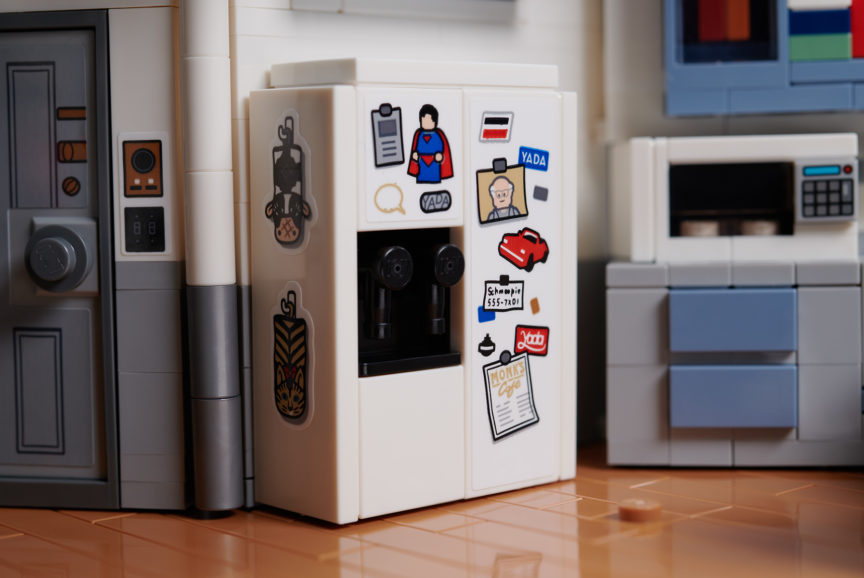 Conclusion
Seinfeld fans will love this set. It is fun to build (1326 pieces) and the details are amazing. LEGO captured the spirit of the 1990's and the Jerry Seinfeld series very well.
I give this set a 10/10.
Behind The Scenes
Many thanks to Four Bricks Tall for inspiring me how to go about a lighting setup. I looked at behind-the-scenes footage of the original movie set and decided to use LED panels for my scenes. In addition, I made use of small LED cubes to light the Minifigures to create more visual contrast. Shooting this set was a great task and I loved it.