Disclaimer: I received from LEGO the latest series of collectible minifigures for review for BrickCentral.
This series will be released on September 1st, it is made up of more than half by figurines who have a costume (it reminds me of series 18), including some on the theme of the end of the year celebrations, or even tales or fantastic story, and but what do I see? A knight, Lego knows how to please us.
We arrive at a total of 12 figurines to collect as in the previous series 21 and 22.
Box Distribution
The box I received includes 36 figurines, concerning the packaging we are still on plastic bags, while the series 5 of Mario (71410) has the right to individual cardboard packaging.
After opening all the sachets, I get three complete series. Nothing really random finally in the distribution of the box. If you are not nimble with your hands to guess what is in the bag, draw randomly from the box to maximize your chances of getting different figures and as few duplicates as possible.
Nutcracker
A wooden doll, in a pretty soldier's costume, a nut in her hand, no doubt it's the Nutcracker.
His soldier hat is so well designed and I love that Lego doesn't just have the hat and the hair included, it's so much more realistic. There is also a feather and a gold-colored chain on the hat.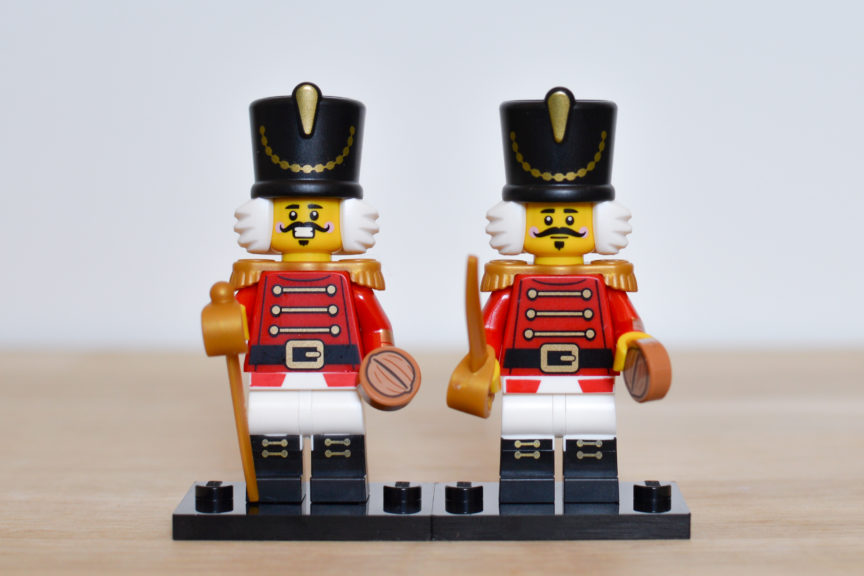 His soldier uniform is relatively simple but pretty accurate overall, I would have seen a print on the arms with buttons. A pair of legs with beautiful black boots and gold ties.
The 1×1 round tile which represents a nut is a new piece and the impression is successful. And what would a soldier be without his golden sword?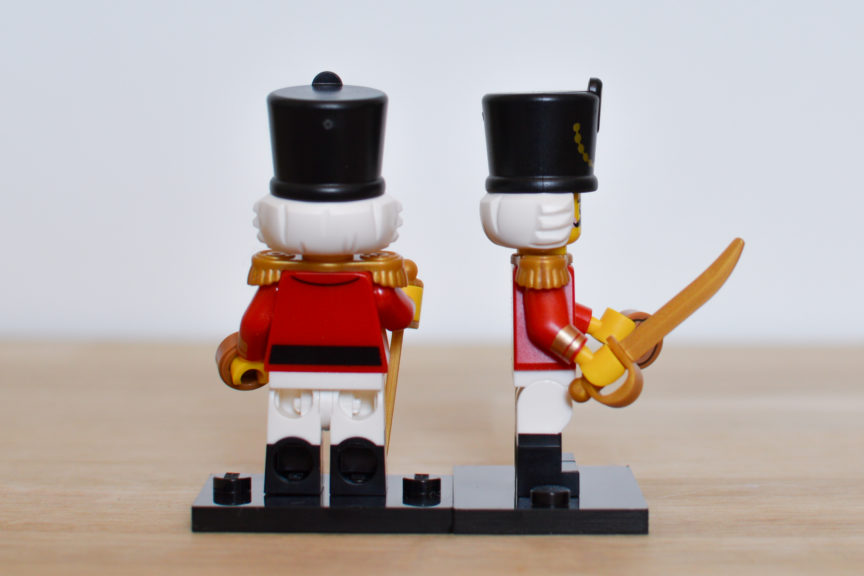 You know my love for mustaches? Nope? Well, now you know. Our nutcracker's head is perfect with his beautiful mustache and rosy cheeks.
Additional accessories: a 1×1 nut round tile, a pair of epaulets, and a sword.
Overall I find that this nutcracker is really successful, it is easily recognized and in addition, we can easily accompany it with Sugar Fairy which comes from the tale of Ernst Theodor Amadeus Hoffmann from 1816.
Sugar Fairy
We stay in the Nutcracker tale, also one of the main characters of Ernst Theodor Amadeus Hoffmann, the Sugar Fairy.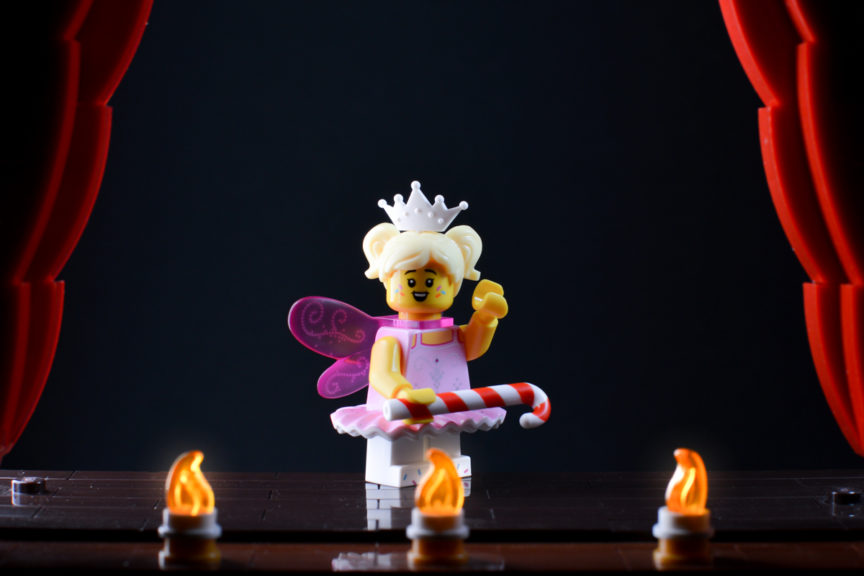 More butterfly wings, but this time they are surely made of sugar, we don't bite into them!
His hair and his crown already existed at Lego but we have the right to two new colors, white color for the crown and blond hair.
The figurine has a double head, her face represents a little girl, some sweets on her cheeks and a beautiful smile, we can see her teeth but no decay.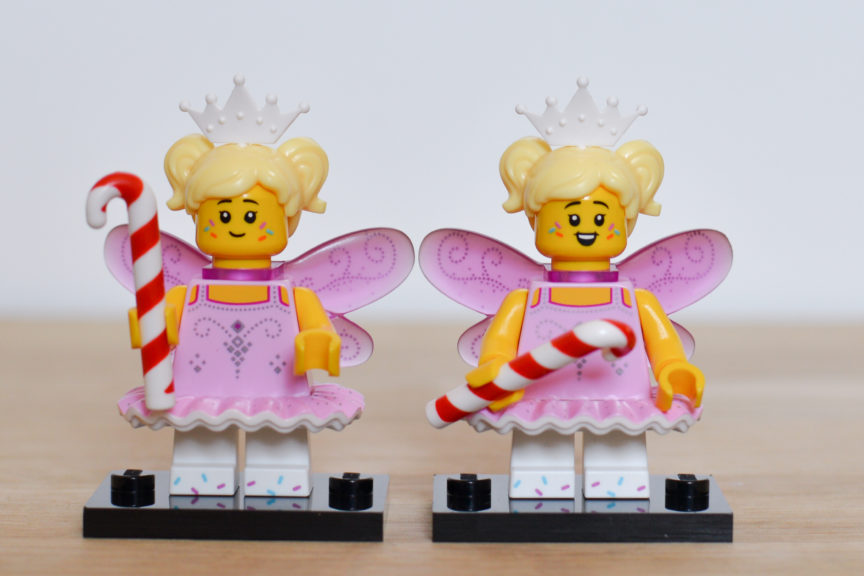 Also, a brand new pink prima ballerina tutu sprinkled with sugar. Her little childish legs, with sugar too!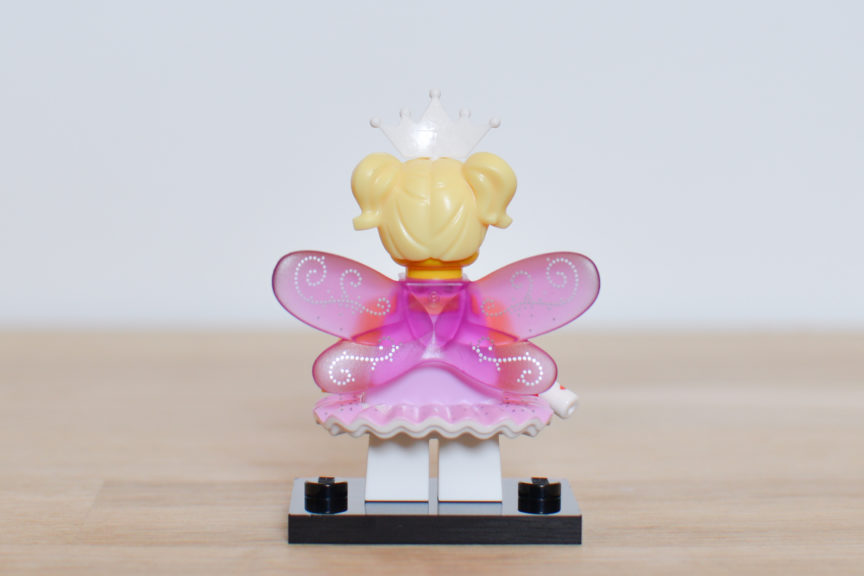 The major accessory of this figurine is obviously its red and white candy cane, very successful and magnificent. For fairy or butterfly collectors or even gourmets, this figurine is essential, be careful not to eat too much sugar.
Additional accessories: a crown.
Green Dragon Costume
Wait, wait, but I recognize this dragon! not you? Did I open a series 18 bag? Ah no phew, it is green this time.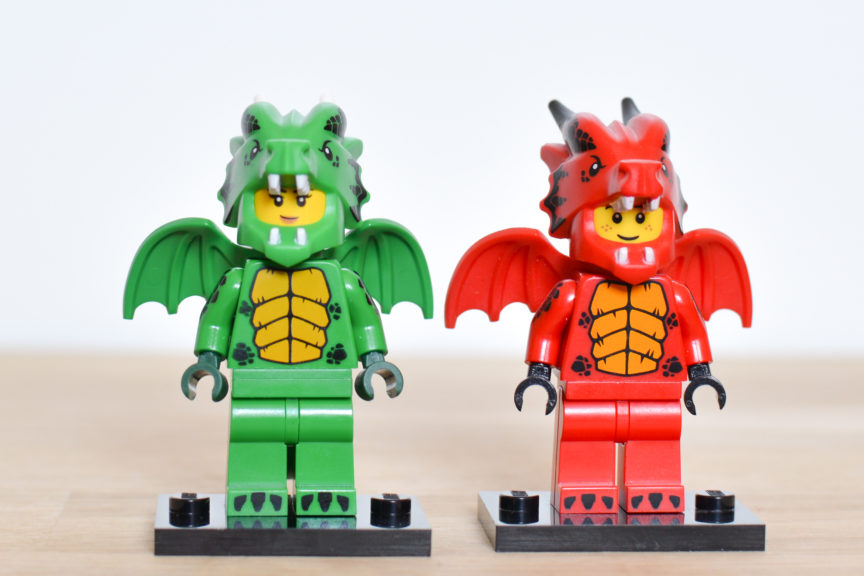 You will have understood it on this figurine, only the color changes and the head. As for the series 18 figurine, but this time in a female version. We have a double head, a happy face and an angry one.
There are dragon scales on the entire torso, claws on its legs, and two horns on the back of its head.
The dragon only has its wings and its tail, there are no additional accessories.
I'm a little disappointed with this dragon as there really isn't anything new but she will be good company to the series 18 dragon.
Additional accessories: a horn
Snowman
A carrot instead of a nose, pebbles to represent the buttons of a coat, a broom, a red scarf and a shaped hat!
We had already had snowmen in the past at Lego, in Advent calendars or Winter Sets. But we had to wait for series 23 to have a real snowman's head with a removable sprue.
When I saw the visuals of this snowman, I admit I was disappointed because I found it too simple. But once the bag is opened what a surprise to see that the head was printed and that we have more than a snowman but a suit guy. The head of this figurine represents a face that is hot.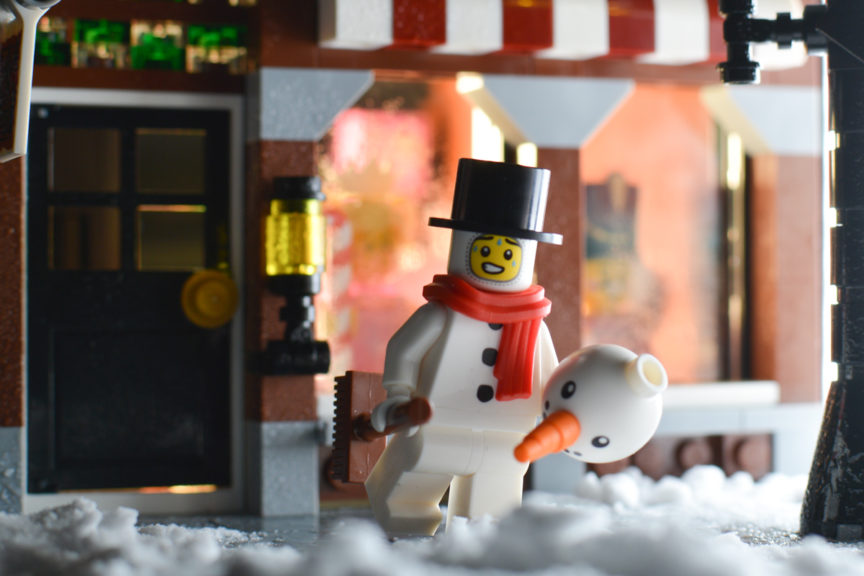 I appreciate the buttons of the coat which are all different and recall this stone aspect.
Additional accessories: A carrot
Christmas Elf
Big pointy ears, a green beanie, black boots and green clothes! We are dealing with a Santa's sidekick, you guessed it, it's a Christmas Elf.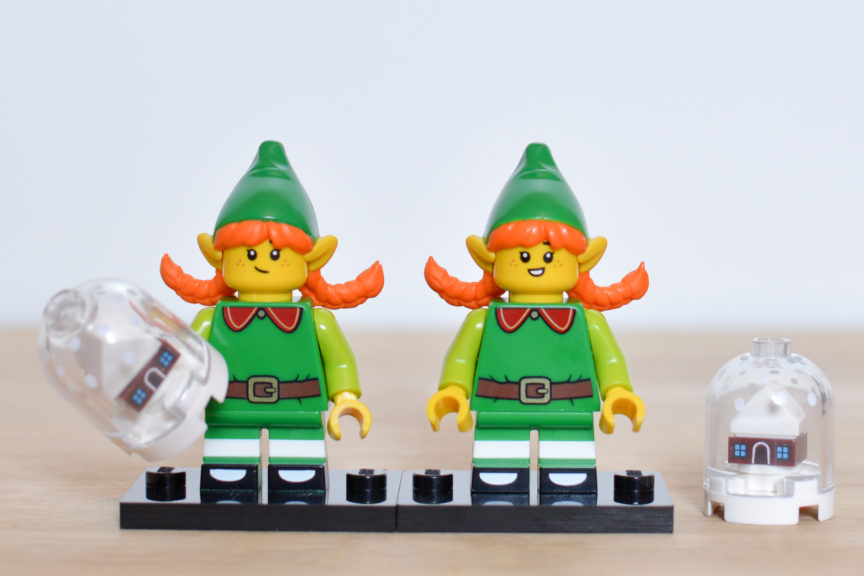 The elf's hat is a new piece, in addition to its protruding ears, there is now hair and more precisely two red pigtails. I find this particular new piece successful. The elf's uniform, the legs are short with printed black boots, and the torso remains simple. The elf has a double face.
In terms of accessories, the elf has a snow globe with a little house in it, I shook it but no snow appeared. On the trans clear part which represents the snow globe, white circles have been printed and represent the snowflakes. The little house inside is very successful.
Reindeer Costume
We stay in the spirit of Christmas and winter with this pretty Santa Claus reindeer costume.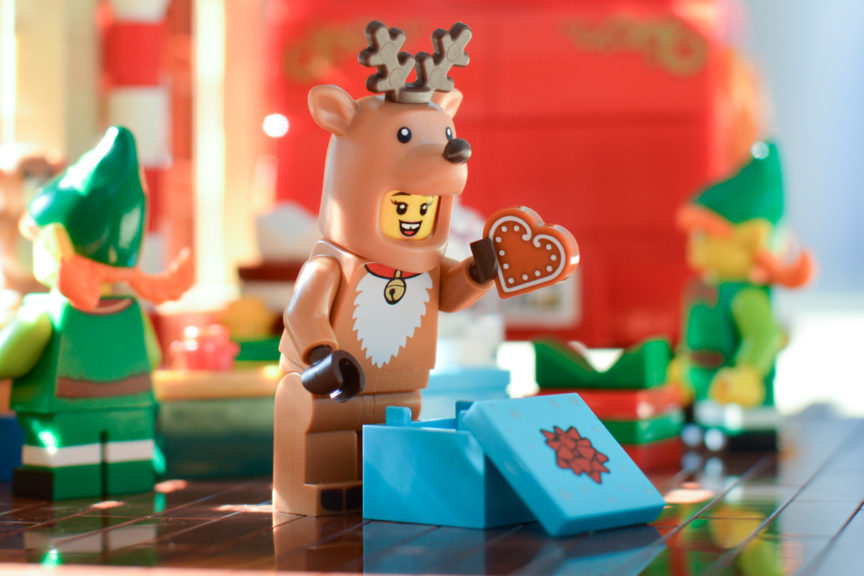 An all-white and hairy torso, with a red collar with a very successful little bell. Our reindeer has a pair of legs with printed hooves, simple but effective.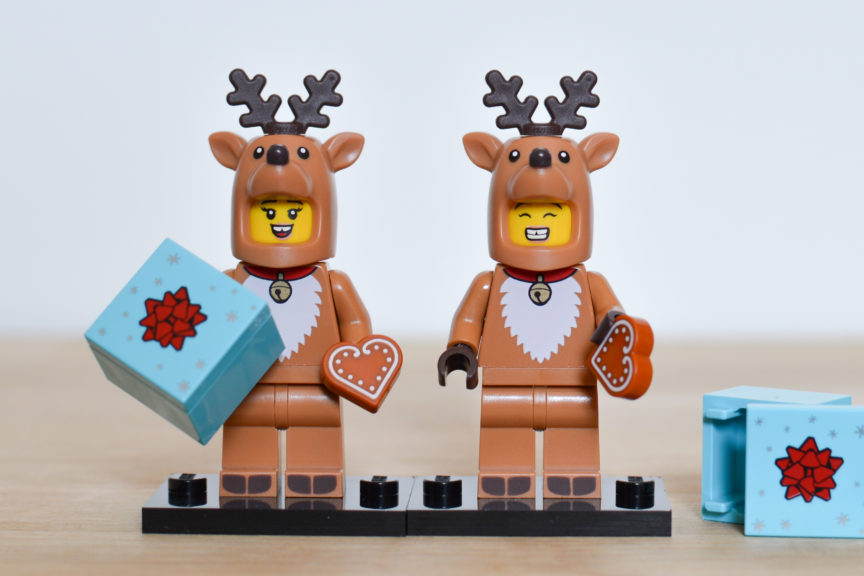 The reindeer mask with two horns and a new removable piece. Besides, by removing it, we get closer to a dog mask, right? The reindeer is also entitled to a double-sided head, with a smile and gaping teeth.
In terms of accessories, we have a blue gift wrap and a red bow above and some snowflakes and a heart-shaped Christmas cookie. I really like these new boxes.
Additional accessories: a cookie and reindeer horns
Turkey Costume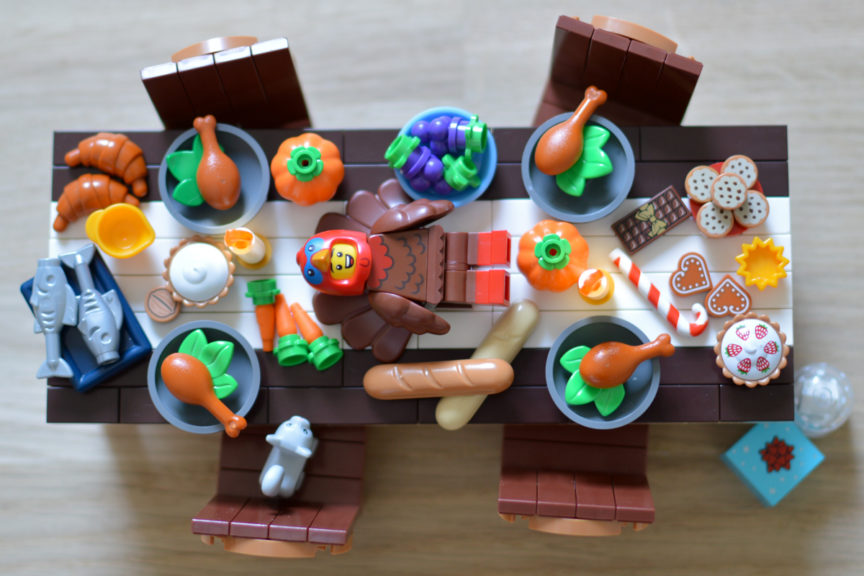 A new use of this Headgear Mask, after two penguins and two chickens, it's the turn of the turkey, the colors on the mask are very successful. He arrives with a new piece to represent his fan tail. A new color also for its wings, this time in brown. For the head, we have a male face with a big smile, and an angry head (maybe he doesn't want to be eaten).
This turkey immediately made me think of this holiday celebrated in the United States and Canada, Thanksgiving. It will fit very easily into farm or Christmas dioramas.
At the level of the accessory we have a pumpkin, nothing new because we have found it in many sets before.
Cardboard Robot
When I opened the bag for this figurine, I didn't immediately realize that it was a costume made from cardboard. The color code for me is not respected, I would have rather seen a Dark Tan color which will more easily recall the cardboard. Fortunately, pieces of tape and some childish drawings are present on the costume to give the impression that it is made of cardboard.
This robot is still a very beautiful figurine with the prints on each side of the costume, the paint drips, the design of the screws, the print on the arms.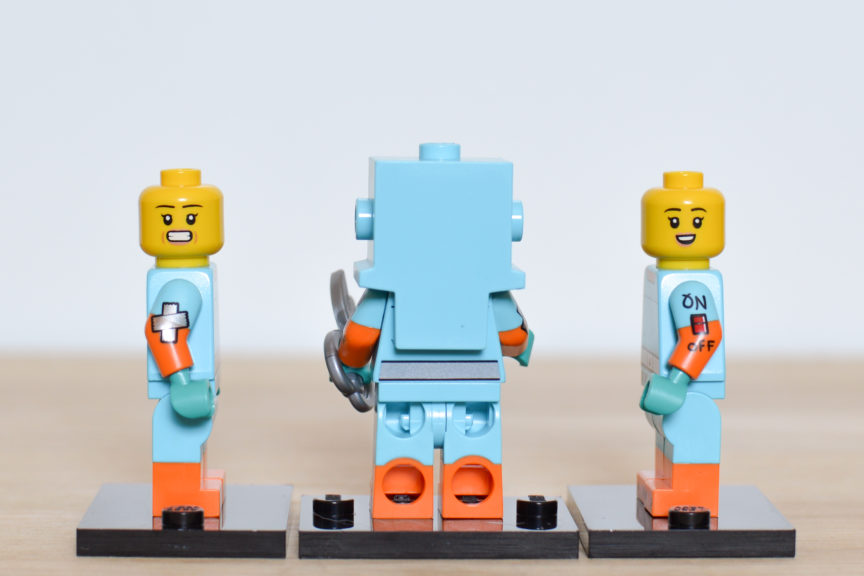 In terms of accessories, we have a pair of scissors and a 2×2 tile which represents a computer tablet or a machine remote control? I would have seen an extra pair of hair to accompany the robot.
Popcorn Costume
Lego had released an ear of corn in series 17, this time we have the Popcorn!
A disguise of a red and white cone that contains popcorn. No accessories for this figurine, I would have seen a 1×1 pop brick or a movie ticket, as we have already had in other sets.
The medium legs in dark red is a new color for this piece, so it is welcome.
Wolf Costume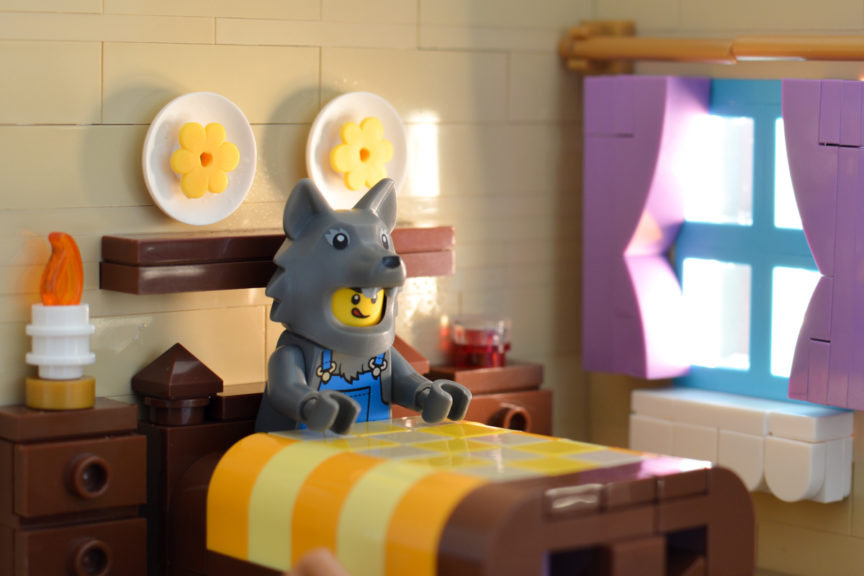 We had already had a few wolves (werewolf) in figurines, but never a wolf costume. We get a new Headgear Mask piece for this wolf, it looks a bit like the fox that appeared in series 19. This new piece still has two large teeth and more pointed ears.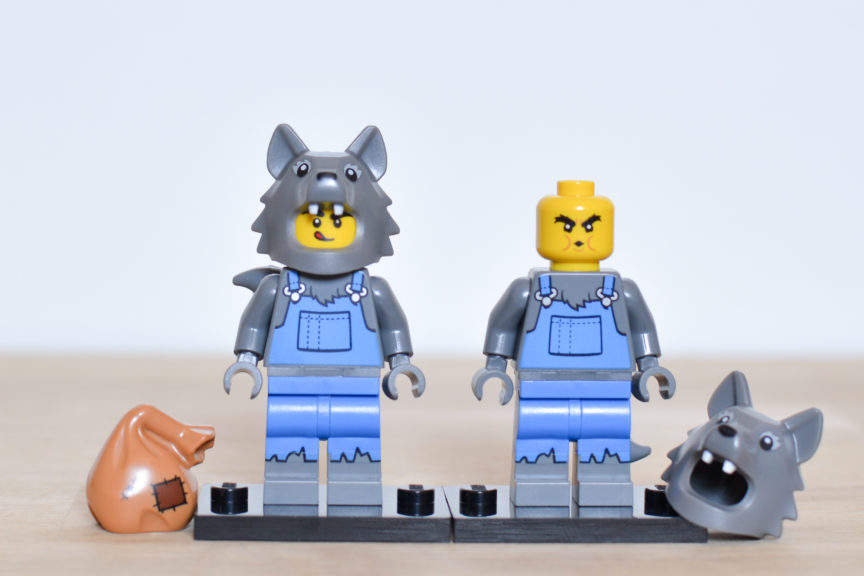 The wolf is wearing blue denim overalls, with a few hairs sticking out at the top, and on the legs the pants are torn. The details on the dungarees are really very successful.
Our wolf has a bag that has been sewn up, but what did he put in it? In any case, the expression on his face is clear, he is licking his chops. The other expression on his face represents him blowing, surely in connection with the story of the three little pigs?
Ferry Captain
ICEBERG, RIGHT AHEAD!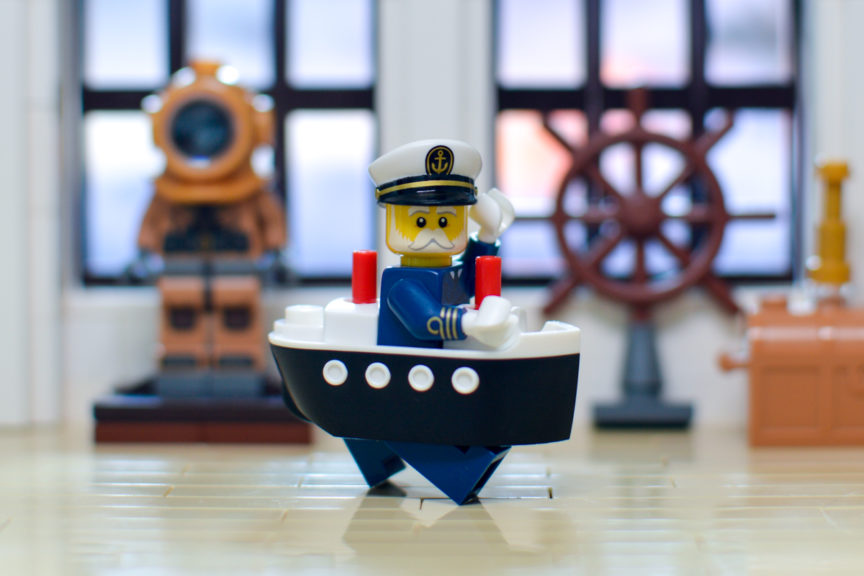 A new ship captain, this is the second time in the minifigure series that we have obtained one, the first appeared in series 10 with a seagull. This time our captain is accompanied by his ship. Despite the number of chimneys on the boat, it still reminds me of the Titanic, don't you? This boat costume is really successful.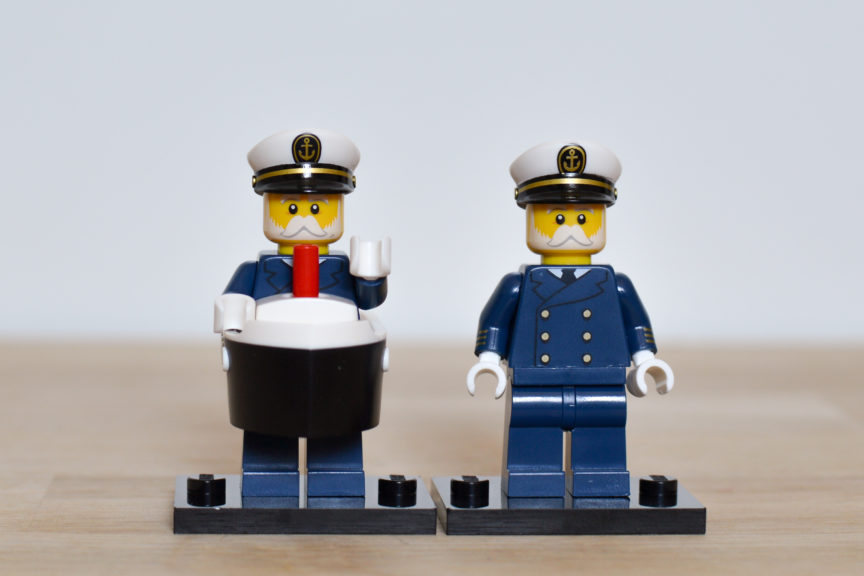 This is the second time that Lego has offered us a vehicle costume, after a car costume in series 18.
Regarding the uniform of our sailor, nothing grandiose, blue in color with a print on the arms. His sailor cap when it is very nice with an anchor on it.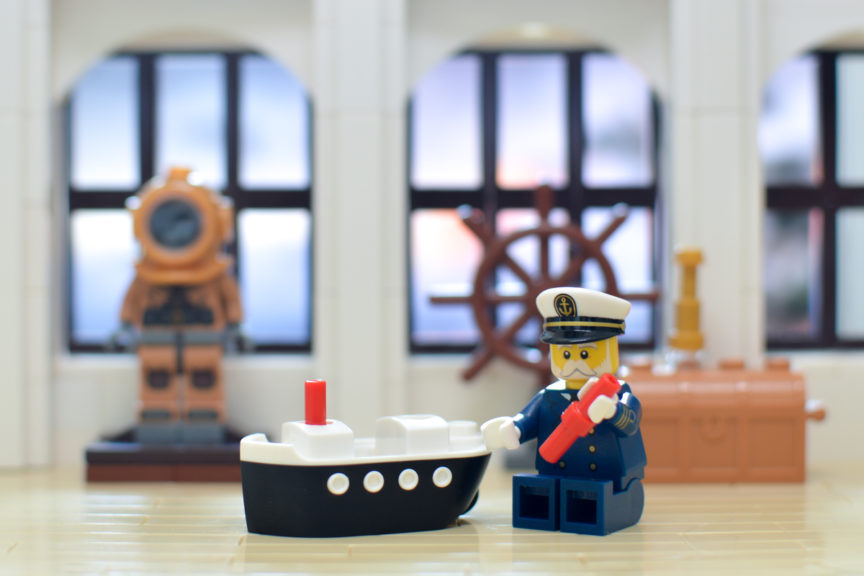 Knight of the Yellow Castle
I saved the best for last, our lovely knight. There is no doubt that Lego has given a nod to set 375 released in 1978 (44 years): Yellow Castle. On the shield and the breastplate we find this yellow crown on a pink background. The design of this crown has not been modified and I even find that it has aged well. Under the breastplate, the torso is pink with chainmail and this printed crown.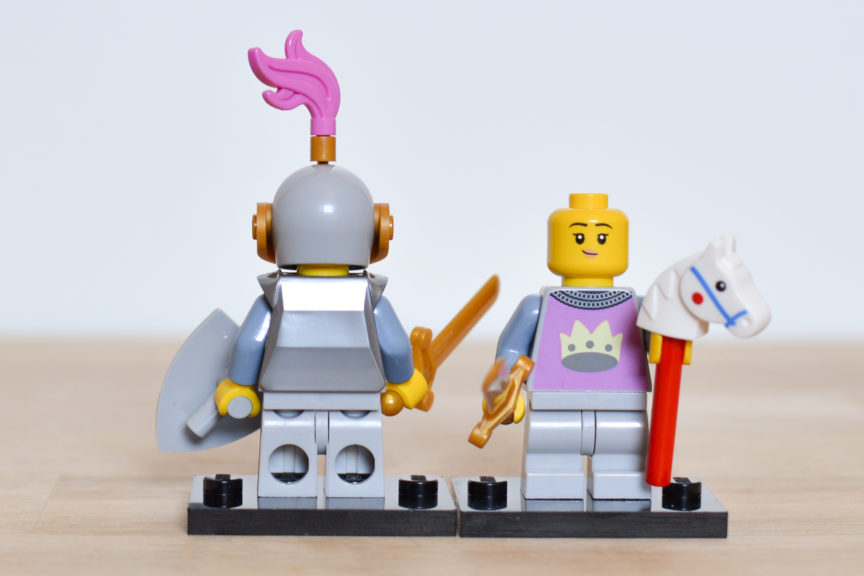 Our knight has a helm with a gold visor and a pink plume. The medium legs in light bluish gray is a new color for this piece, so it's welcome.
But what is the cutest on this figurine is surely this Hobby Horse with the vintage horse head! I really love this accessory, it's a real favorite for me. The knight still has a sword and a shield.
Verdict
Unlike the last three CMF Series 20 to 22 which presented a balance on the characters which could convince a maximum of AFOL, I find that this time the series is oriented towards the end of year celebrations which represents 6 miniatures out of 12. We also have 8 costumed figures. It reminded me of series 18 which was also supplied with Suit Guys.
The many figurines on the theme of the end-of-year celebrations will delight AFOL fans of winter village.
However, what I appreciate are the duos or trios of figurines present in the same series.
Knight and Dragon
Nutcracker and Sugar Fairy
Snowman, Reindeer and Christmas Elf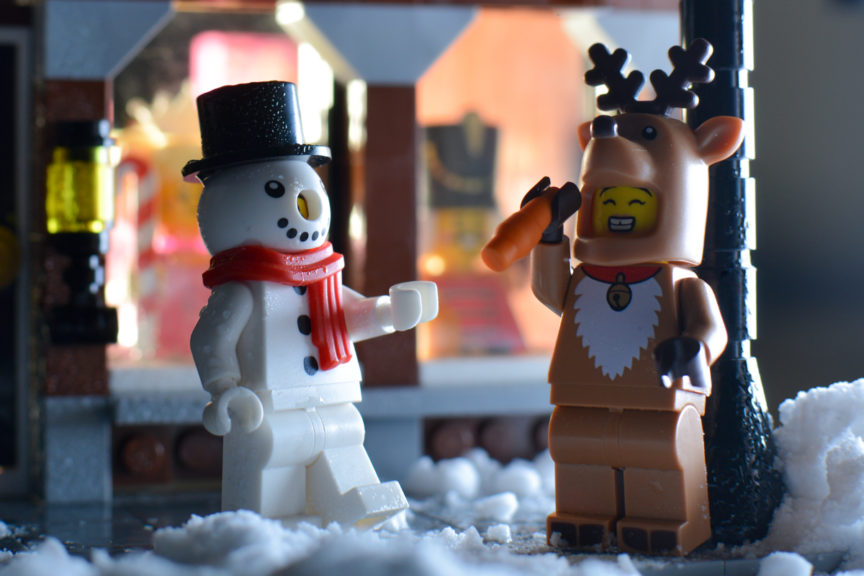 I give the score of 9/10 for this CMF 22.
CMF Series 23 will be available on September 1, 2022 and each blind bag will cost $4.99 / €3.99.
Behind the Scenes
For this review, I decided to build as much scenery as possible for each figure or set of figures. It was a long job but so satisfying for me in the end. I leave you with my few constructions.
PS: be careful with the snowman, it could arrive melted, remember to put it in the freezer.