The third set of minifigures dubbed People Pack – Outdoor Adventures from LEGO just dropped and I rushed over to the LEGO Store in Rockefeller Center in New York to buy one yesterday morning. There's another LEGO Store in the Flatiron District that's a little closer to me but they opened a full hour later on Sundays and I really wanted to review this set already because…
A new baby carrier
Outdoor Adventures has a new baby carrier, with a baby in a different colored onesie to boot! Awww! Like most of the toy photographers that I follow on Instagram, the new baby in the first minifigure set, Fun in the Park, was the biggest draw so I'm guessing this baby carrier will be a major attraction as well.
The baby head is different from the Fun in the Park set because it has a neck and a slightly different expression.
The dad minifigure has a double-sided face with a big, happy grin and smiley eyes on one side and a nice kind expression on the other side. I can see myself using this head quite a bit in my toy photography.
There's a zippered pouch printed on the back of his torso. Modern dads pack diapers there, I guess.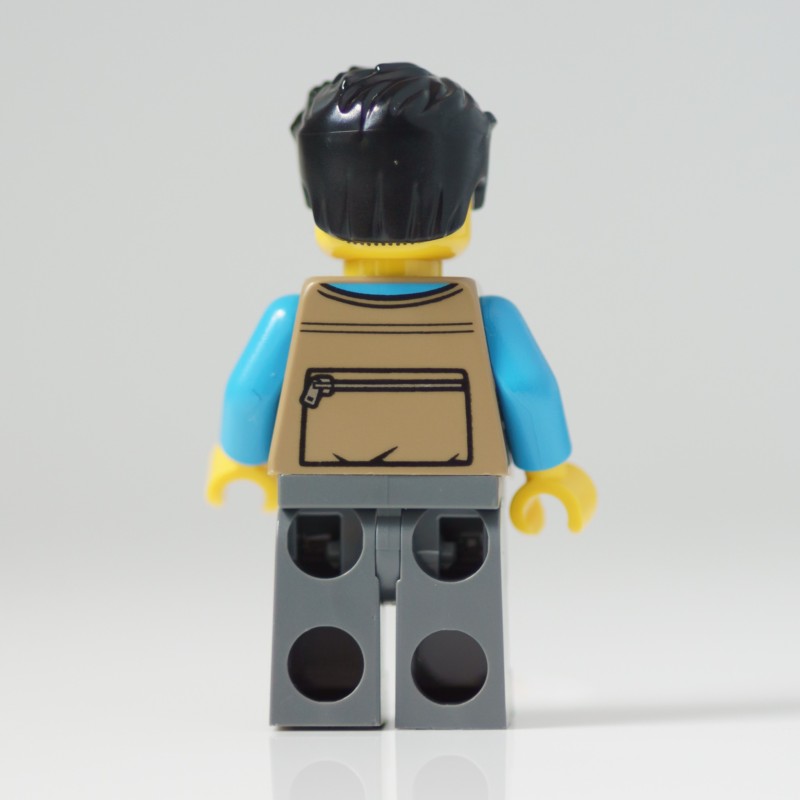 Modern grandma
The next minifigure that's getting a lot of attention is this mature, outdoorsy woman. She's got a modern hairstyle and a waist! Like the other LEGO grandma minifigs, she's cold but instead of a wearing a sweater, she's got one of those ultralight down vests. Dope.
Modern grandpa
This Outdoor Adventures set has an updated grandpa minifigure too, of course. He's only got one face (helmet issues, I suppose) but it's got a Sean Connery kind of vibe with those dark, uneven eyebrows.
He also comes with a vest but I've shown it here without it on so the torso design can be seen. I've added photos of the vest on its own further down this post.
Eagle
The eagle is in permanent glide mode since it's a single piece with a stud on top and an anti-stud below. On the package photos, a fish is attached by its mouth which I find disconcerting but ok, whatever.
Mountain biker
This minifig has received a lot of attention too because of the new bike design. She's got printing on both sides of her face and torso; her face has a pretty cool dirty version.
She also comes with a log ramp that has the new printed tile found in many of the mountain police sets but also this 1 x 1 leaf plate that I've never seen before. But then again, I don't have many LEGO sets so this could be old.
This photographer has a camera with an external flash, a double-sided head and back printing. She should really think about getting a MagBeam Wildlife Kit from MagMod if she wants to light that eagle though!
Without the camera obscuring her face, her taking-a-photo expression is downright menacing, especially with the leaning forward pose I've got her in. I hope I don't look like that behind the camera! I can see LEGO photographers having some fun with this expression in their setups. I know I will.
Selfie dad
This minifig has two faces with great expressions and back printing but a pretty disappointing phone. Does that thing even have a camera? Must be some kind of dad joke going on here from the LEGO designers.
Napping mom
All mom wants to do is keep hydrated and take naps when she's camping! Oh wait, that's me. She's got cargo pants and a printed top that I'm pretty sure I've seen on other minifigures before but she's got a sleeping version of her face which is nice. She's either sleeping or listening to her kids telling her about all the different kinds of leaves they've spotted so far. "MM-hmm. That's great, son. I see." You decide (but it's the second).
Other new parts
This people pack also comes with a couple of eggs, a raft (that floats!), two new vests, and a plastic sheet tent.
I'm sure a lot of the adventurous LEGO photographers will have a lot of fun (and backaches) using that raft in their scenes. I am terrible at shooting water scenes plus I don't have the patience for setting them up so this raft will likely stay beached in my photos.
Along with the raft comes two vests, one for each of the rafters in this set. It's a new design and a good change from the old yellow ones that looked a bit boxy.
I have mixed feelings about thin plastic sheet LEGO pieces like this tent. It just doesn't look quite right to me for some reason. Anyway, the tent has two sleeping bags built onto the LEGO plate base. It'll make a great prop for LEGO photographers who love to shoot outdoors.
Trekker
Not that kind of Trekker, so I am not that excited about him but at least he's got a pretty interesting face. I can't decide it that's a cleft chin or a double chin though. He's got printing on the back of his torso and a couple of walking poles in lime. Another reviewer pointed out that the team printed on the torso is the same mascot as on the Hockey Player in Series 4.
Mountain climber
Here's where the minifigs get meh for me. This mountain climber has printing on both sides of his torso and printing of a harness on the front of his legs. Meh. The other mountain climbing minifigs that LEGO released before seem more interesting. Print some muscles on this guy's arms at least.
The kids
Two of the kids have new torsos. One's pretty cute and the other one is drab.
The meh-est of the lot
A few repeats.
All in all, Outdoor Adventures is a nice set for $40 (USD). LEGO photographers who shoot their minifigs out in nature will especially enjoy this people pack because of the obvious outdoor theme (it's in the name!). For other types of toy photographers, there are enough new heads and torsos in this people pack to mix and match with existing LEGO City or collectible minifigs to keep it interesting. Not to mention the irresistible cuteness of the new baby carrier and the dope new hair piece.
So, have I sold you on it or not? What part about this set do you think could be improved?