It's June and what better way to kick off the month and launch my new reviews area than with a look at June herself. I mean, Offred. I mean, Ofbrick.
One of my favorite things about collecting minifigures as an AFOL is the amazing range of LEGO-quality customization out there. If you're not the purest of purists and love seeing some of your favorite pop culture characters in minifig form, Citizen Brick is the place to go.
Citizen Brick prints their custom designs on genuine LEGO parts using the same printing technology that LEGO uses for their own minifigures. So if your concern is that Citizen Brick minifigures are Chinese knockoffs, rest assured they are not: the company is based in Chicago, Illinois.
The latest addition to their impressive product line of TV show adaptations is Ofbrick. I love this minifig. I'm only a LEGO purist in the sense that I don't like nor collect non-yellow minifigs but here I am with not one, but two Ofbricks. That's how much I love this minifig. At $15 a pop, they're not cheap but most of the individual minifigs in their catalog are priced similarly.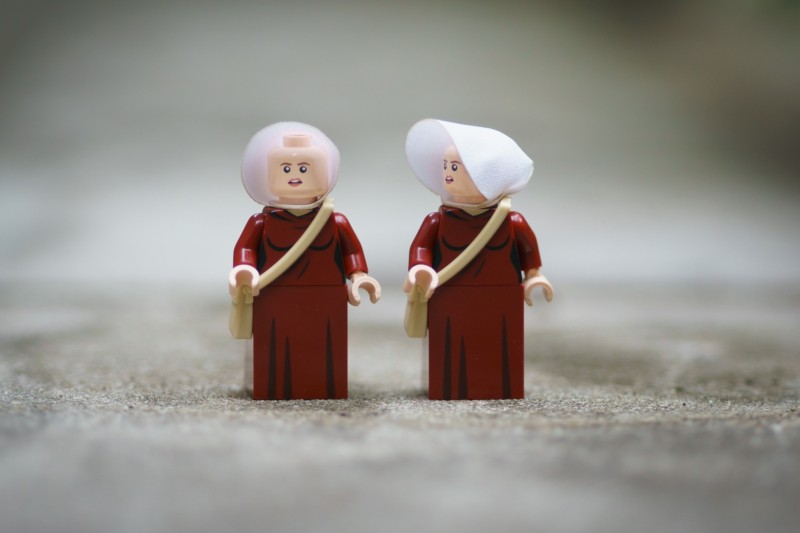 Minifigure details
Here's a close-up of Ofbrick's head, wrapped in beautiful soft light. The printing is as sharp as you'd expect LEGO itself to be and the bonnet – "wings" as they are referred to in Margaret Atwood's book – is crisp. The fabric they used is stiffer than the capes on most of the superhero minifigures I have in my collection so it holds its shape really well. It will also crease if you handle it too roughly.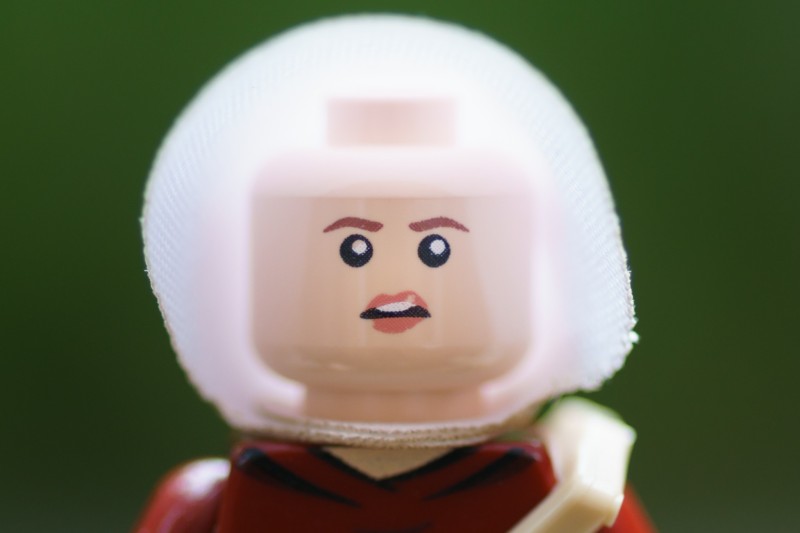 Ofbrick doesn't come in her own blister pack like some of Citizen Brick's other custom minifigs, rather she's shipped in a baggie and bubble-wrapped to prevent any crushing or bending of her bonnet in transit.
As a minifig photographer, it can be a bit of a challenge to move the head for storytelling or composition purposes without deforming the bonnet. For this particular minifig, it's best to remove the head entirely, loosely replace the bonnet on the neck piece, re-position the head facing the direction you want it to be in and then press down with your finger directly on the head piece to avoid damaging the bonnet. I didn't do that, of course, so now one of my Ofbricks has a stud-shaped dent at the top of her bonnet. Dammit.
Ofbrick has printing on both sides of her torso as well as on the front skirt. The front has a bit of the hood design which then continues to the back. Her other accessory is the tan satchel, an original LEGO piece.
I like how the bonnet tucks in quite neatly and flattens out in the back.
Overall, this is a winner minifig if you love the book or show that it is inspired by. It may have opened me up to buying other fleshie minifigures, which I have staunchly resisted even when CustomBRICKS released their Star Trek TOS-inspired torsos a few years ago. I'm still annoyed that the command torso is printed on regular yellow and not gold, but I get it: gold torsos are hard to come by.
I hope you enjoyed my first product review. I'll be reviewing more custom minifigures and accessories in the future. Let me know in the comments what your feelings are on custom minifigs: are you a purist? Do you make your own customs?