I don't typically collect whole minifigs, rather, I mine them for parts to use in my own character creations and this guy from the Party Banana Juice Bar 5005250 yielded big time.
The little box set that came free with a $35 USD or more purchase in mid-July shows the costumed minifig on the packaging but under the logo-less banana disguise, Party Banana Guy is much more impressive. He's got a dual-molded shirt with a fun banana-patterned shirt perfect for the summer, dual-molded legs with a drawstring print on the hips and sandals on the feet, and a happy face with smiling eyes.
He's pretty cool as his intended character of a fun party guy but he also could be your average tourist in NYC with a few changes: just add a boonie hat and selfie stick. Or a hipster: just add a fedora and craft beer. Or a bit of a dag: just add… oh wait. The point is, all of the body parts are quite useful in creating characters.
Conveniently, I was heading to Brooklyn Bridge Park to drop off my kid at summer camp so I took the opportunity to shoot some tourists against the Manhattan skyline. I used the Party Banana guy's torso and legs, the selfie stick and the moustached dad face from the Outdoor Adventures People Pack, and added a boonie hat from BrickArms to create the first NYC tourist you want to avoid. They swing selfie sticks wantonly, stop suddenly in their tracks for photo ops, and walk in the bike lanes. I. Love. Them.
The second kind of tourist you want avoid is the souvenir-wearing loudmouth who is made up of Party Banana guy's face, the crown piece from the Statue of Liberty, and the "New York" torso from the rather insipid baseball character from the NYC LEGO exclusive magnets. I swapped out his blue arms for Homer Simpson's white short sleeves and added some cargo pants.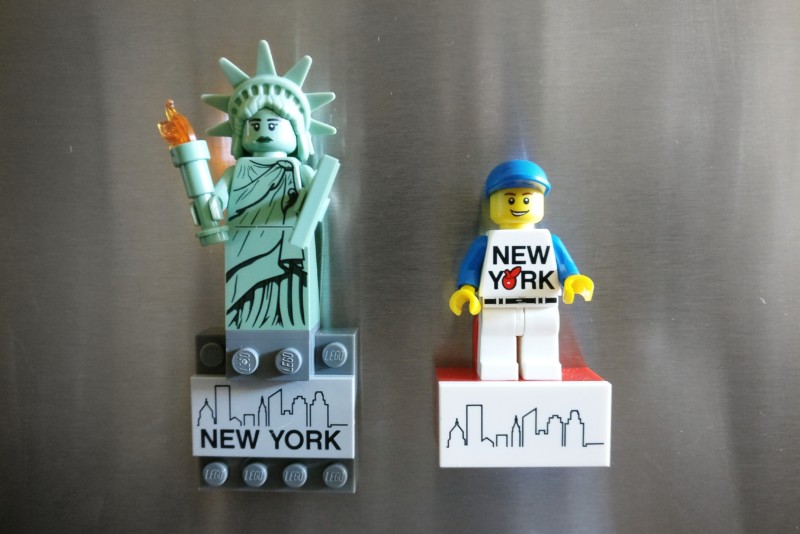 Costumes aren't my style so I opted not to feature that in this review, but it looks like it's the same as Banana Guy's in CMF 16 sans the "Banana!" logo.
Overall, I think this is an interesting minifig with well designed elements. If you didn't pick it up as part of the promo this month, it should pop up on eBay, Amazon and BrickLink soon enough.