Buckle up your red sneakers and get ready, it's time for some 16-bit nostalgia with LEGO IDEAS Sonic the Hedgehog set. Inspired by the original SEGA Genesis/Mega Drive Game from 1991 and brought to the LEGO lineup courtesy of a successful fan submission on LEGO Ideas
Before we get started please note: Brickcentral and LEGO sent me this set to photograph and review but all opinions expressed here are my own.
Act 1 – Press Start
Set 21331 features 1125 parts and retails for $69.99/£59.99/€69.99
Much of that large part count is made up of 1×1 plates, tiles & bricks. Stacking these forms a big part of the build process. I was worried it was going to be tedious but I actually really enjoyed it, perhaps more so than any other set in recent memory.
You tackle the build like a game. Stage by stage you complete a little segment. At the end of each segment you unlock a chaos emerald, just like in the game. The instructions have a fun progress bar too, simple but cute.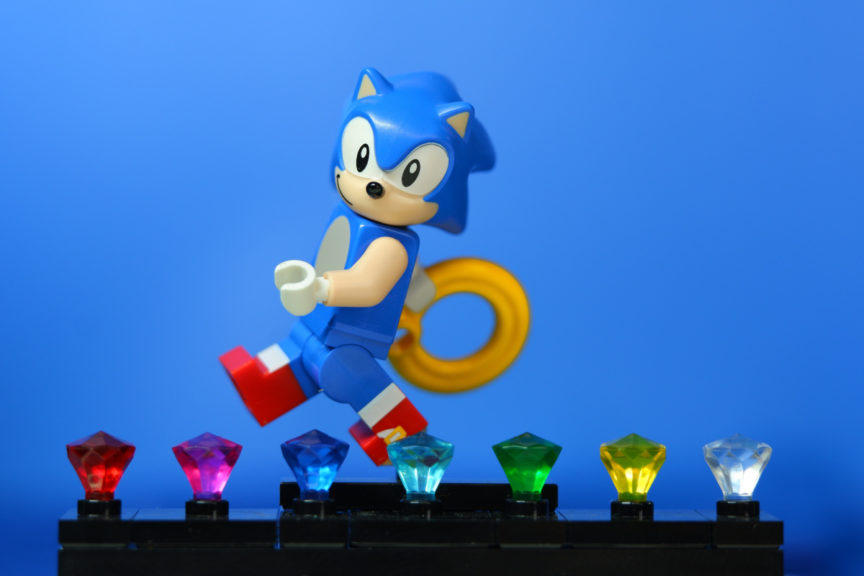 Maybe its nostalgia getting to me but seeing the checked pattern of Green Hill Zone come together was a really joyful experience. The printed grass tiles really add to the overall look too.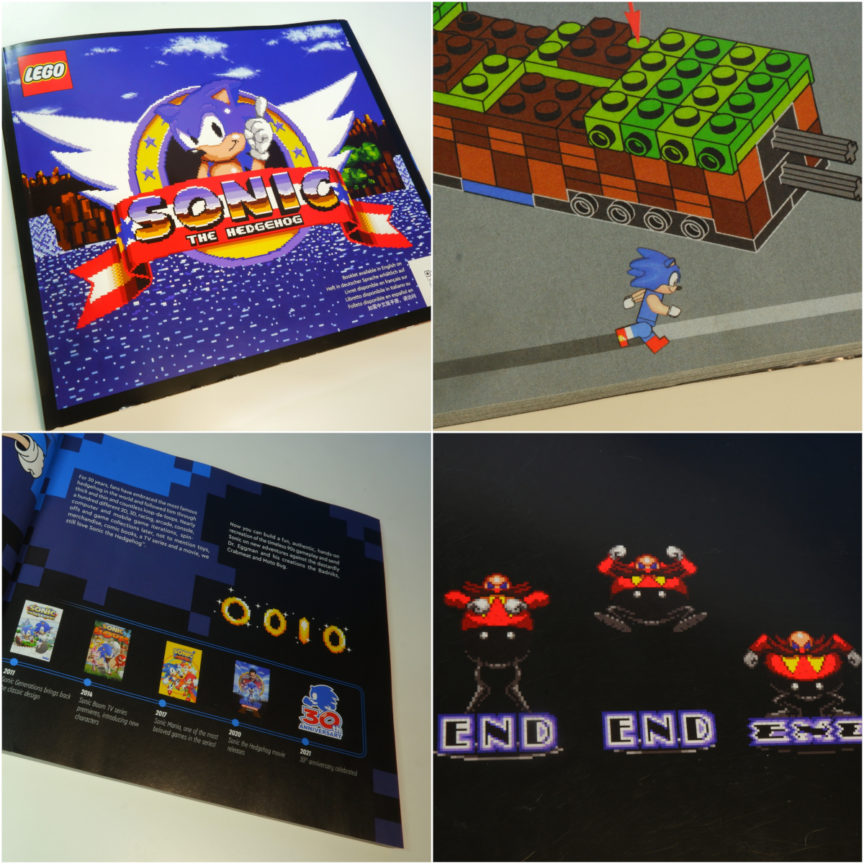 Act 2 – Character Selection
The only minifigure in the set is Sonic himself. He uses the same mould as the Sonic from LEGO Dimensions but features updated and much improved prints.
The prints for buckles on his shoes are the most striking addition and they look spot on.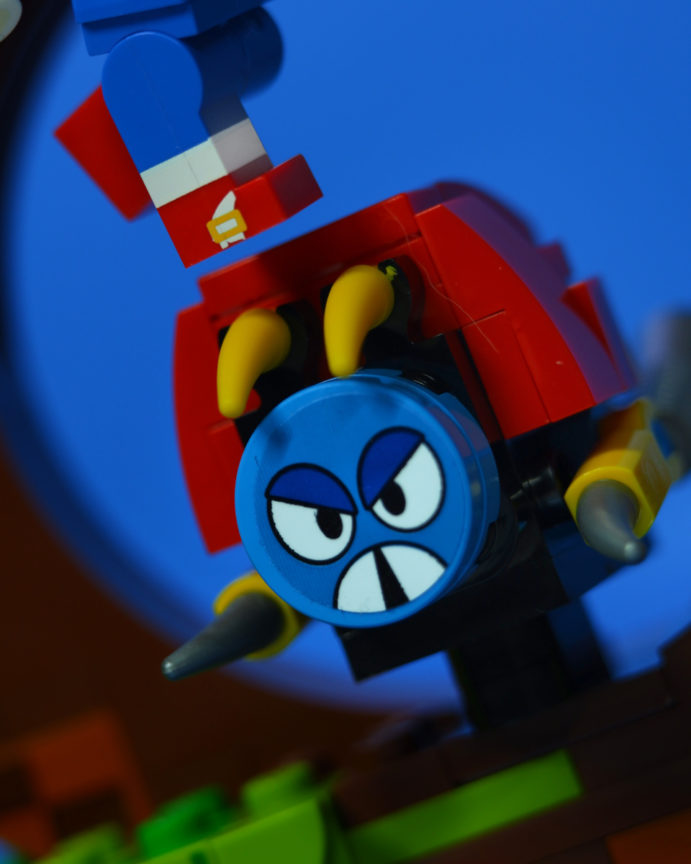 However my favorite update is the torso print which has much more opacity now and the face print that now features simpler but more prominent features.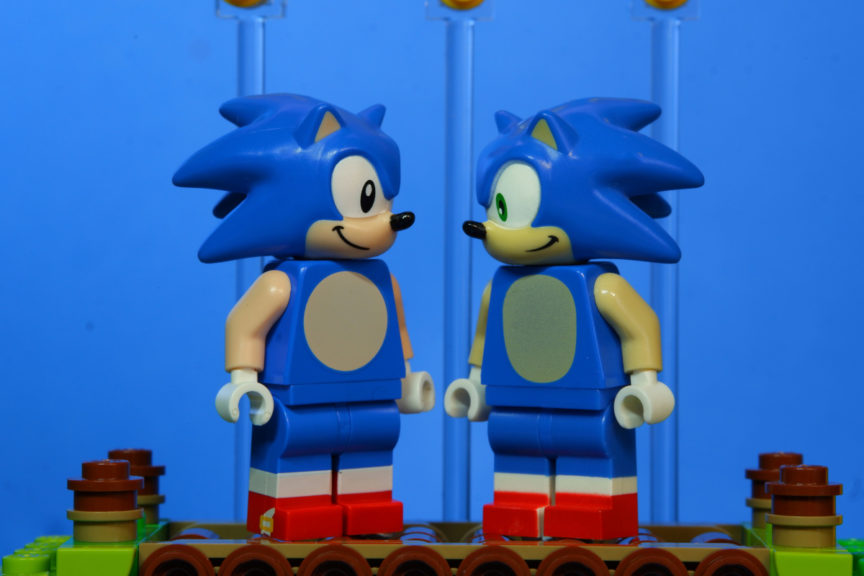 Of course Sonic's long term foe is also included. Dr Robotnik (or Eggman) looks pretty great for a brick built character. His proportions look good and its fun to put together. His eyes are printed but other details are stickered or just using the bricks. His moustache and mouth are the weakest parts of the build but overall it works well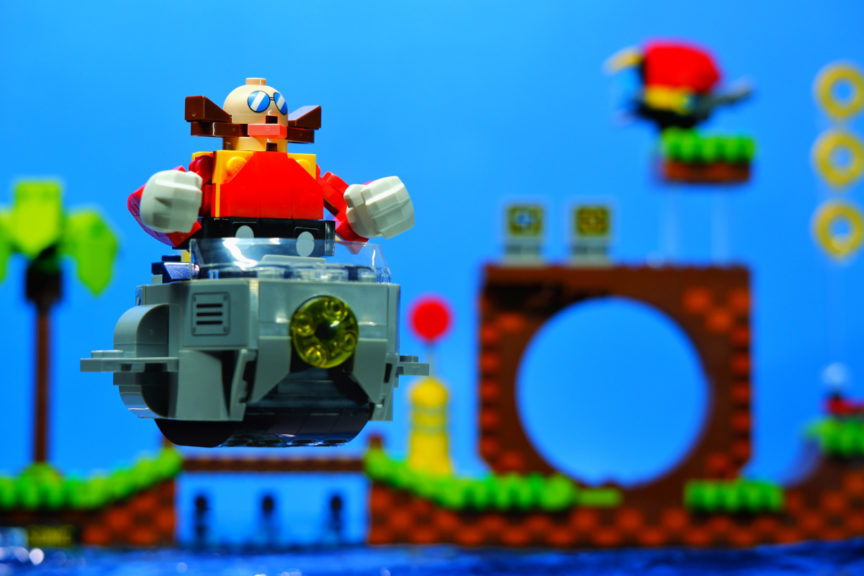 His Egg-Mobile hover craft is also a fantastic little build using stickers to add detail where appropriate.
The two other enemies in the set are Crabmeat and Motobug. Both really good builds that look just like their 16 bit counterparts.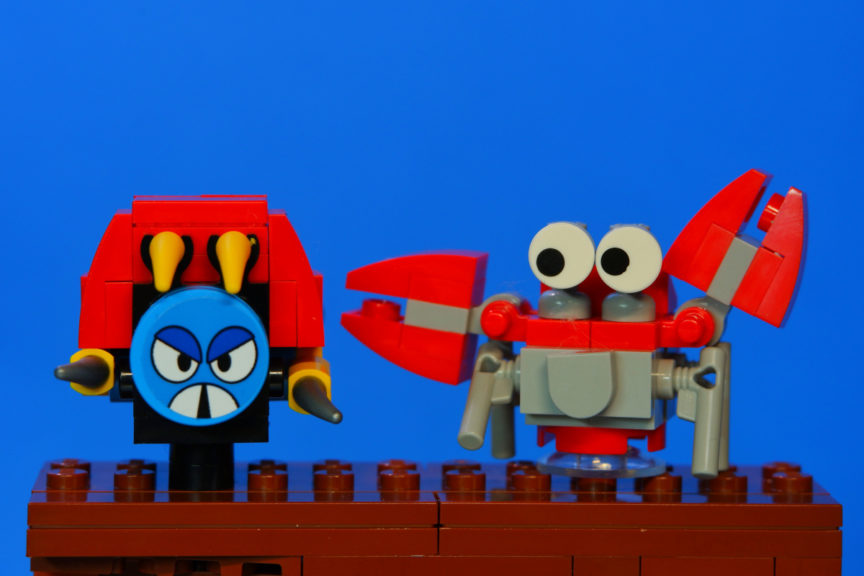 If I was being greedy I really would have liked a Chopper (jumping robot piranha) included too, for some reason they are the first enemy I always think of when I think of the original Sonic game. But the two we do get are really well done; though I'm terrible at stickers and I messed one of the Motobug faces up a little.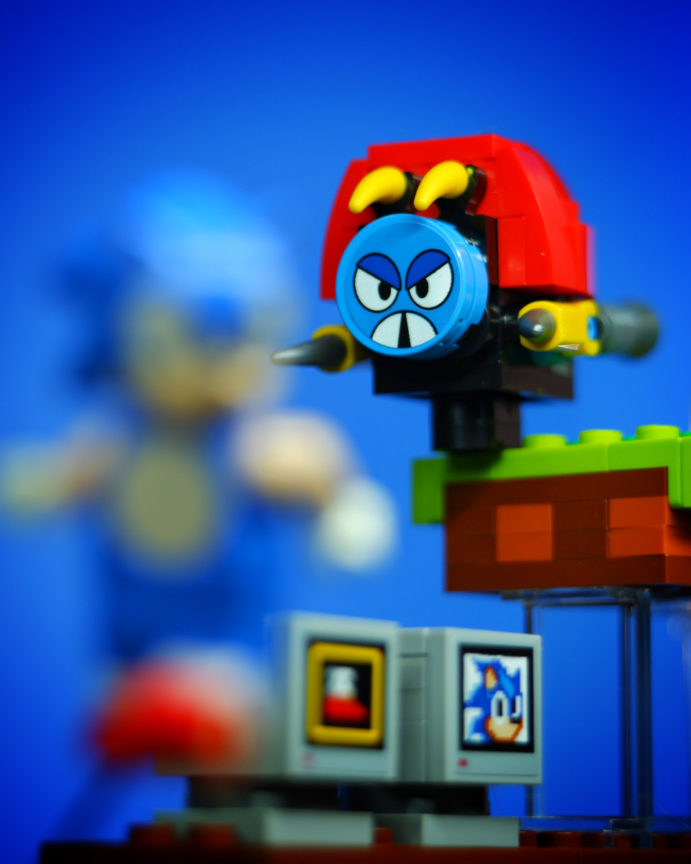 The thing that impresses me most about these brick built enemies is that they look accurate (easier for LEGO when your souce material is pixelated perhaps) but they also scale nicely with the Sonic figure.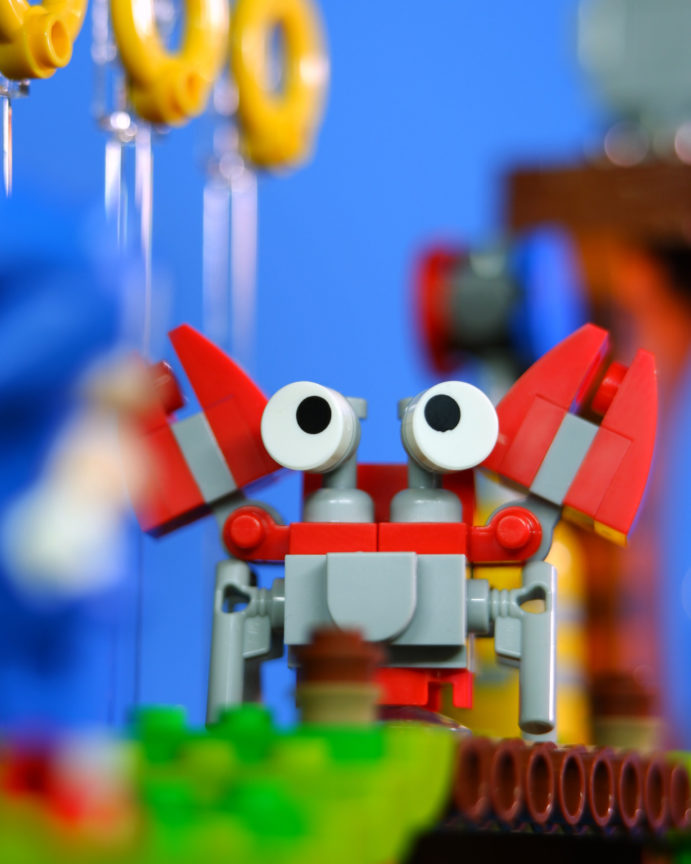 Act 3 – Lets Play
Green Hill Zone is surely the most famous Sonic level so it makes sense it would be the subject of the first proper LEGO Sonic set. As someone who was bad at video games but loved them I spent a lot of time playing the first few acts set in this zone. Its been lovingly recreated here in a very compact way.
They clearly tried to include some of the most famous features.
Palm Tree. Very different from other LEGO trees, but it feels very proper here and is appropriate for the start of the level, before you get to the more fun and dangerous stuff
Wooden bridge. Another staple of all Green Hill Zone levels. Don't worry about Chomper Piranha's though, there are not any here.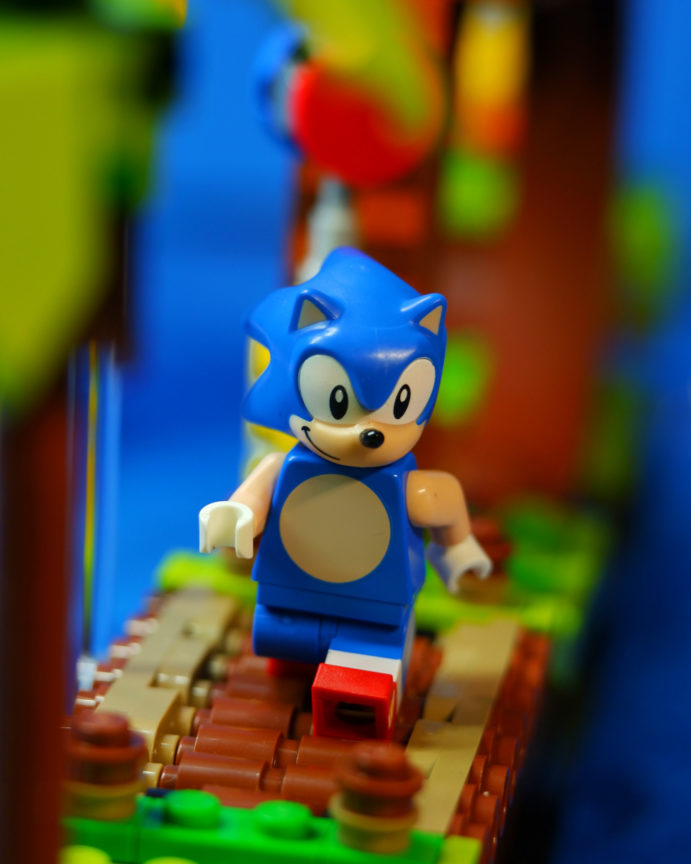 Loop. Probably the most important feature. It looks good, uses stickers to add some checked details. I wish it was a little bigger but then the whole set would need to be so I understand the compromise made here.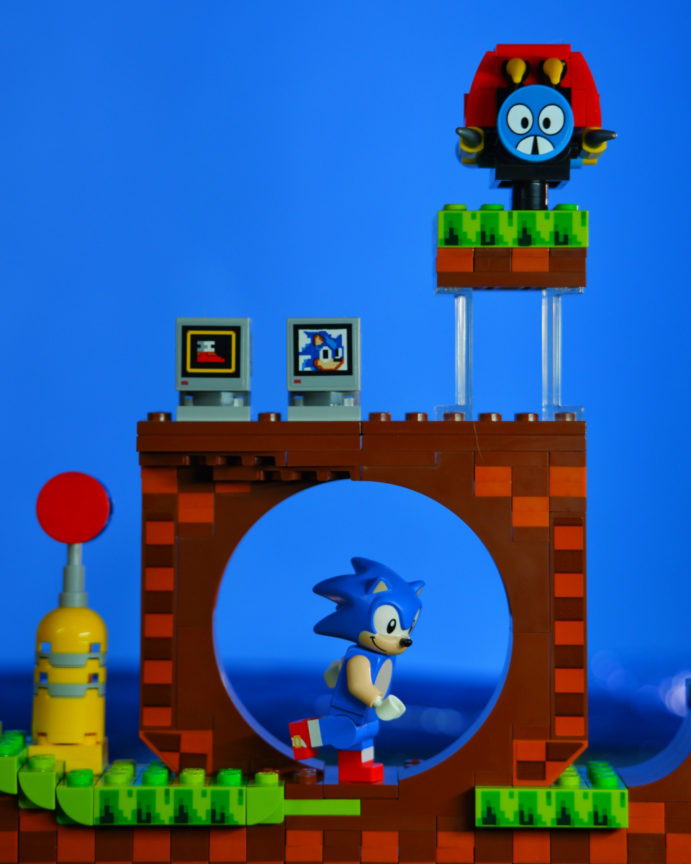 Springboard. This is very accurate to the game and its where you find the sets one main action feature. A trigger on the back lets you launch a figure from here.
Checkpoint. A simple recreation of the games' checkpoint, it doesn't swing anticlockwise like in the game but it can be rotated to show it both pre and post activation
Floating platform. Placed on two clear panels. I found this platform really useful for photos. Its a simple but impactful addition to the set.
I think these were all important to include and they did well to include them in such close proximity.On display its instantly reconisable as a classic sonic level come to life.
If they had been able to include a piranha then I would have liked to have seen an action feature of it jumping by the bridge. Also noticeably absent isa final area to fight Eggman and a container where cute animals can be set free. Or any cute animals at all really!
Act 4 – Power Up
The set includes two power up boxes but four stickered tiles so you can choose which two collectables you want to display.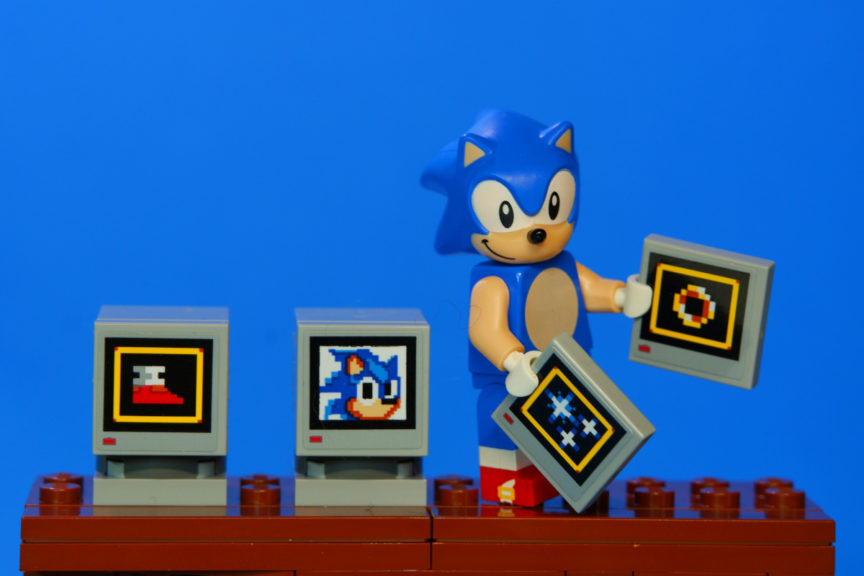 Of course there are also rings to collect around the stage. They are suspended with clear elements and while they are a little oversized they are effective looking.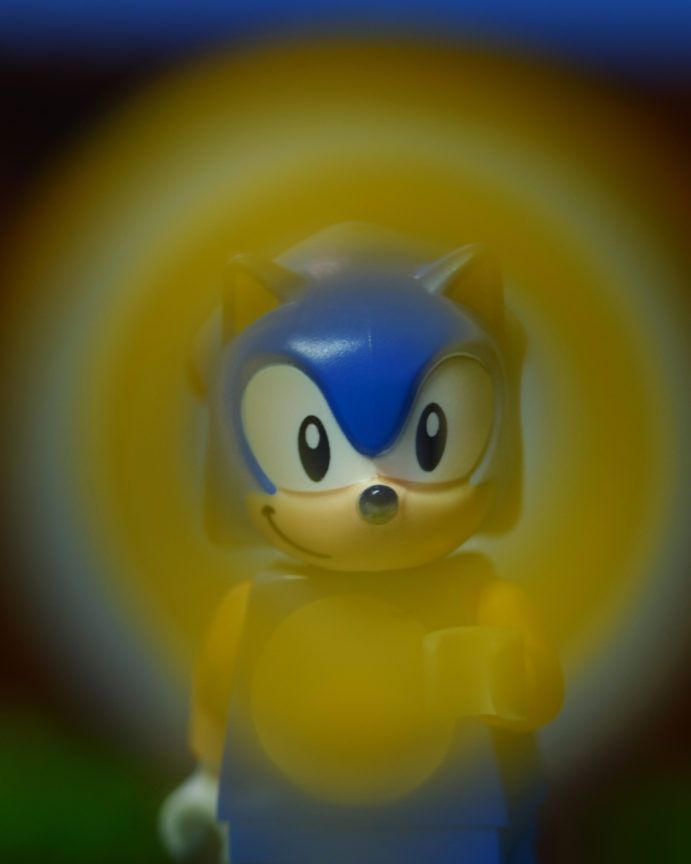 Act 5 – Boss Fight
Robotnik and his vehicle has its own stand and clear bricks to elevate it. I really appreciate the inclusion of this because having the vehicle in the air really improves its appearance on display.
There's no specific position for Robotnik on the level really. I may have to head to Bricklink and make an extended boss fight area or maybe buy a second set…
The way its built, two of these sets can be joined together to make a longer stage since each small section connects with two technic pins. You could also switch segments around with some very basic modifications.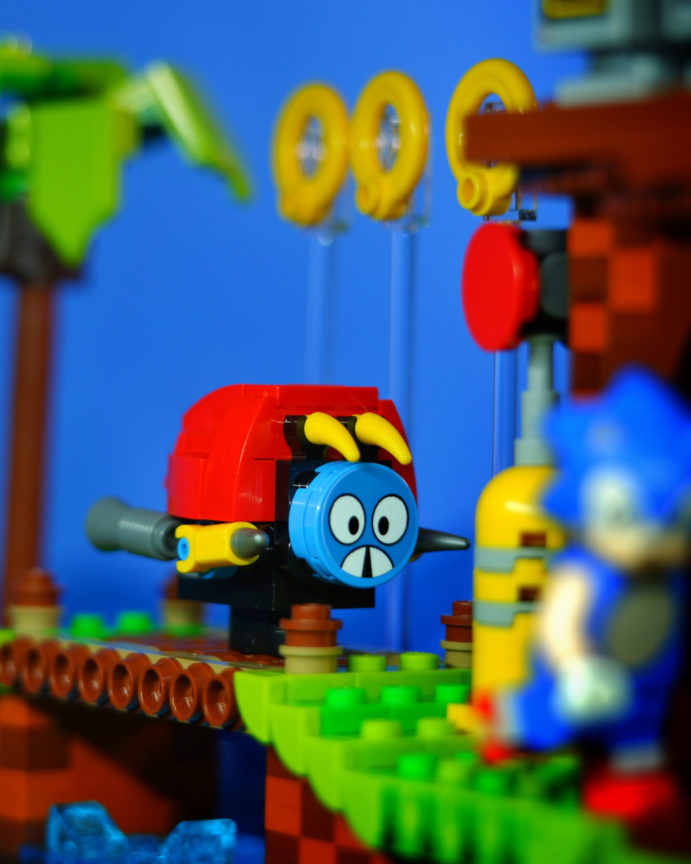 Final Stage – Good Ending or Try Again?
I'll cut right to the chase. I love this set. I had a blast building it, it looks great on display without taking up too much room and I also enjoyed photographing it.
Some people may find the 1×1 stacking tedious but I thought the designers did a great job of breaking that up. The effect of that is really great, kudos to the original Ideas submission that also had this.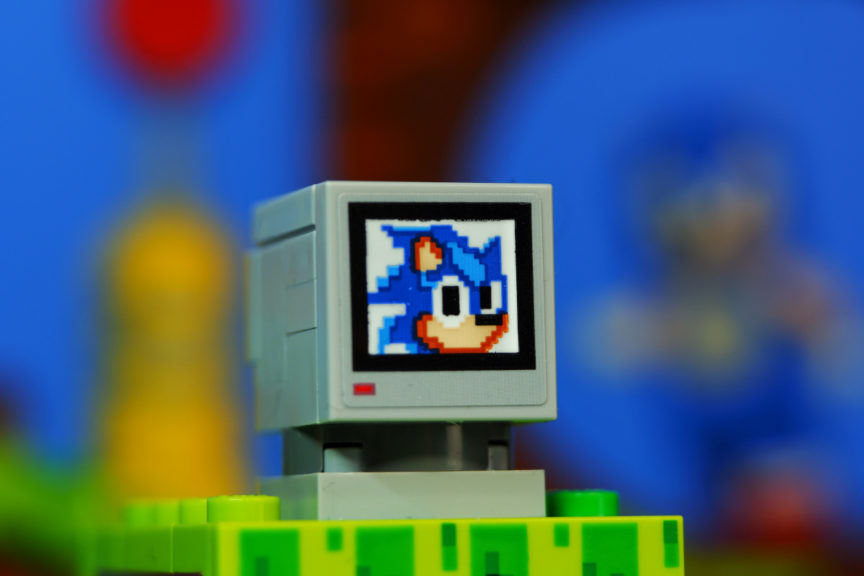 The set is not flawless but I can forgive its flaws. The loop is too small and it would have been nice to get prints rather than stickers for Motobug and the loop walls. However I appreciate the compromises to keep the set price (and overall size) down.
In summary, this is a set that is true to the source, looks good isfun to build, has a great minifig & brick built enemies that scale with the figure perfectly. All for a decent price.
Score:10/10.
Special Stage – Behind the Scenes
This was a relatively straightforward shoot. The set has its own terrain so I just needed a sky and some water for a simplified version of the game background.
To add background interest, on some shots I brought the action forward using the floating platform with the main build further back.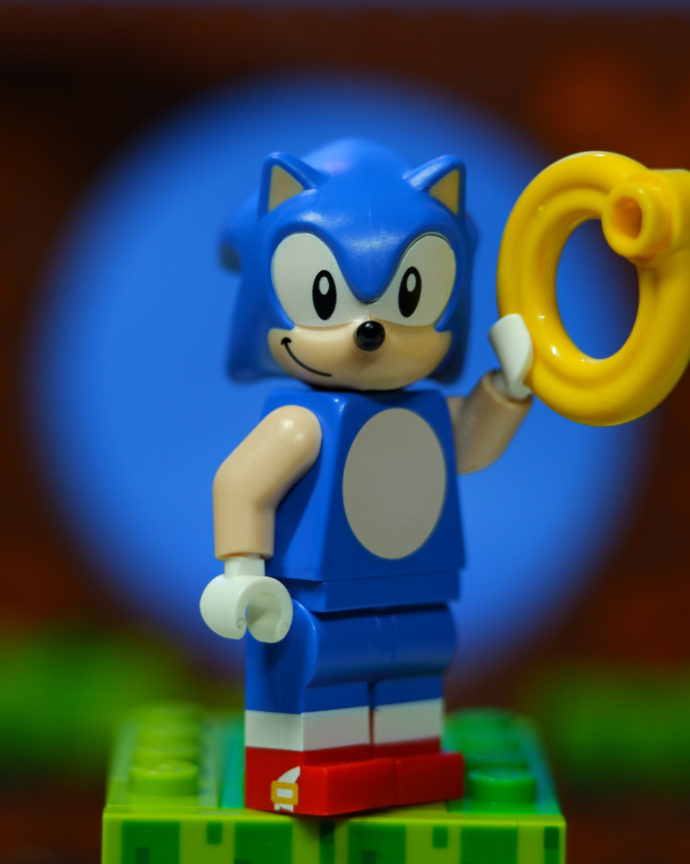 This also provided a great opportunity to use the loop for framing.
Thanks for reading. Now we have completed Green Hill Zone, the Marble Zone awaits us. Lets go!