I invite you all to hop on board and come on a sailboat adventure with me as I review the latest LEGO Gift With Purchase (GWP), Set 40487.
I was provided this set to review by LEGO via Brickcentral but all opinions here are my own. The set is available from August 1st in LEGO Stores or at LEGO.com when spending over €200/$200/£200 and while stocks last. Stick around beyond the end of the review for some bonus shots too.
Learn the ropes – What's in the box
The set contains 330 pieces. They are used to build a sailing boat on a small base, two minifigures, and a stand for the two included dolphins. It's important to note that the Sailboat Adventure set is based on a design by my Brickcentral teammate @yc_solo. He submitted this boat build as a LEGO IDEAS competition entry… and won! The prize? His submission was converted into this real set.
Running a tight ship – Meet the crew
The instructions included in the set include words from YC_Solo explaining some of the sentiment and meaning in his set, one of the things revealed there is that the figures in the set represent him and his wife.
The male figure is the most noteworthy thanks to his new torso print. Though both figures look suitably nautical thanks to their sailers' neckerchiefs and blue and white stripes. The male figure gets a pair of binoculars for looking out to sea while both crew members get a life vest to make sure they are nice and safe.
There are also two dolphins on a simple build using window panels to raise them up. It's surprising to get two dolphins in the set, LEGO tends to include the bare minimum of animals so getting a pair feels a little deluxe.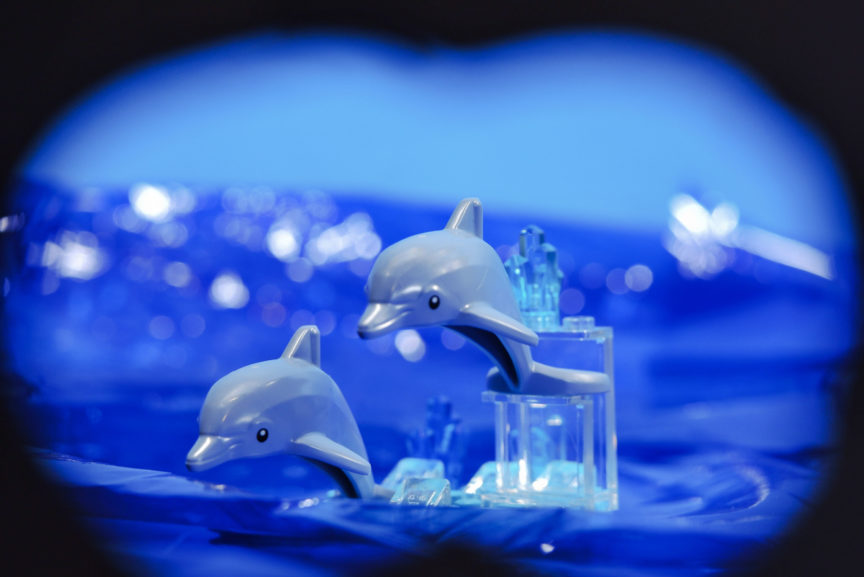 Rock the boat – About the build
What of the main build? Not much has changed from the original IDEAS submission from what I can see.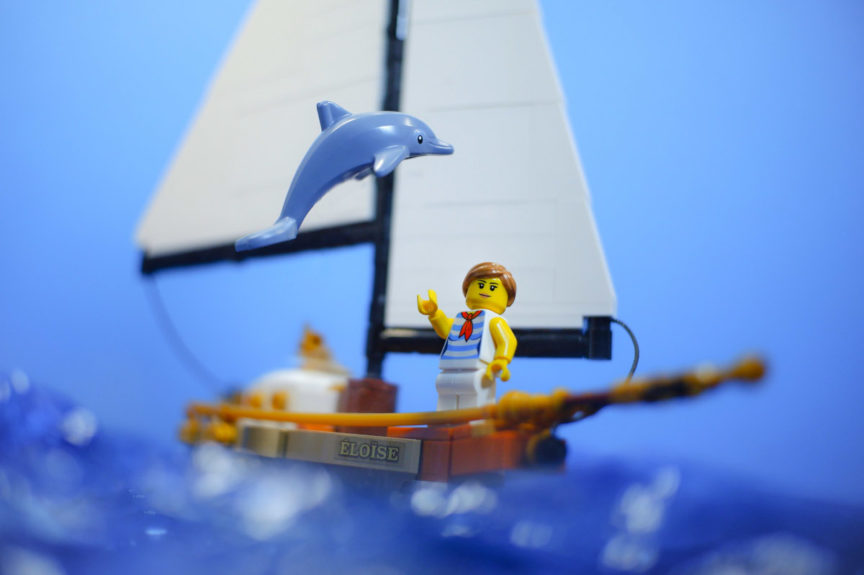 Some additional gold parts used as a railing and for other details around the edge of the boat replace some original part usage. Again, these features give this set a nice prestigious feel. The only stickers in the set are those used to place the name of the vessel on its hull.
Building the set was certainly interesting. The boat is built on a couple of plates with some clear parts to give an impression of water. It's a supporting part of the structure so cannot be easily removed. I hid it with a simulated ocean in most of my shots, but it does add something to the display value of the set.

I found the sail to be a little frustrating to build, but it looks good once built and it is sturdier than I thought it was going to be during the build process.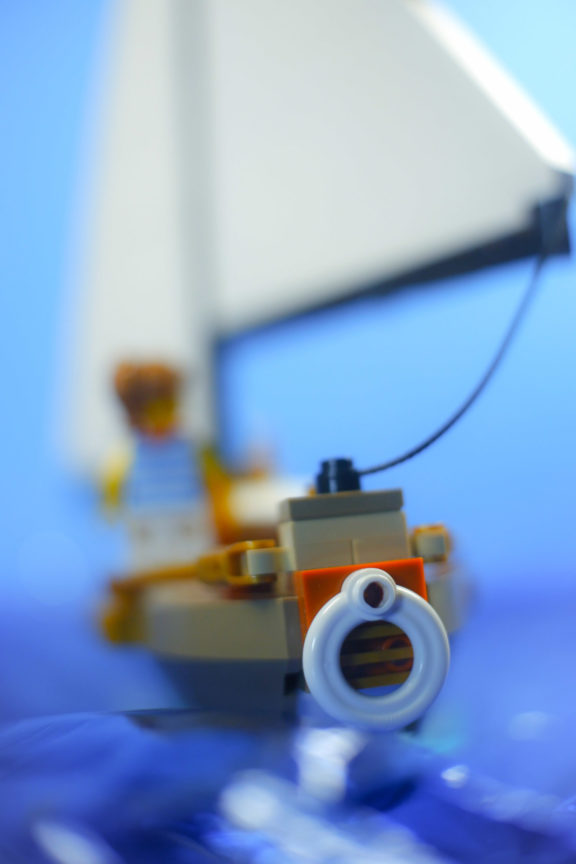 The deck has several printed wooden planks and a small cabin. The cabin itself looks very nice but it's not quite big enough to fit figures in, though you can pose one in the doorway.
There is a little space up front where minifigs can be positioned but the best position for them is at the rear with the tiller or on the two studs on the starboard side of the cabin.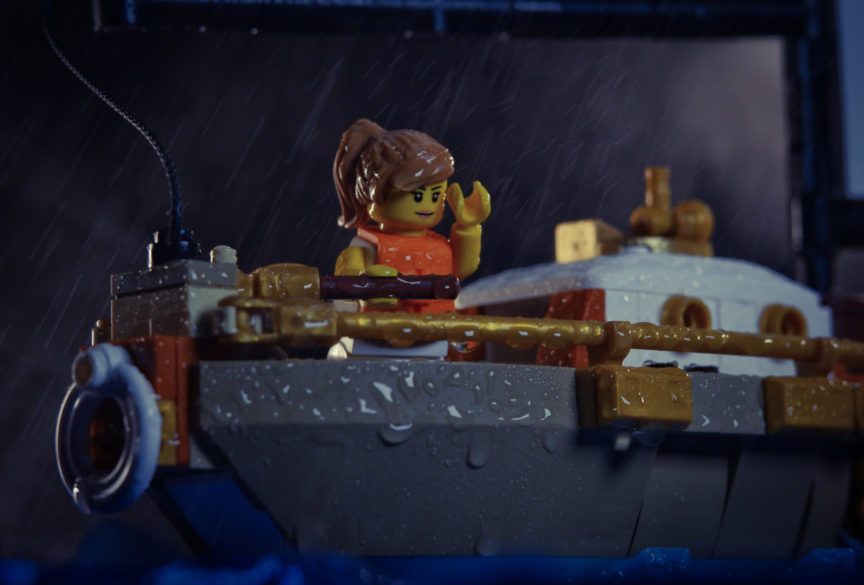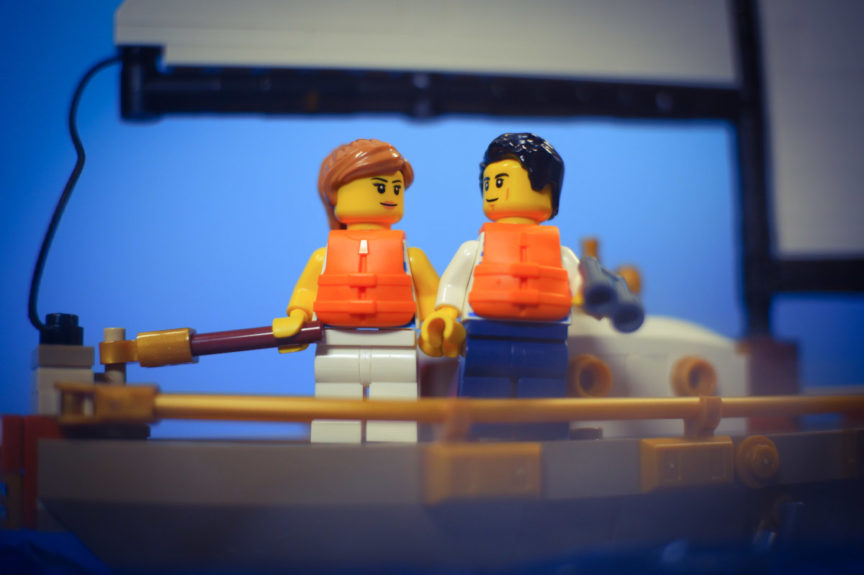 A shot across the bows – BTS
I've never really had to simulate water in much of my photography but with this set, there really is no choice. I decided to keep things relatively dry and use blue cellophane. I also just used a bit of blue card for the backdrop. That's probably the thing I'm least happy with in these photos.
For the night photos I simply switched to black. I also used some techniques for shooting rainfall that I picked up from @fourbrickstall
In some photos, I also used some cotton wool to simulate disturbed water, a facial mister, and water spray for additional water and atmosphere. I knew I also wanted to show @yc_solo using his binoculars so I made a crude cut out from cardboard to try and get that effect in-camera.
Sink or Swim – Final Thoughts
The Sailboat Adventure feels more premium than many GWP sets. This is down to everything from the exclusive torso, inclusion of two dolphins, gold lacquered parts to the fact it comes in a proper LEGO box, not the thin cardboard that GWP often comes in, and a proper IDEAS instruction book with a foreword by the designer. On top of that, there's only one pair of stickers, those used for the name of the boat.
It's a great-looking design that stays very faithful to the original submission and looks good on the shelf. The one criticism I can level at this build is that the ship does not easily remove from its stand and it's probably not quite sturdy enough to be played with heavily. But I think most people will be using this in a more ornamental fashion.
My main gripe however is the required spend. It's hard to criticize any "free" set for price but the main incentive to buy from LEGO is their gifts and loyalty points. This one requires a much bigger outlay than many previous GWP sets which will render it out of reach for some who may really want it.
It's most likely this will end up in the hands of Star Wars collectors since there is a big new UCS release at the same time which will qualify you for this. (There's a notable irony here for anyone that knows YC_Solo).
Ignoring the qualifying spend, this is a very good-looking display set with some nice parts. It's also a bit different from other recent LEGO sets which adds to its appeal. Anyone who gets this set will find it really is shipshape.
Score 8/10
In deep water – Bonus shots
With the review out of the way I told YC_solo I was going to have some fun with his included minifigure representation. So here are some bonus pictures for your enjoyment.