The Ninjago Legacy sub-theme offers LEGO fans a chance to get their hands on revamped  sets from previous Ninjago seasons – usually bigger and better. 
The 71737 X-1 Ninja Charger is no exception. LEGO and Brickcentral kindly provided me with one to take for a test drive. So strap in and get ready for some terrible racing puns and metaphors as I take the set for a spin.
Starting Grid
I'm not a huge fan of Ninjago or LEGO cars so you would think that this was not the set for me. That turned out not to be the case though.
Normally I look to Ninjago sets for cool figures (almost all minifigs that are not Ninjas – at least in later waves) but this set just has some fairly uninspired villains and a red and blue ninja. Nindroid, Mindroid, Kai and Jay respectively – ok I'm not a *BIG* Ninjago fan but I know the basics. The set has one more minifig and that's where I feel like the set kicks up a gear.
The "collectable" golden Legacy Cole figure is the best minifig in the set. It is primarily a pearl gold figure with black accents (Cole's usual colour of choice). He comes on a simple, but clever, little plinth that has a printed tile piece to celebrate Ninjagos' 10 year anniversary. This sort of thing appeals to my inner collector and makes me want them all – damn you LEGO!
The other figures are less impressive but certainly appropriate, well printed and useful.
Jay has some cool nunchucks and Kai is armed with katanas that also adorn his car in several places.
The Mindroid has an axe and the Nindroid is armed with some sort of sword powered jet pack which would surely see him disqualified in a road race.
Another thing I look for in Ninjago sets is potentially re-usable minifig parts for custom figures. The Ninjas have their slightly crazy Ninjago movie hair which I don't think I will find very useful in my character creations, but you never know. The ninja outfits, specifically the legs, may prove useful for some fantasy monks of some sort though.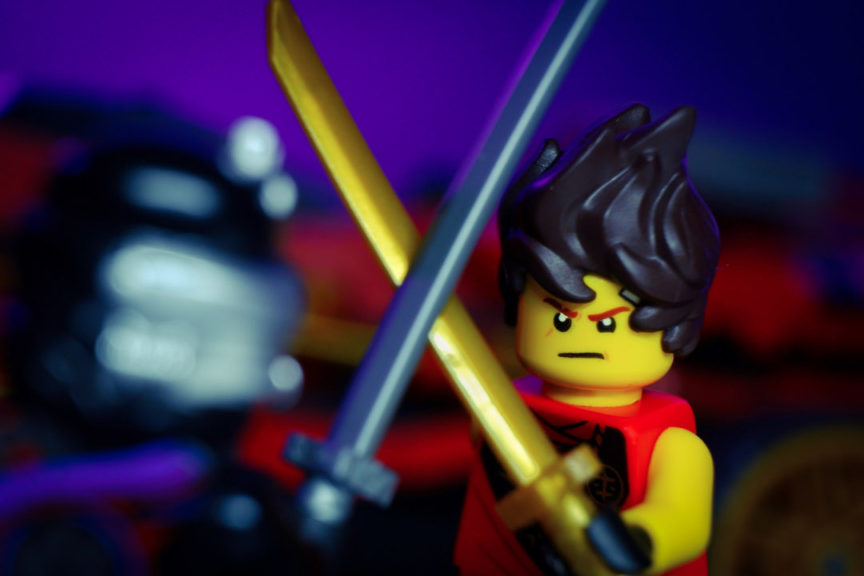 Start Your Engines
The real attraction here is the car and its playability. First you build a small bike that looks OK but has a funny looking rear end.
You then start on the car which is built around a clever Technic structure and mechanism that takes a little while to fully come together. When it does all come together, it's pretty much perfection. The bike plugs into the car seamlessly thanks to the aforementioned not so pretty bars at the rear.
A simple push on the trigger right behind the driver pops up the middle section of the car and sends the driver shooting out of the car on the bike, Bat-pod style. It doesn't come flying out erratically, it's a smooth and steady action that I found oddly satisfying
It also has two spring loaded missile shooters. Always fun and much better than stud shooters.
The car is chunky and despite lots of smaller details, it's sturdy and holds together well for smaller hands to play with like a toy car should.
It's certainly too big for a typical LEGO city road layout, but that's not what it's for. It's for pushing around a living room floor while making car noises, firing missiles at bad guys and confusing your dog by shooting the bike at it*
*Brickcentral does not endorse shooting any LEGO at your dog or any other pets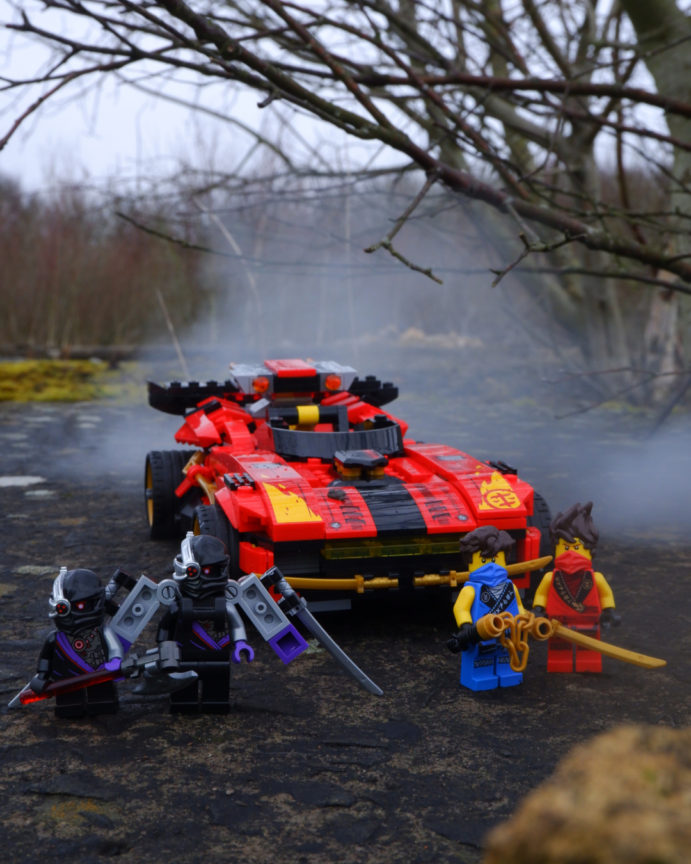 Engine Problems
A few minor things drag the set back, stopping it from reaching its top speed. I mentioned earlier that the launch mechanism is "almost" perfect. I found that sometimes it sticks a little and needs fiddling with to get it to work again
Aside from that the only other negatives relate to there being a few larger stickers, the bike not looking great standalone (due to the mechanism allowing it to plug into the car) and the uninspired figures.
I'm nit-picking here, though it's probably fair to say the set will have limited appeal for AFOLs who are not huge fans of Ninjago.
Off Road
I knew I wanted to get a few shots of this chunky car in a real world environment so here are a few from that off road session.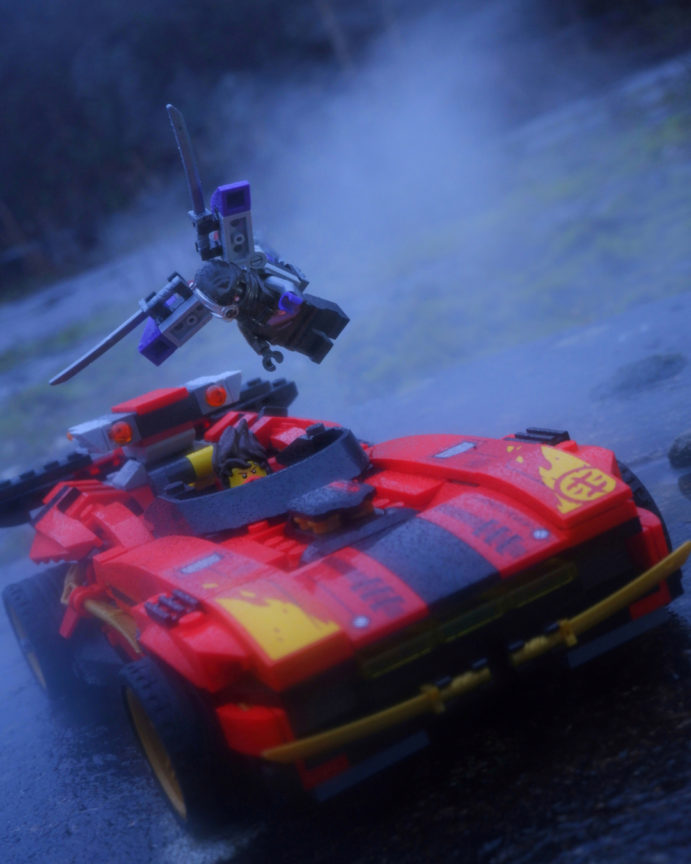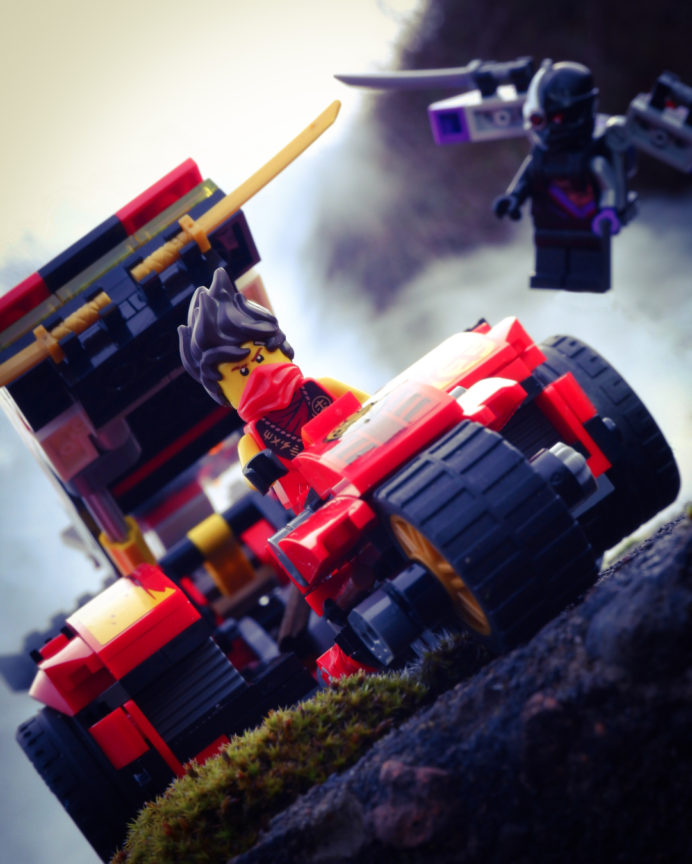 The Finishing Line
Overall this is a fantastic LEGO toy with appropriate figures and fun features that improves on its previous incarnation. I struggled to shoot this set but enjoyed building and playing with it. The gold minifigure is the standout element in the set for me and the bike launching mechanism is oh so fun!
Does it take the chequered flag? While Its not my favourite Ninjago set and therefore doesn't make the podium it definitely put down some good lap times from the back of the grid in an impressive, if surprising, performance.
Overall Score: 7/10
71737 Ninjago Legacy X-1 Ninja Charger has 599 pieces including 5 minifigs. The set retails for €49.99/$49.99/£44.99 and is available now. Thanks to LEGO and Brickcentral for providing this set.