Back in mid-April, we invited 4 LEGO photographers to work together to create a visual story around one LEGO set of their choosing.
We have always been impressed with the monthly theme and contest entries from @sarouxbastoux, @monsieur.kek, @laurent_delcroix, and @shankrasonic so we wanted to challenge them in a different way.
Here's how they did it, in their own words:
The collab
The idea was to have 4 French photographers collaborate to create a story and photos around a chosen set.
The choice was naturally made for the LEGO Ideas Winnie The Pooh 21326 set, which offers a multitude of photographic opportunities with its 5 figurines and because we were all lulled by this cartoon as children.
From the beginning, the idea was to create a story that would lead Winnie to his friends, allowing us to easily divide the roles between us.
The disappearance of Eeyore's tail was our initial idea because it is a great classic. But not being removable, we focused on making the knot of his tail disappear.
And this is the story that unfolds before us quite quickly as the discussion progresses.
Once the 10 scenes were drafted, we divided the roles. Between work affinity, management of the decor requirements to keep consistency between certain scenes which happened to be the same.
But also we gave everyone the choice of whether or not to photograph the ideas they had given. Indeed, a scene that is visualized in the mind is often more meaningful than an idea put down on paper.
Once the roles were distributed, all that was needed was to get down to work.
Composition
The story: Eeyore has lost the pink knot hanging from his tail and goes to ask Winnie for help. They take turns to see their friends who also decide to help them search, not knowing where the knot is hiding. It is finally Tigger, who while making coupons near Winnie's house, sees it hanging in the branches.
Being too high, the friends decide to fly Winnie to the stuck knot. Once up there, Winnie retrieves the knot but cannot resist the temptation to take honey in the process causing an attack of bees on the group. Eventually, Eeyore recovers his knot and the adventure ends around a fire and the sharing of a good pot of honey.
Story Opening (Saroux Bastoux)
I chose to take this photo because I had visualized it from the start in my mind. Winnie's stories often started with the opening of the book in Christopher's bedroom and I wanted to represent that book opening with the set starting to pop out of the pages as if to immerse us in the story. Also, being comfortable with indoor photos mixing the real world and the LEGO world, it was easier for me to work on them.
Winnie talks with Eeyore (Shankra)
I love close-ups, portraits, and tight framing. Seeing the set, I immediately saw the location of Winnie and Eeyore. His face looking sad, all he needed was to find the right angle. In addition, I added the little snail on the trunk to the scene, which gave us the idea to add it to each of the takes.
Winnie goes on a quest (Shankra)
I decided to do it because there too I could see the scene very well, the house in the background and our two companions on their way to find their friends.
For the place, nothing is better than a real forest, a little sun and voila.
Following my first shoot and the constructive feedback from the team, I went back the next day to put things right.
Rabbit in the garden (Mr K)
Fan of rabbits, carrots, vegetables and gardens in the heart of nature, this photo was tailor-made for me.
Rabbit immediately reminded me of his vegetable garden, the carrot farmer. Eeyore and Winnie find Rabbit in his vegetable garden. I have created several vegetables and barriers that close his vegetable garden.
The photo was taken outdoors, near a forest. I had to find an earthy spot for his vegetable garden but with a nice green bokeh to let Winnie's house be seen.
Piglet on the swing (Laurent Delcroix)
I love the movement! This is one of the main features in my photos. When we brought up in our discussions the idea of using a Piglet swing, I quickly imagined the scene. Saroux shared with me the different experiences she had on this subject.
Tigger discovers the knot (Shankra)
Having volunteered to do it, the idea was that I make the return with the same landscape, with all the figurines and Tigger jumping next to Winnie'shouse looking towards the branches to see the Eeyore knot. For the Tigger jump effect, I used Photoshop.
The flight of Winnie (Saroux Bastoux)
Once again, I was very keen to take this photo because in my imagination the scene was clear. I see that famous scene of Winnie stuck in the entrance to Rabbit's Burrow and his friends making a human chain to help him out. There, the idea was also to make a human chain to keep Winnie in the air without him flying away. But I couldn't get a good line-up and it was while chatting with my fellow adventurers that we came up with the idea of inserting the rope into the scene. Which brings more understanding, clarity, and a touch of humor with Piglet.
Winnie in the tree ( Laurent Delcroix)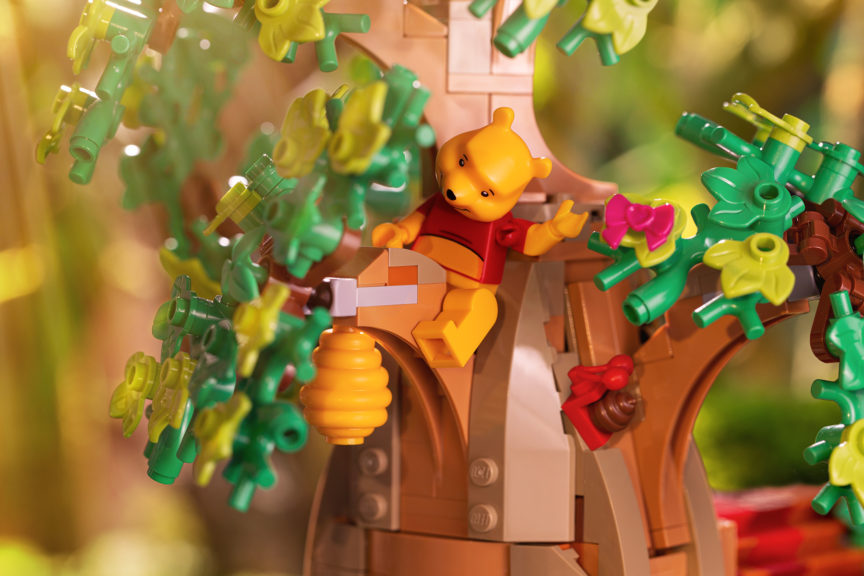 For this photo, the scene did not immediately occur to me. It was during the manipulation of the set that it was revealed! Winnie's positioning in the tree was obvious. You should also know that my work is characterized by the "dismemberment" of the figurines in order to give dynamism, even in a static position. I think I managed to recreate the hesitation of our little Winnie in front of this honey which leaves him dreaming.
Race with the bees ( Laurent Delcroix)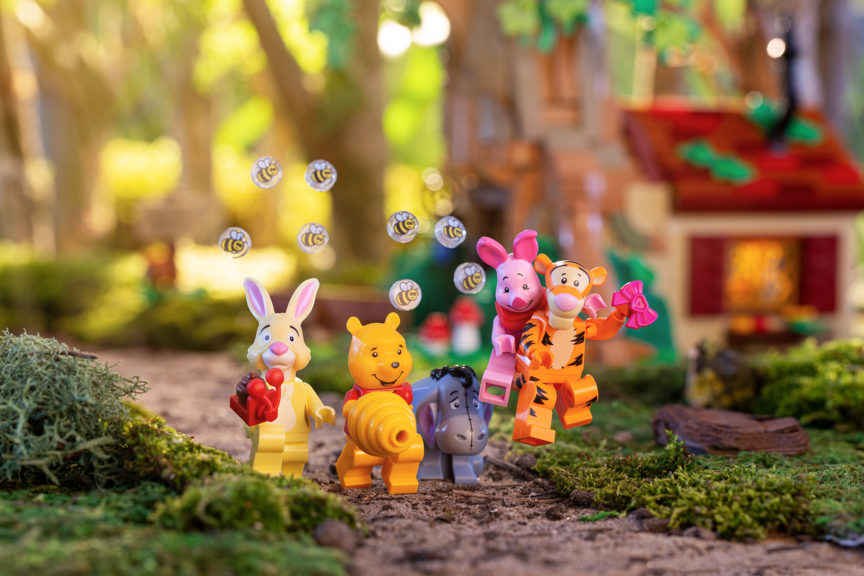 This is THE photo I wanted to take. It brings together everything I like: the use of several minifigs, the creation of movements, the dismemberment of minifigs, the challenge of making all the actors (even the bees) fit into a shot, and finally the challenge of creating a great decor. So I immediately volunteered for this photo.
My little tip is to always take 2 photos: one with the "actors" and one without to be able to superimpose the 2 photos in post-production. Thus, it is easier to remove the metal wires that held the minifigs.
The End (Mr K)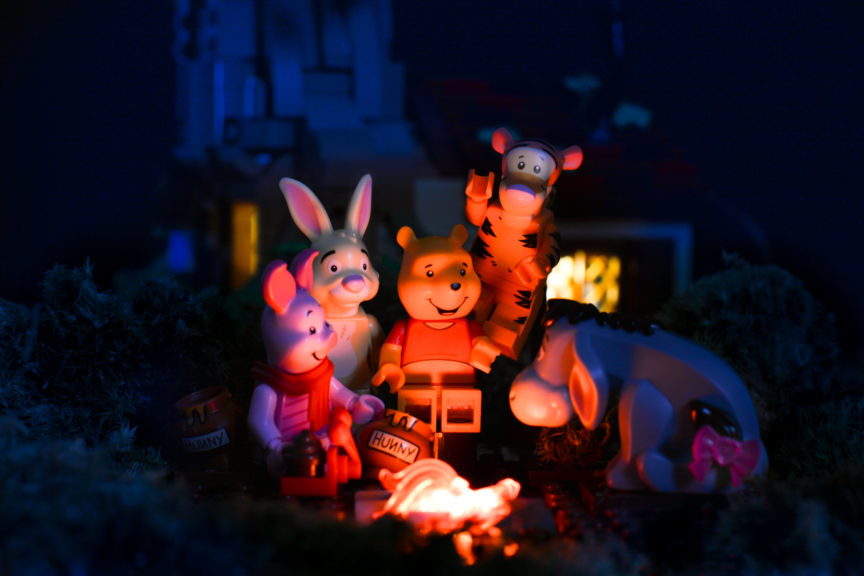 The photo takes place at the end of the day, after this long and perilous quest the friends gather around a campfire near Winnie's house.
The photo was taken indoors. It mixes LEGO and natural decor.
I created a campfire crossed by a light source to illuminate the group of friends, all immersed in a dark setting for a chiaroscuro effect. It was a real challenge for me to take this photo and I am fully satisfied with it.
Retour sur l'expérience
Saroux Bastoux : Very pleasant experience where I met 3 wonderful people. We knew each other via the networks but we had never really had the chance to discuss and this is more than beneficial because even today we continue to discuss our work. The relationship has been surprisingly smooth and there has never been a snag or disagreement. Of course you had to channel guys a bit sometimes, and I think it was important that a girl was there for that (lol). Finally, I think the team was perfect for this project since the collaboration went wonderfully. If I had to do it again, I wouldn't change teams.
This collab has been more than beneficial for me and it has been an extraordinary experience. It was quite difficult to coordinate to make the whole thing cohesive with respect to the settings and the atmosphere. It was a big challenge but I love a challenge and I think we took it on with flying colors.
If I had to sum it all up? An ambitious and stimulating challenge, a meeting with 3 talented photographers, and the joy of having fallen back into childhood for 15 days. Thanks Brickcentral for that!
Shankra Sonic : It all started when I got a message on Instagram from Four Bricks Tall. The message, although in English, was crystal clear: Are you ready to be part of a French Team and tell a story in photos around a set? I said ok! And so I was able to find my three teammates, Saroux, whom I have been following for quite a while on the networks and whose work I adore, and Mr Kek & Laurent, whom I hardly knew but who send dreams into images! I knew I was very well surrounded and that was confirmed as the story progressed.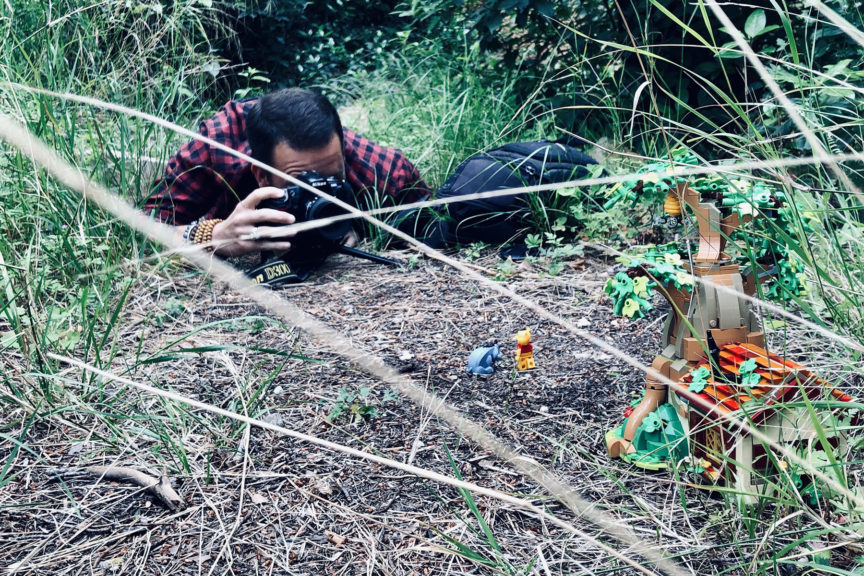 I was amazed by the clarity of the organization of ideas, the spontaneity of the choices that everyone made to present how they were going to stage such and such a shot. And I must say that 8 eyes are better than 2 to correct or correct the photos taken, always with kindness.
As Saroux said, it was an ambitious and stimulating challenge, and having this wonderful meeting with the three of you will remain a pure experience for me! Thank you for your trust buddies and thank you Brickcentral for creating this!
Mr Kek : We only knew each other through our photos on Instagram and a few private message exchanges.
This group collaboration was an opportunity for us to discuss our different skills, our ideas, how we saw a scene. The communication was very fluid, as if we had known each other for a long time.
We compared our different styles, and that gave us an extra experience.
This collaboration was an incredible and unforgettable experience. I met three lovely and talented people.
If the experience were to happen again, it would be with my eyes closed that I would say YES!
Thank you to you Brickcentral for allowing us to achieve this incredible challenge.
Laurent : "When do we start again??!!"
A great experience with great people! A collaboration that worked very well. Great encounters, even if in the end, we never saw each other 🙁 And as a summary of this great adventure, some great photos that tell a great story like the Winnie the Pooh books.
"It's crazy, I really felt like I was doing a project with some friends!"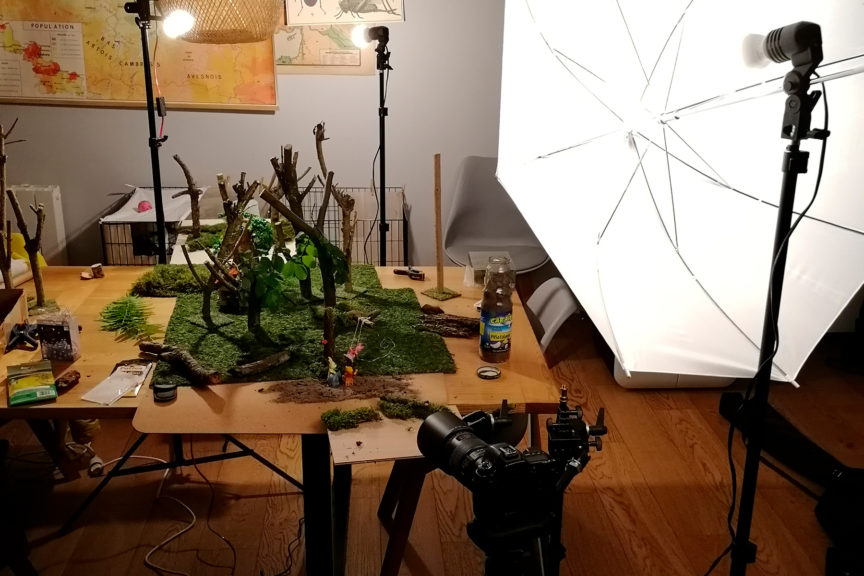 It was also a big challenge because this set must be photographed outdoors and unfortunately in the Hauts de France, when taking the photos, the rain settled in for two weeks. Which left me no choice to recreate the exterior, the interior. I spent a week creating the swing and the trees; find moss mats; recreate the path with a mixture of sand and earth; collect leaves and fresh moss to reproduce a decor as realistic as possible. I am happy to have achieved this result and now have an outdoor setting for my next photos.
Many thanks to Brickcentral for making this collaboration possible. It will be an unforgettable moment for me.