Feeling the sting from not being able to buy the Chinese New Year's Eve Dinner 80101 and Dragon Dance 80102 sets last year, I started searching for minifig customizers that specialized in creating Asian-themed characters and stumbled upon Brick Generals in Singapore.
Brick Generals has a whole range of minifigs from Lunar New Year revelers holding tiles with Chinese couplets printed on them to Singaporean icons like the doorman from the famous Raffles Hotel, all UV printed on authentic LEGO minifig parts.
For this post, I'm reviewing the Laughing Buddha, the God of Wealth, and the High Flying Stewardess minifigures which were provided to me by Brick Generals.
Laughing Buddha
You can't help but smile at the Laughing Buddha, sitting down on the ground in his orange Buddhist monk robe with his big belly exposed and his face an expression of pure joy!
This minifig wonderfully captures the religious and cultural icon in LEGO form with details such as the red dot on his forehead and the custom prayer beads accessory in his hand.
Since you can never have too many accessories, Brick Generals even added in a cheeky message on a custom printed tile just to amuse their AFOL customers. (I've omitted it here to keep it clean.)
To get the Laughing Buddha into a sitting position, the hip piece was swapped out for two black 1×2 plates and attached to a green 4×4 plate. The disjointed legs are connected directly to the green plate, in front of the stacked black 1×2 plates. So if you wanted to get the Laughing Buddha upright or mobile, you'd need to provide the hips and assemble the legs.
I think Brick Generals really nailed the design on this, closely following the LEGO aesthetic as well so that it could easily blend into a collection of minifigs.
However, because of the UV printing process, the large area of yellow and white borders on the torso is speckled and textured. For display purposes, you may not notice it or be bothered by it too much, but for LEGO photography, it can really be distracting especially if you're tightly framing the minifig like in this photo below:
The UV printed texture is also apparent on the face but it's not as obvious until it's viewed very closely. Shown side-by-side with a LEGO design, which uses pad printing on its elements, you can clearly see how the two printing processes result in different looks.

Pad printing has its own issues (ink spatter, misaligned printing, fewer colors and details, for example) but it's what LEGO uses and therefore the standard.
God of Wealth
The God of Wealth is mostly depicted as a long bearded man in a traditional red Chinese costume and Chinese hat which has 2 "ears" on the side. He's also typically seen holding a golden ingot or a golden bowl where he spreads the wealth. He is closely associated with Chinese New Year where people wish for wealth and abundance in the coming year.
Since there weren't any third-party accessories available for the hat, Brick Generals cleverly built it out of 3 regular LEGO bricks. The bowl is third-party though and from the same LEGO-compatible brand as the Laughing Buddha's prayer beads.
Again, Brick Generals isn't stingy with accessories and included a custom printed Chinese couplet tile common during Chinese New Year. It translates to roughly 'Good Fortune' and it's often depicted being held upside down. The description of this act is a play on words in Chinese, and when translated, means 'good fortune has arrived', they explained.
The design of the God of Wealth is much more intricate than the Laughing Buddha, which perhaps helps mitigate the speckling. The print on this minifig looks pretty sharp and clean.
The only issue I have with this minifig is that dress slope piece which has such weak clutch. LEGO recently released new dress slope elements in sand blue and black that have better clutch. They've been turning up in red in the Build a Minifigure towers at LEGO stores recently so maybe we'll see that being used in the next version of the God of Wealth.
High Flying Stewardess
The High Flying Stewardess is a nod to the flight attendants of Singapore Airlines, my favorite airline in Asia! The "Singapore Girl" as she is known, wears a distinctive uniform based on the elaborately designed "sarong kebaya" traditional dress.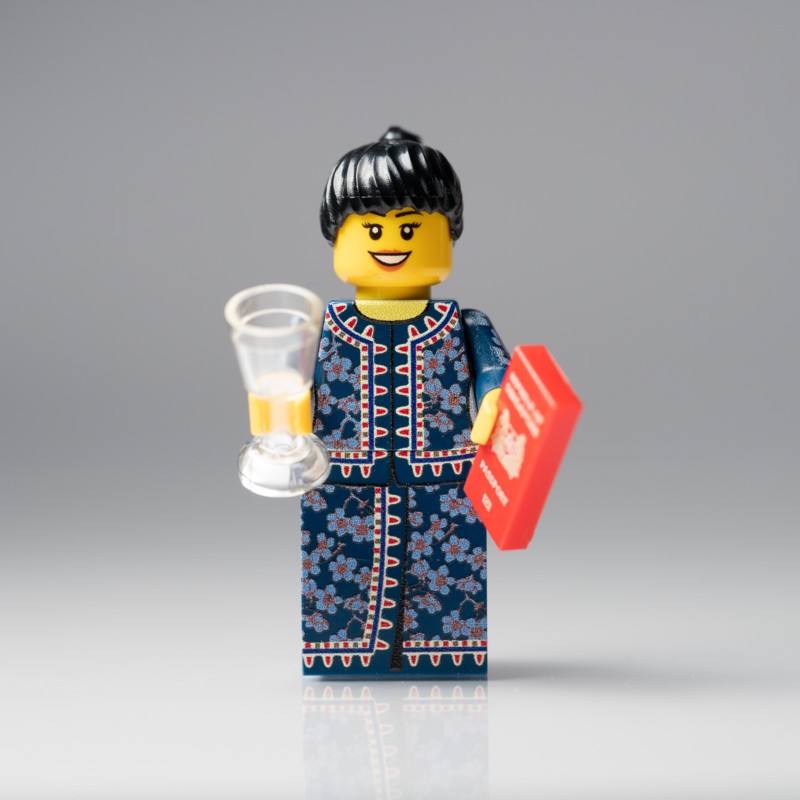 The ornate floral design is printed on the front of the torso, dress slope as well as both the arms of the minifig. The High Flying Stewardess comes with a wine glass and a custom printed Singaporean passport to complete the look. She can also be personalized with your name, an option that Brick Generals has on many of their other custom designs as well.
The color difference between the yellow on the chest and the head is quite noticeable.
When printing lighter colors on darker elements, a white base is applied first then the desired color, which results in a lighter yellow, Brick Generals explained. This process takes longer and yields much better results than LEGO's pad printing process which doesn't apply a white base, but the color shift is still an issue for me.
But the bigger issue is the printing of the design itself.
Of the three Brick Generals minifigs, I think the print of this one is the most distracting. There's a lot of color variation in the flowers and the edges don't look clean.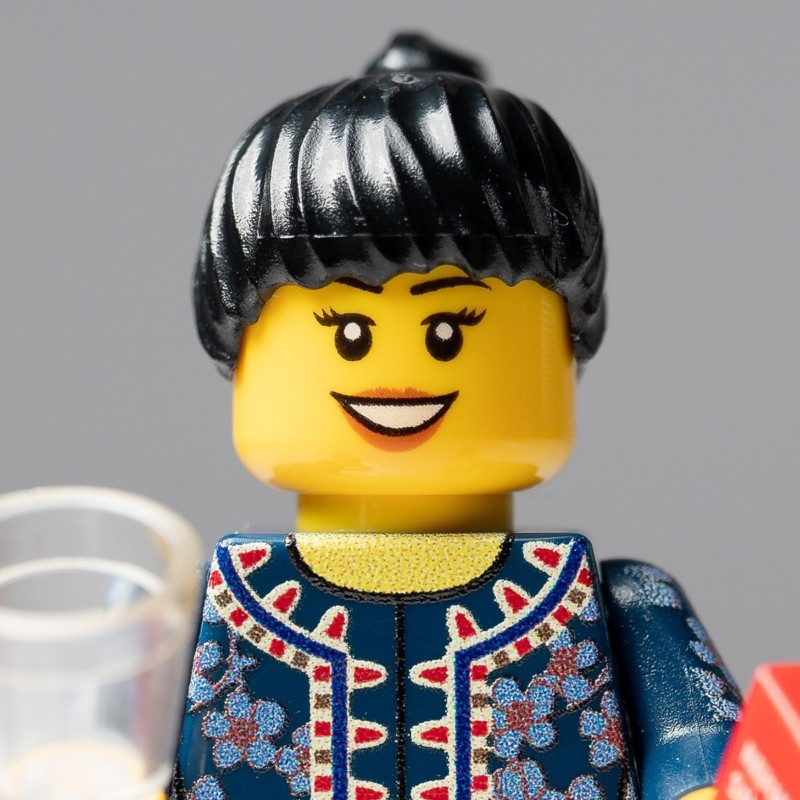 The God of Wealth appears to have the ideal level of detail for UV printing on a minifig whereas the High Flying Stewardess seems to have exceeded the capabilities of the UV printer.
Wrap Up
Brick Generals makes some excellent Asian-themed minifigs that LEGO currently doesn't make widely available, if at all. I think these characters need more representation in the LEGOsphere.
To the naked eye, the UV printed minifigs blend in quite well with pad printed minifigs so they're ideal to give as gifts or add to a display.
They don't hold up quite as well in front of a sharp camera lens though. LEGO photographers wanting to shoot UV printed minifigs will probably want to compose with them smaller in the frame so that the speckling and texture of the cured UV ink are less obvious.
Another way to dimish the speckling is to control the display of your photos: post smaller images or post on mobile-first apps like Instagram. (If you're reading this review on a phone, the photos probably all look pretty great. But if you switch to a tablet, laptop or desktop, you'll see the speckling and texture issues.)
Instagram in particular is very forgiving not only because of the small viewing screen it's designed for but because of their aggressive image compression. You should get good looking photos of UV printed minifigs provided you're not tightly framing them.
Both the Laughing Buddha and God of Wealth minifigs both stood up pretty well in my photoshoots and on my large monitor, but the High Flying Stewardess just didn't meet my standards or suit my shooting style. She does looks pretty good on my desk though.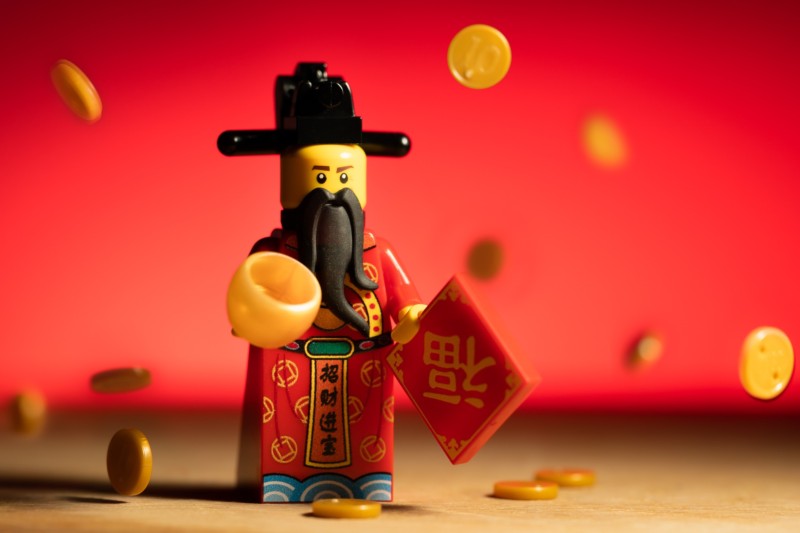 Prices range between $14-29 per custom minifigure, with the High Flying Stewardess being one of the more expensive ones and the Lunar New Year-themed minifigs on the lower end.
Brick Generals is currently running a promo where you can get 5% off with the code WELCOME5 for orders placed before August 15, 2019.