Yellow is the color of happiness, and the color of realism, or at least that's how Amber likes to think about the light she uses in her LEGO photography. Warm light — amber light — plays a big role in her work: "I've always loved the feeling of realness that warm light can add to the ambiance of a LEGO scene."
It's this "feeling of realness" that informs her decisions about lighting and minifigs. Sunlight is simulated by applying warm color gels to carefully positioned lights. Minifigs are posed as if they are in the middle of doing something so that they appear more realistic and life-like.
And it's her lighting that informs her MOC design. "I usually like to build a setup with some type of opening that allows me to throw some directional light into a scene. I really like the shadows the light creates when it comes through the windows into a room."
Take this image of a minifig appreciating some abstract art hanging on a wall. Amber designed this LEGO vignette so that she'd be able to cast light and shadows through the windows and onto that wall.
There are many things to enjoy about this photo — the depth and dimension the light and shadows create, the interaction of the minifig with the art, the smoothness of the build, the little details like the ledge under the window — but I particularly like how the warm and familiar light plays against the cold and unfamiliar wall of eyes. It's like a visual tug of war of comfort vs discomfort.
For this #inthestyleof post, Amber shows us how she set up and shot a similar scene with a fast food theme.
The setup
This scene was inspired by the minifigure itself, so Amber planned a MOC with a burger joint vibe by first pulling colors from the cashier and then creating a floor plan with a fast food aesthetic.
The counter is red, white and black like the colors of the cashier's uniform and the floor tile is checkered like his apron.
It took about four hours to build this vignette, one of her first, which stays in her collection along with her modern kitchen and modern living room MOCs. Most of the time, Amber says she breaks down her sets after a shoot and puts the parts into storage for future builds.
Lighting
"Since I prefer to use a hint of warm lighting, I wanted to position the minifig somewhat close to the drive-through window," she says.
"For this scene and most of my photos, I light them with two Canon 430EX III RT Speedlites. I use one with a warm amber filter over the front of the flash to provide the 'sunlight'. I also use a constant fluorescent softbox to light my backdrops."
It took about 10 minutes to set up the lighting equipment in Amber's spacious home studio, says this self-taught photographer.
Shoot and edit
Amber shot this scene handheld with a Canon EF-S 60mm f/2.8 Macro USM at f/ 5.6 with a shutter speed of 1/60 at ISO 400. The entire shoot took about an hour with trying different angles and adjusting lighting.
It only took Amber 10 minutes to process the photo in Photoshop Elements, with just some basic edits like pulling detail from shadows and toning down highlights.
The Amber Challenge
For this challenge, we'll be playing with light once again but rather than trying to capture light beams in camera, we'll be focusing on using warm, directional light and casting shadows.
Since Amber's photos are set in LEGO environments, yours should too but don't worry, you won't have to build your own. This is a photography challenge, not a building challenge, after all!
You can use any LEGO set or use your own MOC for bonus points, but it'll need windows or some kind of opening for the light to come through and an open side for you to be able to shoot. CREATOR sets like the Corner Deli might work since they open up like a doll house but since the rooms are pretty narrow, you will probably have to extend the floors at the very least to make them usable.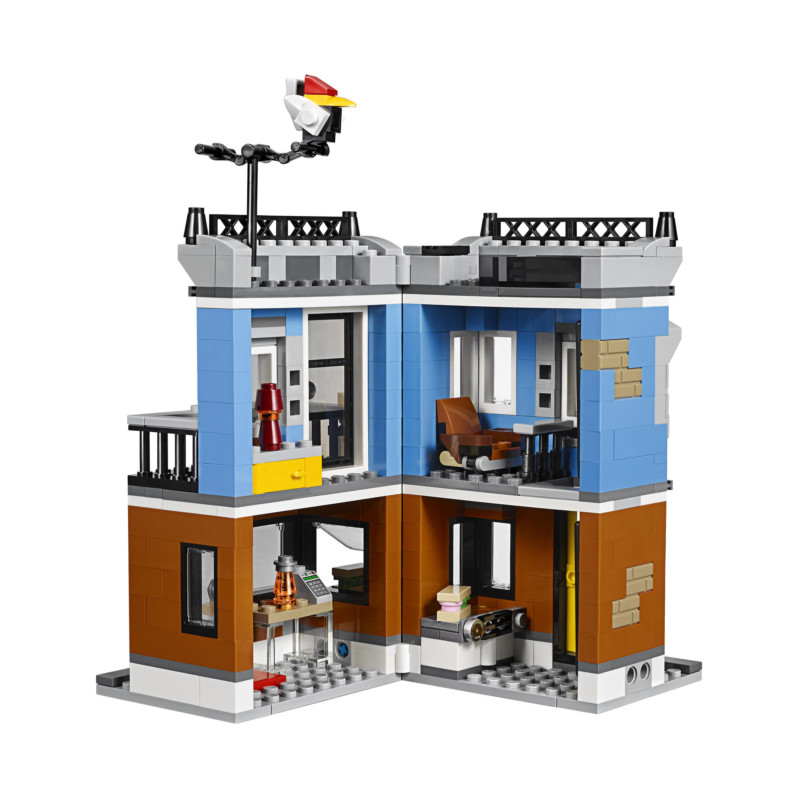 Post your photos on Instagram or Twitter and use the hashtag #inthestyleof_nocturnelle9 so Amber and I can see your work and comment. We'll be looking for the best photos that use warm, directional light and have shadows to feature on Four Bricks Tall when this challenge ends on July 30.
So bring it.
More from Amber:
Amber: Instagram