In This post I will be reviewing 6 Lego Marvel sets due to hit shelves early 2021.
I'm a big fan of mech's. I really liked shooting the Iron Man mech Lego released in 2020 because of the pose-ability. So when I heard that there were more coming, and that they were Avengers, I was very excited!
First up is the Captain America Mech Armor (76168). It's a quick, fun build and you end up with what I like to call a Lego action figure.
The articulation is great so from a playability point of view it's awesome which means it's also great for toy photography. I love that it has weapon storage for the mini-figure's shield on the back of the mech's leg. The large (emphasis on large) mech shield can be attached to either hand or on its back just like the real Captain America (he's real right?).
The Thor Mech Armor (76169) was next up to build and like the Cap version it has great articulation and is super posable. I like that Lego added a cape like element in the form of the two red wing flaps to the mech which is still in keeping with the mechanical style.
The huge hammer is great to pose around and can attach to both hands. The mech also has weapon storage for the minifigure's hammer on its leg which is a nice touch.
The Thor minifigure is the same as the Thor from the Helicarrier set except this one does not come with a cape or hair piece but instead comes with the helmet from the 2017 Thor Ragnarok sets and a hammer. I never got any of those Ragnarok sets so I'm super happy to have the helmet.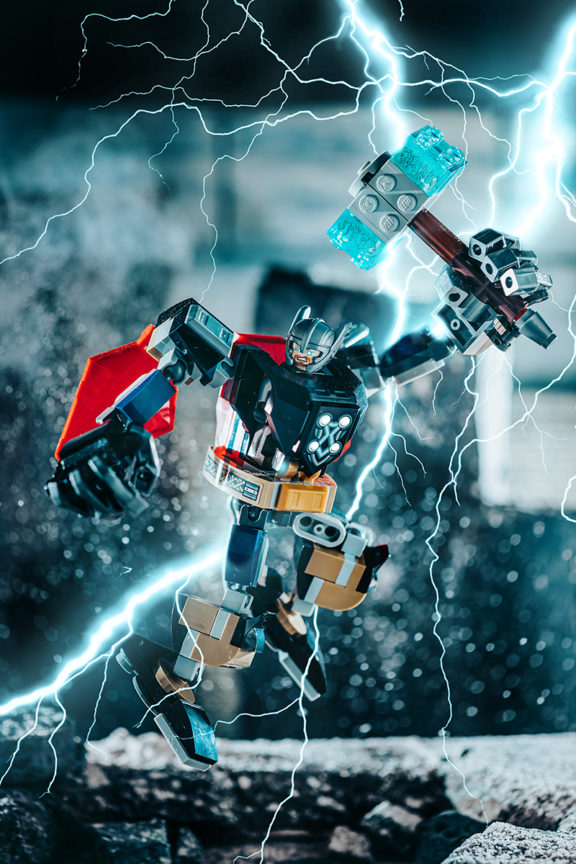 The Miles Morales Mech Armor (76171) is another great edition. Not much else I can say which hasn't already been covered but the Mech comes with a lot of web weapons and accessories in a nice translucent blue plastic. The web weapons can also be transferred to the Miles mini-figure and used as his weapons when he's not inside the mech.
The mini figure comes with the new hood piece which is fantastic for posing as it doesn't restrict movement like the previous hoods. The mini figure is the best part of the set for me.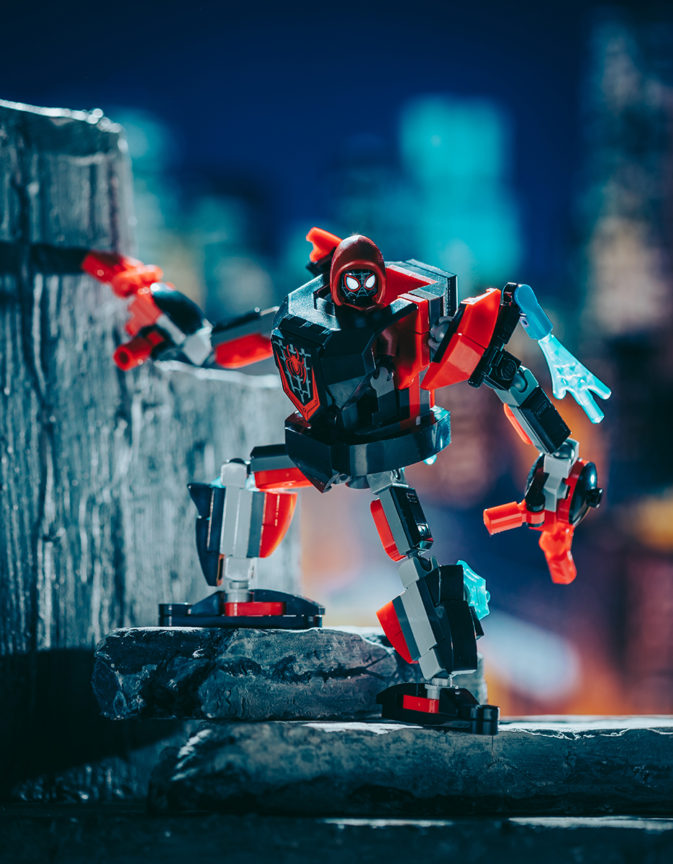 The Spider-Man and Ghost Rider vs Carnage (76173) set comes with the 3 mini figures and Ghost Rider's sweet black muscle car.
Spider-man comes with web shooters and nice detail printed on the arms. The Carnage mini figure comes with a new printed torso with lots of details and some scary looking tendril pieces which attach to his back. The Ghost Rider mini figure also has a new face and body print.
The car is a solid build and can be displayed as is or it can be quickly converted into a version with flame effects. I was inspired by the flame effects so I tried shooting a few slow shutter shots to create my own flames with some sparklers. Needless to say I has lots of fun shooting this set!
Spider-Man's Monster Truck vs. Mysterio set (76174) comes packed with mini figures and accessories. For the good guys, you get Spider-Man and Spider-Gwen with an assortment of web weapons in an awesome new translucent plastic.
Spider-Gwen comes with a skate board and the new hood piece which does not restrict head movement. For the bad guys you get Mysterio which comes with two translucent green blast effects which perfectly match his new translucent green smoke effect piece. This effect piece really stands out to me and I think the photography community is going to do some really creative things with it.
The next bad guy you get is Doc Ock with an awesome new set of mechanical arms which are superb for playability and posing. He also comes with some stolen gold bars, diamonds, printed money pieces and a sack piece. They're backed up with two drones that are armed to the teeth.
Spider-Man's monster truck is a fun build. Its most noticeable feature is the rubbery suspension and pop-up net canon. The only downside to this piece, is that there are many stickers in the set so you have to pay close attention to the instructions as it is very easy to place the stickers onto the incorrect bricks, or upside down like I did.
Last but not least, we have the Spider-Man and Sandman showdown set (76172). This is the smallest and cheapest set but packs a lot of punch.
In it you get the sandman with a cool sand-launching catapult, along with the new spider-man mini figure, his spider-bike and a web piece. The set is aimed at younger builders (4+) so it is a very simple build. This set is a fantastic starter set for the young ones. I personally like this set because I can finally add the sandman to my mini figure collection.
So in conclusion I think these are some fun sets with exciting new mini-figures and accessories.
Top of my list is the Monster truck set. I would probably just buy it for the min-figures, translucent webs and accessories alone. For $40 you really do get a lot! The truck is cool but I don't remember ever seeing Spidey driving a monster truck so it holds no real interest to me. But yeah, loving that Doc Ock and Mysterio!
Second spot goes to the 3 mechs. These are like Lego action figures to me and I enjoy shooting and posing them. They're well priced (just under $20), quick to build and fun to collect. More please!
Third spot goes to the Spider-Man and Sandman showdown set. Great mini-figs and super well priced at just under $20. I loved shooting the sandman in a sandstorm and I'm keen to create some more epic battles with him. Now I have to find and collect the other sinister six members!
The final spot goes to the Spider-man and Ghost Rider vs Carnage set. I'm not that into cars and other than that the Carnage mini-figure is the main attraction. I really enjoyed shooting the flame effect shots and had a lot of fun posing the Carnage fig.
Which sets are you most excited about and which sets are passes for you? Let us know in the comments below. Laters!