Summer is still here and I've got a second Santa-themed set in my hands to review! Christmas season sure starts earlier and earlier it seems!
What we have here, folks, is an ornate red sleigh with four reindeer. FOUR reindeer! I'm suspecting many of you already have added this to your wishlists before you even finished this sentence.
Santa Minifigure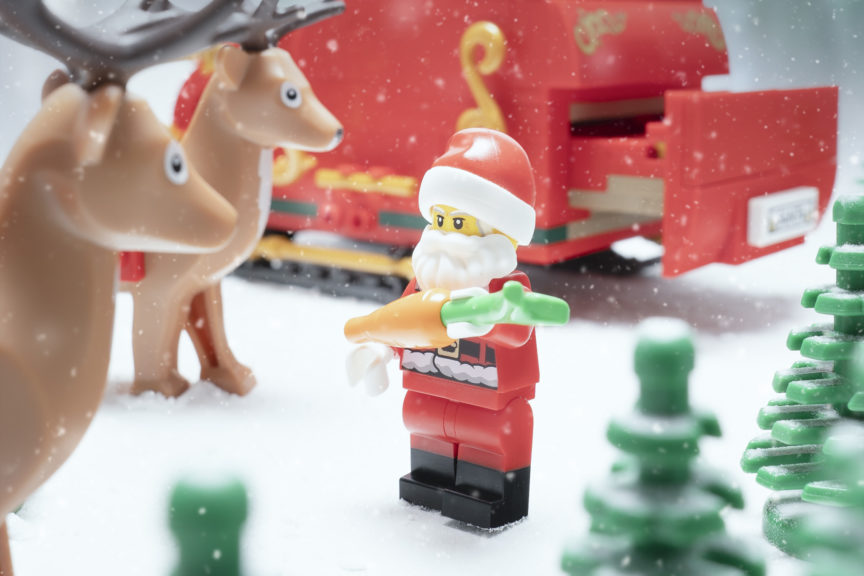 There's nothing really special about the Santa included in this set, unlike the Santa from the Santa's Visit set which has a new torso design and face print.
This Santa has a face print that was seen in only 2 sets from way back in 2013 according to Bricklink: an employee exclusive and King's Castle 70404.
This Santa also has dual-molded legs in red and black so that's a small improvement.
Accessories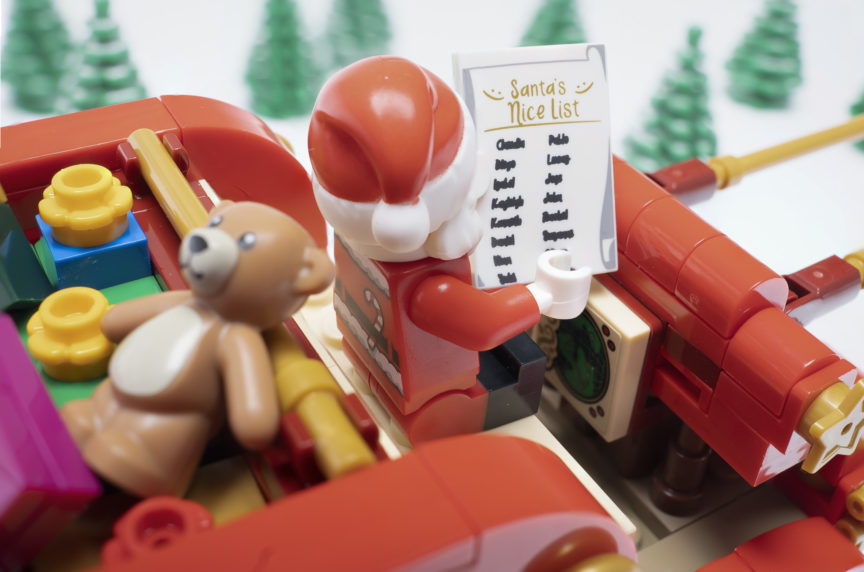 Santa does have a new printed tile, Santa's Nice List. It's a bit blurry but I don't see my name on it. This is a mistake, of course.
In the rather large sleigh full of brick-built gifts, there's a white guitar that we've seen before in the NINJAGO Tournament of Elements 71735 set. There's also a teddy bear and a set of skies with ski poles.
Sleigh and Reindeer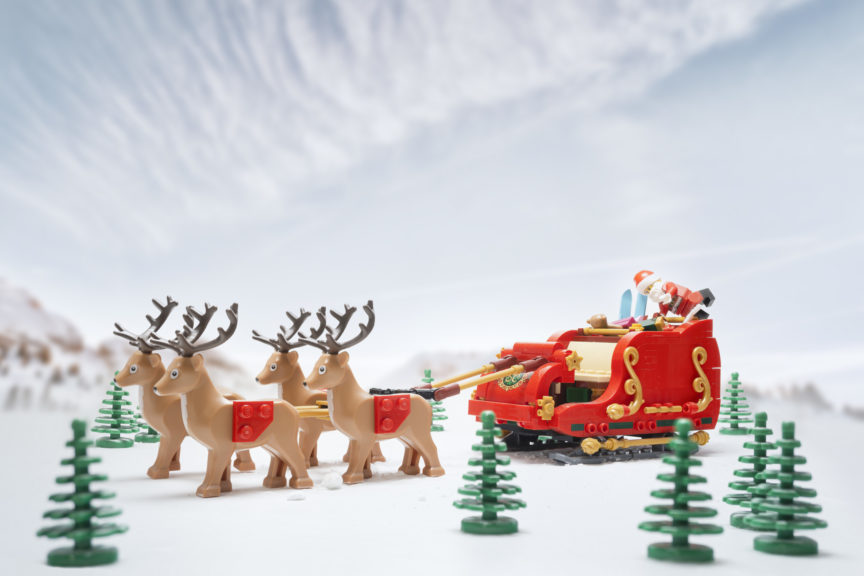 Again, this set has four reindeer which is an awesome amount of reindeer. My friend and fellow Brickcentral team member Foolish Bricks wished there was one reindeer with a red nose but I'm cool with all the reindeer having black noses. I was never fond of the Rudolph song anyway.
The reindeer come with alternative bricks in medium nougat if you wanted to free them of the red harness.
As you might be able to guess just by looking at the set, the bridle is the weakest connection. You have to carefully pick up the set and hold it with two hands. Getting the flying shot at the top of this post was quite a challenge because of this weakness.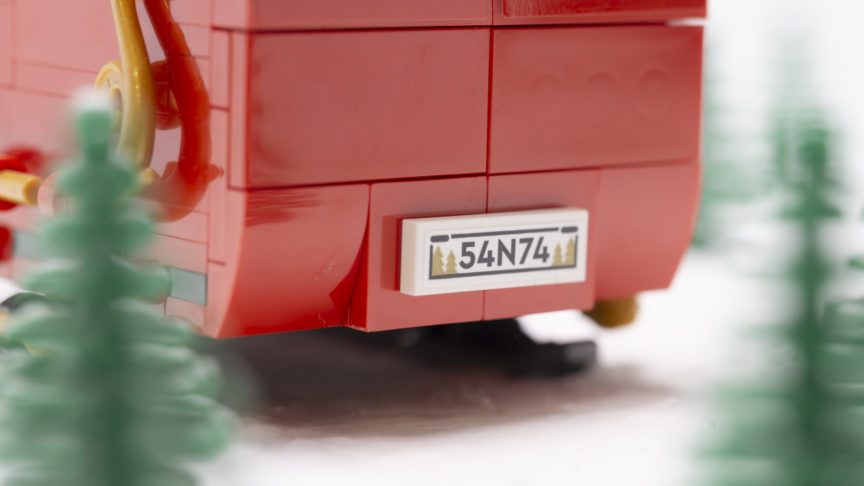 The sleigh is rather large but this is fine for me: I like the heft. I also really like all the green and gold details to break up all the red.
There are a few stickers in this set: one on the front of the sleigh and three on the back. There are also stickers on each of the red tiles that make up the harness on the reindeer as well as a map on a console inside the sleigh.
Verdict
I think this is a great seasonal set whether or not you believe(d) in Santa because… four reindeer! But really, the whole build is great. The one weakness is the bridle which means more careful handling. I think it will be frustrating for kids to play with because of that part though.
I give this set a 10/10.
Behind the Scenes
Let me give you a brief overview of how I shot and edited the scene at the top of this post, Santa landing the sleigh in a snowy clearing.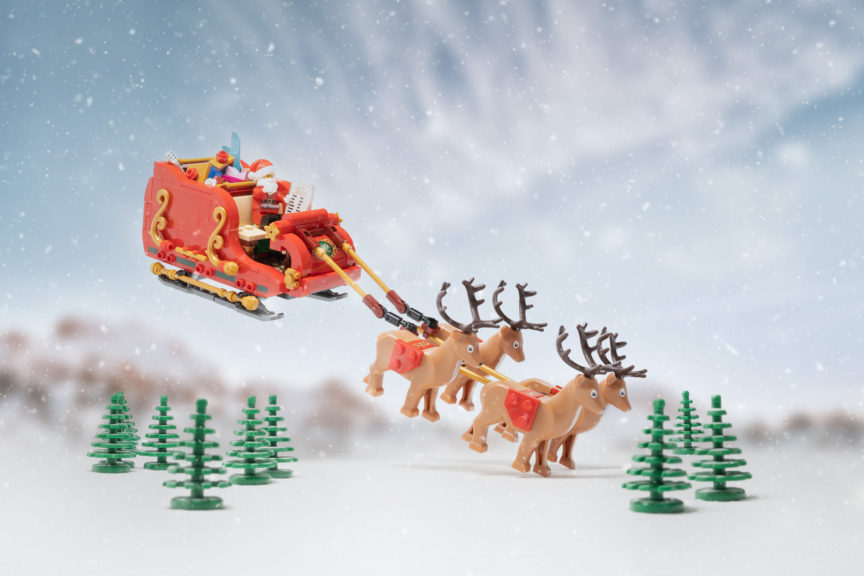 For snowy scenes, I like to shoot against a plain white background and use flat lighting. (Flat lighting basically means that the lighting is soft and even, like on a cloudy day.)
Even though my walls are white, I still use a vinyl sweep for a backdrop for a couple of reasons: there's less light fall-off from the overhead LED since it's closer so the background stays bright, and the baking soda "snow" that I sprinkle over the floor is easier to clean up.
To suspend the sleigh in the air, I used fishing line which is a popular tool with product photographers. It's transparent so it's very easy to edit out in Photoshop or similar software.
I just looped the fishing line under the sleigh and then attached it to the light support that I have secured to the wall.
The image looks like this: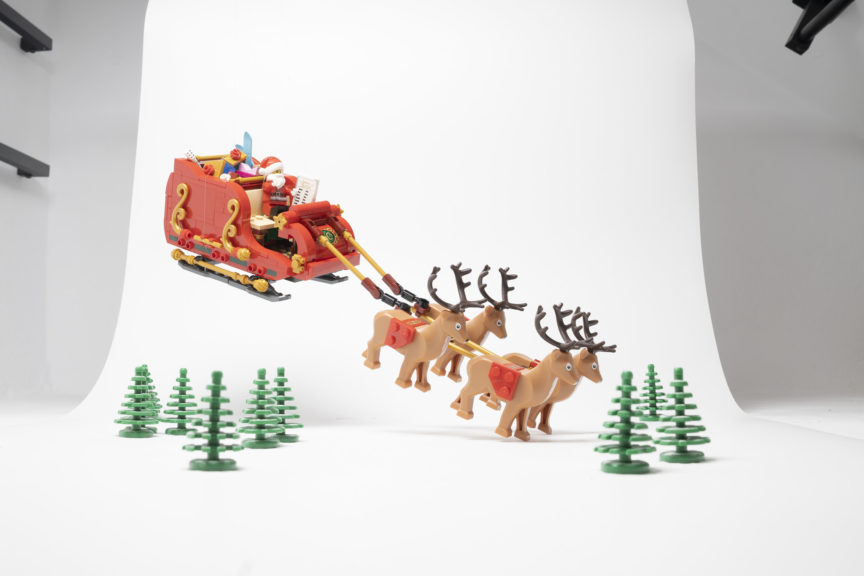 Next, I bring the photo into Photoshop to replace the background with a sky. Photoshop has a new feature called Sky Replacement that makes this relatively painless.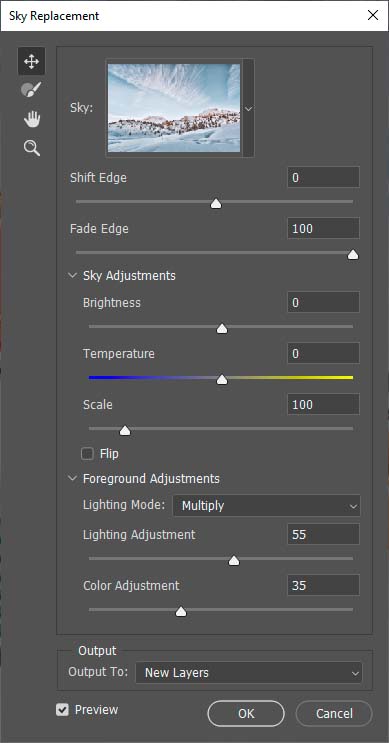 After I replace the sky, making sure that the mask that Photoshop automatically created for me is good enough, I just run an action to create snow. Actions are basically editing sequences that you can record and then apply to any image. It's easy to find snow actions online so just do a search.
And that's it! A simple background, easy lighting (just one light), and pretty much automated Photoshop to get the final result. The most complicated part was setting up the sleigh at an interesting angle and make sure it was stable. The reindeer's feet on the ground helped anchor everything and keep the model from twisting around.
Hope that was helpful to you!