All AFOL eyes were agog when LEGO finally revealed the huge Lion Knights' Castle at LEGO CON in June. It's one of two classic sets that LEGO created as a result of the 90th Anniversary Fan Vote on LEGO Ideas that ended in January 2021.
At over 4500 pieces and with 22 minifigures, you can bet this set is a pricey one: $399.99/399,99 €/£344.99.
That's a price tag that can put off all but the most hardcore Castle fans. This set will be available to the general public on August 8, 2022 so that's about 6 weeks to save up some cash.
Disclaimer: This set was provided by The LEGO Group but all opinions are my own.
Design
The Lion Knights' Castle is a reimagined King's Castle 6080 from 1984 with plenty of nods to other classic Castle sets. The Design Team said they tried to "merge as many of the popular earlier Castle sets into a new ultimate castle model", one of which was the original secret hideout of the Forestmen, Camouflaged Outpost 6066.
That striking tree on the side is attached to a secret Forestmen base beneath the castle, which can be accessed through a rotating rock wall just like in the Camouflaged Outpost set.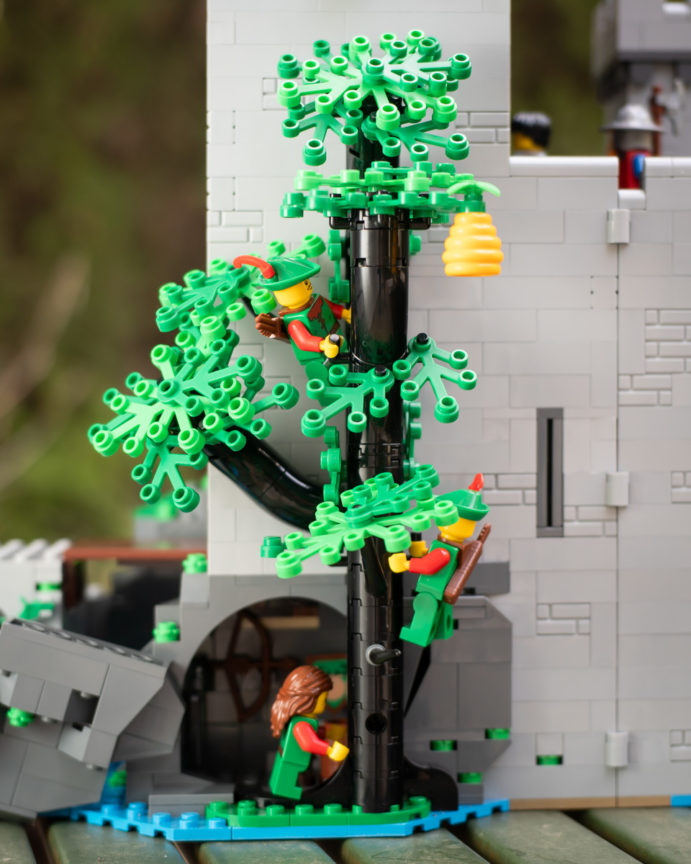 The entire castle can open up wide to expose the dozen or so detail-packed areas inside. When fully expanded, it's about 69 cm/27 in wide and 32 cm/12.5 in deep. Fully closed, it's about 44 cm/17 in and 33 cm/13 in deep.
What I really appreciate about this castle is that the walls are built with bricks rather than panels, as we had in the Medieval Castle 31120 set. All those bricks create a more believable texture and add stability. (Of course, it increased the cost too.)
The model also feels really well put together with good clutch: I had no problem keeping the castle intact while outdoors on a photo shoot. Not one plate came off, even when placed on uneven ground. The Medieval Castle and Medieval Blacksmith were both problematic in that way.
I also really like how much less blocky the Lion Knights' Castle is compared to castles before. New parts like the 1×4 curved slope and 2×2 corner slope in light bley top the battlements to create a more rounded look. Just below those are 1×1 half-circle tiles in dark bley, which also soften lines.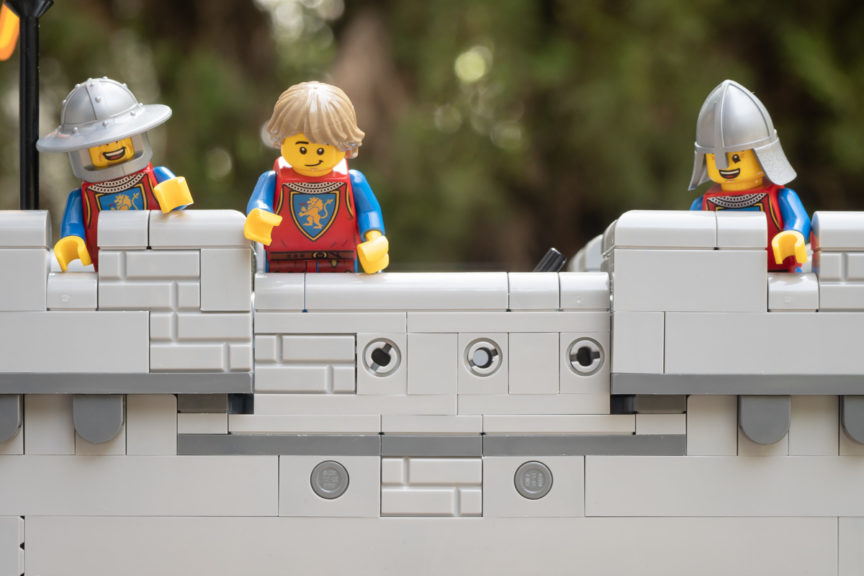 The rooms are packed with lots of fantastic mini-builds to assemble and look at. Plenty of shields and armor! In addition to the Lion Knights and Black Falcons logos, there are 6 other classic Castle logos printed on shields found in the armory, dining room, and secret base.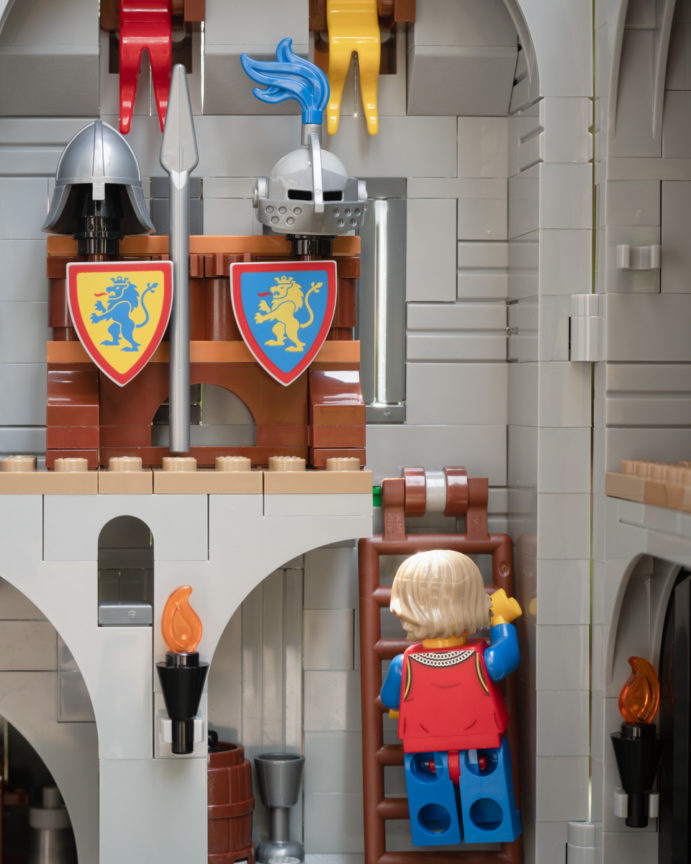 Some areas are really tight, which makes it difficult to pose minifigures inside. The photo above, which shows the back wall of the main entrance, has just 1-2 studs in depth.
The most spacious areas for play are the armory, the kitchen, the main entrance, and the dungeon.
One of the small but fantastic details for me is that fountain in the stairwell leading down to the kitchen. The well is a 4x4x2 round brick element.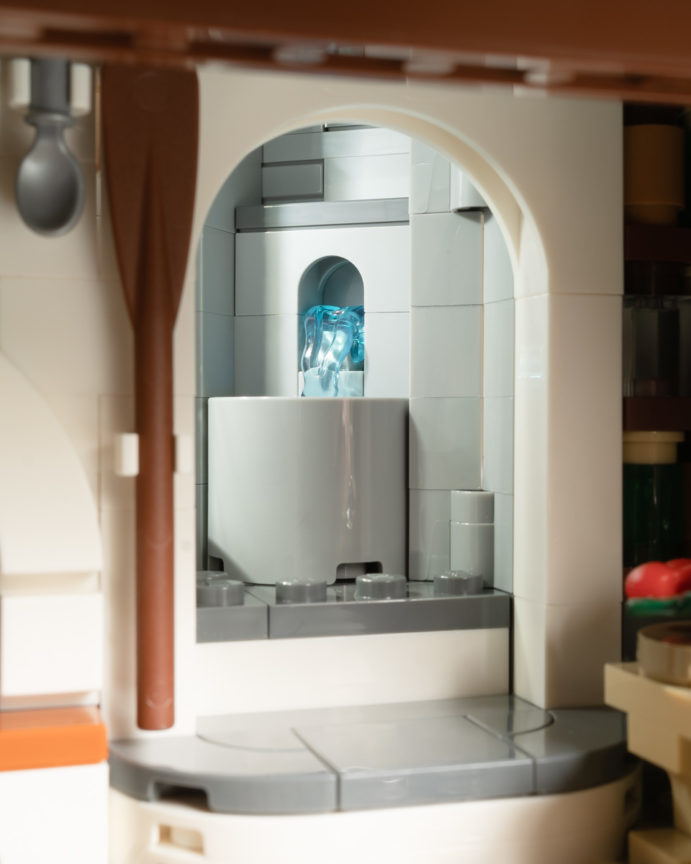 Play Features
As an AFOL, I normally don't care about play features and will modify sets to remove them. But working drawbridges, traps, and secret escapes add realism to the castle so these will happily stay.
Things to play with:
drawbridge
portcullis
water wheel
gate at the back entrance
rotating rock door to the secret Forestmen area
sliding rock door to one of the cells in the dungeon
Minifigures
The Lion Knights' Castle comes with a whopping 22 minifigures! 1 Lady of the Castle, 9 Lion Knights, 3 Forestmen, 3 Black Falcons, 3 civilians, 1 wizard, 1 skeleton, and what I guess is a little prince.
It also has a few animals too: 2 horses, a cow, a lamb, and a bird. The horses have body armor as well — one for Lion Knights and one for Black Falcons.
The new Lion Knights minifigure design is very similar to that of the Black Falcons redesign first seen in Medieval Blacksmith, except for the color scheme and the logo. The logo is just slightly bigger on the torso of the Lion Knights and tucks under the chainmail collar where the Black Falcons doesn't.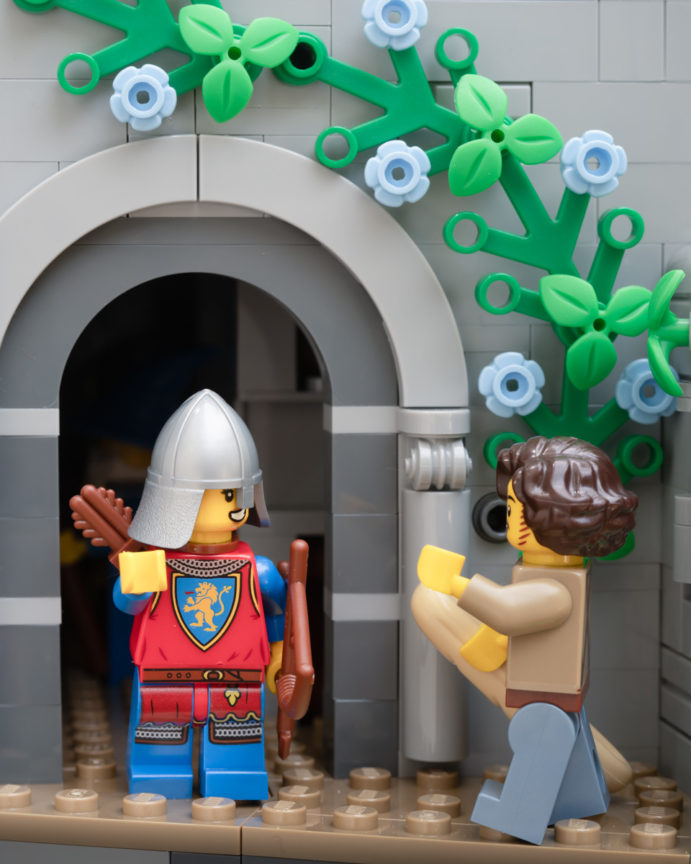 The Lady of the Castle has the same design as her knights except that her legs are white instead of blue. She also has an exclusive cape.
UPDATE: The Lady of the Castle has a different torso design. I must have accidentally swapped one for another since they were both covered in body armor. Check Jay's Brick Blog for the photo.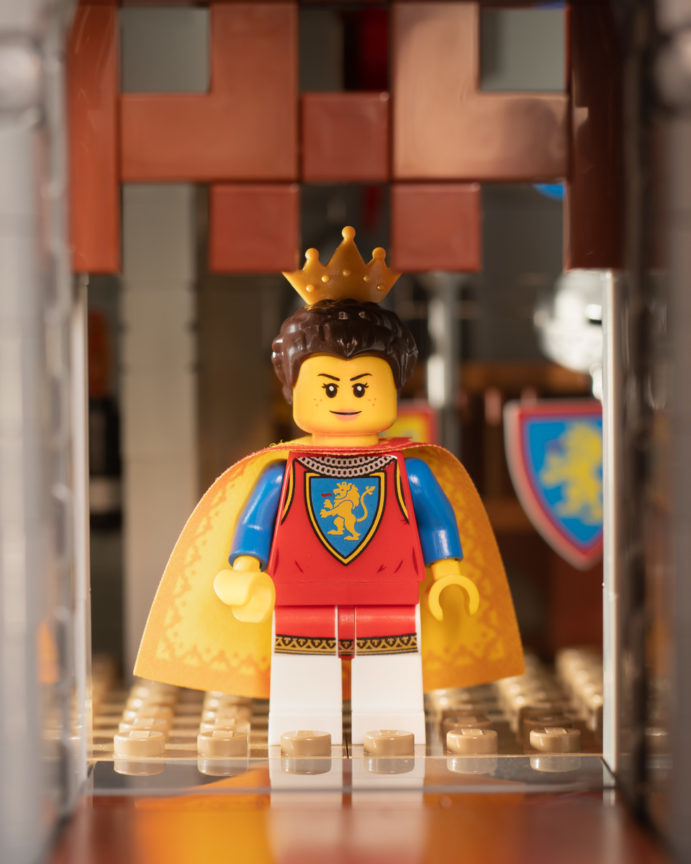 The Forestmen have refreshed torsos as well. The design itself is really cool but the red accents don't do it for me. Not much of a forest camouflage, is it?
The head on the male looks like it's a set exclusive. It's quite simple with a brown moustache that doesn't match the black eyebrows.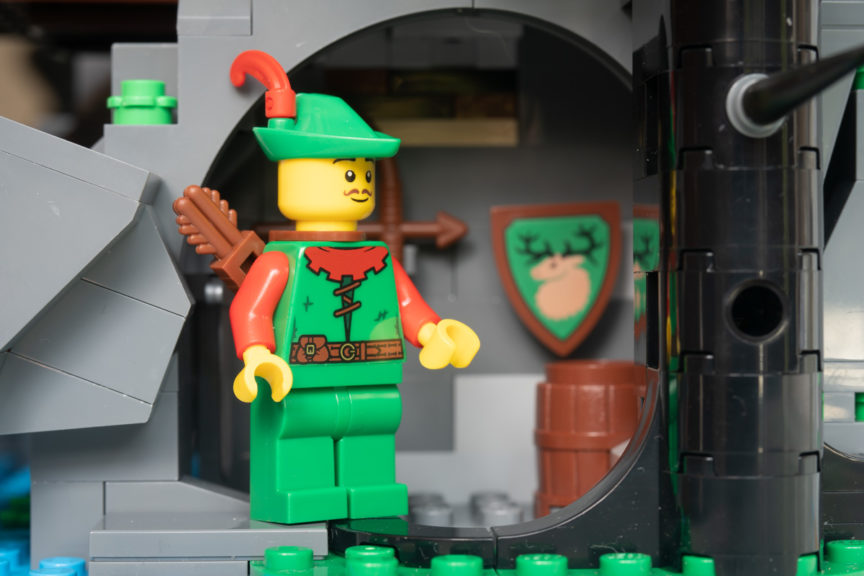 I prefer these heads to have sideburns if they are meant to be paired with a hat like this. I just don't like the bald look. The male Forestman in the 40567 Forest Hideout gift with purchase (GWP) set looks a lot better to me because he's got sideburns.
The peasant farmer's tie and purse torso is another throwback to classic Castle. It's more detailed and printed on a sand green torso with blue arms. He's got the sideburn-plus-cap combo too so I like this minifigure.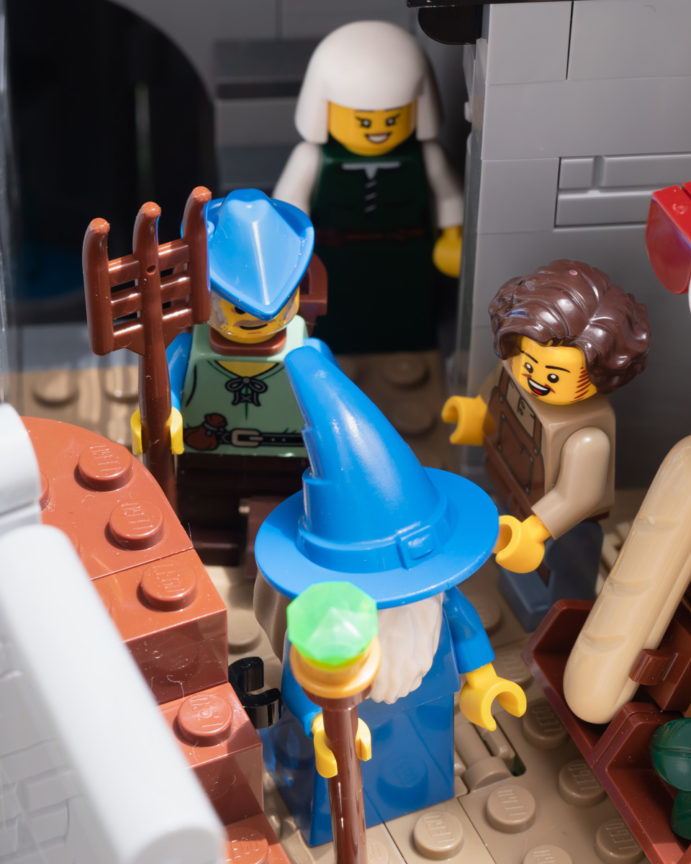 The most disappointing minifigure in the set is the wizard Majisto. It's absolutely plain, which is odd because Majisto had the same torso as the peasant in the classic sets, but in blue. It's a downgrade.
There's a wizard in the current Build-a-Minifigure tower in LEGO stores that is one million times better than this.
The maiden in the dark green dress is a great minifigure with that new bonnet or coif and torso design. It reminds me a bit of the Forest Maiden's torso from CMF Series 9. The head is from the Raccoon Costume Fan from CMF Series 22.
CMF Series 22 seems to be providing several parts to the set: the heads from the Birdwatcher and the Raccoon Costume Fan (seen above) as well as the head, cap, torso, lute, and coins from the Troubadour appear.
Most of the heads in the Lion Knights' Castle are pretty common, however, there are a few rare ones that only appear on one other minifigure across the product catalog. One such minifigure is the laughing Lion Knight whose head comes from CITY Rocket Launch Center 60351.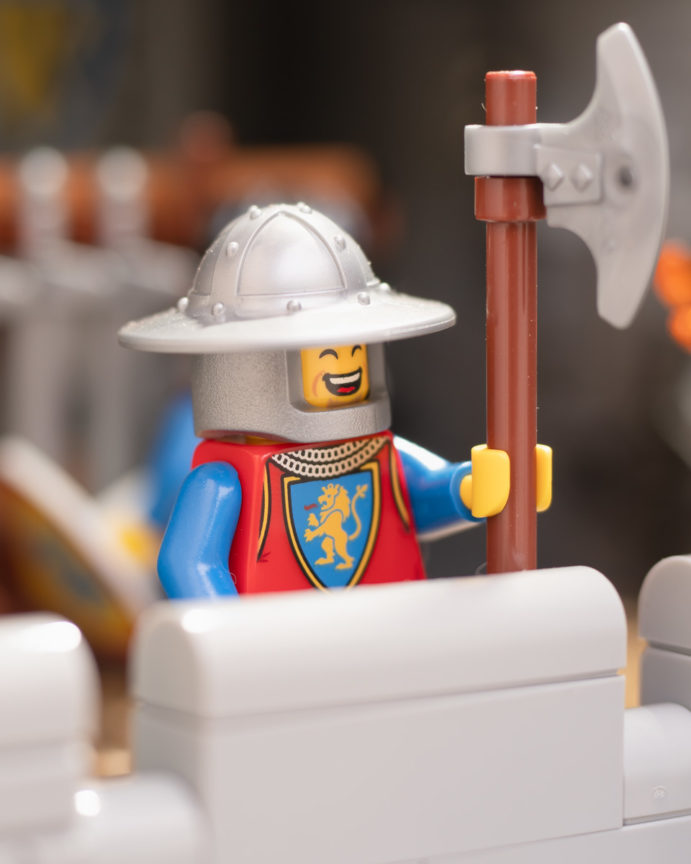 Verdict
It's hard to say if I personally would fork over $399.99/399,99 €/£344.99 for a set like this, even though I am a big fan of medieval models. I received this set to shoot some fan photos for LEGO so I don't have my own money sunk into it.
The size of the set is also a deciding factor for many AFOLs especially these days when it seems like The LEGO Group is pumping out tons of sets every year. We just don't have space to display models of this scale anymore.
The depth of this set exceeds the depth of my display shelves so I've modified it just a little bit so I could fit it in. I just replaced 3 of the rounded green plates in the front and back with narrower ones.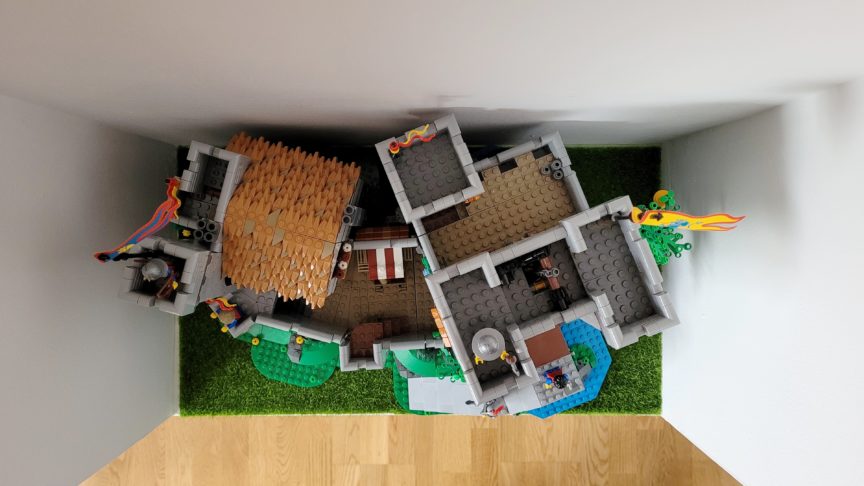 So while the set is beautiful, fun, and very much a proper anniversary special, I still think many AFOLs would prefer to have something smaller and more accessible. However, I predict hardcore Castle fans will wipe out inventory nonetheless.
Here's hoping that we see more Castle revivals in the future, even if it's just in the Creator 3-in-1 line. But please, no panels.
Behind the Scenes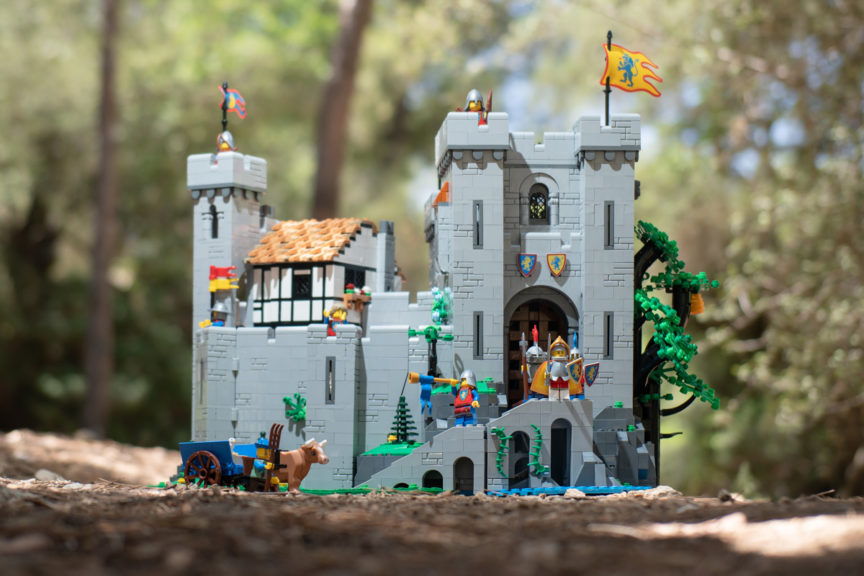 With large sets like the Lion Knights' Castle, I take them outdoors to get a wide shot. LEGO likes to show sets in modern lifestyle photos but I like to see them in a context that fits the theme of the model. There are other ways to show environmental context like building out a massive background MOC or setting up close to a large screen TV, but I prefer using the natural environment because I can also take advantage of natural light.
I live close to a park with enough trees in it to look like a forest, which is what I imaigne when I think of medieval worlds. I'm grateful for that proximity because transporting a large LEGO set is not exactly fun: it's an absolute chore.
Transporting the set
I use a large IKEA bag reinforced with LEGO delivery boxes so the model doesn't slide and shift as I walk around with it.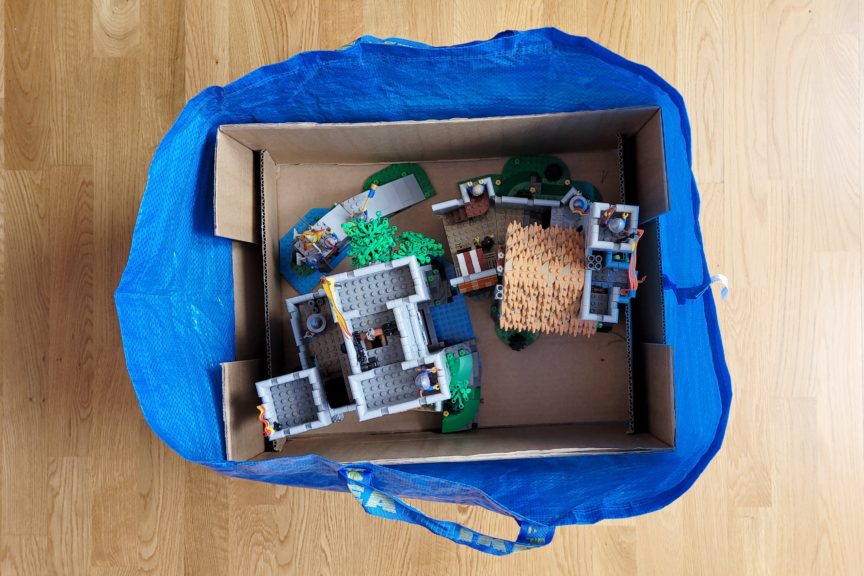 It's important to keep the model intact so you're not scrambling to put things back together on location. There's a lot more you need to pay attention to than re-building a set.
This set is the largest I've shot and doesn't fit into the bag without taking the sections apart. I keep trees and other delicate parts on the inside and away from the box edges as much as possible so there's less chance of them falling off.
Other tools
Apart from the model, I also keep a small garden hoe between the IKEA bag and the box reinforcing it so I can level the ground at the location if I need to. This location is already level enough for a medium build, but I needed to do some light work to expand the flat surface area to accommodate the much larger footprint of the Lion Knights' Castle.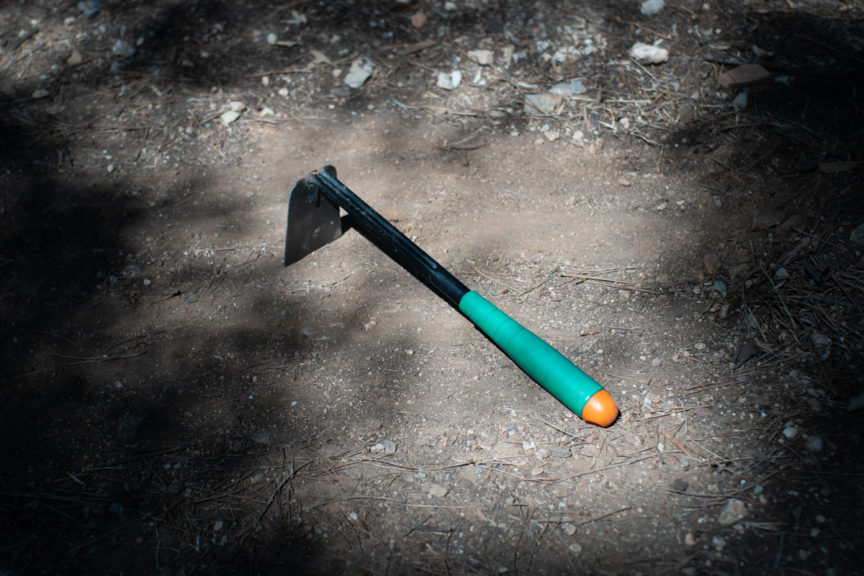 I also use the garden hoe to push loose dirt under the model to close any gaps between it and the ground. It's really annoying to see parts of LEGO buildings just hovering over the ground later when reviewing photos. This is something easy to overlook on location and takes more time to fix in Photoshop later so I pay more attention to it during the shoot now.
Lighting
I like to shoot with back lighting or side lighting, and I know this location well, so I choose a time of day when the sun will be where I want it to be in relation to the subject. But I don't rely on the sun, especially when the light is being filtered through leaves as in a forest. I usually bring a flash on a stick with me so I can fill shadows, add drama, or just put light where I want it to be.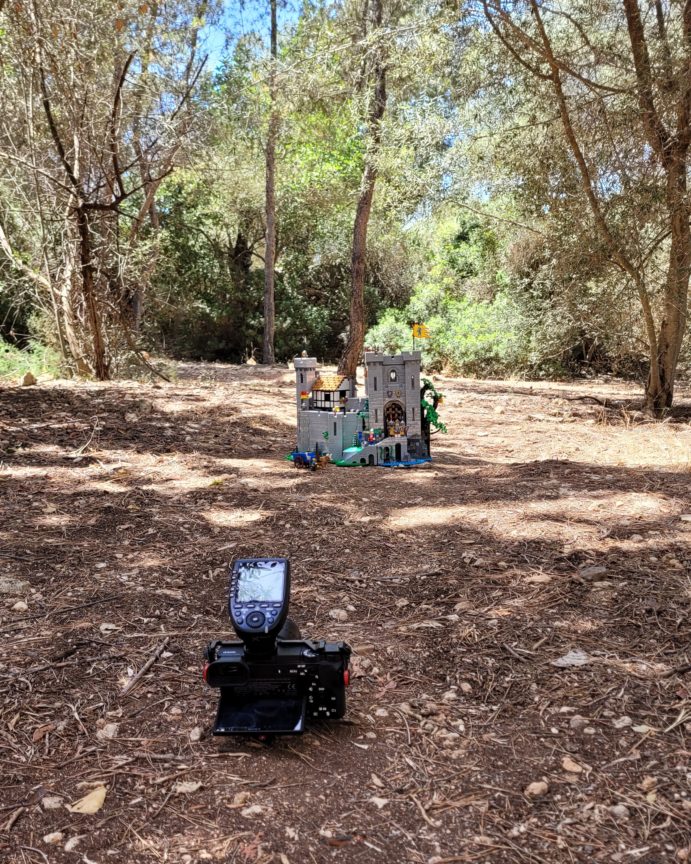 Lens
My choice of lens also depends on the size of the subject. I shot the castle first with a 28mm and then again with a 40mm on another day. After reviewing the shots I took with the 28mm, I thought I needed more subject separation and less foreground. A longer focal length was how I decided that was best achieved at this location.
Shooting sets isn't easy
Large sets are much more challenging to shoot than a minifigure, and this is part of the allure of seeing them in photos, especially in the wild.
If you've never shot a set before, I suggest you start small with a LEGO vehicle. You won't have to worry too much about transporting or finding level ground.
Then work your way up to a small building. A CITY theme building is easiest because you can shoot it on pavement.
When you've gotten the hang of it, challenge yourself further with larger sets and different environments!