This is the second BrickHeadz set based on the upcoming animated comedy film Minions: The Rise of Gru. That first set featured Gru, Stuart, and Otto – let's see what this companion set brings!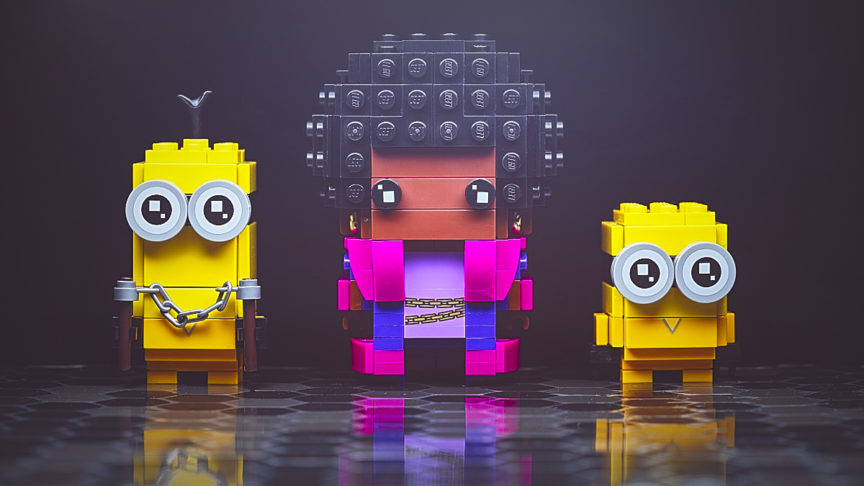 This set is only the fourth to feature three BrickHeadz characters: the new lead supervillain Belle Bottom, and the two Minion henchmen Kevin and Bob.
This 309-piece set is designed for ages 10+, with pricing and availability date to be confirmed. Once again the build was straightforward, especially for the two Minions, with extensive use of Studs Not on Top (SNOT) techniques.
Now let's meet the characters.
Belle Bottom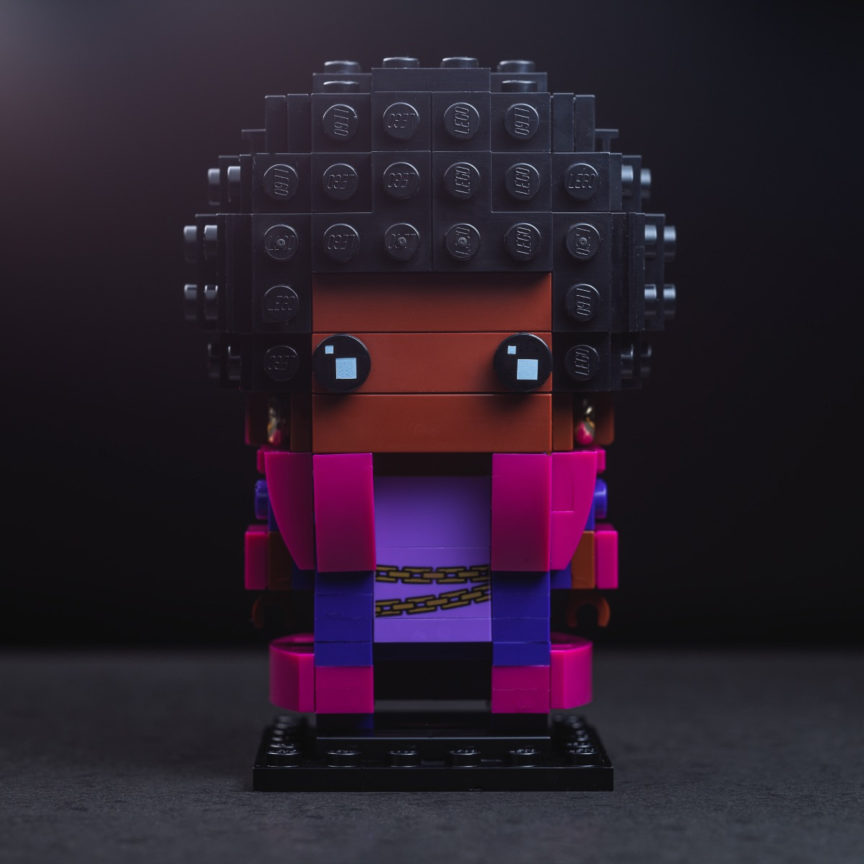 Cool and confident, Belle Bottom is the leader of supervillain supergroup The Vicious 6. With vintage 1970s styling, she is a striking character.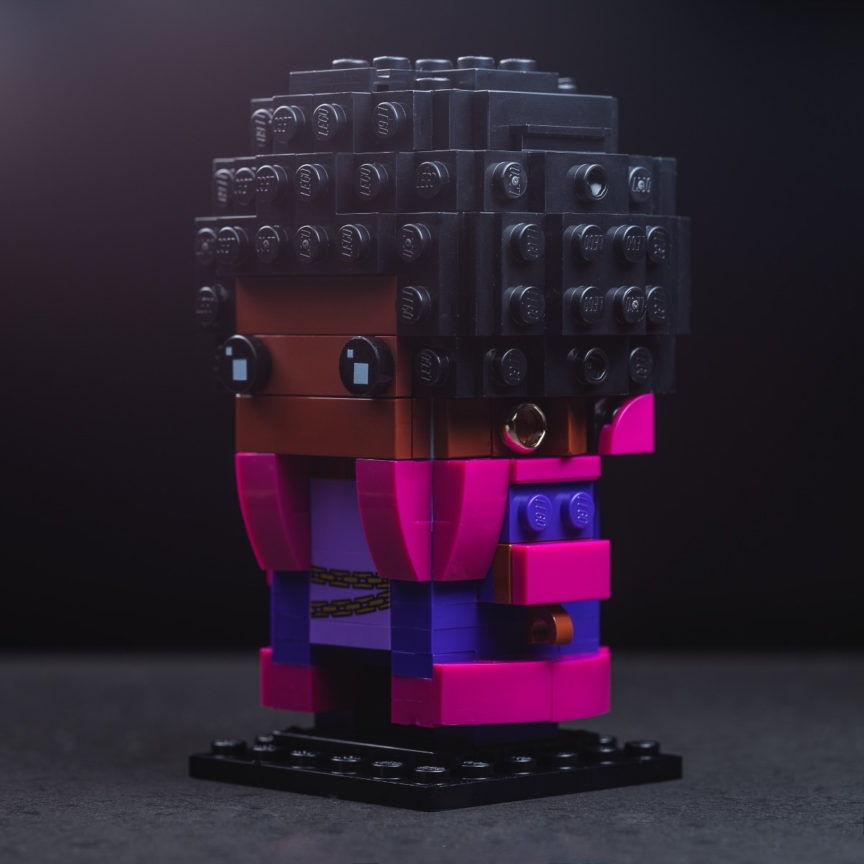 The figure's standout feature for me is her hair – impressively 3D from all viewing angles. The printed gold chain adds a nice touch of realism, and I also liked the use of 1×1 chrome gold utensil rings as hoop earrings.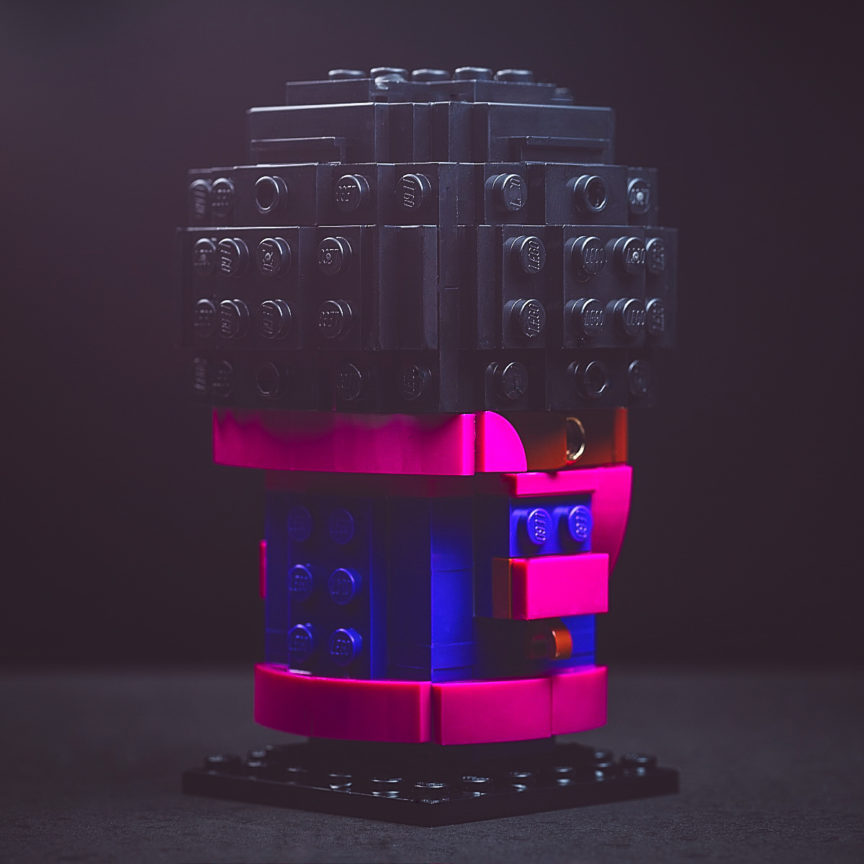 In the official movie trailer, we see Belle twirling a gold chain as a weapon – I would have liked to see a golden 5 link LEGO chain included as an accessory.
Kevin
Kevin is one of the more notable Minions, having led the tribe's search for a new master in their spin-off movie Minions. Here we see him wielding nunchucks, no doubt from some yet-unseen action scene.
For goggles, Kevin has the same new 2×2 printed tile eyes we saw in the other Minions: The Rise of Gru BrickHeadz set. But instead of the standard blue denim coveralls, he is wearing a yellow kung fu uniform with black stripes. (This uniform will also be seen in the upcoming LEGO Minions 75550 Minions Kung Fu Battle set.)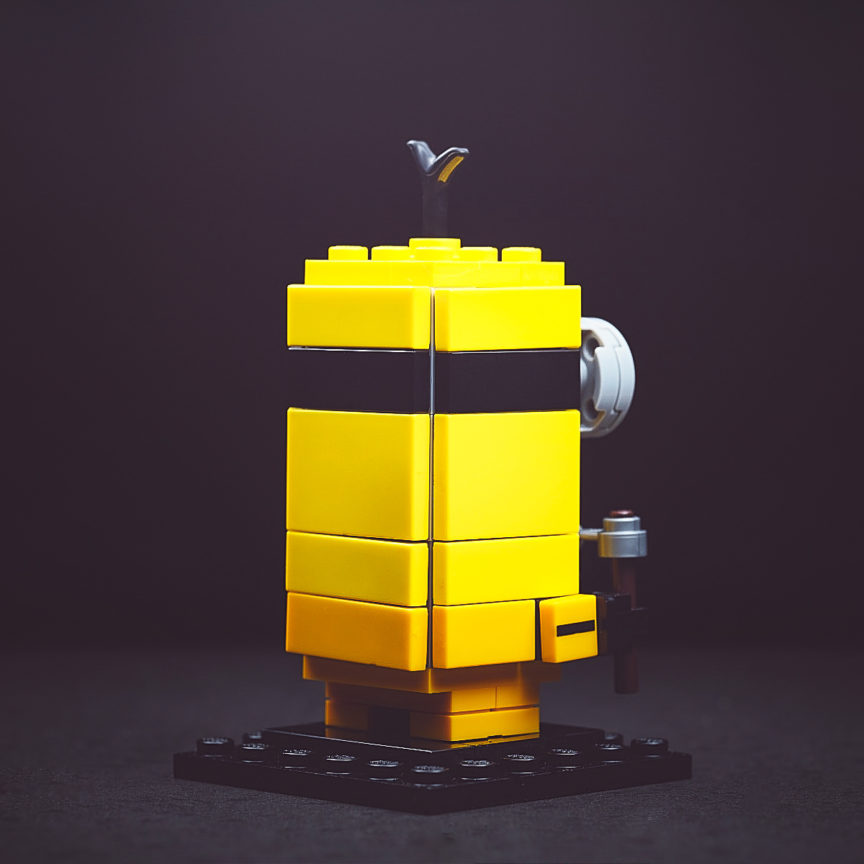 Thanks to some Internet sleuthing, I believe that this uniform is inspired by the iconic yellow jumpsuit that Bruce Lee designed himself and wore in his final film – a nice kung fu tribute.
Bob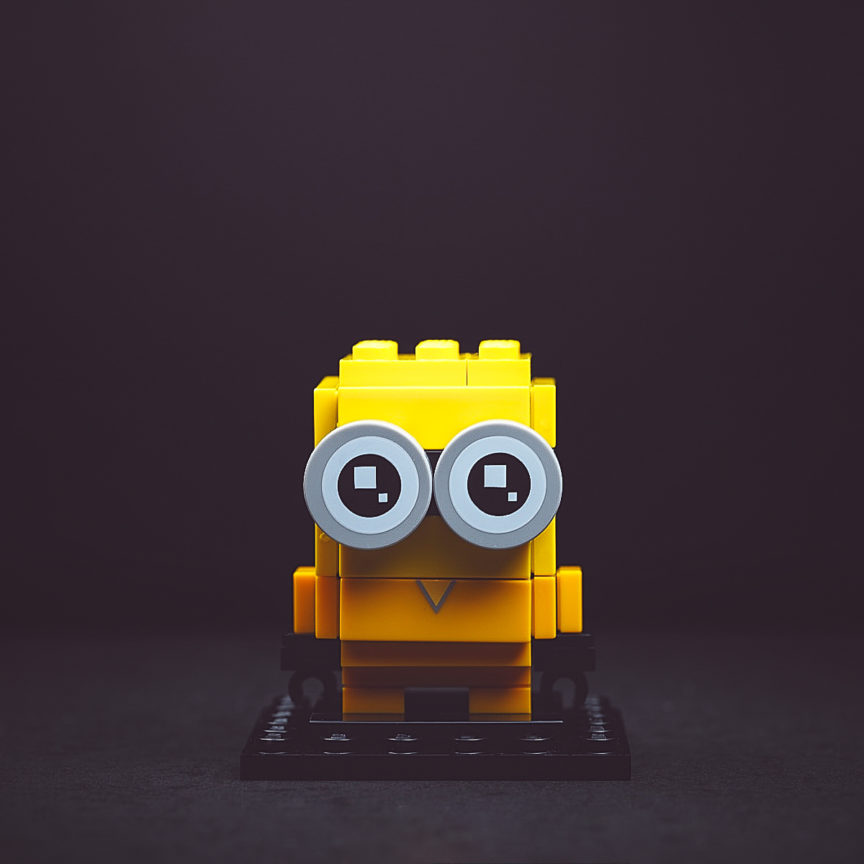 Another of the prominent Minion characters, Bob is more childish and immature than most. Seen here in the same kung fu uniform as Kevin, Bob is poised for action.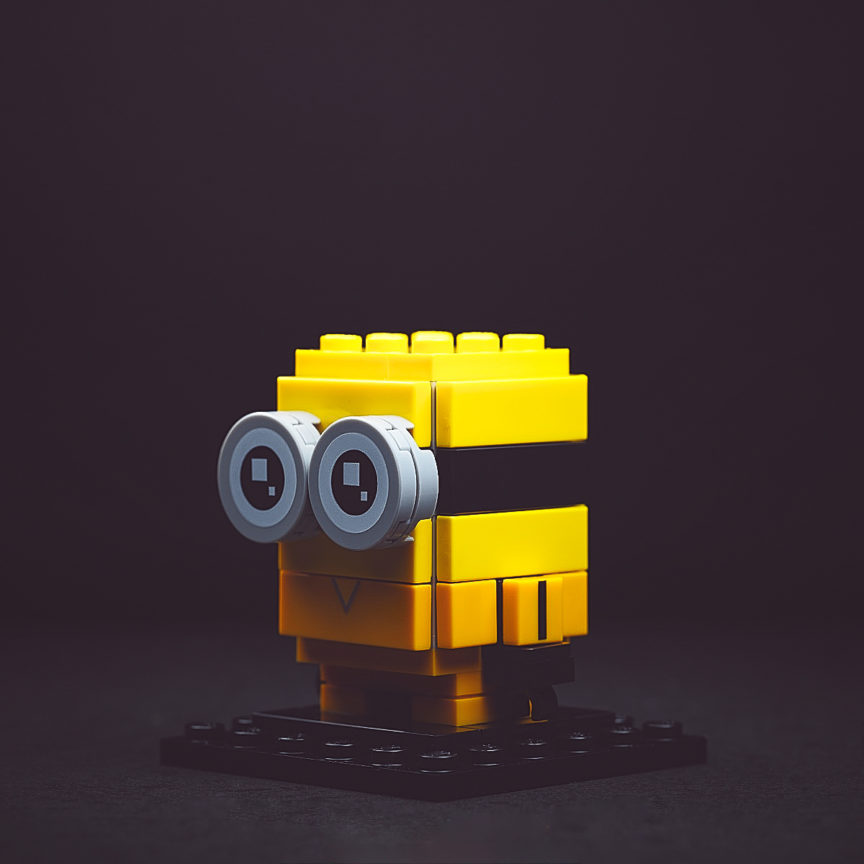 Bob is known for often carrying around a brown teddy bear named Tim – I feel another opportunity was lost here by not including one as a companion.
Still, one can't help but like this little guy.
Behind the Scenes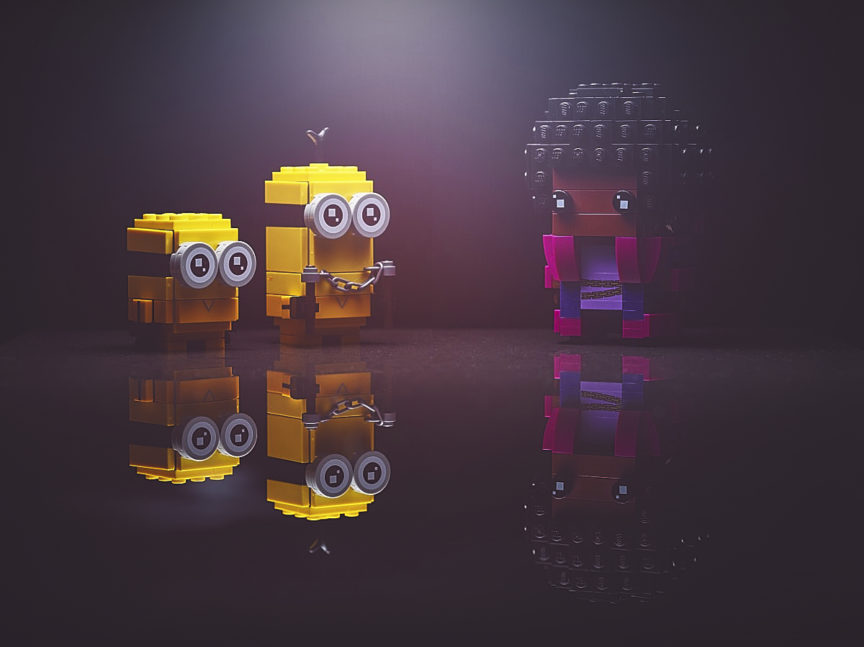 As with my review of the companion set, I struggled with creating a feature image for this review. I do a lot of minifigure photography and use a combination of posing, facial expressions, and accessories to help bring them to life – things that you just can't do easily with BrickHeadz.
After several attempts that left me unsatisfied, I decided to simply shoot a portrait full of atmosphere and mood. I take a deliberate approach to LEGO photography, and as part of my creative process I consider four fundamental things before I even pick up the camera:
The Idea
Light
Subject
Composition
If you have read my review LEGO BrickHeadz 40420 Gru, Stuart, and Otto, what follows will be familiar and you may wish to skip to the Conclusion.
The Idea: I wanted to introduce Belle Bottom as a supervillain that exudes power, stopping the Minions in their tracks as she emerges into view from the shadows.
Light: I am partial to low key photography with soft lighting – placing emphasis on only specific areas of the frame using light, otherwise dark tones throughout, and with a smooth transition between light and shadow. The goal with this approach is to create a dramatic atmosphere with a little bit of mystery.
Subject: When it comes to visual storytelling, I'm influenced by Stephen King's book On Writing. After all, the word 'photography' was created from Greek roots and literally means 'writing with light'. His advice: take out all of the things that are not the story.
And so I have Belle, Kevin, and Bob prominently in frame, with nothing else to distract from them. I isolated them as subjects from the background with light, colour, and texture, adding a vignette in post to further emphasize them.
Composition: I placed our protagonists and villain on opposite sides of the frame, spaced horizontally using rule of thirds, and separated by a gulf of light and shadow. She is just emerging from darkness while they look like deer frozen in a vehicle's headlights. I placed the horizon at about the vertical centre of the image, using reflections to help fill the frame without introducing any new elements to the scene to distract from the subjects. (Plus, I enjoy the aesthetic of reflections. Don't know why, just do!)
My mini-studio setup to achieve this:
Black ceramic tile as floordrop, providing reflections while also facilitating the low key look with only dark materials in frame
Matte black foam core as background, approximately four feet away to keep light from reflecting on it
DIY diffusion panel made from parchment paper, held just out of frame with a pair of Wimberley Plamps, in order to increase the effective size of my light source to soften the lighting. (If I had a larger softbox or an octabox, I would have used this)
LitraPro LED light with softbox, mounted on a Platypod Ultra with gooseneck arms, positioned just above and towards the rear of the diffusion screen and aimed to create diffuse reflection on the subject while allowing light to spill onto the front element of my lens (creating the central glow at the top of the frame). Despite having the diffusion panel in place, I also used a softbox with the LED to minimize hotspots.
Plywood subfloor panels as an elevated shooting base, to which the Platypod is screwed into and the Plamp clamped onto, positioned to match the height of my floor-based shooting position. This puts me at the BrickHeadz's eye level, which I find makes for a more natural portrait.
I don't spend too much time worrying about settings once the shoot starts. In order to make the most of my system, I consider the following my LEGO photography standard operating procedure:
Ultrapod mounted Hasselblad mirrorless camera set to ISO 100 and triggered with delayed shutter
Hasselblad 120mm macro lens at f/8 and manually focused using magnified live view
Aperture priority centre-weighted metering with exposure compensation to taste
Post processing the RAW files with custom white balance, luma curve, saturation, contrast, sharpness, vignette, levels, and dust removal
Conclusion
I think that BrickHeadz collectors and even casual Minions fans will enjoy this trio. We are introduced to the new supervillain Belle Bottom, and see familiar henchmen Kevin and Bob.
Once again, I like how these BrickHeadz capture the essence of the Minions source material. While I did appreciate Kevin's nunchucks accessory, I felt the other characters missed out in this regard. Similarly, the lack of articulation for BrickHeadz figures limits playability and posing for photography. As display pieces, though, I see this becoming a popular set.
Unlike the companion set, though, this one introduces a new antagonist as well as new uniforms for the Minions. While I appreciate their design and build, the nostalgia factor just isn't as strong for me and so I rate this set just a little lower than the other.
My overall rating: 7/10
Full disclosure: I received this set for review from LEGO thanks to Brickcental, but the opinions in this review are my own. I have no affiliation with any of the other brands mentioned.