I may be late to the party with this review but since I was eager to try out Tony Tulloch's acrylic spike tip and make use of the rest of the uneaten edamame bundles I bought from last Sunday's farmers market, I thought I would kill two birds with one stone and do a photo shoot and review of the NINJAGO Accessory Set 853687 I picked up several weeks ago.
For the sale price of $10.39 at the LEGO Store, these exclusive minifigs are a steal. All of the minifigs have unique torso and leg designs that aren't currently found in any other set. In addition, Skylor and Ash have recolors of hair pieces that you won't find anywhere else.
Ash
Ash, the Elemental Master of smoke is packaged wearing a regular ninja hood in a drab light bluish gray, which is unfortunate because his sand blue spiky hairpiece is the (smoke) bomb! Underneath the hood, Ash has quite an evil expression which makes for a great action shot.
He comes with two smoke bombs which are made of transparent black minifig heads and black ice cream cones.
Skylor
This female Elemental Master is fierce! Nya, particularly samurai Nya from the LEGO Dimensions Fun Pack, still occupies my top spot but Skylor makes a pretty good case for herself.
As the Elemental Master of Amber, she's predominantly in bright light orange with dark red arms, a dark red hood, and red hair. As far as I can tell, this hood and hair color is exclusive to this minifig. The bow and quiver are the standard issued ones, but when you remove the quiver, there's a great print of an unbuckled quiver strap on her back.
Because Skylor's expression is less of an action face, I have her posed in the edamame forest as if she is observing amusing something just out of frame.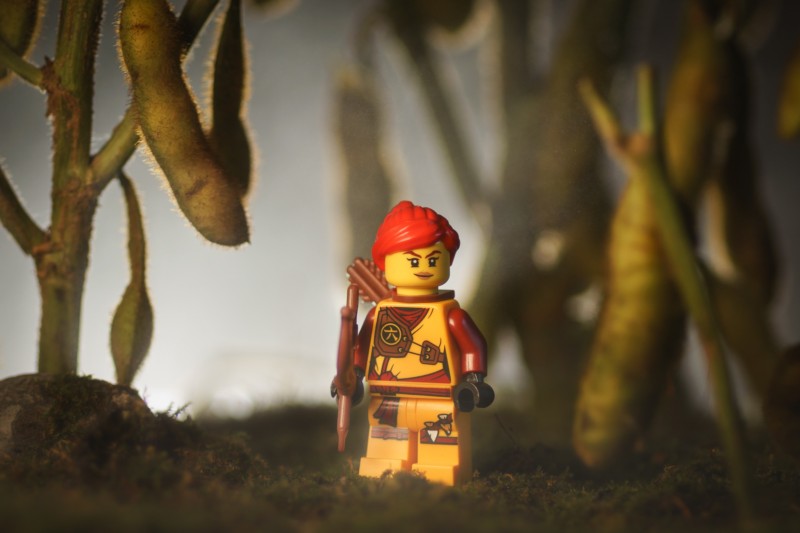 Skylor also has a single 1×1 round tile with sushi printed on it, same as that from the sushi chef in the Ninjago CMF series.
Shade
Shade must have superhuman strength in the animated series because this guy is hauling a lot of metal. On his back, he's wearing two black katanas. One hand holds a large scimitar and the other, a dark round shield that can only be found in one other set: The Silent Mary ship from Pirates of the Caribbean.
Shade has dual molded legs, same as Batman's. While I am partial to yellow minifigs, I rather like Shade's expression on his light bluish head. I might reuse this on a statue in the future.
Shade's nowhere as nimble as Ash so I've kept him on the ground (gravity, y'all) for this shot. Perhaps he's storming off into the edamame forest, ready to hack at some pods for training. But more likely, he's bellyaching about the weight of his gear on his way to an Elemental Masters meeting or whatever.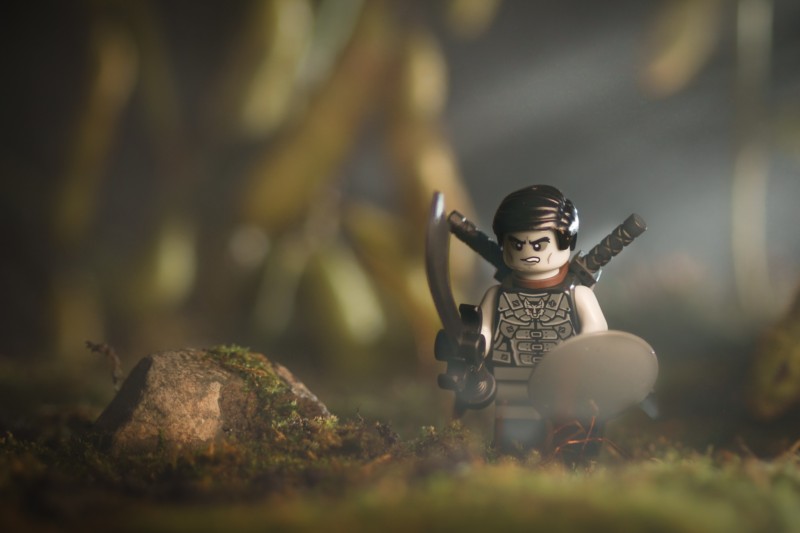 Conclusion
While I prefer to create my own minifigs instead of out-of-the-LEGO-box characters, it's hard to pass up on a set that has exclusive recolors of hair pieces, especially when that set is on sale. At $10.39, each minifig works out to about $3.50 each which is just a little bit cheaper than the CMF series. The LEGO site still has it listed at full retail price but your local LEGO Store might have it on sale.
Bottom line: get this set before it's retired.