The lifeless beach babe above is definitely not a LEGO minifigure. Apart from the dead giveaway (I'm sorry, I had to), your second clue should have been her stylish swimsuit top. LEGO doesn't make nice bikinis for the ladies (see Exhibit A: Fun at the Beach people pack). Nope, this moribund minifigure was all my doing, designed and printed using MiniMan Studio's Create Your Own Minifigure web app.
MiniMan certainly isn't the first company to offer one-off personalized minifigs, but their online customization experience and top-notch digital UV printing make them the best. If you're anything but a LEGO purist and can work around the raised printed texture, MiniMan-printed minifigs are a good option for expanding your photographic or brickfilming possibilities.
Minifigure customization engine
MiniMan markets themselves as "the antidote to boring™" and indeed, the first step in creating your custom minifig on their site is already loads of fun.
MiniMan has plenty of well-designed elements and a range of colors to choose from in their current library, but the real power of their customization engine is in the adjustments that can be made to the designs. You can make eyes bigger or smaller, push them together or farther apart, rotate them clockwise or counter-clockwise, shift them up, down, left, right, etc. Just about any printable element can be fine-tuned this way, including the torso design. Why anyone might want to offset a torso design is beyond me but I am not nearly as creative as most other toy photographers.
https://youtu.be/tEPv-RYGJ9Q
With all this personalization power, expect to spend at least an hour on the site your first time around. It is a huge but delightful time sink.
A note about usability: the MiniMan site is designed to be responsive but the details on the designs and the controls on the customization engine are too fine to be appreciated or handled on a small screen. I know it's uncool to say this but the best way to experience it is on your laptop or desktop.
Digital UV printing
After my first disappointing experience with another online build-your-own minifig service several years ago, I pretty much swore off digital UV printed custom minifigs. Not only was the design itself subpar, the printing was so splotchy that the minifig I received was totally unfit for the kind of photography I do. I literally tossed it out the next day.
I would only trust Citizen Brick, a respected designer and pad printer of custom minifigs and parts, for the next couple of years and contented myself hunting for aftermarket accessories.
Later, I took a chance on a handful of custom designed torsos from FireStar Toys and saw that digital UV printing can be good when done well. As Adam of Phoenix Customs says:
"It all comes down to the quality of the printer printing the figures and the designs themselves that create great figures. I wouldn't say one is 'better' than the other – I just prefer [pad printing] over the other because it mimics LEGO's printing more accurately."
MiniMan minifigures aren't pad printed like those of LEGO, Citizen Brick or Phoenix Customs, but the resulting print is surprisingly good, comparable if not better than the print on FireStar Toys' custom designed parts or their custom designed minifigures from their sister company, Minifigures.com.
As with all UV printed parts though, the print adds a raised texture that reflects light differently so minifig photographers need to be mindful of positioning or shooting angles. Obviously, getting in really close with a macro lens like I have makes the raised texture more obvious, even creating a distraction.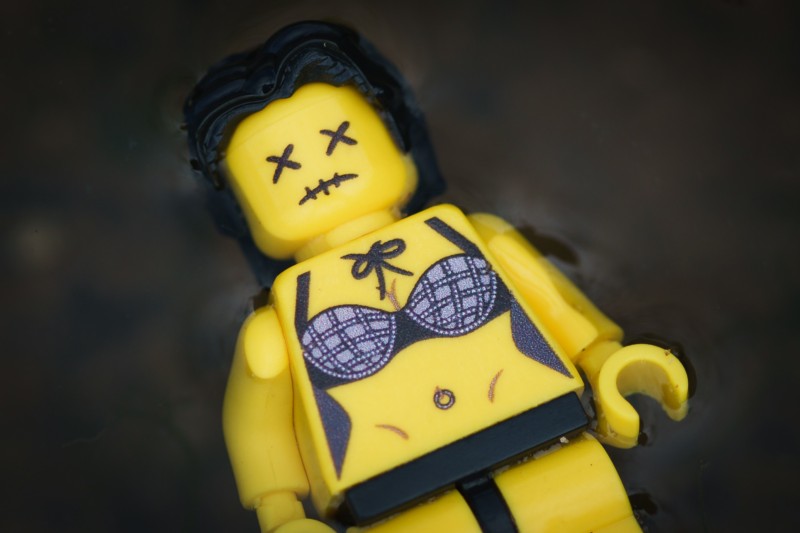 Minifig construction quality
As I said in the beginning, this is definitely not a LEGO minifigure, and that extends to the parts themselves. On the back of MiniMan Studio's blister pack it says:
Many of our minifigures are made from custom components that are not official LEGO® parts. We do this to offer a wider toy customization experience. This is not a genuine LEGO® product.
It's not exactly accurate to use "many" when the fact is "all".
UPDATE: Vince at MiniMan reached out to me and clarified that they do use some LEGO parts, but none happened to be used in my particular order.
Seeing this minifigure on its own, I'd guess it might be a custom print on genuine LEGO parts akin to Citizen Brick, albeit done with a different printing format.
Even side by side with an official LEGO minifigure, it's still very difficult to tell which is which. But if you scrutinize the MiniMan minifig, the minute differences are discernible. The yellow color is just a smidge off, with the official LEGO minifigure's being slightly more orange. The hands are a little bit smaller but the grip seems to be able to take original accessories. The arms pop out of their sockets more readily but still hold their position well.
Disassembled, the deviations are bit more obvious: there are small structural changes inside the torso as well as to the leg pegs.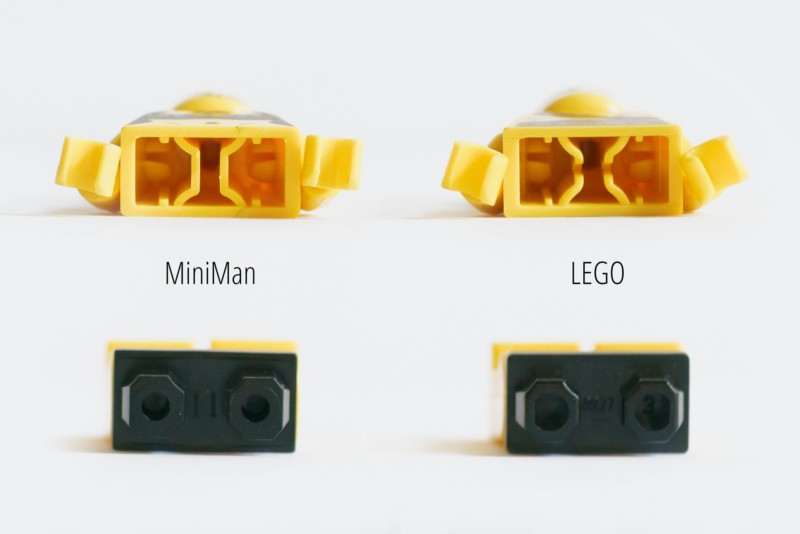 Wrap up
If you know about and can work around the inconveniences presented by UV printing, MiniMan-printed minifigs are a great way to keep your work fresh and separate yourself from the hundreds of toy photographers shooting CMFs. But only if you can get around the idea of owning a knockoff.
If you can't, hope may be on the horizon. LEGO recently debuted its Minifigure Factory, a physical kiosk that can print torsos on demand. It remains to be see what level of customization can be done to the torsos and the availability of the service worldwide but until then, there's MiniMan.