It's time to sit back, relax and hang out with Bro Thor and his alien buddies in New Asgard in this latest Marvel Avengers set by LEGO. This amusing new set comes with all-new minifigures of a laid-back Thor and his alien gladiator friends Miek and Korg.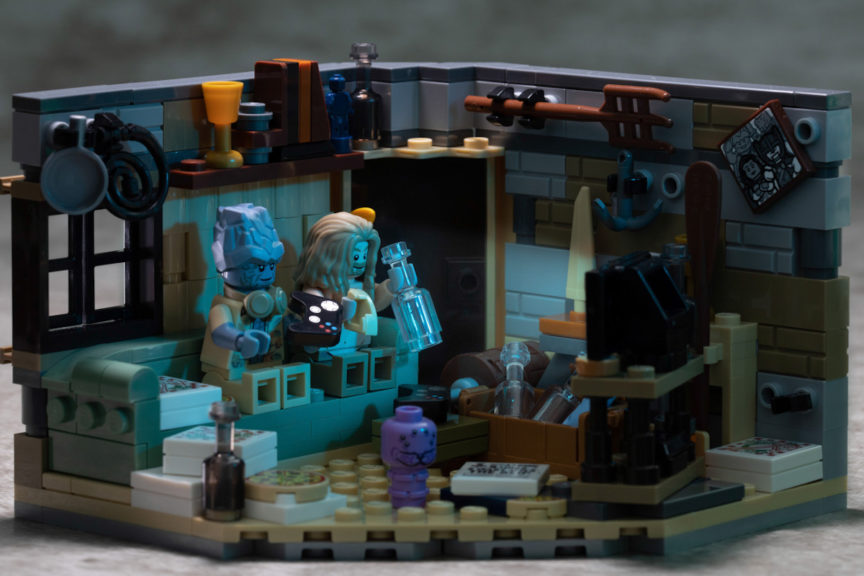 This set is a small room-box of Thor's living room in New Asgard. Filled with a surprising amount of accessories, this set will give many options to create scenes of your superheroes just relaxing between fighting bad guys.
The Bros
The LEGO figures of Bro Thor, Miek, and Korg in casual wear are unique enough that Marvel fans will be eager to collect them. There aren't many casual versions of Marvel superheroes, and I hope to see more characters just hanging out on their day off.
Bro Thor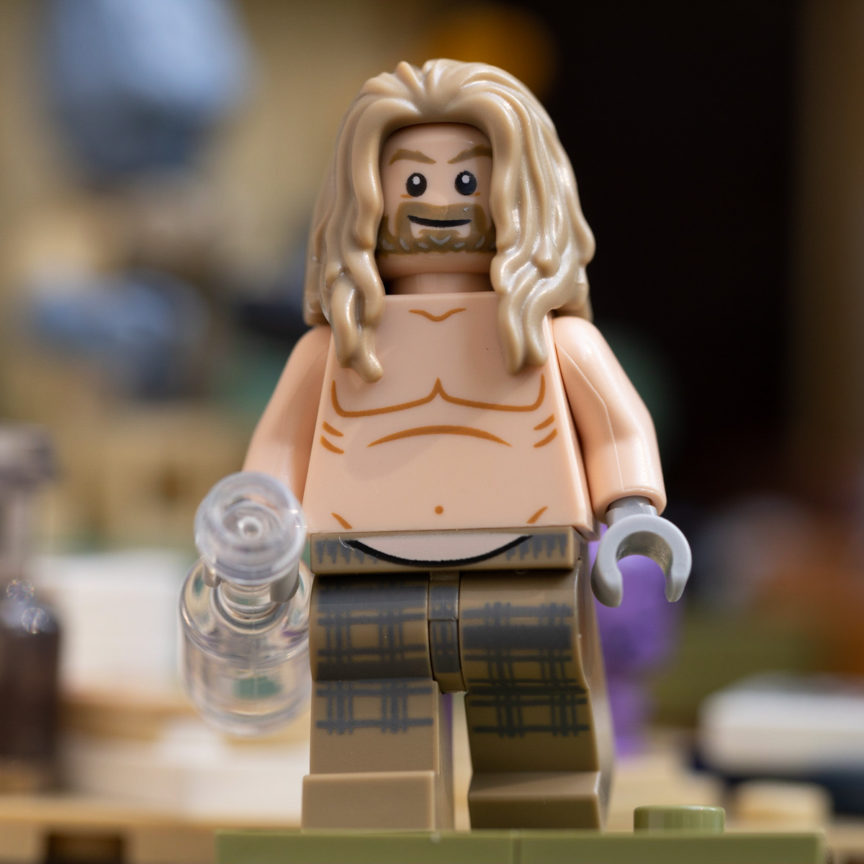 Bro Thor has been enjoying a steady diet of pizza, it seems. I'm amused at the choice of the shirtless Thor with a round belly, as opposed to pajama and robed Thor, both appearing in the Infinity Saga.
Korg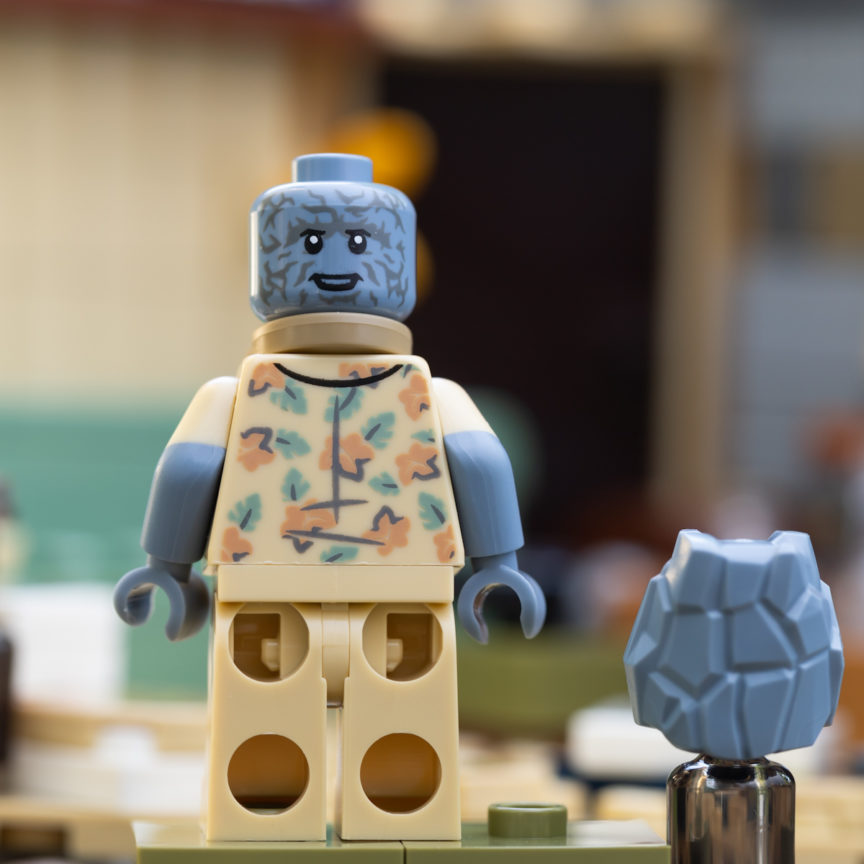 Korg first appeared in the Marvel Cinematic Universe in Thor: Ragnarok. He's wearing his Hawaiian print casual outfit with headphones from the Endgame movie. This Korg minifigure in vacation clothes is great. Even without knowing who Korg is, he would be an amusing tourist visiting Earth in any vacation scene you choose.
Miek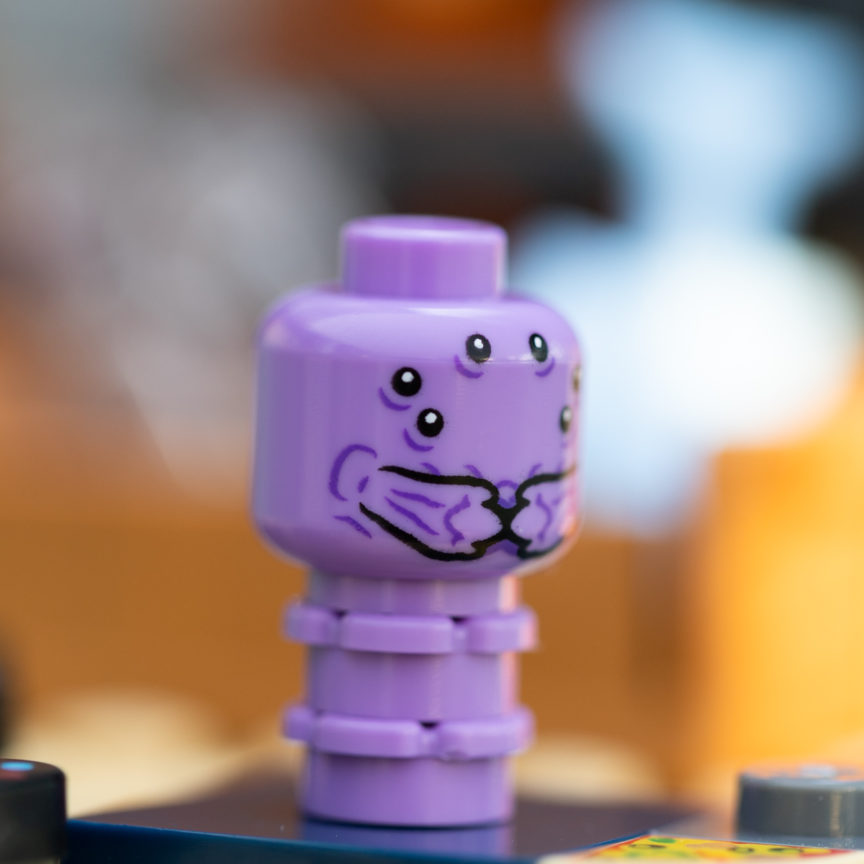 Miek first appeared in the Marvel Cinematic Universe in Thor: Ragnarok. Korg introduces Miek to Thor in the movie with, "This is my very good friend Miek. He is an insect and has knives for hands." Miek appears to be a purple larval insect in Thor: Ragnarok, who wears exoskeleton armor to fight in the Grandmaster's arena as one of the gladiators. In LEGO form, Miek is a purple printed head with two purple flowers representing his body. As he's simply a purple lump in the movies without his armor, I'm not sure how to feel about this LEGO version of the character. He's not shaped like a larva, but the printed head will be very useful for MOC (My own creation) builders to create his exoskeleton armor.
The Accessories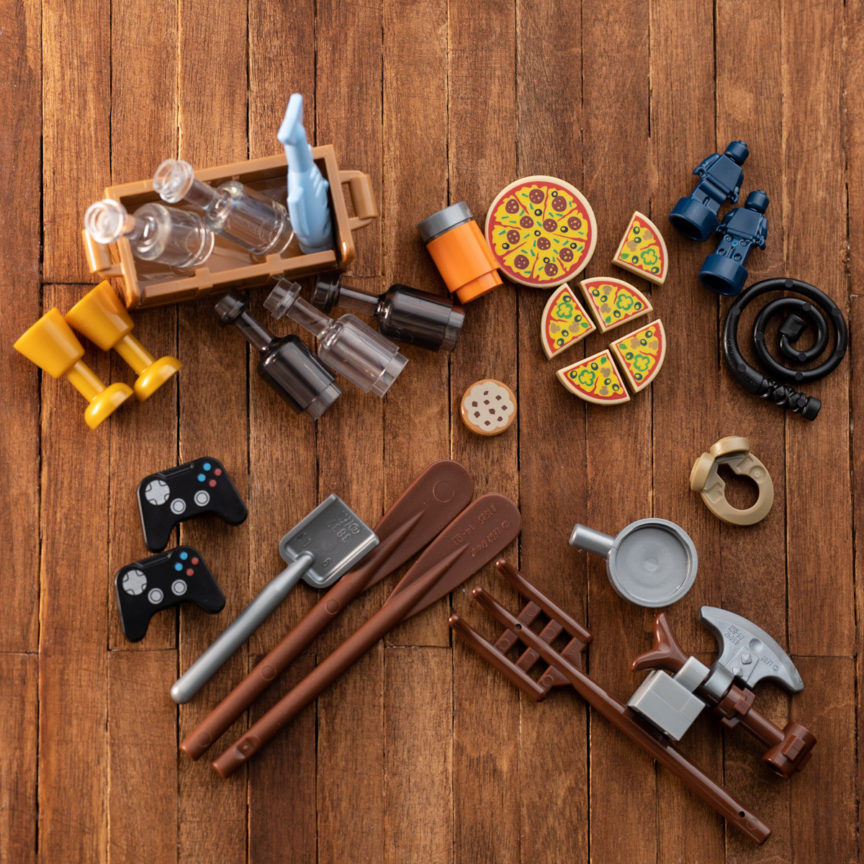 There's a surprising amount of accessories that would be useful in creating scenes in this set. The two gaming controllers especially jumped out at me. There are also numerous pizza pieces and bottles, great for your LEGO heroes taking a break.
It would take some eagle-eyed staring at the box art to realize that many pieces are stickers. The fact that there are not that many printed pieces in the set will be disappointing to some fans.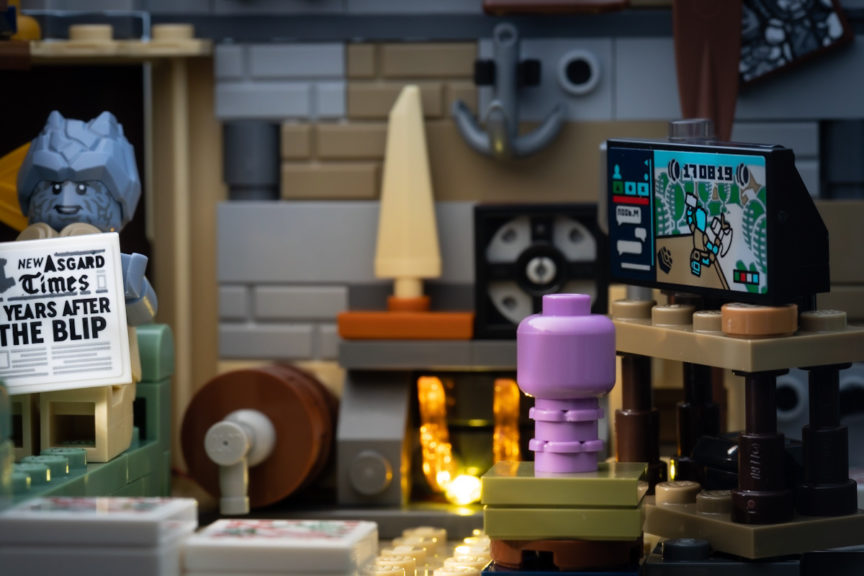 The buildable furniture will be very useful in scenes. The green sofa can fit three minifigures, making it a great alternative to having your characters standing in a row. The TV stand, keg, and fireplace add interesting reusable elements to any room.
Outside? Who Needs It Anyway?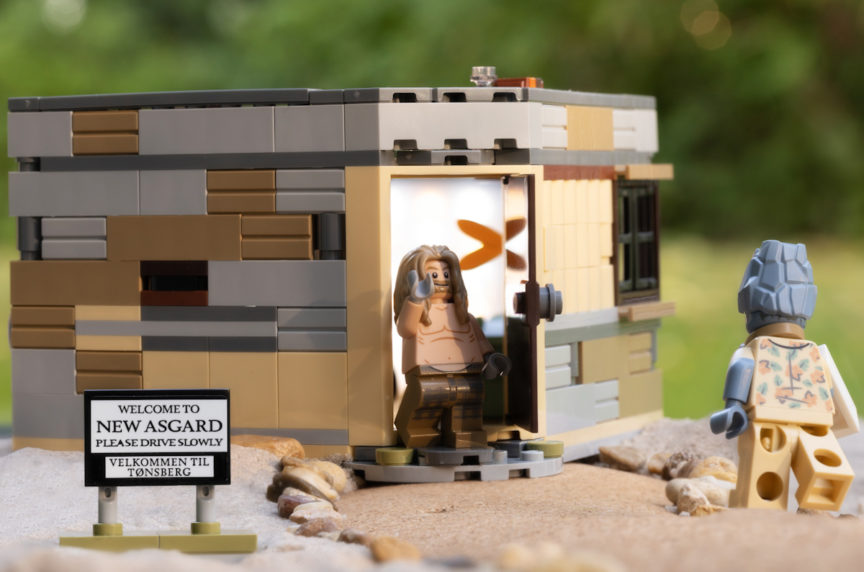 This set straddles between almost a film set, almost a playset, and almost a display diorama. It could be a film set if it had studio lights. Most playsets are playable from both sides, so this could be turned into a playset by adding a roof and more outdoor decorations. It could be a display diorama if the floor were tiled and the walls raised higher, past the indoor decorations.
These are all simple fixes for any builder to do with some extra pieces. Considering the quantity of the accessories included, I'm happy with the designer's choice of limiting build parts as opposed to limiting accessories to keep the price reasonable.
Behind the Scenes
In this scene, I used a LED cube light with a snoot and a cyan gel to cast a blue glow from the TV. Two LED panels provide a rim light and a fill light on the sides. My phone is behind the window to give a gradient backdrop.
Conclusion
Bro Thor's New Asgard has some great new minifigures and accessories for any LEGO photographer. It will also be a fun purchase for any collectors of Marvel superheroes looking to give their heroes a day off. While the build could be enhanced, I'm pleased with the choice to make this set very reasonably priced. I would rate this set 9/10. 76200 Bro Thor's New Asgard will be available on LEGO's website priced at 29,99 €/£27.99/$29.99US/39.99 CAD, with a shipping date of August 1.