LEGO loves a collaboration at the moment. They have several ongoing with different clothing manufacturers like Levi's, Hype and Adidas. Up to now that's meant these clothing brands producing LEGO branded products.
Well now the collab is working the other way with the launch of the upcoming brick built Adidas Originals Superstar LEGO 10282 set. When that set goes on sale, a small, reversed colourway, version will be available as a GWP. 
It's that giveaway that Brickcentral and LEGO were kind enough to send me to review.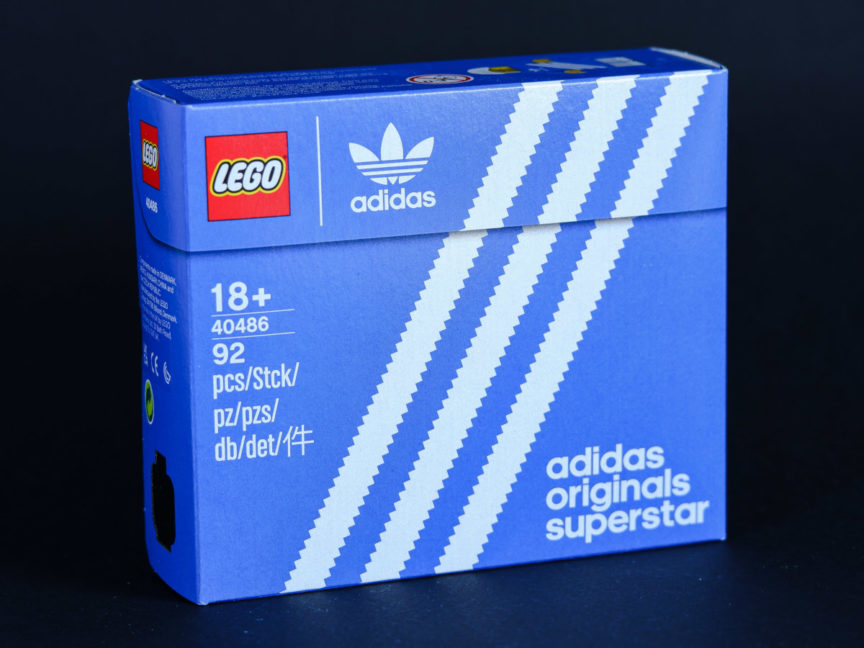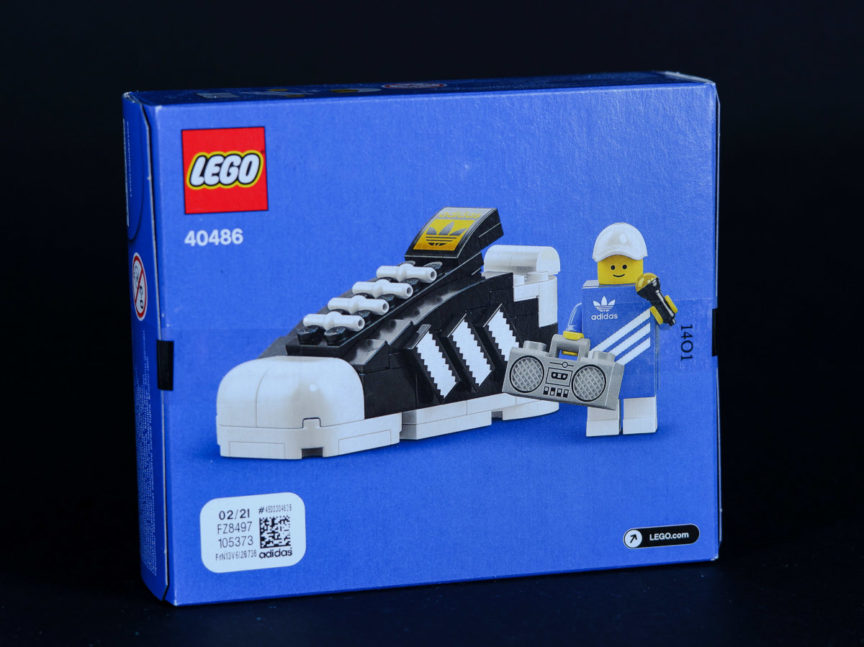 A spend of £95/€95/$85 at the LEGO Store, from July 1st, will qualify you for this Gift With Purchase (GWP) while stocks last.
The 92 pieces build a small trainer (Sneaker/Shoe/Kick or whatever you call them) and a minifigure in a shoe box costume. Weird. Remember when LEGO was all cars, castles and pirates? Good Times!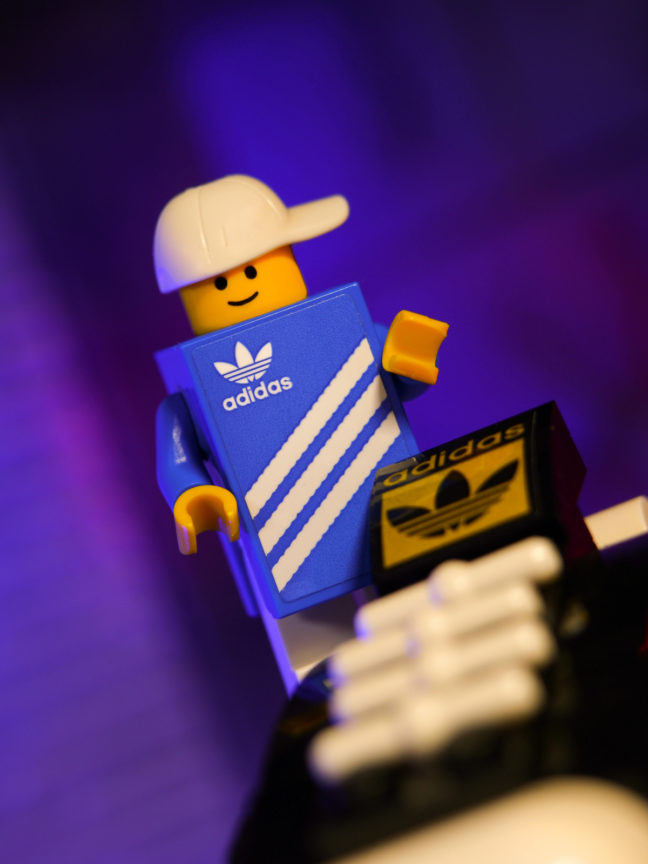 Goody One Shoe
I actually quite enjoyed putting this small footwear build together. Unlike the larger release, this shoe isn't left or right, it's symmetrical.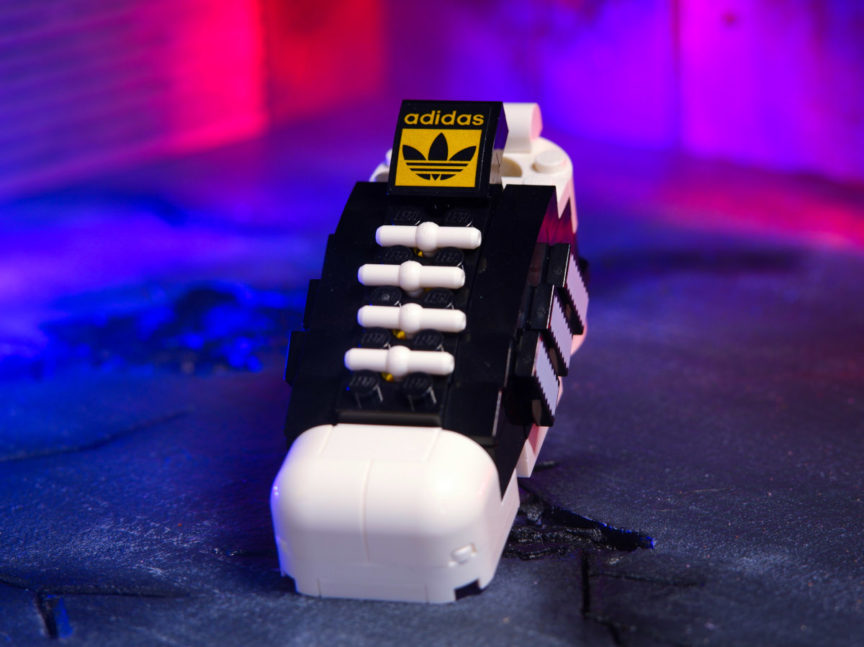 The Adidas logo on the tongue is a sticker but the 1×2 tiles used to form the famous three stripes are prints. I did have some issues getting the three stripes lined up in a way I was happy with.
I'm not an expert in these (or any) trainers but overall the build definitely looks like a small Adidas shoe from most angles. Should we have got a pair though?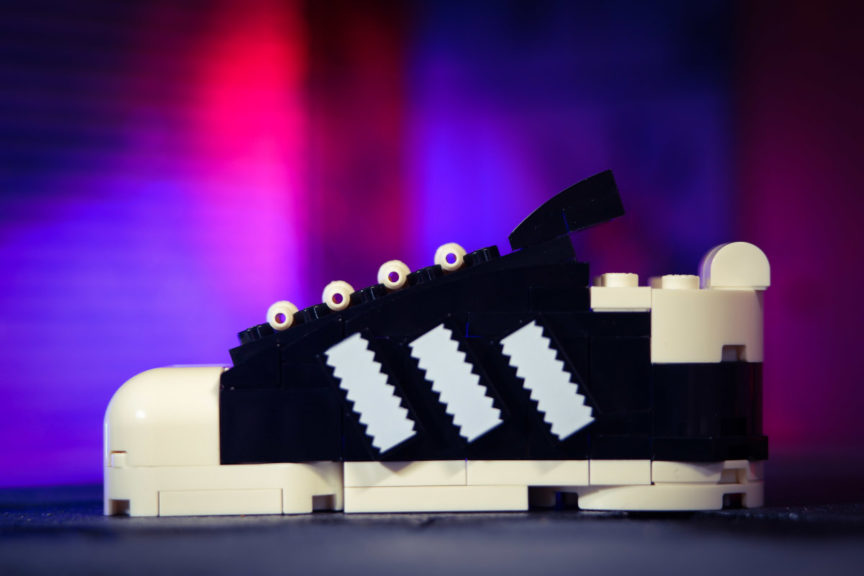 Mint In Box
The set comes with a minifigure who is wearing a shoebox costume. Adidas mega fan, rapping mascot, guy who got stuck in a box? I've decided it's the middle option.
The costume is achieved with the LEGO brick suit we have seen in the CMF series and a 2×3 tile with a sticker.
He also has a baseball cap, boom box and microphone. So nothing too special or rare here. However it's the first set I have got in some time with a "classic" face and I found that really endearing
What's the Story?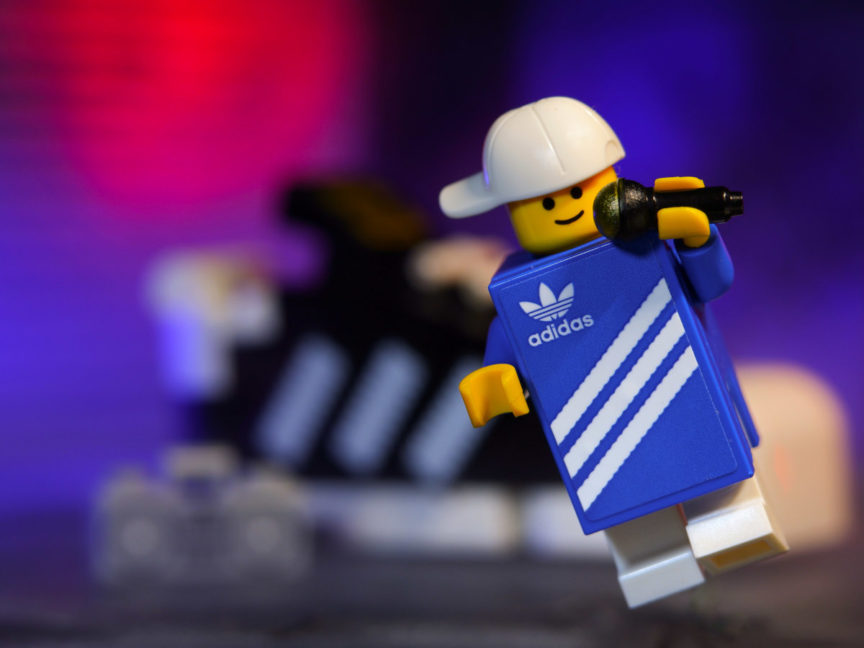 I wasn't sure what to make of this set from a story perspective. I decided that maybe it's the launch of a new trainer, shoebox guy is standing by a giant replica and performing with his mic and stereo.
Shoebox guy always wears his hat at a jaunty angle because that is what I heard the cool kids do (and not because the peak gave me a headache with shadows…).
Behind The Scenes
I knew I wanted to shoot this set on a street scene. I tried a few different things. First, outside in front of brick wall (Proper brick, not LEGO brick).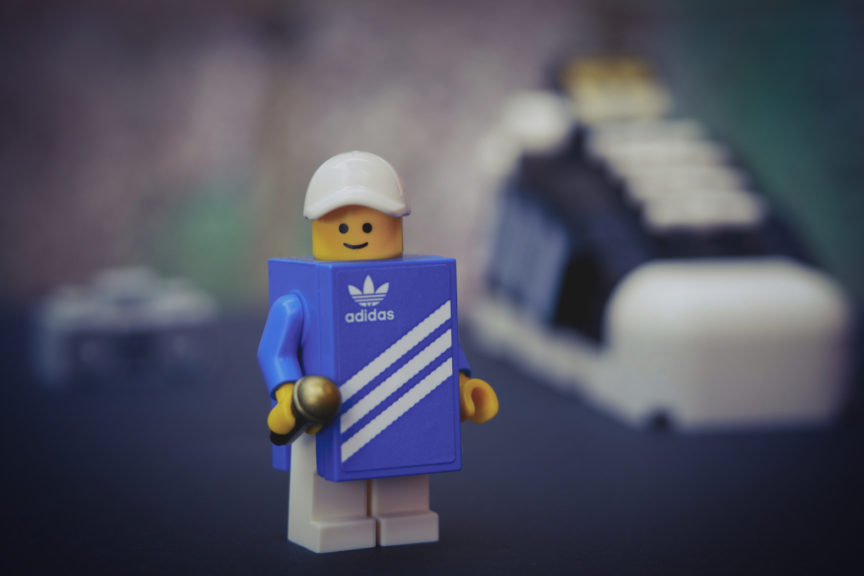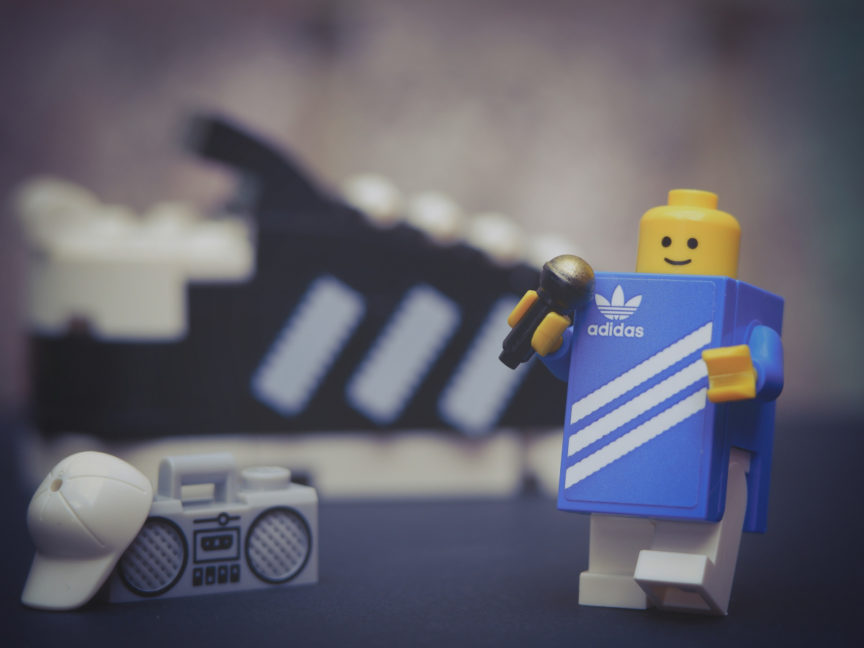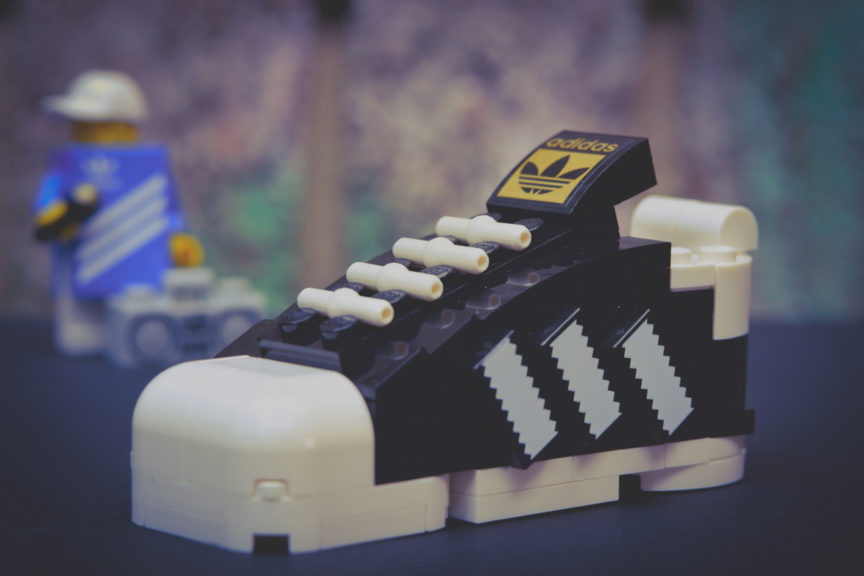 These didn't quite work for me but I liked them a little more after lowering the contrast. The muted colours made it a little more interesting I think. But the images did not pop the way I had hoped.
Next I tried a brick-built environment. A simple road plate and wall setup.
I was even less happy with this. The build was too simple, too grey and the images were flat & boring.
So next I moved to a diorama used for 1:12 scale action figure shots. This time I brought some red and blue light to add interest… because I was shooting a shoe!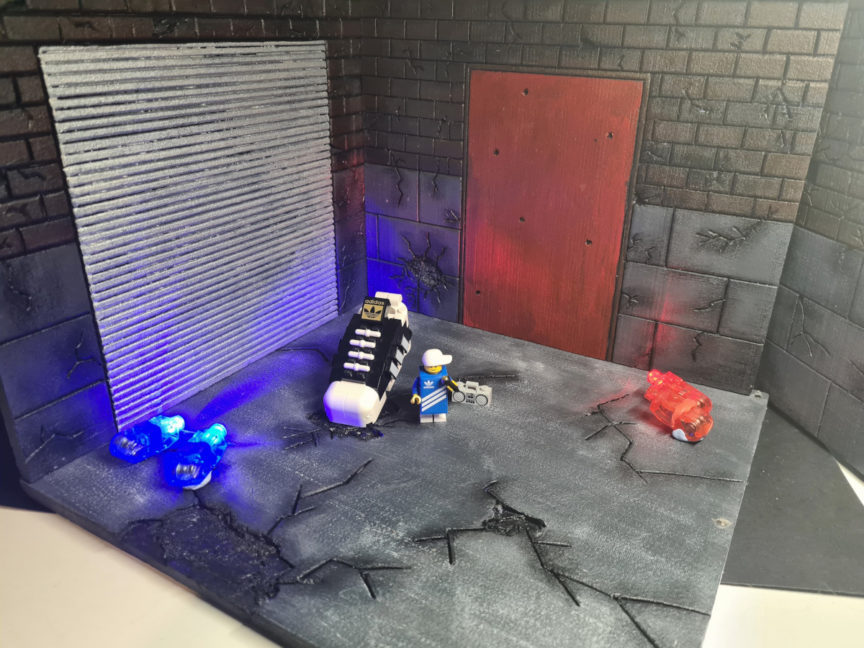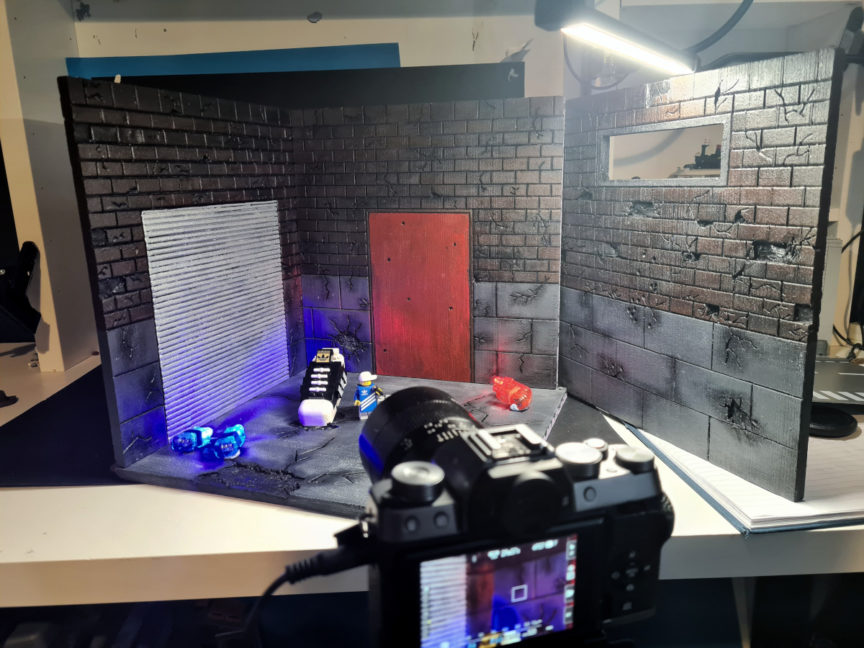 With some atmosphere added to the scene using a facial mister and the more textured diorama I thought these images worked better than the ones achieved outdoors or on the LEGO street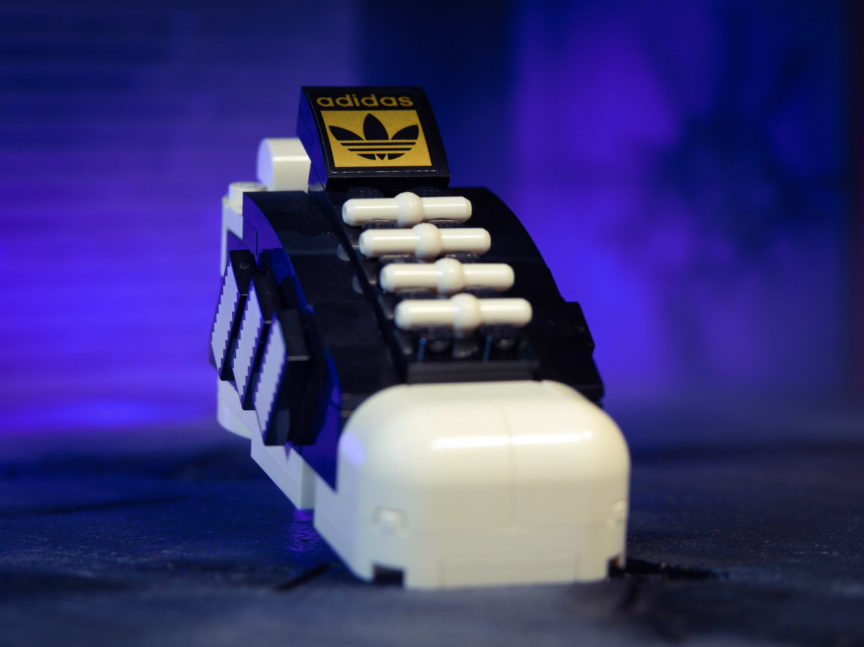 Does the Shoe Fit?
I'm not a collector of sporting footwear, I have my hands (and shelves) full with toy collecting but I understand the appeal.
I can see the large Adidas set being sought after by sneaker fans who get a pang of nostalgia for LEGO. More potential AFOL's hooked!
The lack of prints for the Adidas specific parts make this GWP set a little less valuable; it does mean however that it will sting a little less for any collectors unable to get their hands on one.
Overall its a strange but fun little set that requires a fairly big outlay for such a small thing. But if you are buying the large trainer and get this free I think it will make a really nice companion to that set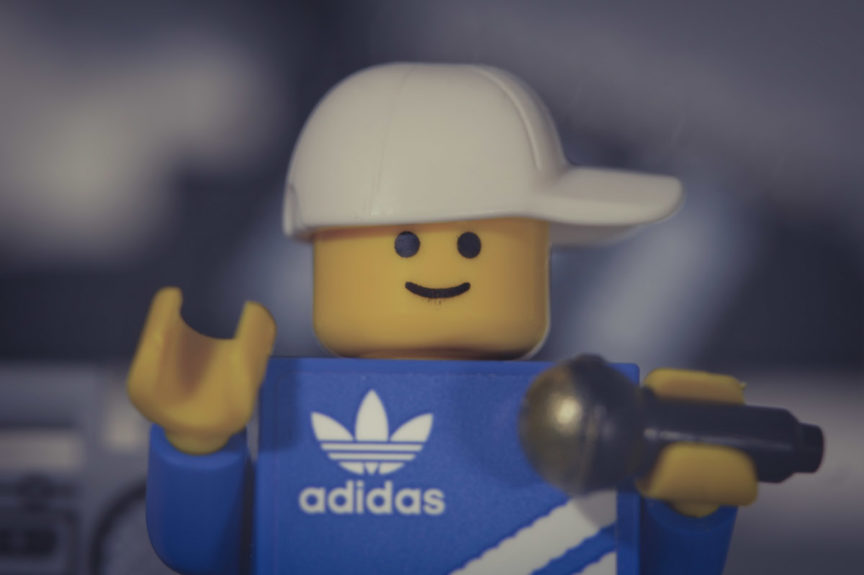 The shoe box minifigure is also a fun little character aided by that classic face. I do wish his decoration was a print though.
I don't plan to get the large trainer set but I do like this GWP in its own right and might even make a bit of shelf space for it.
Score: 7/10