Angel and I (@freethegeekman) are both LEGO photographers who started with a mobile phone camera before migrating to dedicated cameras. I'm sure this is a switch many others have made before and many more are thinking about now.
Brickcentral asked us to talk about our own photography journeys, how we started, why we made the switch, and how we found using mirrorless cameras versus phone cameras.
FREETHEGEEKMAN: Phone-based fun
I came out of my LEGO dark ages in the mid-2010's, buying the odd Star Wars or Marvel set. My brother followed suit shortly after and we started sending each other silly pictures of our LEGO. This lead to creating an IG account to share my images. At this stage I did not consider myself a photographer, I was just messing around with my LEGO.
I only had so many bricks for scenes so most of my photos for the first couple of years were taken outside. One day I took this photo of a stormtrooper (super original!)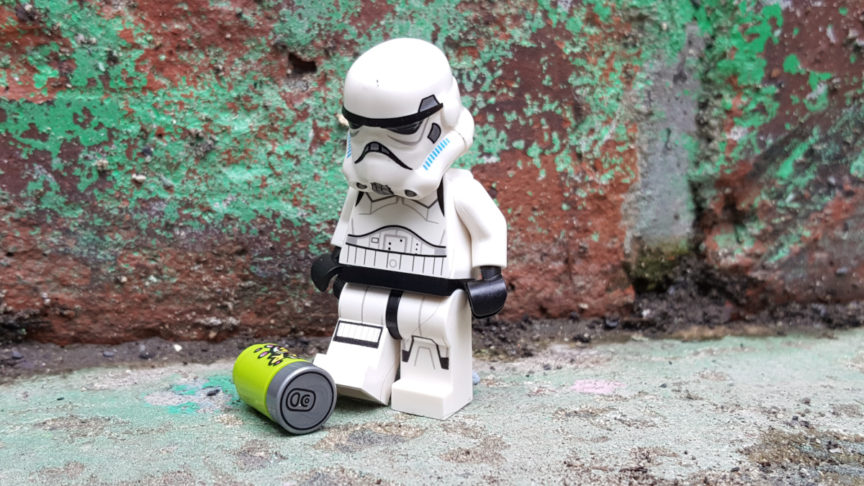 When I look back at this pic now I know it's nothing special, but it's the first photo I took where I felt proud afterward. I realised that with more care and thought this hobby was something I could do better.
I didn't understand what I liked about that photo. I started taking lots more pics and posting all the time… and measured my success by the number of likes. I didn't do any reading or research on photography at all. This lead to a few burnouts and time away from the hobby.
Looking back over my work from this period, I can see gradual improvement here and there. But I still didn't understand the basic concepts of photography and what can make an image look good.
Angel: It all started with LEGO
I have been into LEGO for a while but I enjoyed playing with it more when my kiddo started showing interest in it. We created stories and scenes, and I started taking photos using my iPhone to share the fun with friends on Instagram. The photo below is my first ever attempt at photographing a LEGO scene; I called it "A Love Story".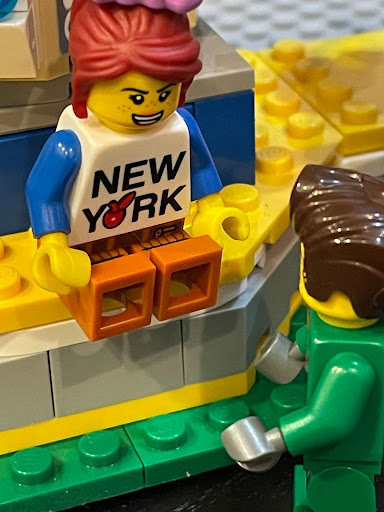 Then I stumbled onto Brickcentral.
I saw that they were holding a photo contest and I told myself, "sure why not since I have a lot of ideas."
Though at this point I had ZERO knowledge of photography basics. I was sure to have fun win or lose right??!\
I was so amazed by the creativity of those who joined and the storytelling, composition, and skills on display that I began to wonder If I could compose a scene just like those photographers.
I was just taking photos using my iPhone and editing them with GIMP. One day I woke up and my "Ghost Dog" photo was chosen for community vote! I was so surprised and so happy that I even became more interested in the Brickcentral community.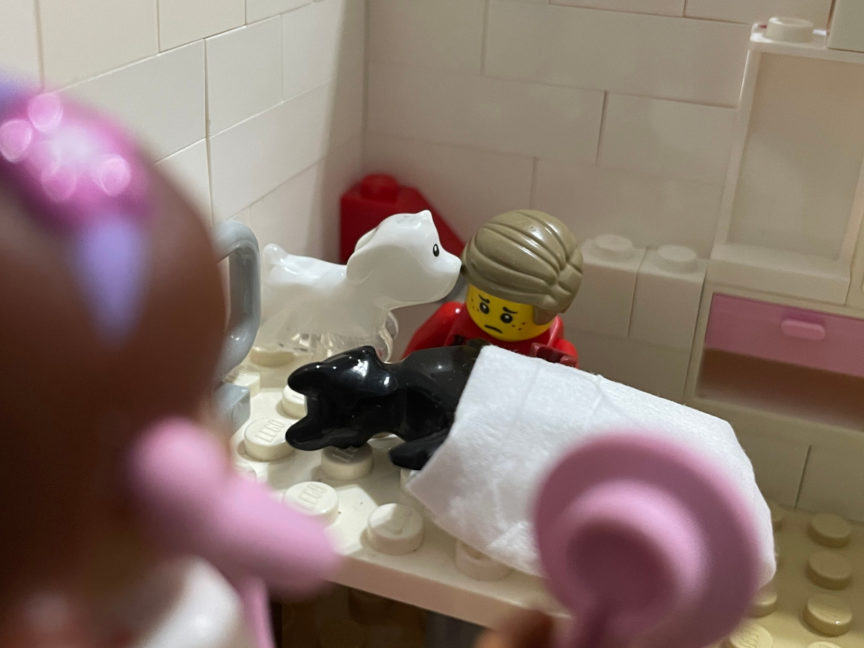 FREETHEGEEKMAN: Back to school
Things changed for me when I got to know Four Bricks Tall a little. She had a fun contest I entered and this led to me helping out with her forum. We had other toy photographers on there sharing tips and asking for help, and this shared desire to get better and help each other on the forum was far more constructive than getting 200 likes and a "nice pic bro" on an IG post. Though those things are still nice to get!
It was here was where I really started asking questions that would help me improve. It really got me to think about this hobby as photography for the first time – which sounds ridiculous I know.
The most important lesson I learned took way too long but it's really important. That was to think about composition, compose the scene with the story you are trying to tell in mind.
As I got more involved in the community, especially through Brickcentral, I started to appreciate and understand what I liked about other people's images… which led me to understand what I didn't like about mine!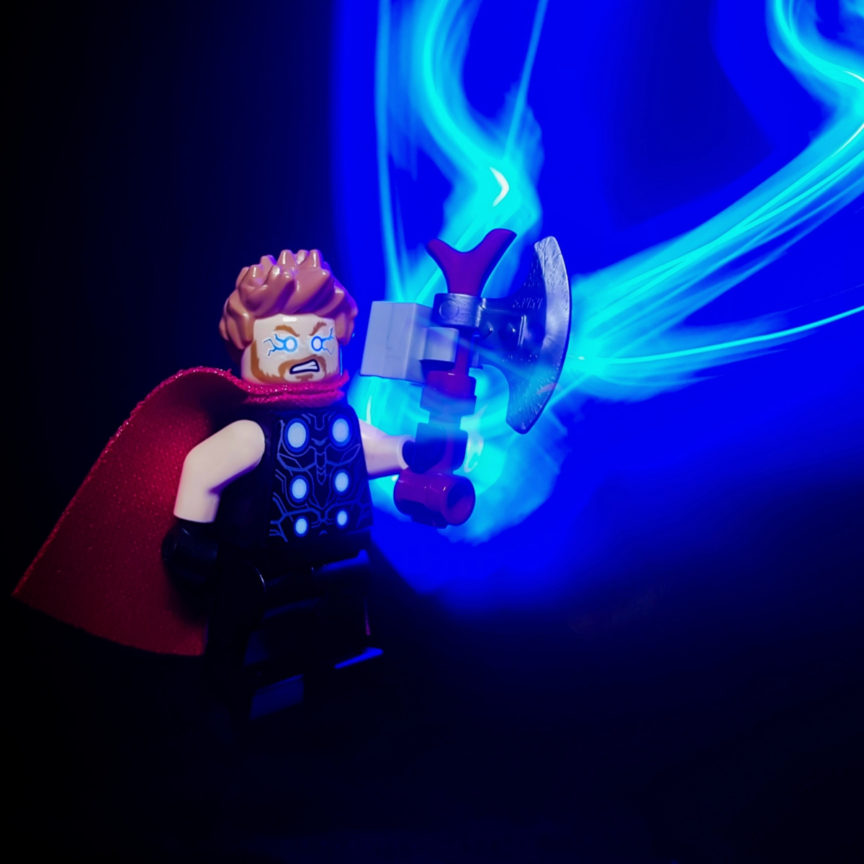 Initially, this was frustrating because you go from feeling good about something to learning more and understanding what is wrong with things you previously thought were good! But that's an important step. Of course, I still have loads to work on and improve.
I gradually started using tips from the community and trying to stretch what I could do a little with my phone camera, but I was hitting limits.
This is when I discovered a door to a new world. I asked for feedback on photos I took with my iPhone and the community gave me knowledge and skills. I watched videos from Four Bricks Tall's Youtube channel and started researching the basics of photography. I was applying the new skills I learned but I was struggling to get the result that I wanted. That's when I knew I needed an upgrade.
My husband and kiddo surprised me with a Canon EOS M50. Using an iPhone and a professional camera is very different, at least in my experience. I was able to do in-camera effects thanks to Four Bricks Tall's challenges. The community helped me recreate my "ghost dog" scene with the feedback that I needed!
FREETHEGEEKMAN: Upgrade
Angel identified she needed to upgrade much faster than I did… but I did get there eventually.
I had gotten to the point where taking quick photos when out with my dog was not an option. I had more elaborate setups and started learning lighting and using more advanced settings on my phone. I found myself happier with my shots in some ways but also frustrated in others. FBT eventually convinced me I needed to jump over to a "proper" camera.
I opted for a mirrorless FujiFilm XT-100 and I honestly don't know what took me so long.
Again this initially felt like a bit of a step backward: you feel like you are at the bottom of the curve again with lots of learning to do.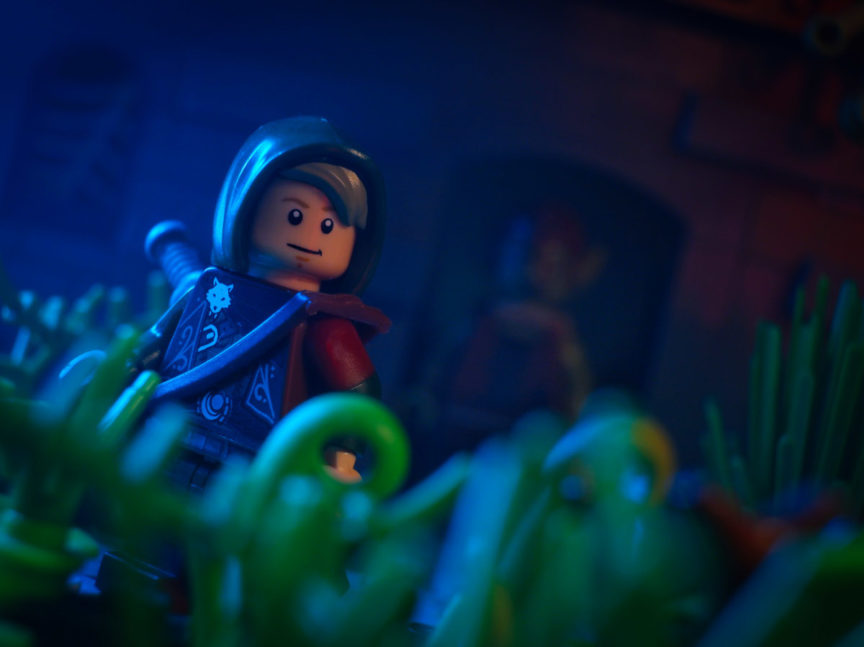 The difference in options you get from a mirrorless camera and a selection of lenses compared to a phone camera are vast. And that's not just technical options but storytelling ones. You can more freely choose how to compose a scene and really get the focus on your subject. And this is what I have loved about migrating to my mirrorless camera.
I am still low on that learning curve but so long as I am moving on it, however slowly then I am happy with that! I'll let Angel have the last word because she sums up where we both are now really nicely.
Angel: I'm still learning and it never ends
Every day I try my best to learn a new skill and apply it in my photos. Practicing is key and knowing the basics gave me an idea on how to properly compose a scene, play with lights, etc. I'm having fun and it is endless! Thank you for taking the time to read my journey. We all start somewhere!