There are some LEGO photographers out there who, no matter what you're doing with your own photography, just make you seem lazy by comparison. Yuri Badiner is one of those guys for me.
His complicated staging with wires and adhesive putty brings minifigs to life as they stumble, tumble, float and fall in his wonderfully crafted scenes.
(I know, I know, it's generally unhealthy to compare yourself to others especially with social media posts, but I'm talking about work ethic here, not imagined lifestyles.)
When you look at his photos like this one of a chaotic day in school, you can't help but seek out more of these little action details that Yuri painstakingly arranges throughout the image: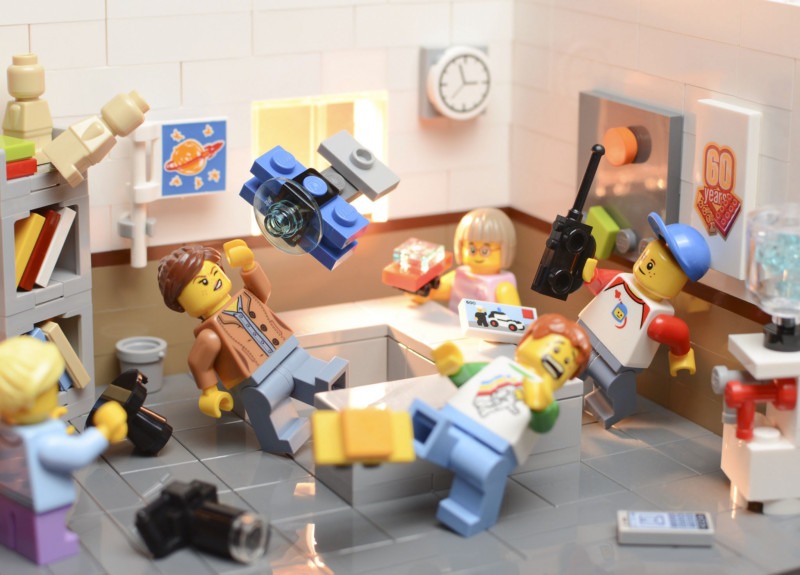 In sharp focus and against the brightest area of the photo, the mini build of the toy plane in the air grabs your attention first. But then you notice the posing of the annoyed teacher thrown off balance (great use of the wildlife photographer's head) and the mini statue falling off the bookshelf behind her.
The action continues to the right of the frame with the unstable perpetrator, his cap just about to fall off his head. And in the foreground, more action as a classmate teeters backward after slipping on a yellow toy car which is now airborne as well.
Such fun details!
A complex scene like this takes patience and delicacy to execute, as well as a strong understanding of composition. Yuri's positioning of the minifigs and choice of camera angle ensured that each minifig had enough room around it so that the scene doesn't feel crowded.
In this interview, Yuri describes how he goes about staging his photos with this shot of a guy who loves music.
Coming up with a concept
Like many talented LEGO photographers, Yuri begins with a character and a story: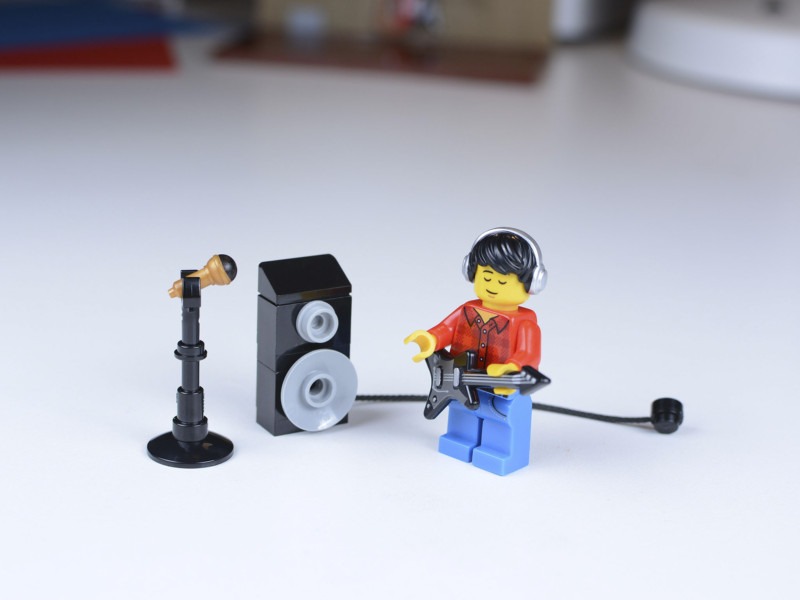 "In this work, I show one guy who loves rock music, listens to it constantly. Since he respects others, he uses headphones 🙂
I don't know where exactly he is now. Maybe he is at home, sitting on a couch, or riding the subway. But one thing I know for sure: he hears his fingers gliding along the strings like sports cars cutting through the air on the highway, and how the pick touching the strings causes the soul to tremble.
He imagines a studio appearing around him and a light comes on. He enjoys his favorite tune."
Setting up the scene
With a story and character firmly in mind, Yuri began building a set for his melophile. He tends to favor a 4:3 aspect ratio for LEGO photography because it's "not so squarish and not so wide" and built the background to fit that format.
"When I imagine the place where someone plays rock, three words instantly come to mind – bricks, wood, spotlight. My place became something between a recording studio and a guitar shop. Authenticity in this case was not important. I just wanted to recreate the atmosphere that I imagined."
Getting the minifig into a natural pose is one of the most difficult challenges that Yuri faces when shooting LEGO minifigs. A slight turn of the head, a little bit of a bend at the torso, or a tiny twist of the hand are important details that Yuri attends to because he wants the viewer to believe in what is happening in the photo.
Yuri used paper-covered wire that florists use in flower arrangements and tacky adhesive to get the minifig and music tiles floating.
"For small and light parts, I use a wire with a thickness of 0.95 mm, but if I need to hang the whole model, I use a wire with a thickness of 1.6 mm. The wire is easily retouched in a photo editor, so you can easily create convincing chases with flying vehicles or explosions with particles flying in the air, etc."
To create an electric mood, Yuri leaned colored paper on either side of the recording studio/guitar shop that reflected some of their color onto the set.
"Colors are emotions. Blue is energy. Red is drive. I like to shoot live and apply a minimum of effects during post-editing, that's why I chose to use colored paper, which gives color reflections instead using a gradient in a photo editor."
Finally, the scene is lit with two YongNuo YN-560III speedlites in 40x40cm softboxes set on each side of the scene and angled at 45 degrees for a soft, even light.
All of this is set up on a desk in his room.
Shooting the scene and editing
With most of his shooting done indoors, Yuri uses a tripod and has his camera manually set to a large aperture and low ISO. His gear of choice is a Nikon D7100 with a 35mm f/1.8G AF-S Nikkor lens, allowing him to shoot at close range and get a bright, sharp image.
Yuri spent an hour shooting forty-five shots until he got the desired result.
Since his aim is to get most of the effects done in camera, editing the photo usually takes the least amount of time.
"I do not add any special effects.I just need to hide the wire and glue pads, erase scratches and dust, make some color adjustments, brightness, contrast, and crop the image."
The Yuri Badiner Challenge
A falling minifig here, a floating mini build there, and also smaller elements such as 1×1 tiles in mid-air are things Yuri places in his scenes to make his images really come to life and wow. The #inthestyle challenge this month then is to get your minifigs into poses that they normally couldn't be in without some kind of invisible support. And not just your minifigs, but some secondary elements in your photo should also be animated.
That doesn't mean things have to be mid-air like in the rockin' music lover photo, rather think about getting your minifig on tippy-toes or breakdancing. (Or is it b-boying now? I don't know. I'm old.)
Get your wire and adhesive putty ready, folks. The #bc_inthestyleof_ybadiner starts right now. Yuri's pick(s) will be posted throughout the month on Brickcentral's Instagram account and on the shiny new forum. You'll also get the special camera badge on your profile page here for eternal bragging rights as well as points for some fun unlockables later.
These camera badges are only offered for special challenges like this so if you're hoping to get them all, make sure you join this #inthestyleof challenge!
More from Yuri Badiner: