Every month, we pick a LEGO photographer active in our community and share some of their work and a little about themselves. This month we moved to Poland to meet archiminibricks (Instagram: archiminibricks | Tumblr: archiminibricks)!
My name is Arek, archiminibricks since the Tumbler/insta-reel revolution – legomiki earlier.
I'm 38, from Poland and live in the Silesia region. I have 2 kids and they are the reason for LEGO re-love.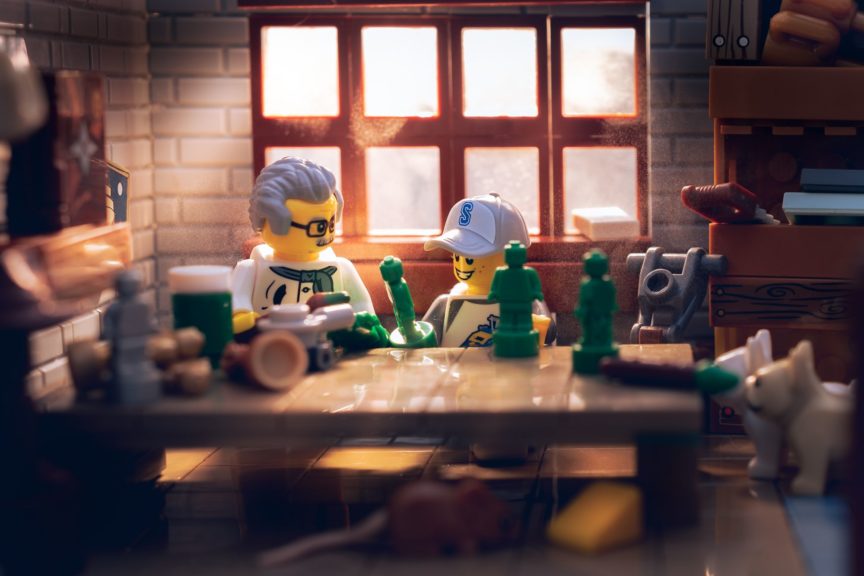 I start LEGO hobby 15 years ago and LEGO photography in 2021. After watching Polish LEGO masters and discovering LukasData photos, I started digging more and on the way here I found Four Bricks Tall YouTube channel and BrickCentral gathering people with the same passion. It all boosts my photo skills a lot – at least I hope so.
I use a Nikon z6II with Nikkor 24-70 f4, Sigma 70-200 f2.8 and Nikkor 40 f3.2 macro. I was using continuous lighting for a long time but recently switched to flash which is way more challenging, but also way more rewarding in the final image.
And the shelf with cardboards, diffusers, clamps, and wires is overgrowing.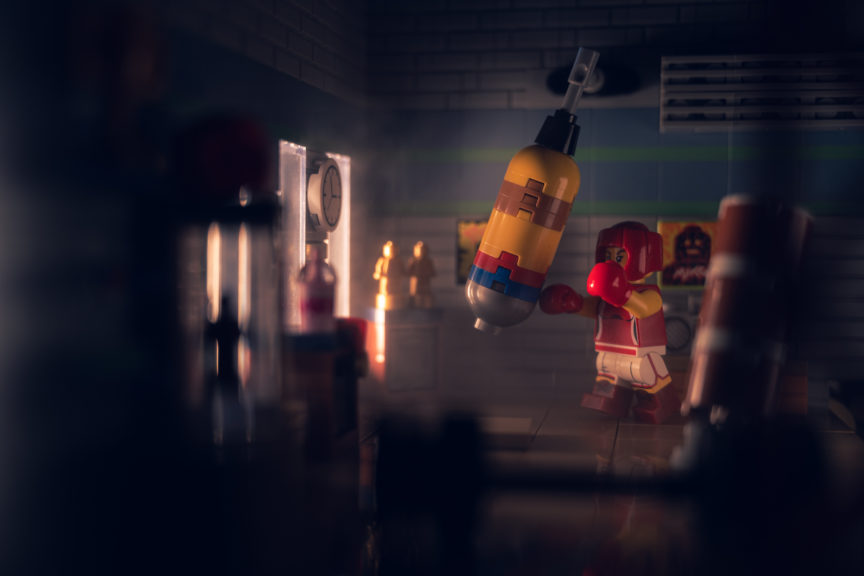 I love to shoot outdoors where the possibility of creating a small world with some tiny sticks, moss, grass, and mist from facial atomizer is unlimited, but due to lack of time, I often create a small world on the kitchen or balcony table.
The things that I always search for in photos are atmosphere and story. I love light shining through the windows, doors or branches that somehow fill the scene.
I like making the scene foggy, misty, dusty or sweaty.
I also pay too much attention to "perfect photo" scenery and make 50 shots of one scenery – but I fight with it recently, accepting that perfect scenery doesn't exist and searching for it, just holding you down.
I search for inspiration in real life and other LEGO world creators.
I mostly photograph "down to earth-one actor" minifig scenes. I love the hiker and sad clown minifigs.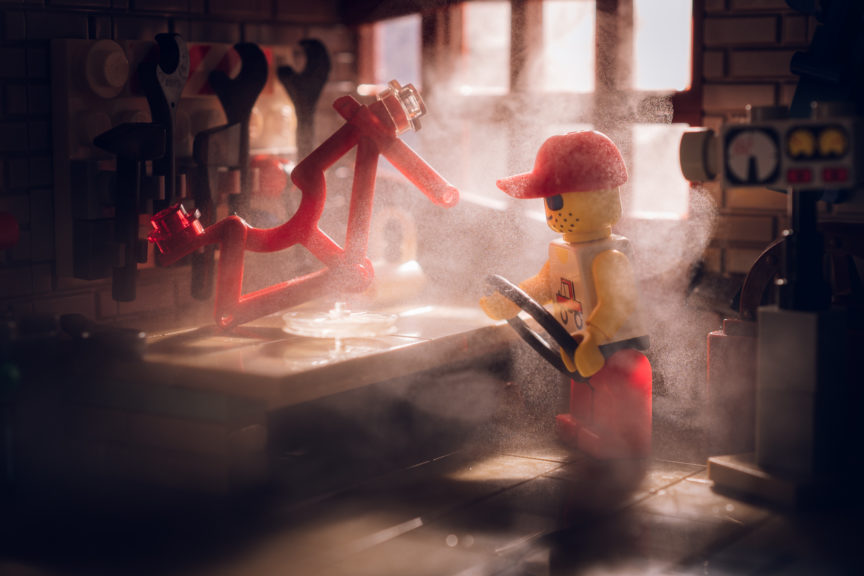 All my pictures are post-processed in Lightroom (PS sometimes). I like that second "bringing to life" feeling – but don't like to add fake digital stuff.
Thank you BrickCentral for the opportunity to say something about me. Create for yourself, not for social media applause and that's gonna be your best photos.
The exclusive
In this photo, there is everything I like: outdoors, single subject, mist, and lighting from the back.
I tried to shoot stuntmen a couple of times but the final photo was never that one – until the shopping cart arrived. Stuntman, shopping cart? What can go wrong?
I used 70-200mm to get the stuntman and his vehicle well isolated from the background. Before putting it all together I removed all the little grass and rocks that cause a mess. At first, I shot just our hero in the center, it was fine but missed some kind of leading line.
I put sticks on the left and right to make a frame and position them so that they lead eyes to the brave one.
Flash with honeycomb and orange filter was in the left-back and two face atomizers in front of flash and behind the stuntman to create "thru the smoke he goes".
Tip: Try to put an atomizer basically perpendicular to the subject axis – if you put too much mist on the subject with flash you get a big white overexposed rectangular.
It's all try-shoot-error-change a bit-again. The photo was edited in lightroom. Here's a before and after photo to see my editing vision.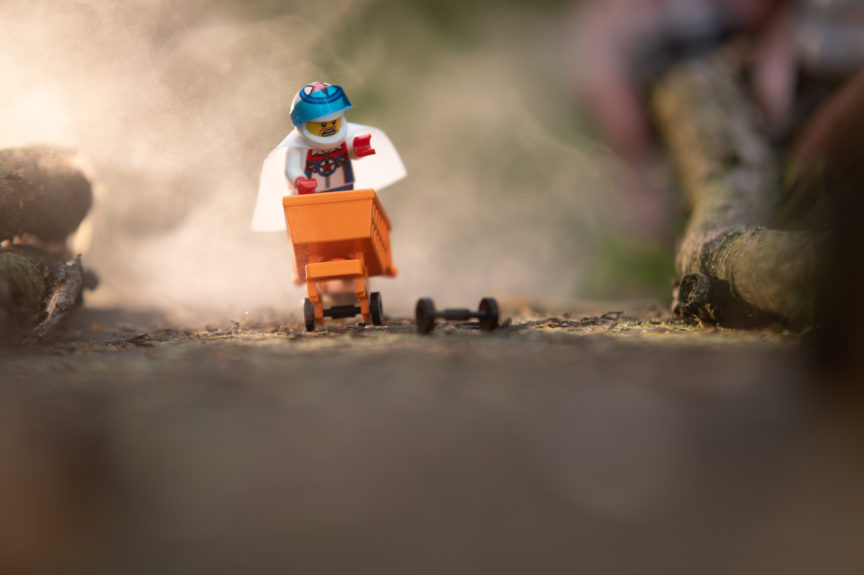 I use a lot of masks to hide some things and lead the eye in "good direction".
Thank you for your time and see ya somewhere in the forest!