Brickcentral and LEGO provided @glowingbrickette & @Stories_in_bricks with the LEGO Creator Yellow Taxi 40468 and LEGO Creator Tuk-tuk 40469. We asked them to give us their thoughts on the sets and share some insights into how they went about photographing them. Both sets are currently available for $9.99/€9.99/£8.99 at the LEGO Store.
Stories_in_bricks
Yellow Taxi
Upon opening the box, 124 pieces fall out – most of them yellow and 19 of them jumper plates. The build is straightforward with no big surprises or highlights.
There are some SNOT (Studs Not On Top) techniques used for the front and rear bumper and the many jumper plates are used to shift the upper part of the car half a stud. This gives it a nice side line while keeping the six stud wide chassis
The build is very solid (except maybe for the side mirrors) and a very good play model for younger builders. It's a good representation of the famous New York Yellow cab, it's instantly recognisable.
While it is not built to accommodate minifigures, the scale is a good fit next to a minifigure. Therefore it might be a good choice for a background/prop model in a city (MOC) scene.
But I have some small issues with the model from a photographic standpoint. There is some scale discrepancy between the height of the upper and lower part of the model.
For me the upper part of the car just looks a little too flat compared to the overall dimensions, but I don't have a good fix for this due to the restrictions of the small scale.
Another challenge I encountered when photographing this model was to find its good angles. It's a small and relatively square build with few details. This unfortunately results in a lack of many photogenic angles for my taste.
So from a photographic perspective I am not entirely convinced, but from a play perspective or as a prop it's a nice model with an acceptable price range. As a final score I would give it a 7/10.
Since it is an urban model I tried to take some pictures in an appropriate environment, i.e. in the city with some travel related context.
To add some dynamism to the pictures I took at the main train station I used a neutral density filter to take long exposure pictures during the day.
The exposure time of about 15 to 20 seconds shows the movement of the trains due to motion blur and a stationary taxi.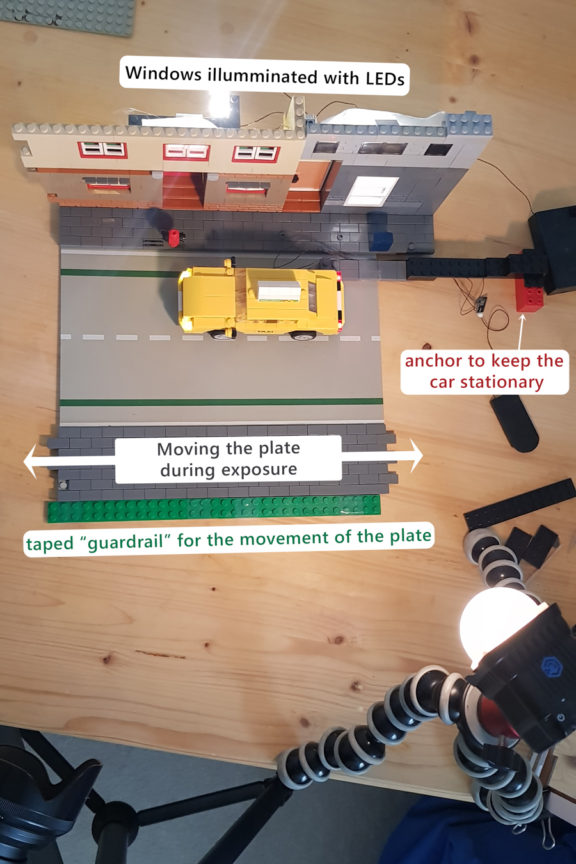 Back at home I made a little MOC to reverse this effect. I wanted to take a picture of a sharp moving car with a motion blurred background. To achieve this I built a house facia on top of an old street base plate.
To give some highlights to the scene, I used some LEDs to light up the head and taillights of the taxi and to illuminate the windows of the houses.
I fixed the car with some long plates to a weighted brick as anchor and after finding the right angle taped some plates on the table as guide rails.
With an exposure time of about 2 seconds I moved the plate during the exposure. Due to the fixture of the car it stays stationary and sharp in the photo while the wheels and the background are blurred due to the motion.
To find the right speed for the movement without lateral movement of the plate took a couple of tries, but the result is pretty convincing.
Tuk-tuk
This famous Asian vehicle is built out of 155 pieces. The model is a straightforward build with no special techniques except for some SNOT builds on the sides.
The colour pallete used for the model is fittingly colourful and gives the whole model a positive vibe. There are some nice details in the build like the exhaust pipe, a fire extinguisher and some hanging ornaments which help the model come to life.
No minifigures are included in the set, but the scale is appropriate and it is built to accommodate them. It has space for a driver and passengers, although only the driver can be fixed to studs.
The rear bench seat is a flat plate without studs, so the passengers have to hold on for their life – just like reality sometimes!
With or without figures the model looks pretty nice and is a good representation of this famous vehicle.
It has many photogenic angles, so its offers plenty of opportunities for good photos. I think it is good value for money and I would give this set a 9/10 overall.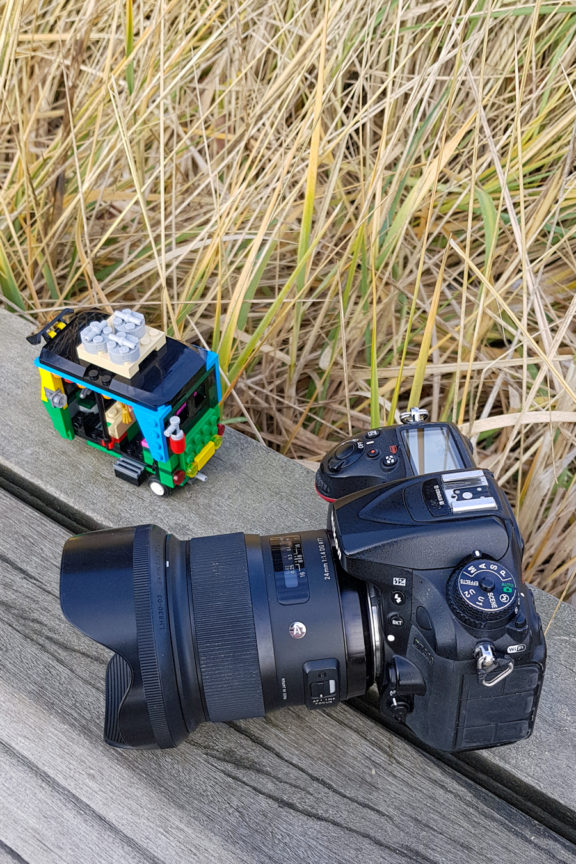 From a photographic standpoint the photos I took in the wild are nothing special. I wanted to shoot it outdoors in a fitting environment.
Unfortunately Covid restrictions foiled my plan to take photos with an Asian vibe at some special locations.
Therefore I was looking for some alternatives in my neighbourhood and I found some tall grass which could double for bamboo or jungle vegetation.
I got very lucky with some gaps in the clouds and a little sunshine, I tried to use some backlight to let it shine through the open spaces of the vehicle and make the photos interesting.
GlowingBrickette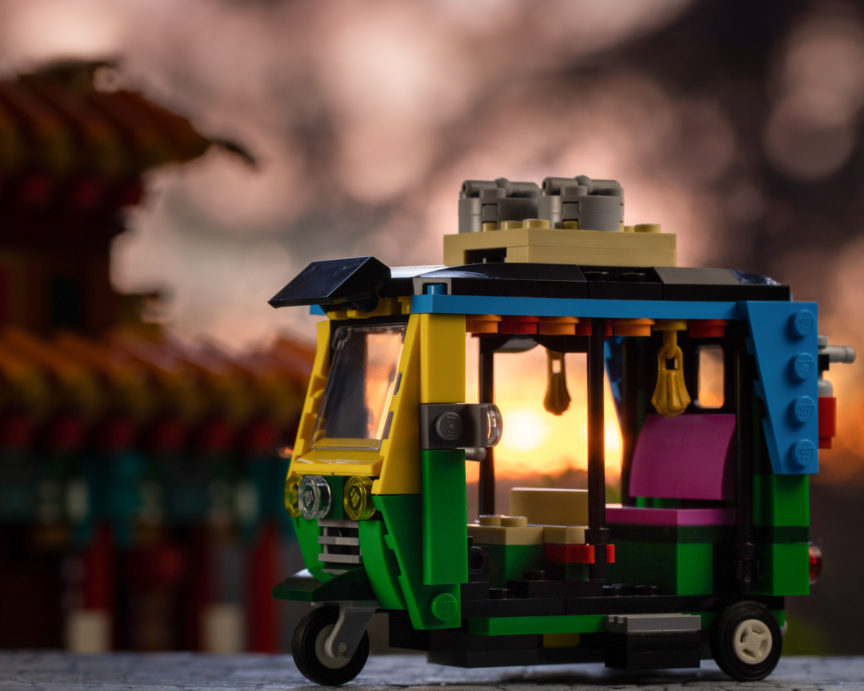 The LEGO Creator Tuk-tuk 40469 is a very colorful three wheeled vehicle that was quick to build. According to the item description on the LEGO website, it has 155 pieces, and measures over 3 in. (9 cm) high, 2 in. (6 cm) long and 3 in. (10 cm) wide.
While no minifigures are included with the set, any minifigures you already own can fit inside the tuk-tuk, and there is room inside for one driver and two passengers.
This vehicle would be perfect for a minifigure travelling photographer or to enhance a Ninjago city. What I like about this vehicle is how different and quirky it is, no plain boring vehicle here.
There isn't much to dislike about this vehicle, except maybe the fact that I don't actually have a Ninjago city to put it in. I would give this set a 9/10.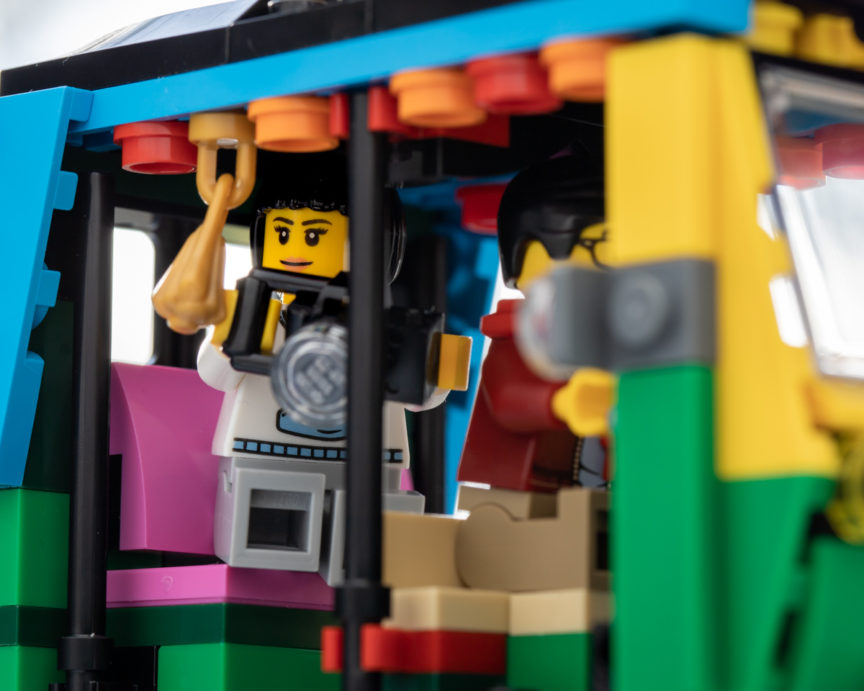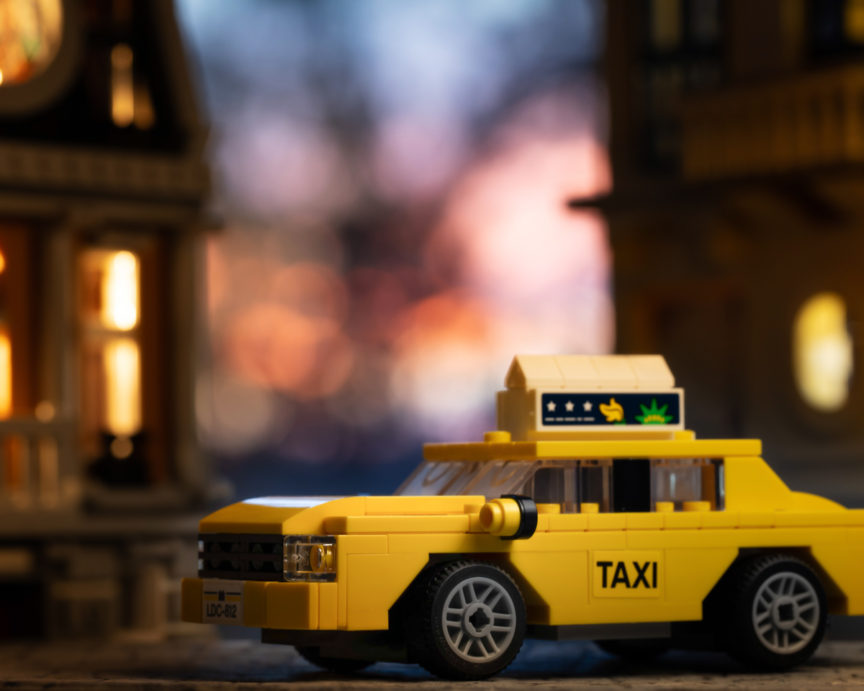 The LEGO Creator Yellow Taxi 40468 has a very classic appearance that looks a great deal like taxis you've seen in cities. According to the item description on the LEGO website, it has 124 pieces and measures over 2 in. (6 cm) high, 5 in. (13 cm) long and 1 in. (5 cm) wide.
This set does not come with any minifigures, and is actually smaller in scale than the usual vehicle size. No, sadly, your minifigures will not fit inside, nor do the doors or trunk open and close.
What I like about this set is its classic look that would fit in any urban scene. What I dislike in regards to this set is it's smaller scale makes it look odd next to other vehicles.
It would still look good in the background of an urban scene, even if the size limits its usefulness. I would give this set 8/10.
While I feel $9.99 is a reasonable price for each set, I do not think I would purchase them myself. I have little interest in vehicles, and so many sets come with them that I already have an abundance of cars.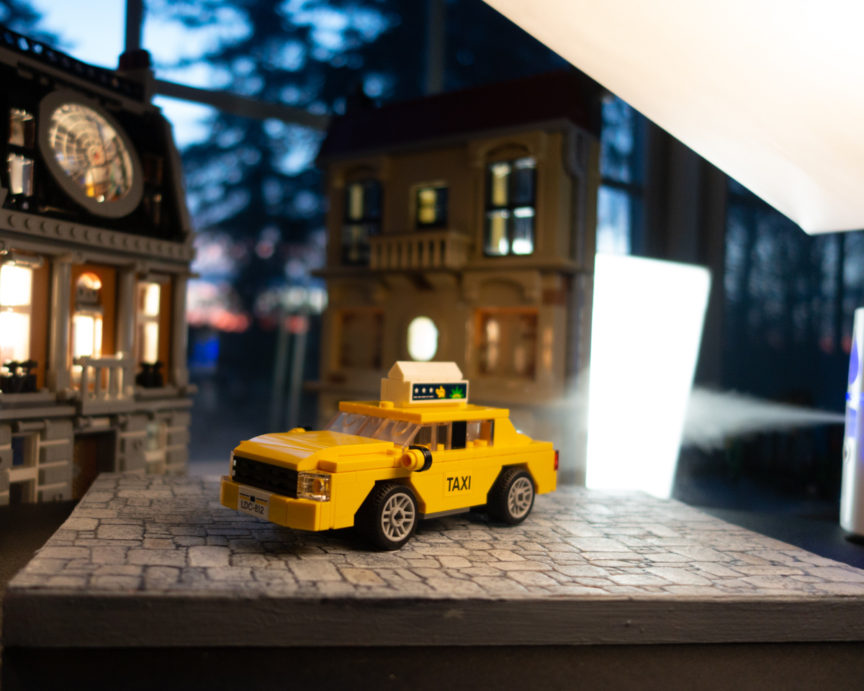 I enjoy using real sunsets for my scenes, so I set up in front of the window. To make it look urban, I chose some buildings that had a city look to them. LED lights were placed inside the buildings so they didn't look abandoned.
I used my hand painted foam-board cobblestone flooring for the street. It's a diorama piece I painted with acrylic paints and etched for texture. A softbox lights the taxi.