Set 10280 Botanical Collection is an adult oriented floral build that is a bit of a departure from the sets LEGO typically releases. LEGO & Brickcentral provided Ohsomebrick & SarouxBastoux with the set so they could review and shoot it for us. Spoilers, they both liked it! However, they have different things to say about it and most significantly they have some very different tips for photographing the set.
Below you can find out what SarouxBastoux thought of the set and get some insights into her shoot. You can find the alternative take from OhSomeBrick here. Now over to SarouxBastoux…
An Overview
Lets start with the box, I find it very attractive. Using a black background to bring out the colors of the flowers is a great choice.
Special mention for the booklet which keeps the same color scheme as the box and on top of the usual building instructions, presents a description of each flower present in the bouquet. I loved this!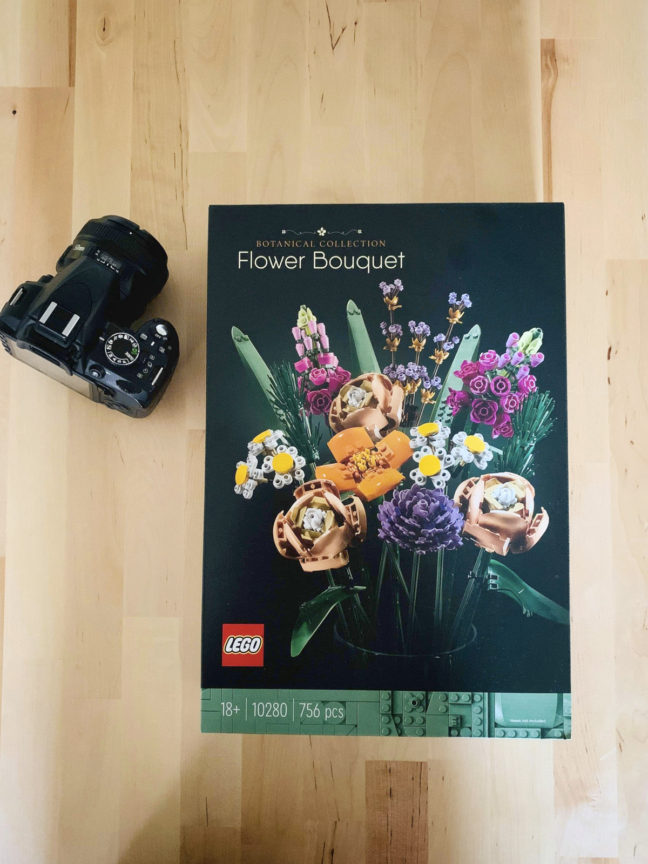 As far as building he bouquet goes, I found it quite easy overall, but also enjoyable. Only one type of flower presented any difficulty due to its fragile design. But nothing crippling.
I was surprised by the ingenuity of the choice of certain pieces, for example, the choice to use a Pteranodon Dinosaur Wing (6311389) to represent the decorative leaves of the bouquet.
In short, there is a lot of fun with this box!
Of course, you will need a vase at home to display your flowers. For my part, I used my carafe of orange juice since I did not have a suitable vase on hand (LOL).
The set, with the vase, is approximately 50 cm high and 38 cm in circumference. An ideal size to be displayed on a table or on a piece of furniture.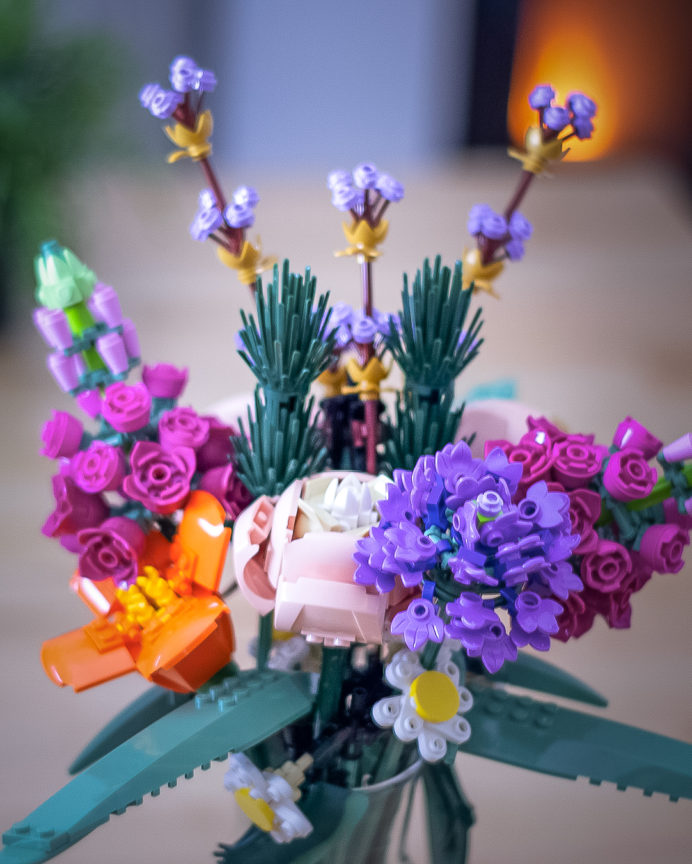 The composition is particularly successful once mounted and the illusion is perfect. So much so that some of my guests had to come closer to study the set, thinking they were real flowers at first glance.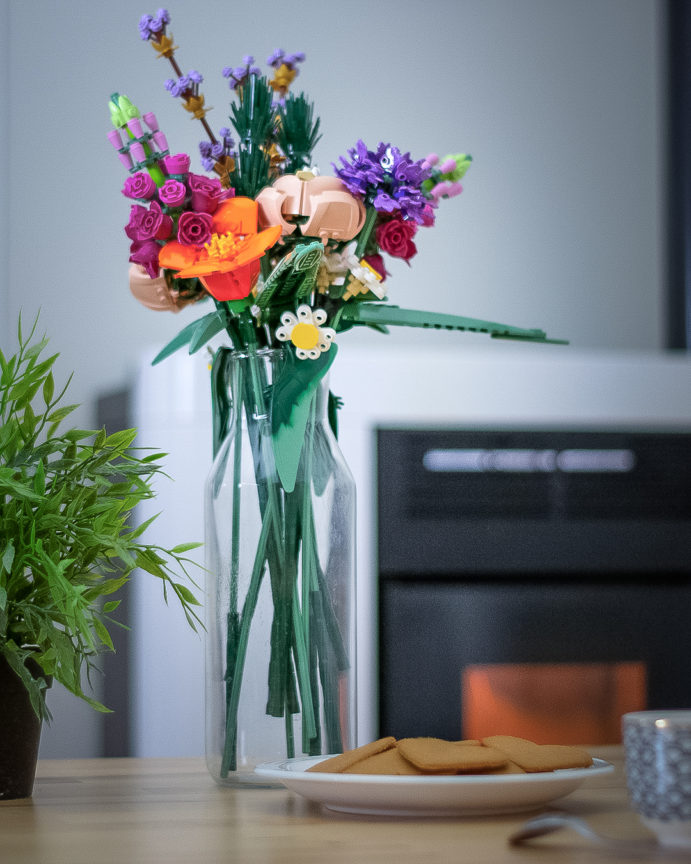 Time To Photograph
With a set that gives such a beautiful illusion, photographing the set in a natural environment is self-evident. Personally, I shoot regularly indoors and since I wanted to bring it all to life, the bouquet found its place on the living room table.
The choice to photograph with the wood stove in operation was, in my mind, an obligation. Our beloved bricks being static, the whole challenge of making the photo alive and attractive is sometimes to bring what surrounds it to life. Remember this, try to bring your photo to life so that it conveys emotion without the scenery interfering with your main subject.
In addition to my working stove, I placed a plate of biscuits (yum) by the flowers and another plant in the background to add diversity. We thus obtain a snapshot that gives the impression of having been taken in a fraction of a second between two discussion topics. A way to immortalize a warm moment. The photo is alive and gives the impression that we are living the moment ourselves. Don't you think so?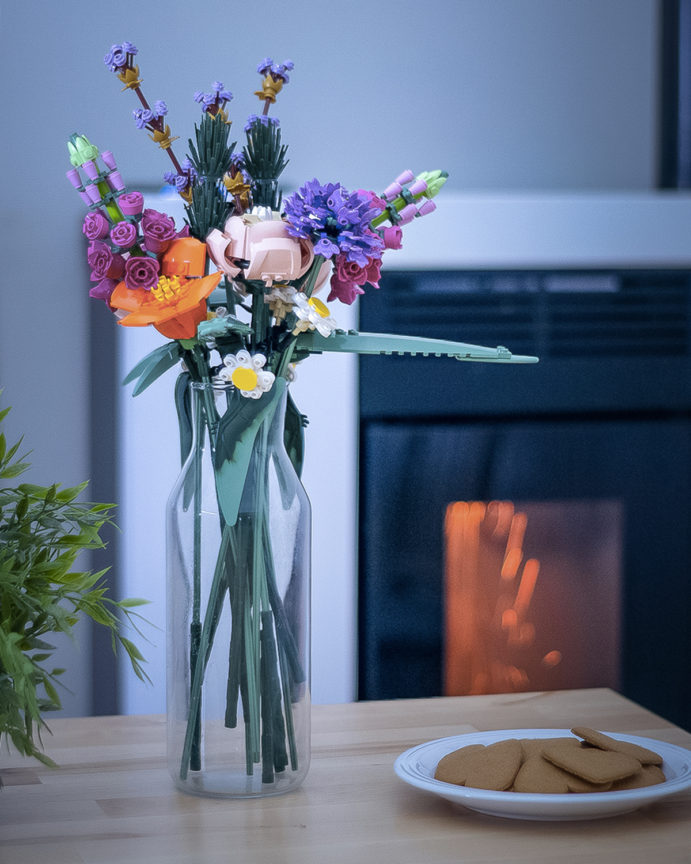 To get a dynamic shot and keep my main subject in front, I shot with a 50mm lens which allows me to have good background blur. This goal never leaves me when I shoot my LEGO, maybe I'll tell you about it another day.
Where I will explain myself a little more is on the management of light. As I told you above, I shoot regularly indoors. Living in an old French stone house with small windows, it has become essential for me to master artificial light on bad weather days.
After several unsuccessful attempts, hours and hours of tutorial viewing (Hello Four Bricks Tall) my choice fell on floor-standing studio lighting. The set cost me less than 50€ but which makes me happy today!
In this case, it helped me a lot to brighten the bouquet as much as possible and make a luminous photograph.
Personally, I don't like directing the light directly on my subject. It squashes the subject, gives little depth, and most importantly, forces us to spend time in post-production to eliminate unsightly reflections. Therefore, I direct my lighting towards my ceiling, which is white, which bounces the light and allows it to diffuse more generally around the subject.
As you can already see, the lighting around the subject is not the same. Additionally, we are using a glass object, and it is very difficult to photograph glass without reflection: diffused and non-direct lighting remains the best compromise.
Finally, I can show you the importance of having lighting to enhance your subject when shooting indoors.
LEGO 10280 Botanical Collection is available from LEGO retailers now for $49.99/€49.99/£44.99.